Special Feature
Super Engineering Plastics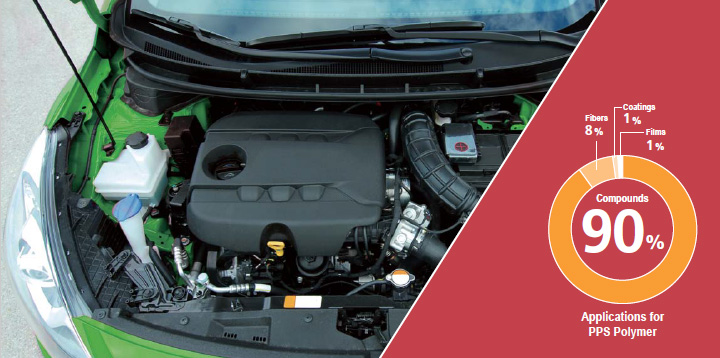 Helping to Reduce Vehicle Weight, Improve Fuel Efficiency and Lower CO2 Emissions
Value Creation
Reduce vehicle weight by using high-performance PPS compounds as an alternative to metal materials in automotive components
The increasing danger posed by issues such as global warming and air pollution has prompted many countries to introduce even stricter fuel efficiency requirements, obliging automakers to take steps aimed at increasing fuel efficiency—and in so doing lowering CO2 emissions— by reducing vehicle weight. While the modification of engines and the use of different materials for vehicle bodies and fuel tanks have had a positive impact, efforts to integrate tens of thousands of components, as well as to switch to resin as the principal material used therein, are also important as automakers strive to achieve additional gram-level cuts. Further reducing vehicle weight is a particularly critical challenge for hybrid, electric, fuel cell and other environment-friendly vehicles that require the installation of heavy batteries or fuel cells.
Against this backdrop, efforts to advance the use of super engineering plastics—high-performance plastics with exceptional resistance to heat—as an alternative to metal materials in automotive components as a way to reduce vehicle weight have progressed. DIC has focused particularly on PPS polymer, which weighs half as much as aluminum and delivers superb heat, chemical and flame resistance. Since 1976, DIC has promoted PPS compounds with attributes suited to use in automotive components while at the same time expanding applications from gasoline- and diesel-powered vehicles to include hybrid, electric and fuel cell vehicles, thereby contributing to improved fuel efficiency.
Using life cycle assessment (LCA)*, a technique for evaluating a product's environmental impact, DIC has also demonstrated that using PPS compounds rather than aluminum for certain electronic control components lowers CO2 emissions attributable to such components by roughly 26%–31%.
LCA is used to assess the environmental impact of a product across all stages of its life, from raw material extraction through development, manufacture, use and recycling or disposal.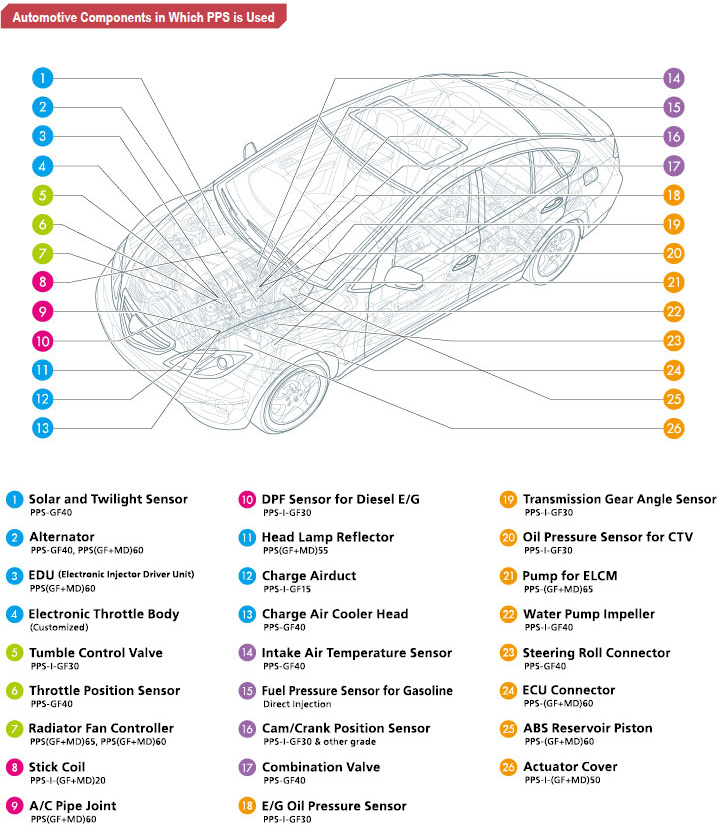 A Distinctively
DIC Response
An integrated configuration encompassing everything from polymer design through to molding compounds, underpinning a leading global market share


A key DIC strength is its integrated development and production configuration, which encompasses everything from polymer design through to mixing and compounding, enabling it to provide products tailored to the need of automakers.
DIC has developed PPS compounds that boast dimensional precision comparable to that of processed metal and a level of thermal shock resistance suitable for engine-related components, and has shifted from a short to long glass fiber compounding agent that significantly improves impact strength, fatigue resistance and retention of mechanical properties under elevated temperatures. Recently, the Company developed a new compound for hybrid vehicles that combines the inherent heat resistance and electrical insulating properties of PPS polymer with superior strength, moldability and adhesiveness, among others, and which has been adopted for use in output power controls for batteries and lithium ion battery (LiB)–related components. The new compound has also been adopted for use in onboard cameras, and DIC is pressing ahead with efforts to encourage its use in such next-generation automotive applications as millimeter-wave radar.
In response to rapidly expanding demand for PPS products worldwide, DIC is currently promoting the systematic expansion of its PPS polymer production facilities in Japan to approximately 23,000 metric tonnes by spring 2017 (22% of the global market) and is increasing the annual production capacity of its four PPS compound production facilities (in Japan, Malaysia, the PRC and Austria) to approximately 40,000 metric tonnes (27% of the global market). These moves are designed to help DIC fulfill its responsibilities as the world's largest supplier of both. Under its current medium-term management plan, DIC108, the Company has positioned PPS compounds as a key business that will drive growth going forward and has set a target for raising its share of the global PPS compounds market to 30% by fiscal year 2018.
The DIC Group's Global PPS Compound Production Network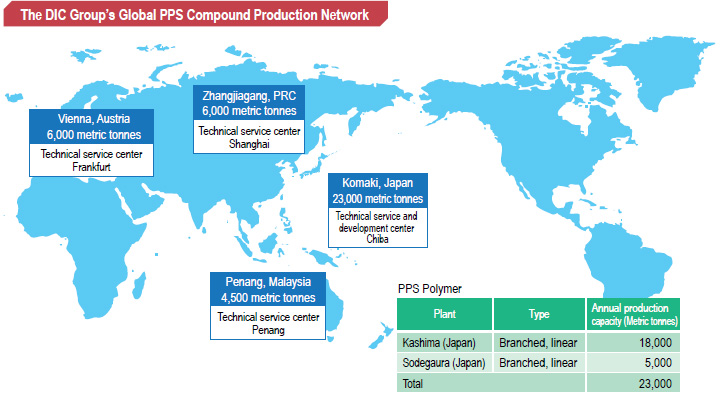 DIC has developed the world's first PPS compound approved for an innovative circuit-forming process
In July 2016, an innovative PPS compound developed by DIC for use with LDS—a process for forming circuits on 3D molded components—became the first such compound to gain approval for this application. LDS involves applying a laser to the surface of a molded plastic component doped with an organic metallic compound. The laser selectively activates the metallic compound, creating tracks in which circuits are then formed. This eliminates the need for resist etching, making it possible to shrink costs and create circuit tracks on 3D molded component surfaces, which facilitates the integration of multiple components and the reduction of component size. These benefits have encouraged the expanded use of LDS by manufacturers of components for automotive and medical devices, among others, particularly in Europe.
LDS is a proprietary technology owned by LPKF Laser & Electronics AG, a manufacturer of printed circuit board (PCB) production equipment based in Germany. Accordingly, materials produced for LDS must be approved by LPKF. Drawing on the wealth of technologies it has built up as a manufacturer of PPS compounds, DIC developed LP-150-LDS, a PPS compound that has met LPKF's stringent standards for approval and been registered on the company's materials list. As it preserves the renowned heat and chemical resistance of PPS products, LP-150-LDS can be used for automotive components, for which other LDS-grade materials are not suited. Expectations are thus high that its use will further accelerate efforts to reduce the weight as well as number of automotive components.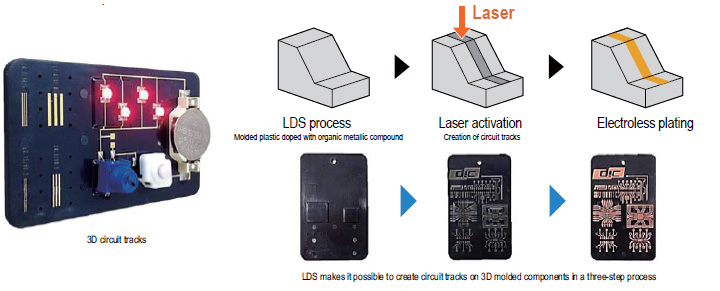 KEY PERSON of DIC
We are creating self-contained local sales and supply configurations with the aim of becoming the undisputed global market leader.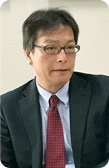 DIC has secured a 40% share of the Japanese market for PPS compounds, but there are many markets overseas that we must still cultivate. We have established production, sales and technical service configurations in four regions, positioning us to ensure an accurate grasp of local market requirements and offer technical support, including by providing advice on molds and molding technologies and analyzing materials, thereby creating self-contained local sales and supply configurations that will support market expansion. Looking ahead, we would also like to create similar self-contained local customer service configurations around the world. PPS compounds are an outstanding, environment-friendly material. Accordingly, we expect that our customer base going forward will not be limited to automakers, but will expand to include manufacturers in such industries as housing equipment and aerospace.
PPS Products Manager and Senior Manager, PPS Products Group,
Solid Compounds Product Division Toshiyuki Mori
DIC's principal strength is its close relations with automotive components manufacturers and swift its responsiveness.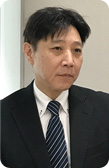 To encourage the further use of PPS compounds in automotive components, it is crucial that we promptly grasp their technical requirements and that we actively bring our proprietary know-how and new technologies to facilitate collaborative development. We must also fully leverage our integrated configuration, which encompasses everything from polymer design through to molding compounds, to promote the swift development and commercialization of new products. To these ends, we are creating opportunities to share information and strengthen communication, including organizing technological exchange meetings, so as to expand our selection of applicable materials. The effectiveness of this approach reflects the competitive advantage we enjoy thanks to our proven track record to date.
Senior Manager, Nagoya EP Sales Department,
Solid Compounds Product Division Kenji Hasegawa
As high-performance plastics, PPS compounds offer unlimited possibilities.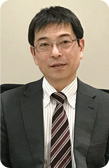 In addition to extremely high strength and durability, automotive components must deliver both electrical insulating and heat dissipating properties, among a host of other attributes. Manufacturers must also strive to make components thinner and smaller. The ability of PPS compounds to satisfy all of these challenging requirements underscores its suitability for a wide variety of components. By expanding applications for our PPS compound production technologies, we are contributing to efforts to reduce the environmental impact, as well as the cost, of many different manufactured products. Accordingly, simply changing our perspective makes it possible to cultivate entirely new applications for PPS compounds. The sky really is the limit.
Head Researcher, Polymer Processing Technical Group 2,
Polymer Processing Technical Division Hirokiyo Nakase
TOPICS
Other Efforts to Create Value for Society
Cultivating Applications for PPS Compounds in Increasingly Diverse Fields
DIC is creating new value for society by leveraging the properties of PPS compounds to encourage its use as a high-performance alternative to metal materials in numerous fields other than automobile manufacturing. In the area of housing equipment, for example, the Company is capitalizing on the material's hydrothermal resistance, pressure resistance and toughness (sturdiness), among others, to promote its use in hot water heaters, combination faucets and other water supply equipment, and joints and valves for pipes. Going forward, DIC will work to further expand applications for PPS compounds by adding surface decoration. In the area of components for precision instruments, DIC is using PPS compounds in low-friction and low-abrasion gears and bearings. DIC is also expected to expand into the aerospace field.
2017 Special Feature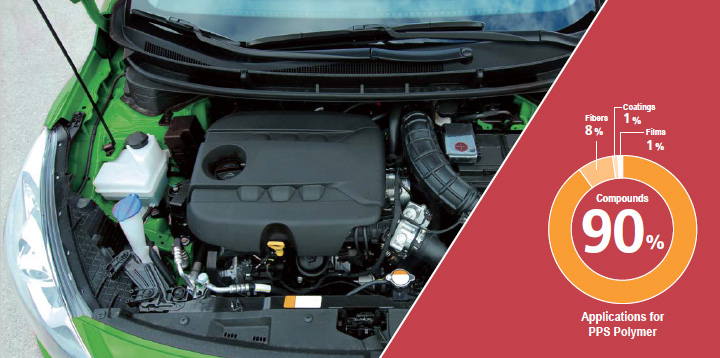 Super Engineering Plastics
Helping to Reduce Vehicle Weight, Improve Fuel Efficiency and Lower CO2 Emissions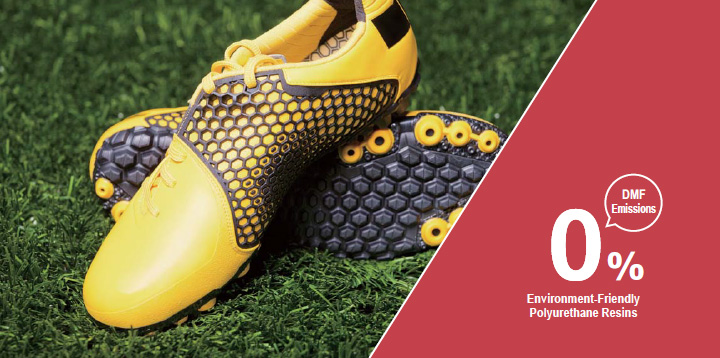 Environment-Friendly Polyurethane Resins for Use in Artificial and Synthetic Leathers
Providing Materials that Facilitate Safe and Secure Production and Use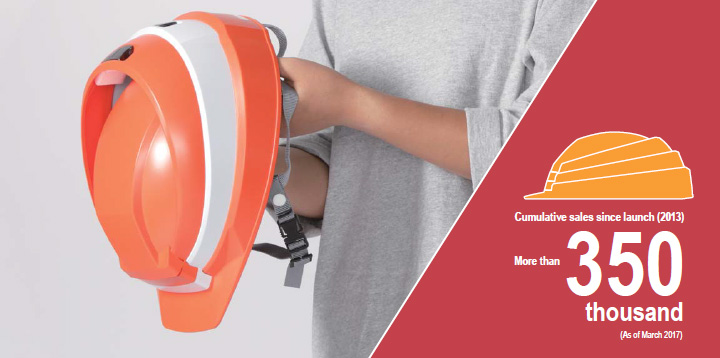 IZANO Folding Emergency Helmets
Delivering Easy Storability and Portability, IZANO Helmets Help Prevent and Mitigate Injuries in Disaster Situations
TOPICS
Helping Improve Food Packaging to Extend Product Shelf Life
Sun Chemical Promotes Initiatives Aimed at Addressing an Important Social Imperative