The DIC Group's Sustainability Program
Amid rising environmental concerns, including climate change, and increasingly urgent social imperatives, companies today face an ever-more diverse array of challenges, including rising awareness of the need to achieve sustainability in a manner that takes into account the environment, ecosystems and socioeconomic issues. The DIC Group launched its corporate social responsibility (CSR) program in fiscal year 2007. Having further clarified the overall direction of related initiatives as "sustainable growth,", effective from fiscal year 2014 the Group changed the designation used across its program from "CSR" to "sustainability." In fiscal year 2018, DIC established the ESG Unit, a specialized department to further expand Group ESG initiatives worldwide. In line with its basic sustainability policy, the DIC Group promotes a variety of sustainability initiatives worldwide and works to maintain an accurate grasp of social imperatives pertaining to ESG-related issues.
Basic Sustainability Policy (Partially revised in March 2019)
The DIC Group is dedicated to conducting its business while retaining a strong commitment to five key concepts: preserving safety and health, managing risks, ensuring fair business practices and respect for diversity and human rights, maintaining harmony with the environment and advancing its protection, and creating value for society through innovation and contributing to ongoing economic growth. DIC Group employees will continue working to deliver the value that its stakeholders—including its customers, suppliers, local communities, shareholders and investors, and employees—expect, showing ingenuity and a sense of responsibility. The Group itself will strive to remain an organization that contributes to sustainability for society, as well as to the conservation and improvement of the global environment, by capitalizing on its businesses to achieve unfaltering growth, thereby enhancing its own sustainability.
With the aim of ensuring that it remains a trusted corporate citizen with a proud reputation, in December 2010 the DIC Group became a signatory to the UNGC. The Group also takes the guidelines provided by ISO 26000, the International Organization for Standardization's standard for social responsibility, into account in conducting its operations.
The global community today recognizes the promotion of ESG management, which seeks to balance sustainable economic growth and the resolution of social imperatives, as critical. This is evidenced by the fact that countries worldwide haver atified the Paris Agreement and the SDGs, both of which were a dopted in 2015.
Sustainability Framework and Themes
Themes
To foster concrete measure, in fiscal year 2007 the DIC Group identified 12 key themes as a framework for implementing its CSR program. Subsequently, the Group partially revised these themes in response to changes in the external environment and the progress of its efforts. Today, the Group's sustainability framework comprises 11 key themes, which are categorized as basic themes, themes that demonstrate unique capabilities and themes that combine elements of the previous two classifications. The Group implements a broad range of global initiatives that take into account its responsibility to ensure proper product stewardship, as well as its position as a leading manufacturer of fine chemicals.

Deployment
In line with its basic sustainability policy, the DIC Group has formulated medium-term (fiscal years 2019–2021) policies and creates annual activity plans for each of these themes. The Group makes use of the plan–do–check–act (PDCA) cycle in promoting initiatives and reports on its achievements annually in the DIC Report. Individual product divisions, business groups, sites, and overseas and domestic DIC Group companies are charged with pursuing effective sustainability programs by formulating their own annual activity plans, based on the Group's plan, as well as with ensuring that the Group's policies permeate their organizations and labor forces and linking sustainability initiatives to business targets.
System for Promoting Sustainability Initiatives
The DIC Group's system for promoting sustainability initiatives centers on the Sustainability Committee, which answers directly to the president and CEO. The committee is tasked with reporting on the status of sustainability themes, as well as with proposing policies and programs for advancing sustainability and deliberating on critical related matters. In January 2019, DIC established the Sustainability Strategy Working Group, which is responsible for proposing and advancing the implementation of concrete strategies for promoting sustainability.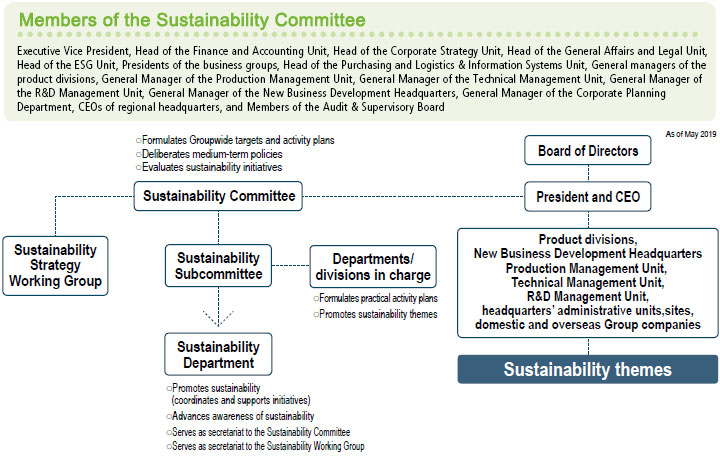 Ensuring DIC Remains a Globally Trusted Corporate Citizen with a Proud Reputation
In December 2010, the Group became a participant in the United Nations Global Compact (UNGC). The Group also conducts its business activities following to its Business Code of Conduct, also in a manner that is consistent with ISO 26000, which provides businesses and organizations with global guidelines for operating in a socially responsible manner.
DIC Sustainability Themes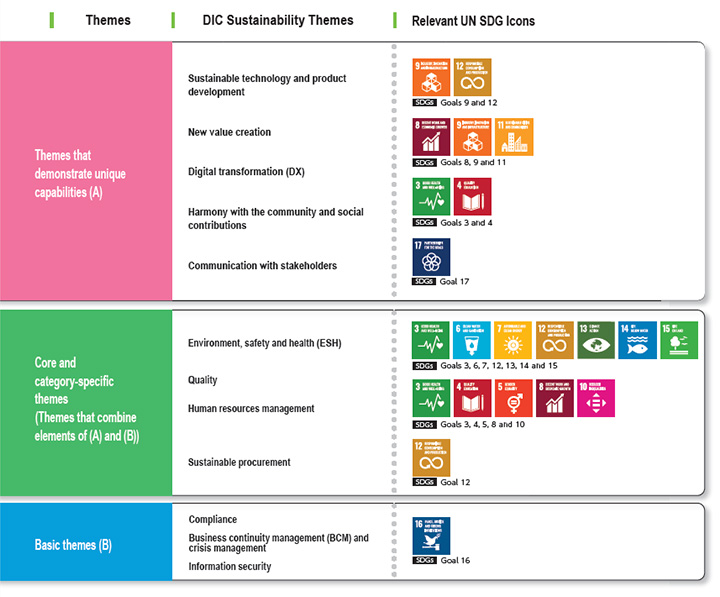 The 2030 Agenda for Sustainable Development
At the UN Sustainable Development Summit in September 2015, a proposal titled "Transforming our world: the 2030 Agenda for Sustainable Development," later summarized as the SDGs, was adopted with the participation of more than 150 UN member states. The agenda, which succeeded the Millennium Development Goals (MDGs), encompasses 17 goals and 169 targets. All UN member states are expected to mobilize efforts to attain the 17 goals, essential to sustainable development for the planet, by 2030. The DIC Group pledges to contribute through its business activities to the success of the SDGs.