Social Contribution Activities
Basic Approach to Social Contribution
Based on its Guidelines for Social Contribution Activities, established in fiscal year 2009, the DIC Group works to ensure harmony with local communities and individuals through activities aimed at building a strong relationship with society.
The DIC Group's Guidelines for Social Contribution Activities
In line with its Color & Comfort by Chemistry management vision, the DIC Group will promote social contribution initiatives in three areas: business activities, culture and education, and communities and society.
Business activities
The DIC Group will offer products and services that contribute to the development of a sustainable society and protection of the global environment from the viewpoint of "CSR through business activities. "
Culture and education
The DIC Group will engage in activities that will contribute to the development and promotion of culture, the arts, science and education, including fostering next-generation human resources in areas such as the culture of color and chemistry.
Communities and society
The DIC Group will strive to coexist harmoniously with local communities to develop a relationship of mutual trust. Moreover, the Group will provide an environment that enables employees to engage in voluntary contribution activities in their respective local communities.
Publication of the Guidebook for the Color Universal Design–Recommended Color Set
The DIC Group is actively involved in R&D in the area of color universal design (CUD), as well as in expanding public awareness and understanding of CUD's importance. In 2007, the Group, in cooperation with the Japan Paint Manufacturers Association, the Industrial Research Institute of Ishikawa and the Color Universal Design Organization, embarked on a project to create the Color Universal Design–Recommended Color Set under the supervision of the University of Tokyo. In developing the color set, the organizations conducted repeated verification tests using study participants with various types of color vision to adjust proposed colors, a process that facilitated the creation of a set of colors that are relatively easy to distinguish regardless of ability to see colors and can be reproduced using printing inks, coatings and digital imaging. Taking into account nearly a decade of use, in fiscal year 2018 the project members revised the set's color values to further enhance usability. The organizations also published a guidebook on effective use of the set and has worked to promote understanding and awareness.
From fiscal year 2015 through fiscal year 2017, the DIC Group participated in a joint industry–academic research project. During this period, Chiba University, the Central Research Laboratories and DIC Color Design, Inc., gave presentations on issues to consider in printing warnings and other important information on packaging and the results of joint research on the color appearance of red spot colors and on the use of color in an aging society at academic conferences in Japan and overseas.
In 2011, DIC began collaborating with the University of Tokyo and architect Kengo Kuma to develop new tactile paving that ensures high visibility for visually impaired individuals and is harmony with the landscape. In fiscal year 2018, two new color options (a warm orangey yellow and a cool yellowish green) were introduced for the new paving.
In another key initiative in fiscal year 2018, DIC participated in the project to revise the Japan Industrial Standards (JIS) standard for safety colors (JIS Z 9103) with the goal of choosing colors that can be distinguished by people with diverse color vision.
Used increasingly in signage and infrastructure, CUD is playing an important role in everyday life. The broader application of CUD is also expected to increase safety and convenience for visitors to Japan and individuals with diverse color vision in advance of the Tokyo 2020 Olympic and Paralympic Games. Looking ahead, DIC will continue to promote a variety of research initiatives that contribute to society and add color to lifestyles.
Visiting Science Lab Program
In line with the Japanese government's efforts to promote career education initiatives, as well as to help curb a decline in the popularity of science among children, DIC and DIC Graphics conduct visiting science labs at public elementary schools. Through this program, the Group seeks to spark children's interest in science and encourage them to realize the close relationship between science and their everyday lives. Since launching this initiative in 2010, the two companies have conducted visiting science labs at 38 elementary schools for approximately 3,000 sixth-graders.
In fiscal year 2018, DIC and DIC Graphics also conducted visiting science labs as part of the Tohoku University Graduate School of Engineering's Science Campus project, at Tokyo University of the Arts and at DIC Family Day, an event held for the families of employees.
The visiting science labs program won silver in the 2018 Education Support Grand Prix, sponsored by Tokyo-based Leave a Nest Co., Ltd. The Education Support Grand Prix is the only awards program in Japan that evaluates and recognizes the educational initiatives of companies committed to helping children thrive from both a business and an educational perspective. The jury gave high marks to the program's use of know-how and technologies unique to the DIC Group to help participants experience the fun and fascination of science first-hand, as well as to the fact that the program is offered not only at elementary schools near Group sites, but also at universities and events for employees' families. DIC pledges to continue offering this program in the years ahead.
COMMENT
As part of the Graduate School of Chemical Engineering, this is what I see as the importance of social contribution initiatives for children by B-to-B companies.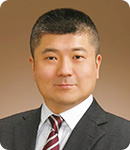 In primary school science education, we believe it is important to create an environment that brings out and broadens children's interests. However, in today's information-intensive world people tend to be primarily interested in products and advertisements around them. I am on staff at the Graduate School of Chemical Engineering, but the students I teach seem to want to find jobs at companies that manufacture the final product they see around them—a sentiment shared by their parents. There are many B-to-B companies in areas such as materials and intermediate products manufacturing where students who have studied materials science can exercise their capabilities, but it can be difficult to understand what such companies do.
I see the Tohoku University Science Campus project as important for children because it helps communicate the importance of B-to-B companies to parents who participate with their children. This year's project once again confirmed this belief. It is my hope that DIC will continue to implement educational initiatives that encourage children's interest in science and contribute to the future of science and technology in Japan by ensuring the well-balanced allocation of human resources.
Director, Center for Creative Engineering; Professor, Graduate School of Engineering, Tohoku University Hideyuki Aoki
Initiatives Led by the Central Research Laboratories
The Central Research Laboratories offer a variety of programs in such uniquely DIC topics as synthesis and chromatics to the students of local schools. In January 2018, students from Chiba Prefectural Sakura High School—a Super Science High School*—were given the opportunity to take part in a visiting lab lesson conducted by staff of the Central Research Laboratories on the theme of the role of intellectual property rights in corporate management. In August 2018, an experiment in pigment synthesis using Spirulina was conducted as part of a visiting lab lesson for primary school children in Chiba Prefecture as part of the Chiba Prefectural Education Agency's Dream Challenge Hands-On School. In addition to experiments, time was allocated for the young employees who served as instructors to talk about how they became interested in science and the challenges and rewards of research. At the same time as it helps children enjoy science, this program thus enables young employees to contribute to career education.
A designation awarded by Japan's Ministry of Education, Culture, Sports, Science and Technology (MEXT) to senior high schools that implement curricula focused on the sciences and mathematics that goes beyond the Ministry's official guidelines with the aim of fostering the next generation of talented engineers and scientists.
Initiatives at the Kashima Plant
In December 2018, the Kashima Plant collaborated with four companies based in the Kashima area of Ibaraki Prefecture to conduct a lab lesson at Seishin Gakuen High School, a Super Science High School. Titled "Learning about the colors around us," the lab lesson explained, among others, the properties of color and light, products that capitalize on those properties, color names, primary colors and the synthesis of pigments. The lab lesson also included an experiment involving the extraction of a natural blue colorant from Spirulina. A total of 58 third-year junior high school students participated, asking enthusiastic color-related questions, including about how individual colors appear. The Kashima Plant will continue to explore ways to work with other nearby companies to conduct lab lessons in the future with the goal of communicating the fascination and appeal of science to junior and senior high school students with the hope that more may consider a future in science.
Kawamura Memorial DIC Museum of Art
The Kawamura Memorial DIC Museum of Art, located adjacent to the Central Research Laboratories in Sakura, Chiba Prefecture, was established in 1990 to publicly exhibit works of art collected by DIC Corporation and its affiliates. In 2019, the museum is celebrating its 30th anniversary. As of December 2018, cumulative visitors to the museum had surpassed 2.45 million. DIC views operation of the museum, which assumed its current name in 2011, as a social contribution initiative that the DIC Group is uniquely positioned to undertake as an organization intrinsically involved in color.
The museum's extensive collection spans numerous genres, encompassing works by Rembrandt; Impressionists such as Monet and Renoir; modern European artists such as Picasso and Chagall; early modern, modern and postwar Japanese artists; and luminaries of late-20 century American art, including Mark Rothko, Cy Twombly and Frank Stella. In addition to a standing exhibit from its permanent collection of more than 1,000 major works, the museum stages special exhibitions several times a year that focus on pertinent literary works and other artifacts that evoke the cultural atmosphere at the time works were created to help visitors better understand the collection. The museum also offers free-of-charge guided tours every afternoon beginning at 2:00 pm.
Another appealing aspect of the museum is a 10-hectare garden alive with seasonal flowers and foliage that has been open to the public since the museum's establishment. A total of 250 cherry trees cherry trees—10 varieties in total—blossom every spring, while in summer wildflowers of all colors cover the site. Other highlights include the lotus pond at the back of the garden, which was expanded in 2015, and the wooded nature trail that traverses the site.
In a move aimed at promoting relations with the local community and fostering local cultural activities, the Kawamura Memorial DIC Museum of Art has established an annex gallery on the museum site that serves as an exhibition space for local amateur artists and is also made available to elementary and junior and senior high schools in the Sakura area for an exhibition of local students' works.
The museum was also the first in Japan to introduce interactive methods originated by the Museum of Modern Art in New York for teaching children about art. To date, a total of 160 schools and more than 10,000 children have taken part in the museum's educational programs, which are offered to entire classes led by elementary or junior high school teachers. This program has been certified every year since its establishment by the Association for Corporate Support for Arts under its This is MECENAT program.
Sustainability Initiatives at Siam Chemical Industry
In fiscal year 2018, DIC Group company Siam Chemical Industry Co., Ltd., was once again presented with a CSR-DIW Award by the Thai Ministry of Industry, the seventh consecutive year it has been so honored. The CSR-DIW Award program was established in 2008 with the goal of raising the global competitiveness of Thai companies. Awards are given annually to companies in recognition of CSR (sustainability) initiatives judged as exceptional from the perspective of seven core subjects defined in ISO 26000, the International Organization for Standardization's standard for social responsibility.
Siam Chemical Industry's CSR program in fiscal year 2018 included cosponsoring a volunteer initiative in Samut Sakhon Province to paint the exterior and replace the roof and toilets of a of a school for the children of migrant laborers from Myanmar that is located within a Buddhist temple. The initiative was organized under the auspices of Tokon International, an organization of painters that does volunteer work around the world. Siam Chemical Industry's support reflected its endorsement of the organization's desire to support the creation of a positive educational environment for the school's pupils. Approximately 40 employees and family members took part and also organized a Japanese festival that included a rice cake-making event. The children responded enthusiastically to the festival and participating employees praised the initiative, with one commenting that taking part had given them a renewed sense of pride in their company.
Other sustainability initiatives by Siam Chemical Industry in fiscal year 2018 included the installation of new solar panels. As a result, solar power accounted for 14% of the electric power used by the company, lowering its annual CO2 emissions by 500 metric tonnes. Siam Chemical Industry will continue to promote forward-looking efforts with the aim of contributing to the realization of a sustainable society.
Matching Gift Program
DIC has a matching gift program whereby it matches the total amount collected through an annual year-end fundraising drive spearheaded by its employees' union. Funds raised through the 2018 drive and matching gift program were donated to 21 children's homes and facilities providing support for disabled individuals.