Reducing Industrial Waste
Goals and Achievements of Major Initiatives
Reduce industrial waste disposed of as landfill ("zero emissions").
Reduce industrial waste generated by production facilities.
Goals for fiscal year 2018
Implement measures at each site with the following goal:
Reduce industrial waste disposed of as landfill (for sites that have achieved "zero emissions," maintain that status) (cumulative total of targets for domestic production facilities: 147 metric tonnes (-1% from fiscal year 2017)).
Achievements in fiscal year 2018

Industrial waste disposed of as landfill DIC Group (Japan): 204 metric tonnes (+38.0% from fiscal year 2017)
Industr ial waste generated by production facilities DIC Group (Japan): 32,243 metric tonnes (-0.3% from fiscal year 2017)

Evaluation
★
Goals for fiscal year 2019

Reduce industrial waste disposed of as landfill. DIC Group (Japan): 196 metric tonnes (-5.0% from fiscal year 2016)
Reduce industrial waste generated by production facilities. DIC Group (Japan): 31,698 metric tonnes (-2.0% from fiscal year 2018).
Promote recycling.
Goals for fiscal year 2018
Promote recycling at DIC Group companies and set a target for resource recycling rate.
Achievements in fiscal year 2018

DIC Group (Japan) resource recycling rate: 93.0% (essentially level with fiscal year 2017)
A target was set for resource recycling rate

Evaluation
★★
Goals for fiscal year 2019
Promote recycling at DIC Group companies.
Evaluations are based on self-evaluations of current progress.
Key: ★★★ = Excellent; ★★ = Satisfactory; ★ = Still needs work
Basic Approach
In addition to recycling and reuse of materials, the DIC Group works to minimize the impact of its industrial waste disposal practices.
Basic Policies and Framework for Implementation
The DIC Group aims to minimize industrial waste and promote the recycling and reuse of materials. Since fiscal year 2001, DIC has promoted zero emissions initiatives* aimed at reducing industrial waste disposed of as landfill. DIC has deployed zero emissions initiatives at DIC Group companies in Japan since fiscal year 2008. With the aim of expanding efforts across the global DIC Group, in fiscal year 2013 DIC began to introduce management by objectives (MBO) at overseas Group companies. DIC subcontracts the treatment of industrial waste to be disposed of as landfill, and ensures that waste is properly treated by promoting strict compliance and on-site confirmation by designated departments at each of its production facilities.
Zero emissions initiatives: DIC is promoting initiatives aimed at reducing the volume of waste disposed of as landfill by 95% from the fiscal year 2000 level.
Principal Initiatives in Fiscal Year 2018
Reducing Industrial Waste Disposed of as Landfill
The DIC Group works actively to reduce its disposal of industrial waste as landfill by recycling cinders, dust and sludge, among others, into roadbed materials and raw materials for cement, using thermal recycling to recover waste heat and reducing production losses by increasing yields.
Initiatives by the DIC Group in Japan
In fiscal year 2018, the total volume of industrial waste disposed of as landfill by the DIC Group in Japan amounted to 204 metric tonnes. Owing to market deterioration, DIC Interior Co., Ltd. and a number of other companies were forced to incinerate unnecessary items that would previously have been recycled. The resulting ash was disposed of as landfill. In fiscal year 2019, all DIC Group companies in Japan will step up the implementation of initiatives aimed at achieving zero emissions.
DIC Group companies in Japan also continued working to ensure the appropriate disposal of PCBs. In addition, these companies promoted the rigorous management of unprocessed waste, including transformers, capacitors and stabilizers, through proper collection and storage in dedicated warehouses.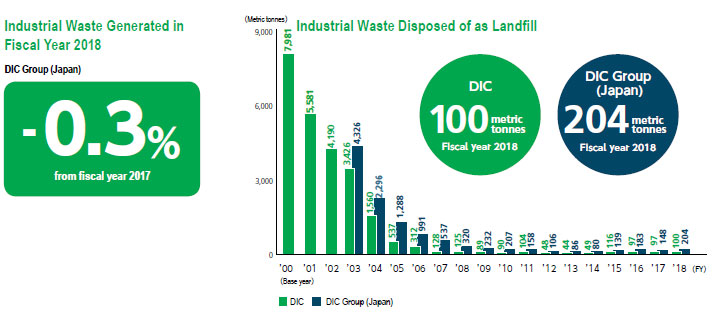 Deployment of Comprehensive Industrial Waste Management System
In fiscal year 2016, the DIC Group in Japan explored the introduction and conducted tests of a comprehensive industrial waste management system for use with the country's Electronic Manifest (e-Manifest) system. The e-Manifest system manages the movement of industrial waste by facilitating the electronic transmission of manifest information and tracking of the flow of waste from generation to final disposal. Unlike paper manifests, the e-Manifest system offers easy data input and eliminates the need for administrative reporting and storage by generators.
With anticipated revisions to Japan's Waste Management Law expected to increase demand for greater manifest data transparency, DIC resolved to introduce an industrial waste management system that would facilitate the efficient collection of data while also ensuring legal and regulatory compliance. The Group currently uses the system at 13 sites in Japan and intends to gradually expand deployment in the years ahead.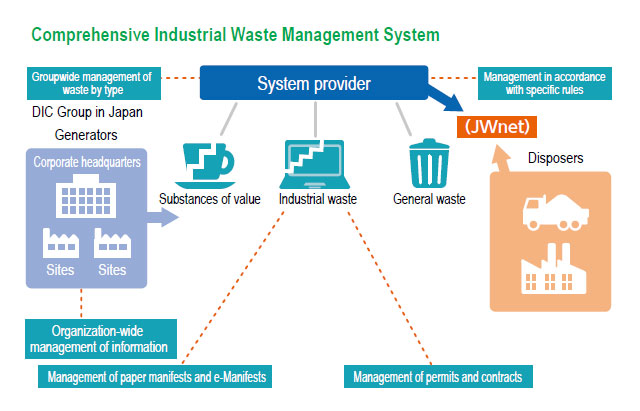 VOICE
We are working to further expand adoption of the comprehensive industrial waste management system.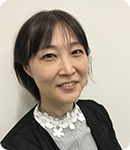 As a site Responsible Care officer, I oversaw adoption of GENESYS-ECO at the plant where I work. We were the front-runner, so our experience helped identify issues ahead of installation Groupwide, making it possible to customize the system to suit Group requirements. I was subsequently transferred to the Responsible Care Department, where I got to see the process from the opposite perspective as part of the team in charge of plants across Japan. The advantage of this system is that in addition managing e-manifests, it does things like track expiration dates of permits for transporters and intermediate processors, which both reduces labor requirements and ensures compliance. I look forward to helping make necessary tweaks to facilitate even more effective use in the future.
Safety and Environment Group, Responsible Care Department Emi Wakabayashi
Our goal is to ensure that GENESYS–ECO is easy to use for all employees involved in industrial waste management, from beginners to veterans.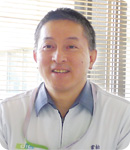 GENESYS–ECO is much more than a tool for managing industrial waste. The most important—and most difficult—part of industrial waste management is the issuing of manifests. GENESYS–ECO balances reducing the risk of accidental legal violations with minimizing the burden on the individuals in charge. Linking it to the industry association–administered e-Manifest system will make it possible to automatically generate the annual reports we are required to submit to the authorities, greatly improving work efficiency. Moreover, using information on industrial waste stored in the cloud will enable us to make the entire process—from generation through to final disposal—visible, thereby positioning us to implement initiatives that will reduce our environmental impact. We are confident that this will help us further improve the effectiveness of our industrial waste management and contribute to society. Going forward, our goals are to standardize procedures and ensure that GENESYS–ECO is easy to use for everyone involved in industrial waste management, from beginners to veterans.
Manager, Safety and Environment Group, Saitama Plant Norio Tsunematsu
Initiatives by the DIC Group Overseas
In addition to ensuring the disposal of industrial waste in a manner that complies with national and regional legal and regulatory requirements, the DIC Group's overseas production facilities work to minimize industrial waste through the voluntary recycling and reuse of materials.
In fiscal year 2018, DIC Group companies in the Americas and Europe, Greater China and the Asia–Pacific region introduced new waste treatment facilities and promoted the horizontal deployment of best practices, including those aimed at improving production processes, with the aim of achieving reductions in industrial waste generated that exceeded nationally and regionally mandated levels. Nonetheless, the total volume of industrial waste generated by DIC Group production facilities overseas rose 5.7%. Looking ahead, regional headquarters in these areas will focus on further reinforcing compliance with local laws and regulations while at the same time cooperating with DIC's Responsible Care and Production Management departments to analyze the reasons for this increase with the aim of curbing the generation of industrial waste and reducing the volume of industrial waste disposed of as landfill.
Industrial Waste Discharged by the Global DIC Group in Fiscal Year 2018
The definition of "industrial waste" and the methods used to dispose of such waste vary in different countries and regions, including whether the term encompasses toxic and nontoxic substances, and hazardous and nonhazardous substances. The DIC Group appropriately manages and processes industrial waste based on degree of danger in accordance with the laws of the countries and regions in which its sites are located.

TOPICS
Newly Installed Thermal Combustion System at DIC Graphics (Guangzhou) Facilitates the Efficient Treatment of VOCs
In August 2017, DIC Graphics (Guangzhou) installed a new system for thermally decomposing and deodorizing VOCs in exhaust gas from production processes. The new system fills the combustion chamber with a ceramic material that absorbs heat, making it possible to spontaneously combust VOC gas streams and at a high temperature using only a small amount of auxiliary fuel. In the past, activated carbon adsorption was used to destroy VOCs. Because it facilitates the efficient thermal decomposition and deodorization of medium- and low-density VOCs, the system has contributed to a significant reduction in energy consumption and maintenance requirements.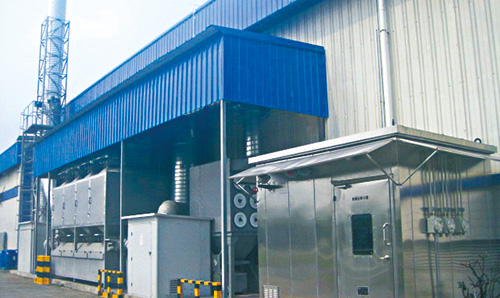 DIC (Malaysia) Reduces Environmental Impact by Renovating its Wastewater Treatment System
With the instability of treatment using its existing wastewater treatment system an issue from an environmental compliance perspective, printing inks manufacturer DIC (Malaysia) suspended operation of the system, opting instead to dispose of all wastewater from production processes externally as waste. In fiscal year 2017, DIC's Production Management Department worked with the company to develop a stable wastewater treatment process and made necessary renovations to its treatment system, obtaining approval and the appropriate license from Malaysia's Department of Environment. The improved system, which resumed full-scale operation in December 2017, has enabled the company to ensure that its treated wastewater meets local standards, as well as to reduce its total waste disposal volume.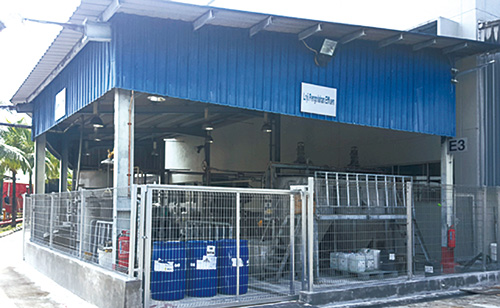 DIC's Komaki Plant Separates Plant Wastewater and Rainwater Discharge Routes in Line with ESH Audit Suggestion
The Komaki Plant, which produces PPS compounds, among others, uses an on-site treatment system to purify wastewater from production processes, which it then releases into a channel that flows into the nearby Oyama River. The system is also used to remove oil and particulates from rainwater collected from plant road surfaces, which is then discharged into the river. However, with this configuration there is a risk that a leak or other issue within the plant could result in the two types of water being mixed together and released into the river. In fiscal year 2016, this issue was raised with the plant during an ESH audit. The plant immediately implemented remedial measures, completely separating the discharge routes for wastewater from production processes and rainwater discharge routes, with the aim of reducing risk.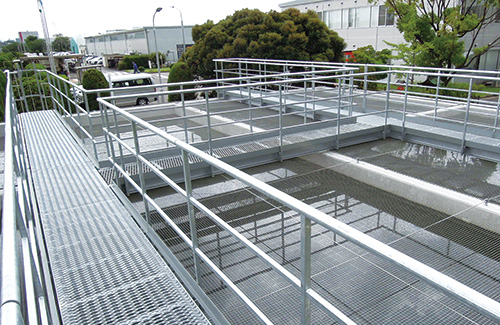 Environmental Impact of the DIC Group's Operating Activities
The DIC Group quantifies the environmental inputs (consumption of energy and other resources) and outputs (emissions into the environment) of its operating activities, and uses its findings to formulate comprehensive and efficient strategies for reducing its environmental footprint.
The chart below is a comprehensive illustration of the environmental impact of the DIC Group's domestic operating activities in fiscal year 2018. The chart shows environmental impact for two input items (total energy consumption and total water consumption) and six output items (emissions of 551 chemical substances (including those designated under the PRTR*1) and one substance group*2, emissions of CO2, emissions of NOx, emissions of SOx, COD in wastewater and industrial waste disposed of as landfill.)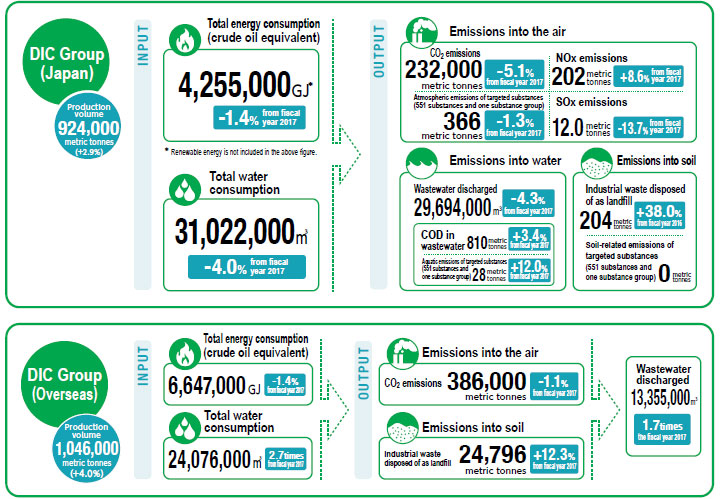 The PRTR is a scheme in Japan for assessing, aggregating and disseminating data on the sources of hazardous chemicals, amounts released into the environment and amounts transferred off-site from industrial establishments via waste products.
The "551 substances and one substance group" comprises 462 chemical substances designated by the PRTR and 89 substances and one substance group targeted for study by the JCIA.
TOPICS
DIC India Celebrates World Environment Week
The DIC Group promotes diverse ESH initiatives in countries and territories around the world. In June 2016, DIC India Ltd. celebrated World Environment Week, a campaign aimed at reinforcing the company's commitment to ongoing environmental protection. Individual days during the week were assigned specific themes and named accordingly—for example, Water Conservation Day, Energy Conservation Day and Waste Minimization Day—and a variety of programs were offered, including theme-specific employee awareness training. DIC applauds these and other voluntary initiatives that enhance employees' understanding of environmental and safety issues and recognizes the importance of such efforts in helping to realize a sustainable society.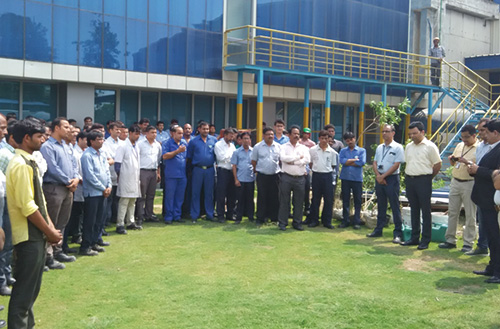 Reducing Industrial Waste: Efforts to Promote Recycling at DIC EP's Sodegaura Plant
At the Sodegaura Plant we produce polyphenylene sulfide (PPS) polymer, an engineering plastic. PPS polymer is a thermoplastic resin with excellent heat and chemical resistance that has a wide range of applications, from electronic components and residential hot water heater parts to parts for automobile interiors, for which they are fortified with glass fibers or another material and used as compounds. An alternative to metal, PPS polymer is light and suitable for high-volume production, making them extremely useful in reducing energy use (by improving fuel efficiency).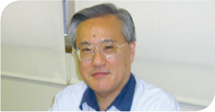 There are two main kinds of industrial waste produced at the Sodegaura Plant. The first is sludge, a low-molecular-weight material (polymerization residue, reaction solvent, etc.) that is a byproduct of polymerization reactions. The second is waste alkali (the product of allowing unreacted sodium sulfide to be absorbed in a caustic soda solution). Full-scale efforts to reduce industrial waste began in fiscal year 2002. Since fiscal year 2008, we have worked to improve our recycling efforts. Consequently, in fiscal year 2010 we succeeded in reducing energy usage per unit of production for low-molecular-weight materials and waste alkali by 70% and 50%, respectively, from fiscal year 2002. This was accomplished by repeatedly outsourcing recycling operations to interim waste treatment companies and by processing more hard-to-treat industrial waste. Our efforts in promoting recycling by organizations reusing these materials also paid off in fiscal year 2010. Going forward, we will continue to promote recycling as well as to examine ways in which waste alkali could be put to use as sodium hydrosulfide.