New Technology Development and Value Creation
Goals and Achievements of Major Initiatives
Enhance ability to develop products and technologies that facilitate contribution to a sustainable society.
Goals for fiscal year 2018

Promote collaboration among DIC Group technical departments.
Strengthen global technological development.
Make use of open innovation and AI to hasten R&D.

Achievements in fiscal year 2018

The Pigment Technical Center–Asia Pacific was established in Indonesia, completing a network of facilities that collaborate to promote R&D.
The effective use of AI helped accelerate the development of resin for thick-layer resists and other new products.

Evaluation
★★
Goals for fiscal year 2019

Accelerate collaboration among global technology bases in the development of strategic products and new technologies.
Make use of compounding technologies, open innovation and AI to hasten the development of technologies that create added value.
Promote the development of environment-friendly products and services
Goals for fiscal year 2018
Accelerate efforts to develop low-carbon and other products that reduce negative impact on the environment.
Achievements in fiscal year 2018

Efforts led to the expansion of DIC's lineup of biomass-derived gravure inks, packaging materials and other products.
Environment-friendly products accounted for 57.0% of overall product sales.

Evaluation
★★
Goals for fiscal year 2019

Accelerate efforts to develop products that contribute to sustainability.
Evaluations are based on self-evaluations of current progress.
Key: ★★★ = Excellent; ★★ = Satisfactory; ★ = Still needs work
Achieving Sustainable Growth
With the aim of achieving its Color & Comfort by Chemistry management vision, the DIC Group is leveraging its basic technologies, including those in the areas of optics and color, organic molecular design, polymer design and dispersion, as well as its core technologies in such areas as synthesis, compounding and formulation, and surface treatment, to develop high-value-added products that contribute to a sustainable society. The Group is also building a portfolio of next-generation products and new technologies by integrating technological resources originating across the Group, as well as actively promoting open innovation, to drive sustainable growth.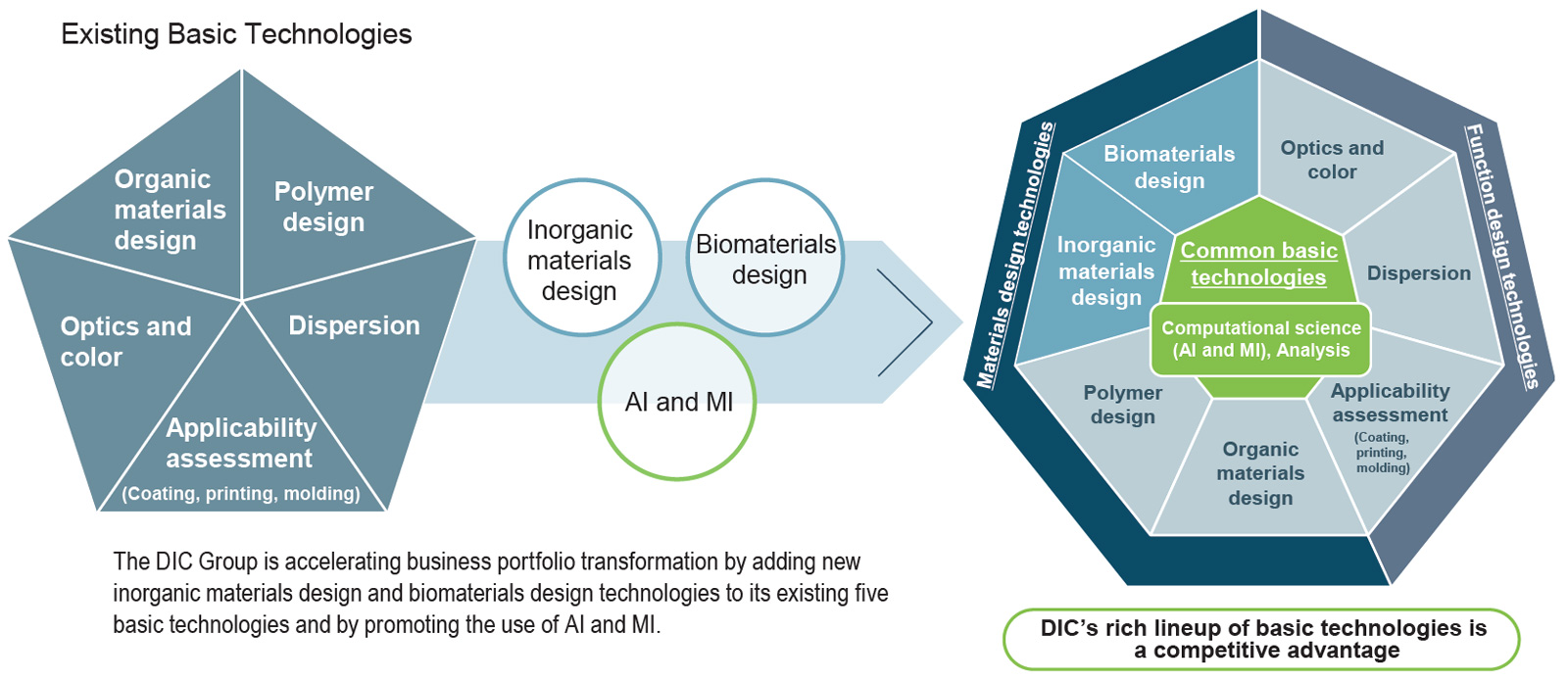 Specific Initiatives and Achievements
The DIC Group is promoting the development and use of clean technologies. The Company is encouraging a shift toward materials with reduced environmental impact—notably energy-saving, water-based and solvent-free materials, as well as materials for the electronics, automotive, packaging and other industries— that improve the environmental performance of the products in which they are used, which it has positioned as environment-friendly products.
Products for Use in Electronics Equipment
In products for LCDs, the DIC Group is working to enhance the luminous intensity of its pigments for color filters. The Group is also promoting the development of a highly responsive monomer that shortens production processes for polymer sustained alignment (PSA) LCs; nanophase-separated (NPS) LCs, which are effective in improving display response speeds; and LCs that spontaneously adopt homeotropic alignment, eliminating the need for a polyimide alignment layer. In the area of double-sided industrial adhesive tapes, a new tape that can be pulled off surfaces, thereby facilitating dismantling, continued to earned high marks for use in the securing of components for large displays for both its outstanding adhesion and ease of removal. In next-generation display materials, DIC continued to promote development of inks for use in the production of inkjet-printed quantum dot color filters (QDCFs) for displays in collaboration with Nanosys, Inc., of the United States. In products for use in electronics materials, the Group developed an active ester curing agent for use in semiconductor encapsulation materials and a resin for thicklayer resists for semiconductor packages, both of which boast outstanding heat resistance. The resin for thick-layer resists boasts a rigid skeleton that leverages DIC's proprietary polymer design technologies and AI to realize both high heat resistance and flexibility. In products for printed electronics–related applications, the Group is focusing on the development of highly electroconductive silver inks and copper nanopastes, among others.
Products for Packaging and Graphic Applications
In the area of gravure inks, the Group developed a biomass ink for laminated packaging applications, for which it obtained Biomass Mark certification from the Japan Organic Recycling Association. The Group also developed a Biomass Mark–certified packaging adhesive, further expanding its lineup of biomass products. In addition, the Group launched a number of new environment-friendly products, including a water-based water- and oil-resistant coating for the inner surfaces of paper and paperboard food packaging, a water-based flexo ink for high-resolution printing on boilable and retortable food packaging, and high-sensitivity UV-curable inks for a variety of applications. In multilayer films, the Group continues to bolster its results in the markets for transparent and matte films for packaged bread products and easy-peel films for prepared foods sold at, for example, convenience stores. Overseas, the Sun Chemical Group is stepping up its efforts to develop recyclable packaging materials and brought a number of new products to market, and is working to expand its new series of water-based inks made with vegetable oil. The company also launched a line of pigmented inks for textile inkjet printing.
A Global R&D Configuration that Underpins Product Development
The Technical Management Unit, R&D Management Unit and New Business Development Headquarters in Japan collaborate with the R&D components of DIC Group companies around the world. These include DIC Graphics; the Sun Chemical Group's research centers in the United States, the United Kingdom and Germany; and Qingdao DIC Finechemicals, which conducts comprehensive R&D tailored to market needs in the PRC. Since fiscal year 2014, the Group has also established printing inks technical centers, polymer technical centers, solid compound technical centers and pigment technical centers in the PRC and the Asia–Pacific region and the Fine Chemical Technical Center–Korea. In addition, an algae research center in the United States capitalizes on the Group's accumulated expertise as a producer of Spirulina to conduct comprehensive algae-related research, encompassing everything from cultivation through to practical application.
The DIC Group is committed to effective stewardship of the products it provides. Conscious always of the importance of ensuring its products are environment-friendly, DIC promotes the development of products and new technologies that are useful to society and works to increase the weighting of environment-friendly products in its portfolio, by reducing the volume of hazardous substances it uses, focusing on products that are less hazardous and products that facilitate recycling, and realizing safer production processes that generate less waste and use less energy.
Innovation through Compounding
Building on its fundamental pigment and resin dispersion and formulating technologies, realized through the production of printing inks, DIC has succeeded in combining materials with different properties and performance characteristics to develop groundbreaking products and create new value. Recent achievements in the area of PPS compounds include the development of new products for motor components and functional components used in electric vehicles, as well as the expansion of the DIC Group's lineup of highly heat- ,cold- and impact-resistant; high-flow, impact- and cold-resistant and other grades for use in automotive components. In the area of innovative products, the Company commenced full-scale R&D in the area of compounds for use in stereolithography 3D printing and will also cultivate applications in such areas as dental and industrial equipment. The Group will continue to harness its distinctive compounding capabilities to transform its diverse technologies into competitive advantages with the aim of driving innovation.
VOICE
We are addressing the challenge of developing next-generation technologies from the perspective of chemistry.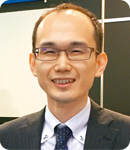 With the trend toward every-higher levels of miniaturization, the resulting sharp increase in fabrication processes and costs has become a key issue for semiconductor manufacturers. DIC's Corporate R&D Division recently developed a resin that is appropriate for resists used in nanoimprint lithography (NIL), a technology that shows promise as a next-generation semiconductor fabrication process. With NIL, control of the unique organic–inorganic hybrid compound structure used facilitates rapid curing and superb etching resistance, significantry streamlining fabrication. We will continue to leverage the wealth of technologies we have amassed as a manufacturer of fine chemicals to address next-generation challenges and promote sustainable development.
Assistant Manager, Polymer Technical Group 5, Polymer Technical Division 1 Takeshi Ibe
Protecting Intellectual Property
Recognizing intellectual property as crucial to competitiveness, the DIC Group vows to respect the intellectual property of other companies. At the same time, guided by an open/closed strategy the Group works to secure intellectual property rights for its own technologies and make use of "black boxing."
DIC's efforts to reinforce protection of its intellectual property are also attracting notice outside of the Company. For example, in fiscal year 2018 DIC was second in a ranking of companies in the chemicals industry in Japan in terms of patent assets owned conducted by an independent firm*. DIC registers an average of 400 new patents annually. While this is small compared to leading chemicals firms, the Company received a high score for the overall scale of its patent assets, reflecting the quality and high profile of the patents it holds. DIC will continue to actively protect its intellectual property portfolio with the aim of ensuring sustainable growth in the years ahead.
TOPICS
TOPICS DIC chairman and employee win awards from the Japan Thermosetting Plastics Industry Association
DIC chairman and employee win awards from the Japan Thermosetting Plastics Industry Associationlarge Mr. Sugie (fourth from the left) and Mr. Arita (second from the left) with other award winners. In October 2014, DIC's chairman, Kazuo Sugie, received a special award and Kazuo Arita, principal researcher in the Chiba Plant's Polymer Technical Division, received an incentive award from the Japan Thermosetting Plastics Industry Association (JTPIA) at the 38th Japan Thermosetting Plastics Industry Association Awards
JTPIA's principal focus is "network polymers," a term that encompasses a broad range of crosslinked polymers. The organization encourages broad-based R&D and discussion on a variety of related topics, including raw materials, processing, analysis and material properties, and environmental technologies. JTPIA also sponsors an annual symposium on network polymer and currently presents awards to recognizing particularly outstanding achievements announced in its academic journal, Network Polymer.
The special award was given to Mr. Sugie, who as former chairman of the aion of his success in controlling the molecular weight of naphthalene ether—the synthesis of which was problematic using existing technologies—and developing a commercially viable naphthalene ether oligomer epoxy resin that combines a high glass transition temperature (thermophysical resistance) and excellent resistance to chemical decomposition caused by heat (thermochemical resistance), properties previously considered incompatible.