DIC: A Five-Minute Introduction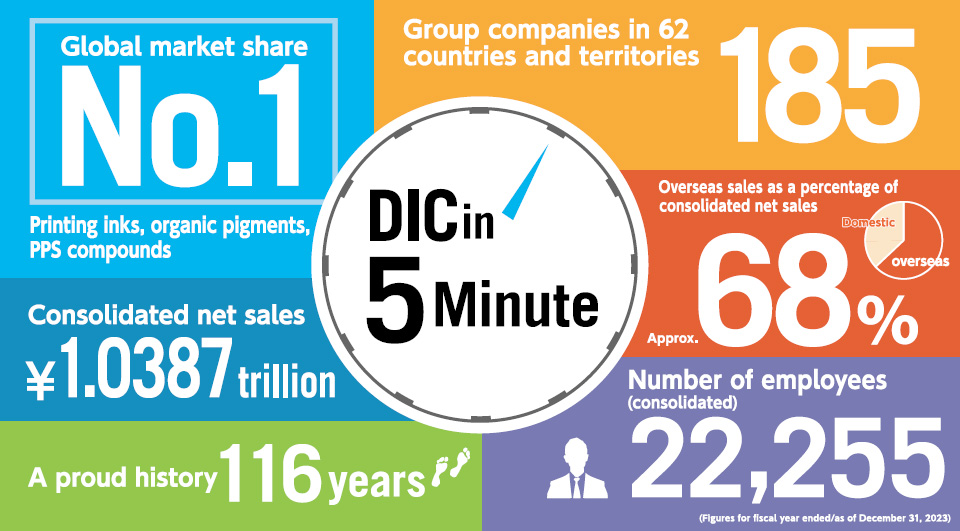 Printing inks/Organic pigments/PPS compounds
Global market share No.1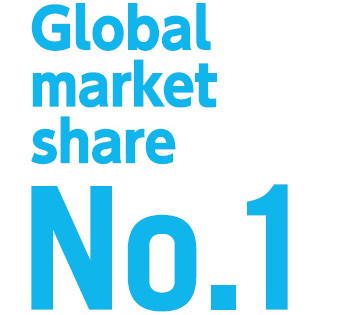 Established as a manufacturer of printing inks, DIC has expanded its mainstay organic pigments and synthetic resins businesses while at the same time cultivating world-class related core technologies. Since then, DIC has leveraged these technologies to build a diverse portfolio encompassing materials and finished products. These include plastic colorants, plastcicizers, liquid crystal (LC) materials, industrial adhesive tapes, coextruded multilayer films for packaging, interior housing products, hollow-fiber membranes and modules, plastic molded products and health foods.
Today, the DIC Group boasts myriad products and technologies that are unchallenged worldwide, and the Group has secured a leading share of the markets for global printing inks, organic pigments and polyphenylene sulfide (PPS) compounds. Early to promote the development of environment-friendly products in all of its major businesses, the Group strives to contribute to environmental protection and the realization of a safe and sustainable society through the provision of, among others, materials essential to the production of inks and adhesives for food packaging that reduce resources used and enhance food safety, high-performance pigments for color filters that lower energy consumption by televisions and smartphones, and PPS compounds that help lower automobile body weight.
Consolidated net sales
¥789.4 billion

Today, the DIC Group classifies its businesses into five segments: Printing Inks, Fine Chemicals, Polymers, Compounds and Application Materials. In fiscal year 2017, the Group reported consolidated net sales of ¥789.4 billion and consolidated operating income of ¥56.5 billion.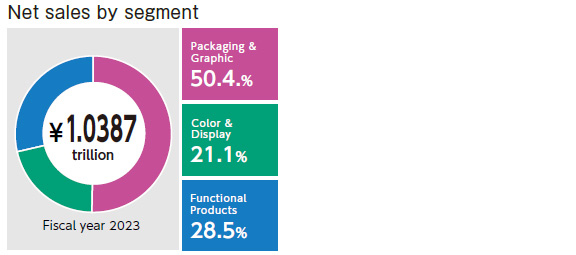 Note: Reported net sales and operating income as used here include net sales and operating income not attributable to reportable segments and eliminations. Accordingly, these figures do not correspond to the aggregates of segment net sales and operating income.
Related information:DIC's Businesses/DIC: Here, There and Everywhere

Group companies in


64

countries and territories
171
Group companies
in 64 countries
and territories
171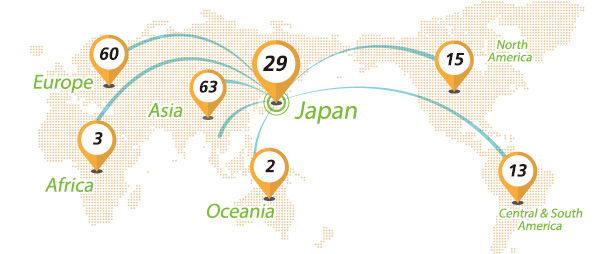 DIC is the core of the DIC Group, a multinational organization comprising 171 subsidiaries and affiliates in 64 countries and territories (As of December 31, 2017). DIC was one of the first Japanese printing inks manufacturers to establish a presence in other parts of Asia. Sun Chemical Corporation, a leading name in printing inks based in the United States, joined the Group in 1986, followed by the Coates Group, formerly the printing inks division of France's TOTALFINA S.A. These and other acquisitions have enabled DIC to enhance its presence, principally in the Americas and Europe, and have reinforced its position among the world's preeminent fine chemicals companies. Looking ahead, DIC will focus its expansion efforts on promising markets in Asia and is also establishing operations in key emerging economies, notably those in Eastern Europe, Central and South America, and the Middle East.
Overseas salees as a percentage of consolidated net sales
Approx.60 %
In recent years, the DIC Group has taken decisive steps to broaden the scale of its overseas operations. In fiscal year 2017, business in overseas markets accounted for approximately 60% of consolidated net sales and 50% of consolidated operating income.
Overseas sales as a percentage of
consolidated net sales
Approx.
60
%

Related information:DIC Group

Number of employees(consolidated)
20,628
















Number of employees
(consolidated)
20,628

The consolidated DIC Group employs 20,628 individuals worldwide, 14,691 of whom are based overseas (As of December 31, 2017). In line with "The DIC WAY," an articulation of the Group's basic management approach, the Group has broadened its business portfolio and augmented its presence worldwide, as well as promoted the global expansion of both its network and human resources. With the aim of being an organization that empowers all employees to reach their full potential in jobs suited to their abilities, the DIC Group is committed to respecting human rights and decisively eliminating all forms of discrimination from its operations and to embracing diversity. The Group also strives to support a healthy work life balance for each employee by creating a work environment conducive to job satisfaction and to foster local human resources, which it recognizes as essential to ensuring sustainable corporate growth.
Related information:Management Concept (The DIC WAY)

A proud history
110 years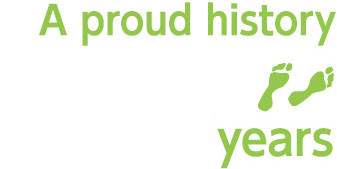 110
Established in 1908 as a manufacturer of printing inks, DIC has built a broad portfolio encompassing materials and finished products. Originally called Kawamura Ink Manufactory, the Company began manufacturing organic pigments in 1925, while in 1952 it entered the market for synthetic resins. Seeking to widen its focus from printing inks to chemicals, the Company took steps to diversify its businesses and in 1962 changed its name to Dainippon Ink and Chemicals Incorporated (DIC). In subsequent years, DIC expanded into such varied markets as liquid crystals (LCs), packaging films and recording materials, promoted the development of environment-friendly products and advanced its overseas operations through key acquisitions, notably Sun Chemical and the Coates Group, thereby evolving into a leading global manufacturer of fine chemicals.
In 2008, the Company marked the 100th anniversary of its founding by changing its name to DIC Corporation. Based on the brand slogan "Color & Comfort," DIC will promote product development for a sustainable society. With the celebrating its 110th anniversary in 2018, DIC is aiming for further leap forward as a global company.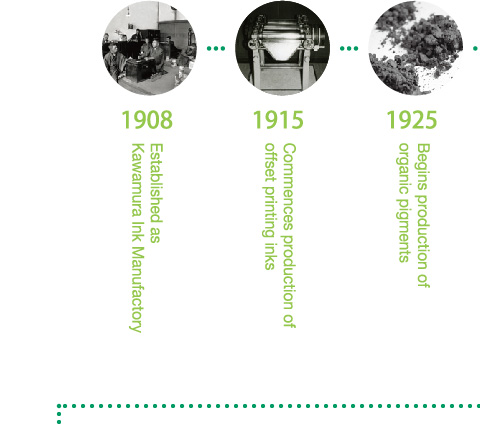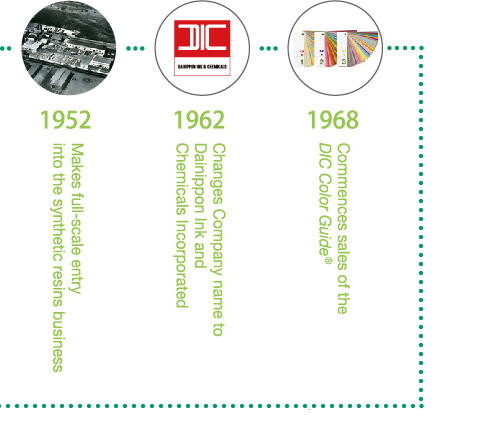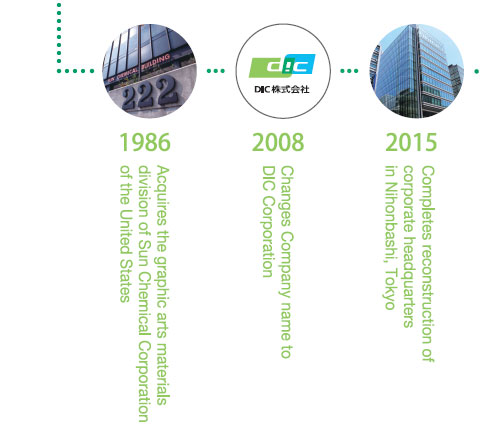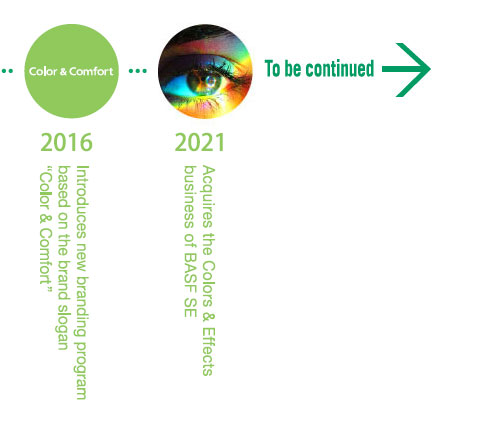 Related information: DIC Milestones