Packaging & Graphic
Packaging
Color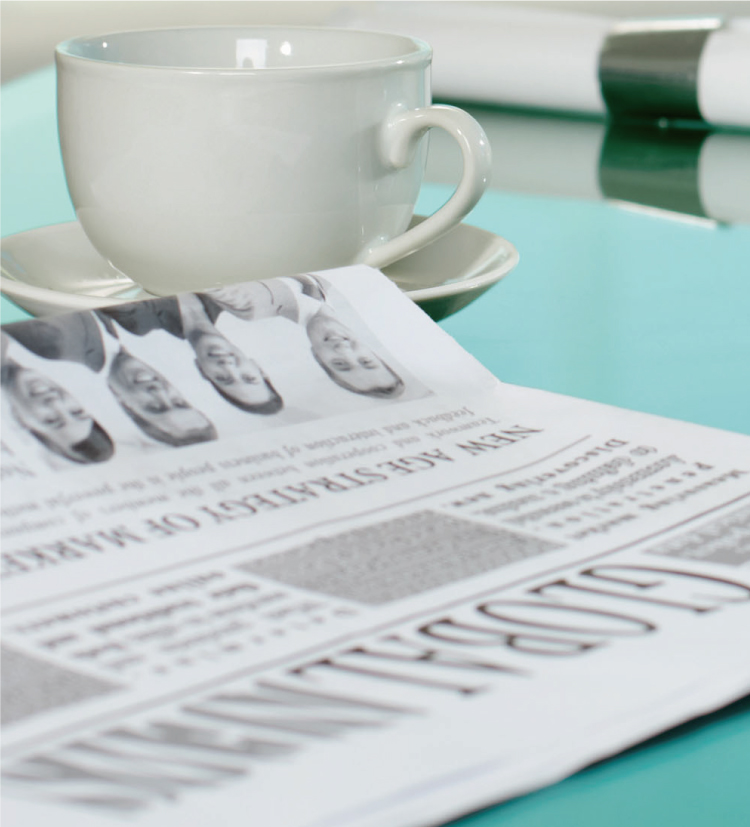 DIC offers news inks that meet customers' requirements around the globe.
What is
News Inks

?

The DC Group is a leader in the news Ink business, which is one of DIC's core business units. We provide products to meet the customer demands, such as high speed, high density, and excellent productivity.
DIC's Advantages
DIC offers new values to contribute to the productivity of our customers, through improved print quality, lower costs and lower environmental impact.
Major Applications
Newspaper, textbook and other commercial printing
Product Lineup
For further information, please contact your local DIC representative.
China
DIC (Shanghai) Co., Ltd.
(上海迪爱生贸易有限公司)
Address
[上海总部]
12th Fl., Metro Plaza, No. 555 Lou Shan Guan Road, Shanghai 200051, People's Republic of China
上海市长宁区娄山关路555号 长房国际广场12楼(邮编:200051)
Tel:+86-21-6228-9911 Fax:+86-21-6241-9269

[北京分公司]
No. 11, Jinghai 2nd Road, Beijing Economic-Technological Development Area, Beijing 100023, People's Republic of China
北京市经济技术开发区经海二路11号(邮编:100023)
Tel:+86-10-5667-3300 Fax:+86-10-5667-3311

[重庆分公司]
3-13-3, The Qianye Central block, No. 99 Torch Rd, Jiulongpo Dist, Chongqing 400051, People's Republic of China
重庆市九龙坡区火炬大道99号3幢13-3号(邮编:400051)
Tel:+86-23-8131-2658,2659 Fax:+86-23-6819-1036

[深圳分公司]
1035 Nanshan Road, Nanshan, Shenzhen 518052, People's Republic of China
深圳市南山区南山大道1035号(邮编:518052)
Tel:+86-755-8625-3755 Fax:+86-755-8625-3513
Shanghai DIC Ink Co., Ltd.
(上海DIC油墨有限公司)
Address
No. 3888, Humin Road, Minhang District, Shanghai 201108, People's Republic of China
上海市沪闵路3888号(邮编:201108)
Tel:+86-21-6489-0888 Fax:+86-21-6489-0688

URL
http://www.shdic.com.cn/
Hong Kong
DIC Graphics (Hong Kong) Ltd.
(迪愛生油墨科技(香港)有限公司)
Address
18 Dai Fu Street, Tai Po Industrial Estate, Tai Po, N.T., Hong Kong, People's Republic of China
香港新界大埔工业屯大富街十八号
Tel:+852-2665-0280 Fax:+852-2665-5759
Taiwan
DIC Graphics Chia Lung Corp.
(迪愛禧佳龍油墨股份有限公司)
Indonesia
| | |
| --- | --- |
| Address | Jalan Rawagelam Ill, Blok Il, L, Kav. 8-9, Kawasan Industri Pulogadung, Jakarta Timur 13930, IndonesiaTel: +62-21-461-3525 Fax: +62-21-461-3524 |
| URL | http://www.dic.co.id/ |
Malaysia
Address
Plot 501 & 502, Persiaran Sabak Bernam, Section 26, Kawasan Hicom, 40400 Shah Alam, Selangor, Malaysia
Tel: +60-3-5191-0033 Fax: +60-3-5191-7199
Philippines
Address
No. 26, 1st Avenue, Bo. Bagumbayan, Tanyag, Taguig, Metro Manila, Philippines
Tel: +63-2-838-8888 Fax: +63-2-838-5721
Singapore
Address
(Head Office)
78 Shenton Way, #27-02/03, Singapore 079120
Tel: +65-6224-0600 Fax: +65-6224-3313
(Factory / Sales Office)
23, Neythal Road, #02-04D, Singapore 628588
Tel: +65-6265-5422 Fax: +65-6265-5256
Thailand
DIC Graphics (Thailand) Co., Ltd.
Address
159/34 SERM-MIT TOWER 20th Fl., Soi Asoke, Sukhumvit 21 Road, Kwang North Klongtoey, Khet Wattana, Bangkok 10110, Thailand
Tel: +66-2-260-6630 Fax: +66-2-260-6641
URL
http://www.dicgchialung.com.tw/
Vietnam
Address
31 VSIP Street 6, Vietnam-Singapore Industrial Park, Thuan An Town, Binh Duong Province, Vietnam
Tel: +84-274-3767-357~61 Fax: +84-274-3767-356
India
Address
C-55, A & B, Phase II, District Gautam Budh Nagar, Noida, Uttar Pradesh 201305, India
Tel: +91-120-486-8500 Fax: +91-120-486-8545
URL
http://www.dicindialtd.co/
Pakistan
Address
Shahrah-e-Roomi, P.0. Amer Sidhu, Lahore-54760, Pakistan
Tel: +92-42-582-2178 Fax: +92-42-582-2176
Sri Lanka
Address
147, Katuwana Industrial Estate, Homagama, Sri Lanka
Tel: +94-11-285-5513 Fax: +94-11-555-1138
Australia
Address
323 Chisholm Road, Auburn, N.S.W. 2144, Australia
Tel: +61-2-9752-1200 Fax: +61-2-9645-4889
URL
http://www.dic.com.au/
New Zealand
Address
313 Church Street, Penrose Auckland 1642, P.0.Box 12-748,New Zealand
Tel: +64-9-636-2930 Fax: +64-9-636-5522
URL
http://www.dic.com.au/
Europe and the Americas
Address
35 Waterview Boulevard, Parsippany, New Jersey 07054, U.S.A.
Tel: +1-973-404-6000 Fax: +1-973-404-6001
URL
https://www.sunchemical.com/
Inquiry About This Product