Extensive Global Network
DIC has 187 group companies in 62 countries and territories worldwide. (As of September 30, 2023)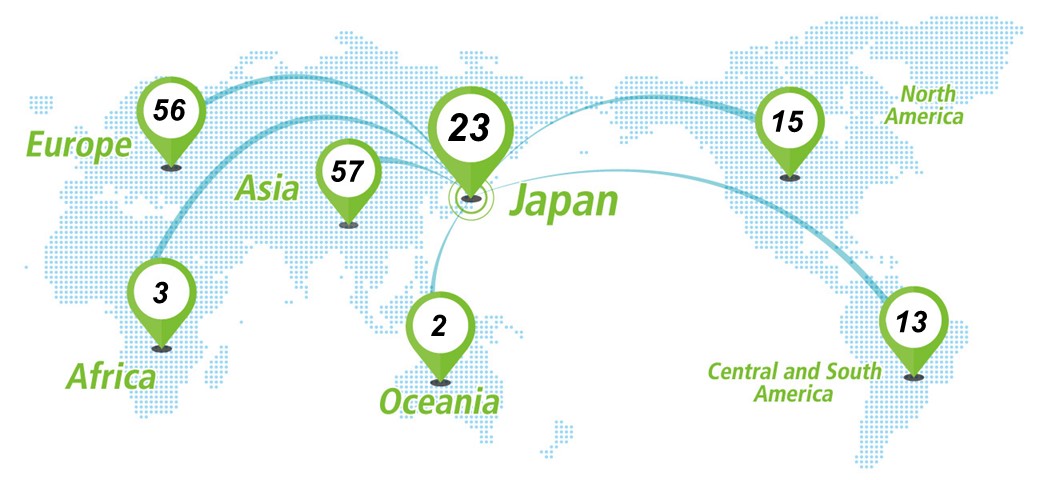 DIC was one of the first Japanese printing ink manufacturers to establish a presence in other parts of Asia. In 1986, Sun Chemical Corp., a leading manufacturer of printing inks, joined the DIC Group. Since then, additional acquisition-including the Coates Group (the inks division of France's Totalfina S.A.) in 1999- have reinforced DIC's position as one of the world's preeminent fine chemicals companies. At present, DIC is focusing its expansion efforts on promising growth markets in Asia to strengthen core businesses, and is also establishing a presence in such emerging markets as Central and Eastern Europe, South America and the Middle East.
Operating Sites
The DIC Group has operating sites all over the world including the PRC, Asia Pacific, Europe and the Americas besides Japan where the DIC HQ is located.
Principal Subsidiaries and Affiliates in JapanPrincipal Subsidiaries and Affiliates outside Japan
Japan
DIC Corporation
Address:DIC Building, 7-20, Nihonbashi 3-chome, Chuo-ku, Tokyo 103-8233, Japan
Tel:+81-3-6733-3000
China
DIC (China) Co., Ltd.
Address:12th Fl., Metro Plaza, No. 555 Lou Shan Guan Road, Shanghai 200051, People's Republic of China
Tel:+86-21-6228-9922
Asia Pacific
DIC Asia Pacific Pte Ltd
Address:78 Shenton Way, #27-02/03, Singapore 079120
Tel:+65-6224-0600
Europe and the Americas
Address:35 Waterview Boulevard Parsippany, NJ 07054-1285, U.S.A.
Tel:+1-973-404-6000