A Message from the Head of the ESG Unit
We are reinforcing sustainability initiatives that help increase social value with the aim of ensuring sustainable, long-term growth.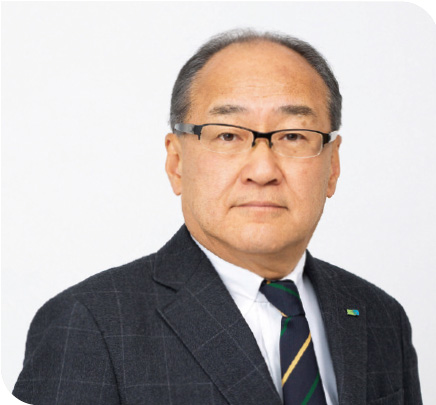 A variety of social imperatives have become increasingly evident in recent years owing to, among others, environmental issues, widening economic inequalities arising from mounting resource constraints and human rights issues across supply chains. One of the most immediately obvious is climate change, an increasingly urgent challenge. Recognizing these as issues that need to be addressed by the international community through mechanisms such as the SDGs, set forth by the UN and adopted by its member states, the DIC Group works to contribute through its business activities to the realization of a sustainable global society. In fiscal year 2018, we established the ESG Unit, a specialized department, and are accelerating initiatives aimed at responding to sharply increasing expectations pertaining to related issues.
Sustainable Management at DIC
Important sustainability-related management matters are deliberated and determined by the Sustainability Committee, a key body that answers directly to the president and CEO. This committee, which meets four times annually, is chaired by the president. In my capacity as head of the ESG Unit, I serve as vice chairman, with other members including other administrative unit heads, as well as business group presidents and the CEOs of regional headquarters. While our focus at present is on deliberating measures to get the Sustainability Strategy Working Group, a key subsection of the committee, on track to reinforce sustainability initiatives, we also emphasize discussions aimed at ensuring a firm grasp of matters of consequence from a governance perspective. Given the global scale of rising sustainability-related expectations, it is vital that participation in the Sustainability Committee is not limited to the DIC Group in Japan. Accordingly, the committee includes individuals from the Group's overseas bases. Members change, of course, so at any one time overseas members may be from, for example, the United States, the PRC and Singapore, as well as the United Kingdom and France. This ensures that committee discussions are spirited and reflect a broad understanding of major global trends.
To promote greater agility in executing sustainability initiatives, we have also established the Sustainability Working Group, which is responsible for overseeing practical implementation, as a subsection of the committee. Since the DIC Group launched its sustainability program in 2007 (using the designation "CSR program" until 2013), the Sustainability Working Group and its members have overseen efforts to incorporate sustainability themes into everyday operations. As head of the ESG Unit, I chair this working group. With the direct participation of pertinent departments, the Sustainability Working Group continues to deploy initiatives in line with a variety of themes, including the environment and safety, quality, human resources management, business models that respond to social imperatives, and social activities and contributions to society, formulating an annual activity plan for the Group and using the PDCA cycle to evaluate efforts. In particular, in the area of raw materials procurement we have inaugurated a system that places importance on creating a framework for the procurement of raw materials centered on respect for the human rights of individuals involved in this process. In addition, we have launched Work Style Revolution (WSR) 2020, a project targeting the development of new work styles, which prioritizes the "social" component of ESG.
The DIC Sustainability Index and DIC's Future Vision
The basic concept of our DIC111 medium-term management plan is to foster businesses that deliver both social value and economic value, guided by two strategies, Value Transformation and New Pillar Creation, an approach that we see as central to realizing our future vision. It was with the aim of accurately measuring the social value of our products that we developed the DIC Sustainability Index. This index—which was drafted to help answer the essential question of how our products, and by extension our businesses, can help address social imperatives related to concerns such as climate change, food safety and marine plastics—positions products that both leverage key DIC capabilities and benefit society as "sustainable." We are confident that the DIC Sustainability Index will continue to serve as a useful tool for employees in all areas, from product development to raw materials procurement, production and sales, to expand our selection of products that offer sustainable solutions.
Going forward, we will continue working to enhance both social value and economic value of our businesses, as well as to capitalize on the DIC Sustainability Index to advance the prudent yet bold management of our business portfolio, strengthening the sustainability of our businesses, and by extension our ability to contribute to society, and helping to ensure continuous growth.
Achieving Carbon Neutrality
A total of 16 of the DIC Group's sites and offices in Japan have earned certification under Japan's Designated Energy Management Factory system. We have long promoted systematic efforts to reduce our energy consumption and were early to announce a target for lowering our emissions of CO₂, calling for a reduction of 30% from the fiscal year 2013 level by fiscal year 2030. Having recognized responding to climate change as an increasingly critical challenge for companies, in May 2019 we declared our support for the TCFD and began to disclose related information in line with TCFD recommendations. Focusing on risks and opportunities associated with climate change, the Sustainability Committee is proceeding with deliberations on how to best tie these considerations into Group business strategies.
In January 2021, a Climate Change Response Subcommittee was created within the Sustainability Strategy Working Group to enable production, procurement, logistics, R&D, management planning and other departments to conduct a cross-functional review of related initiatives. As a result, the decision was made to revise our climate change–related targets. We now aim to achieve carbon neutrality by 2050, as well as to reduce CO₂ emissions by 50% from the fiscal year 2013 level by fiscal year 2030, a midway point in our drive to eliminate emissions entirely. Also in January, we introduced internal carbon pricing as a first practical new measure toward attaining these targets. In preparation for the expected introduction of carbon taxes, we have since put a mechanism in place to encourage employee awareness of the costs associated with CO₂ emissions and to increase incentives for reductions realized. Looking ahead, we will work to formulate and promote the horizontal deployment of measures to accelerate environmental investments across the entire DIC Group, working as one to reduce our impact on the global environment.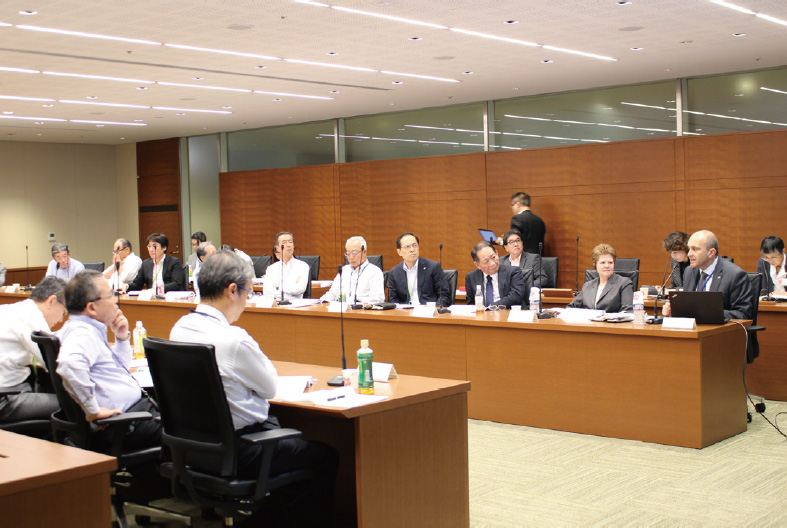 Responding to a Circular Economy: The Next Phase of Sustainability
The issue of marine plastics is one of particular concern to us as an organization that manufactures a wide variety of polymer products. In an initiative aimed at responding effectively to the shift to a circular economy, as well as to market changes propelled by evolving demand patterns, we are currently promoting the creation of a system for the chemical recycling of polystyrene. More broadly, we will also increase efforts to search for bioderived and recyclable materials, which we are approaching as a medium- to long-term endeavor. While we acknowledge that developing the materials and technologies necessary to ensure the practicality of recycling will require us to address daunting challenges, we are committed to contributing to this next phase of sustainability for the world and for ourselves.