A Message from the Head of the ESG Unit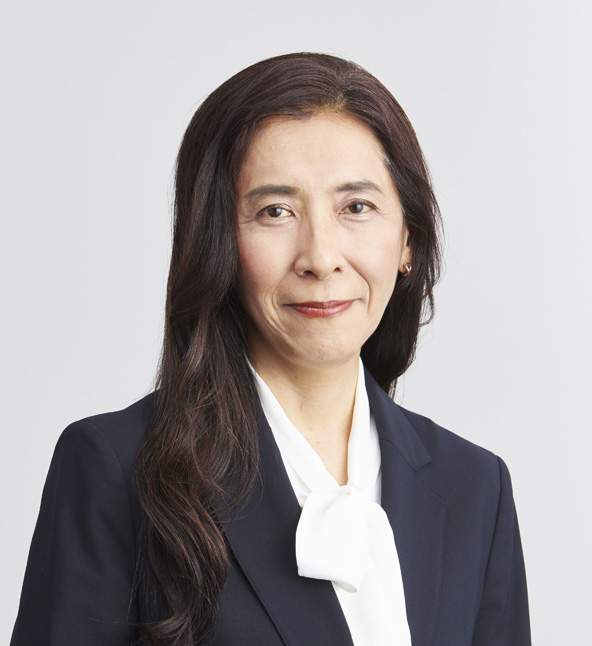 We involve all employees in the promotion
of sustainability initiatives.
Beginning in fiscal year 2022, the DIC Group has positioned the promotion of sustainability as a core management strategy, reiterating its commitment to stepping up the implementation of sustainability initiatives in DIC Vision 2030. This plan sets forth two central goals: "Establish a business portfolio that contributes to sustainable prosperity for society" and "Help achieve sustainability for the global environment and for society." The Group has identified and will concentrate its allocation of management resources in five priority business in which it will leverage its competitive strengths to help realize a society that is green, digital and QOL-oriented.
The DIC Group's Sustainability Program
DIC Vision 2030 also calls for DIC to mature as a unique global company that is trusted by society by reinforcing management of its human capital to boost the value thereof, recognizing its employees as its most important resource. Looking ahead, we will set clear targets for fiscal year 2030 for both environmental and social sustainability. I look forward to the ESG Unit, of which I am in charge, working with the Corporate Strategy Unit to drive sustainability strategies forward in tandem with business strategies. The scale of sustainability initiatives is much greater than in the past, as is enthusiasm for their implementation. We will continue seeking to improve the effectiveness of our efforts by taking on board key social imperatives and involving all DIC Group employees.
Advancing Diversity
The basic policy of DIC Vision 2030 is "Safely delivering Color & Comfort for sustainable prosperity to enhance shareholder value and longterm corporate value." One result of this new policy is that employees have become more aware of the pursuit of social value as an issue that affects them and have come to have clear expectations regarding the outcome of sincere efforts. Accordingly, with a keen awareness of diversity, at corporate headquarters we are enhancing human capital by supporting employee growth, as well as shifting to work styles that are more flexible and suited to individual needs. Measures such as these, spearheaded by the Work Style Revolution (WSR) 2020 Committee, will also help drive further innovation, which will in turn enable us to contribute to the resolution of social imperatives, thereby creating a continuous cycle of positive outcomes.
The Growing Importance of Sustainability Strategies
As already mentioned, one of the two central goals of DIC Vision 2030 is to help achieve sustainability for the global environment and for society. One way we are attempting to achieve this goal is by working to increase the percentage of products in our portfolio that qualify as sustainable to 60% by fiscal year 2030. In fiscal year 2020, sustainable products accounted for 40% of our portfolio, so our target is still a ways off. At the same time, while this target is easy enough to say, in reality it will involve realizing sustainable alternatives to products in areas ranging from those that support modern lifestyles to those that address new demand spurred by evolution of communications and information processing technologies and respond to the need for safety and peace of mind of people with diverse values. By steadily implementing plans formulated in collaboration with employees at our bases in the Americas and Europe, as well as in Asia, we will continue striving to achieve our 60% target and to support a sustainable society.
Regarding the urgent challenge of addressing climate change, we have set an ambitious target for reducing CO₂ emissions by 50% from the fiscal year 2013 level by fiscal year 2030. We are promoting various related initiatives, including shifting to green power and reviewing production processes, recognizing that achieving a 50% reduction will require ingenuity and leveraging our position as a manufacturer of fine chemicals. In addition, we are promoting efforts to help realize a circular economy. We acknowledge that there are significant differences in efforts being pursued between Europe, which is engaged in a variety of cutting-edge initiatives, and other regions. We believe that social infrastructure is essential to the achievement of the targets that we have set. DIC Group companies around the world will continue to learn from the examples set by regions pursuing advanced initiatives to steadily expand our efforts.
Finally, we will continue to emphasize disclosure. In December 2021, we held a presentation to introduce Group ESG initiatives. This reaffirmed our awareness of the value of opportunities to communicate directly with stakeholders to, for example, introduce environment-friendly products developed and provided by the DIC Group. Going forward, we will step up efforts to disseminate information and communicate effectively with both internal and external audiences, including through regular related briefings.