Goals and Achievements of Major Initiatives
Goals and Achievements of Major Initiatives (Fiscal Year 2021)
Propose solutions-oriented businesses that respond to social imperatives.
| | |
| --- | --- |
| Goals for fiscal year 2021 | Leverage core competencies to increase the probability of success for next-generation businesses from the perspective of both social and economic value, and help establish new social ecosystems that will contribute to the achievement of a circular economy. |
| Achievements in fiscal year 2021 | New products were launched that will contribute to the resolution of social imperatives—including 3D printing materials, soft wireless sensors, new types of CFRP and heat-dissipating fillers—were launched and preparations for the practical implementation of a plastic packaging recycling project proceeded. |
| Evaluation | ★★★ |
| | |
| --- | --- |
| Goals for fiscal year 2021 | Participate in exhibitions in Japan and overseas and leverage digital technologies to identify latent customer issues and propose related solutions-oriented businesses. |
| Achievements in fiscal year 2021 | Participation in exhibitions such as the Sustainable Material Expo (SUSMA) and marketing automation facilitated the cultivation of diverse channels for communicating with customers and led to the discovery or deepened understanding of latent issues. |
| Evaluation | ★★★ |
Goals of Major Initiatives (Fiscal Year 2022)
Create businesses with the potential to become new pillars.
| | |
| --- | --- |
| Goals for fiscal year 2022 | Designate areas at the intersection of ESG-related issues/social changes and DIC's core competencies as priorities and establish next-generation businesses that contribute to the resolution of social imperatives. |
| | |
| --- | --- |
| Goals for fiscal year 2022 | Promote open innovation (through CVC, collaboration with academic institutions and M&As) and strategic investments with the aim of enhancing the DIC Group's technology platform and driving the creation of new businesses and products. |
Evaluations are based on self-evaluations of current progress.
Key: ★★★= Excellent; ★★ = Satisfactory; ★= Still needs work
Creating New Value
The DIC Group's redefined vision statement, introduced in its new long-term management plan, expresses the Company's goals of delivering greater value through broader innovation, improving the human condition and promoting stability for a brighter future. Seeing its mission as being to achieve sustainable growth for itself and society, the Group is pursuing various initiatives aimed at helping realize carbon neutrality, in line with its basic policy of providing greater social benefits that enhance shareholder value and build long-term corporate value.
Seeking to fulfill its mission, the DIC Group set a target in its DIC Vision 2030 long-term management plan of increasing sales of sustainable products to 60% of its net sales by expanding businesses in growth markets and creating new businesses to promote portfolio transformation. Through the initiatives set forth in the plan, the Group pledges to contribute to the creation of a society that is increasing green. digital and quality of life (QOL)-oriented.
Portfolio Transformation
The COVID-19 pandemic has created a new normal that is expected to significantly accelerate the transition to a digital society and fundamentally altered consumer behavior. Recent years have also heightened corporate awareness of the importance of achieving carbon neutrality by 2050. Amid these paradigm shifts, the DIC Group has identified five priority business areas at the intersection of ESH-related issues and its own competitive strengths: Sustainable energy, healthcare, smart living, color science and sustainable packaging.
The New Business Development Headquarters is charged with commercializing products in next-generation and growth businesses, while the R&D Management Unit is in charge of establishing inorganic materials design and biomaterial design technologies as new basic technologies essential to the creation of new businesses. A seamless framework for cooperation between the two will further drive portfolio transformation by facilitating the swift establishment of new businesses.
Next-generation and growth businesses are highly competitive and evolve rapidly. In addition to strengthening internal cooperation to promote the commercialization of new products in such areas, the Group will make active use of external resources by promoting open innovation by, among others, leveraging corporate venture capital (CVC) and connections in other industries, investing in start-ups, collaborating with academic institutions and working with other companies
01

Verification Testing of Material Recycling Process for Waste Flexible Packaging Film that Uses Deinking Technology

With finding solutions to the issue of waste plastics and marine plastic an increasingly urgent social imperative, efforts to find sustainable ways to use plastics are progressing rapidly around the world. In Japan, a new Plastic Resource Recycling Promotion Law came into force on April 1, 2022, a development that is expected to further accelerate the drive to realize sustainable plastics.
Recognizing the reduction of waste plastic and marine plastics as a challenge that, as a manufacturer of fine chemicals, it has a responsibility to address, DIC has identified the areas in which it can best contribute as inks, adhesives and films in its sustainability strategies. In one initiative currently underway, DIC is collaborating with a major bread manufacturer and a recycling firm in the development of a materials recycling process for waste flexible packaging film that uses deinking technology for which verification testing has recently begun. Because of inks used on waste flexible packaging film, the color and physical properties of film recycled using materials recycling processes has traditionally limited its uses. The use of deinking technology in this new process yields significant improvements in both color and physical properties, greatly expanding potential uses for the resulting recycled film. Looking ahead, the DIC Group expects the broad practical application of this new process will play a major role in increasing the recycling of waste flexible packaging film.

02

Algae-Derived DHA Oils

Algae, which absorbs CO₂ and produce useful substances through photosynthesis, is attracting more and more attention against a backdrop of evolving requirements for companies to ensure sustainability, notably the need to achieve carbon neutrality and reduce consumption of petroleum-derived resources. The DIC Group recently signed a sales agency contract with Fermentalg S.A., a leader in the development of microalgae-derived food ingredients based in Libourne, France, and in July 2021 began marketing Fermentalg's DHA ORIGINS™-510 series of highly concentrated docosahexaenoic acid (DHA) oils, which are derived from a proprietary microalgae strain (Schizochytrium sp.), for use in dietary supplements.
DHA is a type of omega-3 fatty acid only very small amounts of which are produced in the human body, meaning it must be acquired from food. The health benefits of DHA are recognized around the world and backed by significant evidence. Unlike DHA from fish, Fermentalg's microalgae-derived DHA is extracted directly from cultured algae, responding to concerns regarding marine pollution and the depletion of fishery resources. It also has scarcely any perceptible odor and contains absolutely no animal products, making it suitable for vegetarian and vegan diets. Free from allergens and genetically modified organisms (GMOs), and extracted without the use of organic solvents, these oils also deliver safety and peace of mind. In addition, they comply with both the European Union's Novel Food safety standards and the U.S. Food and Drug Administration's Generally Recognized as Safe (GRAS) standards.
Grown in a clean environment using Fermentalg's outstanding technology for cultivating Schizochytrium sp. in fermentation tanks, eliminating the infl uence of climate and the risk of contamination, DHA ORIGINS™-510 products realize highly concentrated (51%) DHA without any artificial concentration processes. The DIC Group will continue to reinforce its algae cultivation technologies as part of its commitment to contributing to the realization of a sustainable society and an improved QOL for people everywhere.
03

New Seed Film for Fabricating Wiring on High-Frequency PWBs for High-Speed Data Transmission

With the progress of digitalization and the rising need for high-speed, large-capacity communication infrastructure, copper wiring technologies that minimize transmission loss in high-frequency bands are taking on increased importance. DIC and Taiyo Ink Mfg. Co., Ltd. collaborated to develop a new seed film for fabricating wiring on high-frequency printed wiring boards (PWBs) that enables the formation of extremely smooth diagonal and vertical wiring.

This new film was developed by DIC and Taiyo Ink as a new application for DIC's metallic nanoparticles in the fabrication of fl exible PWBs. The metallic nanoparticle-coated film is used as a conductive seed layer in the formation of copper wiring using a semi-additive process. This ensures the copper wiring adheres extremely evenly and that the pattern can be etched without thinning. This leaves a finely patterned, extremely smooth surface, greatly reducing transmission loss in high-frequency bands. DIC looks forward to providing an increasing variety of high-performance films that contribute to the realization of a high-speed, high-capacity communications infrastructure.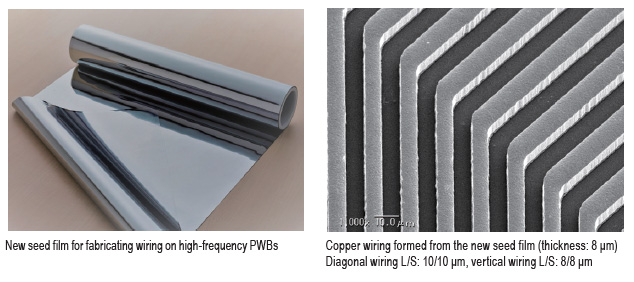 TOPIC
Investment in and Collaboration with Biotech Start-Ups Yields New Businesses
In fiscal year 2016, DIC established a CVC unit, tasking it with searching the globe for start-ups boasting unique technologies, compelling business models or disruptive innovations with the potential to contribute to society and the DIC Group. The focus of such efforts is start-ups in the biotechnology field, which continues to grow in importance against expanding concern for sustainability. In fiscal year 2018, DIC invested in bioventure Checkerspot, Inc., in the United States, while in fiscal year 2021 it invested in Israeli biotech start-up Vaxa Technologies Ltd. Vaxa Technologies possesses unique proprietary LED- illuminated photobioreactors and algae cultivation technologies and is engaged in the development and commercialization of clean, unparalleled high-value-added algae products. The Company has also teamed up with U.S. firm Debut Biotechnology, Inc., to conduct R&D aimed at realizing new methods for synthesizing natural pigments. The combination of Debut Biotech's advanced knowledge of enzyme reactions and process design and DIC's technologies in the field of color materials will lead to the development and commercialization of unprecedented sustainable, high-value-added natural colorants. Going forward DIC will continue to make use of open innovation, including through CVC, to build partnerships that will help contribute to sustainability by facilitating the creation of new businesses that help address key social imperatives.
TOPIC
Leveraging CVC to Work to Build a Sustainable Future
In 2016, DIC established a corporate venture capital (CVC) unit that is charged with searching the globe for start-ups boasting unique technologies, compelling business models or disruptive innovations that may contribute to society and to the longevity of the DIC Group. Or particular note, the unit looks for start-ups positioned to strive in the age of sustainable business. One such example is Checkerspot, Inc., in which DIC invested in 2018, which uses microalgae as a direct replacement for petroleum-based resources to create materials that facilitate the production of more sustainable high-performance products. From its approach to product design, which incorporates considerations for end-of-life disposal, to its use of social media to gauge consumers' affinity for ecology, the environment and sustainability, as well as to track their reactions, Checkerspot has created a business model that is revolutionary on many fronts. In line with its New Pillar Creation strategy, DIC will continue to actively leverage CVC as a route to open innovation with the aim of building partnerships with companies to create new businesses that help address key social imperatives.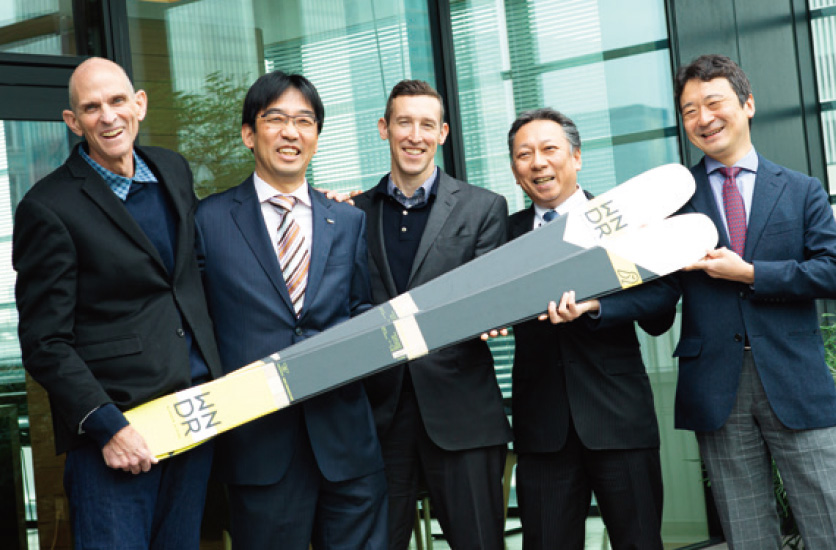 TOPIC
DIC Provides Hollow-Fiber Membranes for Use in ECMO
DIC provides hollow-fiber membranes to add oxygen to the blood in extracorporeal membrane oxygenation (ECMO)*, which is currently being used worldwide to treat critically ill COVID-19 patients. Oxygenators replace the function of the patient's own lungs, temporarily drawing low-oxygen venous blood from the patient's body to allow artificial oxygenation and then returning it to the body.
A hollow-fiber membrane is a bundle of hollow fibers that oxygenates blood by flowing it across the outer surface of the gas permeable bundle while passing oxygen through the inside. DIC's hollow-fiber membranes for this application are made with a special polyolefin resin that effectively minimizes the risk of thromboembolic complications and have earned a solid reputation for reliability over the three decades since first being adopted for use as oxygenator gas separation membranes in 1990. Given the increasing number of patients worldwide with acute respiratory distress syndrome (ARDS) as a result of the COVID-19 pandemic, DIC will continue working to help ensure a steady supply of indispensable medical equipment.
ECMO is an extracorporeal technique for providing respiratory and circulatory support to patients with ARDS using a pump and an oxygenator.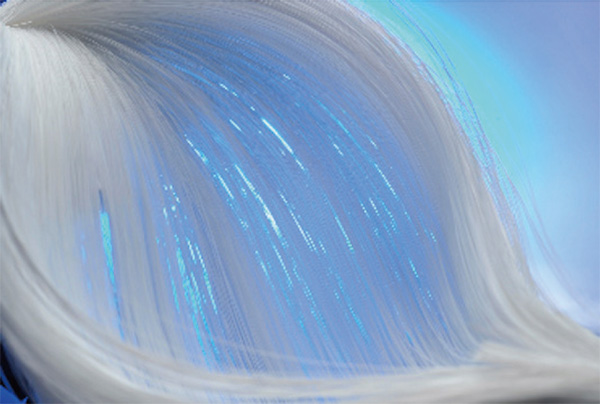 VOICE
We are working to create next-generation businesses that will ensure a sustainable future for everyone.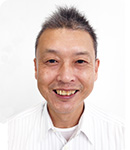 In formulating our new medium-term management plan, DIC111, we held extensive discussions on how to best incorporate sustainability, represented by the SDGs, into the creation of next-generation businesses. One conclusion this process yielded was that there was a need for another scale— namely, sustainability indicators—for assessing businesses. That prompted us to revisit the question of who "sustainability" is for. Our goal is not to promote sustainability exclusively for customers, nor is it only a way for us to fulfill our responsibility as a corporate citizen. Rather, we must seek to ensure a sustainable future for everyone—the DIC Group, including the employees engaged in production, the customers who use our products, and also society, to which our products ultimately contribute. This belief will continue to guide our efforts to create nextgeneration businesses.
Manager, New Business Development Headquarters Nobuo Kobayashi
TOPICS
DIC Products and Know-How Are Helping Improve the Safety of Thailand's Roads
According to World Health Organization (WHO) statistics published in 2015, the traffic death rate in Thailand was 36.2 people per 100,000, second highest in the world and eight times the rate in Japan. In Japan, one strategy employed to increase traffic safety that has contributed to a reduction of accidents is colored pavement, which improves visibility for drivers. In Thailand, colored pavement has recently been used around airports and in tourist areas, but there have been complaints that not enough has been done to prevent road surfaces from becoming slippery in the rain. DIC Group company Siam Chemical Industry worked with a Japanese-owned formulator to conduct verification tests for a heat-blocking slip-resistant road surfacing material that balances two performance features that have proven successful in Japan, namely, slip-resistance and heat blocking, which is effective in countering the heat island effect and increasing the durability of roads. The company has since begun introducing this material to the Thai authorities. Going forward, Siam Chemical Industry will continue to capitalize on technologies developed by the DIC Group in Japan to help reduce the incidence of traffic accidents in Thailand and eliminate urban heat islands.

Ties with Customers
With the aim of becoming a unique global company that is trusted by society, the DIC Group prioritizes and works to strengthen communications with its customers. Principal avenues of communication include participating in exhibitions, events and lectures, providing support for business partners and holding workshops. In fiscal year 2021, the spread of COVID-19 once again encouraged the Group to use an online or hybrid format for exhibitions, presentations and other events. The Group chose a hybrid format for the 2021 Tokyo International Packaging Exhibition (TOKYO PACK 2021), held in February, combining a physical booth and a virtual exhibition. Similarly, for the Cosmetic Ingredients & Technology Exhibition (CITE) Japan 2021 exhibition in May, the Group also opened an online cosmetics materials showroom that included a number of online video presentations. In addition, the Group used social media to introduce examples of product use. For the Sustainable Material Expo (SUSMA), in December, the Group expanded its virtual exhibition for the benefit of people who were unable to attend the exhibition in person.
Sun Chemical of the United States, which oversees Group operations in the Americas and Europe, participated in events such as the virtual INFOFLEX 2021 in May and Innovate 2021 Textile Innovation Week in October, allowing it to present its lineup of sustainable packaging products, as well as its new jet inks for printing on textiles and other products, to a global audience. In November, Sun Chemical began offering "What's IN Asia," an online trends program highlighting the latest inspirations in the Asian beauty industry.
In July 2021, the DIC Group launched a new common coating resins product finder, which is available in Japanese, English and Chinese, on its global website, making it easy for users to identify the right product for their needs from among a range of more than 300 coating resins and to confirm recommended applications, key features and other basic product information.
To measure the benefits of participation in the aforementioned exhibitions, and of efforts to build relationships of trust with customers, the Group continued to employ a system that looks at the portion of sales accounted for by repeat customers, that is, its customer retention rate, which is a key indicator of customer satisfaction. The Company thus continues working unceasingly to bolster its grasp of and improve customer satisfaction.
Digital Marketing
The DIC Group actively promotes digital marketing activities. In addition to significantly expanding the content of its global website, the Group held multiple online exhibitions aimed at helping customers address needs in a variety of specific areas. The Group also sharply increased its use of electronic tools, including email and third-party websites, to communicate with customers. In fiscal year 2022, the Group will continue to enhance the content of its global website, as well as to expand digital efforts to reach customers, including participating in online exhibitions in new areas and holding webinars.