Goals and Achievements of Major Initiatives
Propose solut ions- oriented businesses that respond to social imperatives.
| | |
| --- | --- |
| Goals for fiscal year 2019 | Bolster collaboration with external organizations and promote prompt commercialization with the aim of advancing the creation of next-generation businesses that enhance sustainability and reinforce the Group's ability to propose supply chain–oriented solutions. |
| Achievements in fiscal year 2019 | The DIC Group established a new business that will help enhance the sustainability of customers by developing a new solvent-free adhesive, which is expected to reduce CO2 emissions attributable to the production of packaging films, and is sold together with an adhesive supply unit that facilitates efficient coating. |
| Evaluation | ★★★ |
| Goals for fiscal year 2020 | Contribute to the realization of a sustainable society by fostering next-generation businesses that anticipate technological changes. |
| | |
| --- | --- |
| Goals for fiscal year 2019 | Participate in trade shows for key customer industries in Japan and overseas to strengthen the DIC brand and promote digitization to improve efficiency. |
| Achievements in fiscal year 2019 | The DIC Group participated in major trade shows such as the 2019 Smart Building Expo in Tokyo. |
| Evaluation | ★★★ |
| Goals for fiscal year 2020 | Participate in trade shows for key customer industries in Japan and overseas to strengthen the DIC brand and promote digitization to improve efficiency. |
Evaluations are based on self-evaluations of current progress.
Key: ★★★ = Excellent; ★★ = Satisfactory; ★ = Still needs work
New Pillar Creation: Promoting New Businesses that Respond Accurately to the Changing Needs of Society
The DIC Group sees one of its key missions as being to achieve sustainable growth both for itself and society by helping to address social imperatives related to climate change, the digitization of society, urbanization and longevity by identifying key business domains and providing products that respond to such imperatives.
With the goal of swiftly realizing this mission, DIC has outlined two basic business development strategies in its new medium-term management plan, DIC111: "Value Transformation" and "New Pillar Creation." In line with the strategy of Value Transformation, the Group will advance qualitative reforms in existing core businesses by shifting to businesses with differentiated high-value-added products and with more of a focus on social value. New Pillar Creation emphasizes creating new businesses by identifying areas where ESH-related issues and social changes intersect with the DIC Group's competencies. This strategy continues to guide a number of key initiatives, several of which are described on page 135.
Designing a Framework for New Pillar Creation
The DIC Group's success in providing new products and services that benefit society and creating new businesses will depend on how well it understands the sources of its competitiveness and whether it can swiftly and accurately identify social imperatives and needs. The ability to take responsibility for seeing the development process through to commercialization is particularly crucial. Accordingly, rather than depending on a conventional marketing-led approach to development, the Group has designed a framework centered on a deployment team that is charged with facilitating the design of new businesses by overseeing everything from planning and development through to production and sales, thereby ensuring that efforts to create new businesses optimize overall capabilities and are strategically effective.
Having established the New Business Development Headquarters to serve as the deployment team and identified four priority business areas, the DIC Group will leverage its ingenuity to advance the creation of new products that are useful to society and next-generation businesses with the potential to become mainstays.
The DIC Group will also bring together people from technical and sales backgrounds with detailed understanding of these business areas and people with experience in related industries with the aim of enhancing expertise and communications capabilities, as well as make active use of open innovation—including through participation in initiatives involving collaboration between industrial concerns and academia and by capitalizing on external resources—to promote the timely development and commercialization of products that benefit society.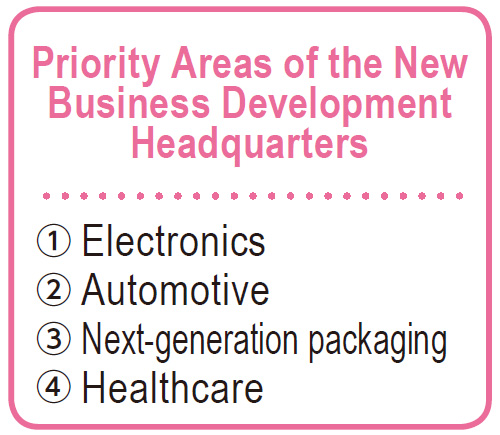 Examples of New Pillar Creation
01

Developing and Providing Sustainable Products and Solutions in the Packaging Field

In addition to reducing emissions of CO2, a key cause of global warming, the DIC Group has positioned the issue of marine plastics, which impacts the environment and ecosystems, as a pressing issue and has established a project aimed at reinforcing its efforts to address this challenge that involves multiple departments dealing with packaging materials. The project is promoting the development of materials and technologies in line with the "4Rs" ("Recycle, Reduce, Reuse and Redesign") of packaging with the goal of deploying new bio-derived raw materials and circular packaging. Looking ahead, the Group will also seek to address this challenge by broadening its approach to include the entire packaging materials supply chain, advancing the development of products suitable for monomaterials, easily peelable ink solutions and technologies to prevent the deterioration of recyclable plastics, among others, thereby contributing to the realization of more sophisticated recycling.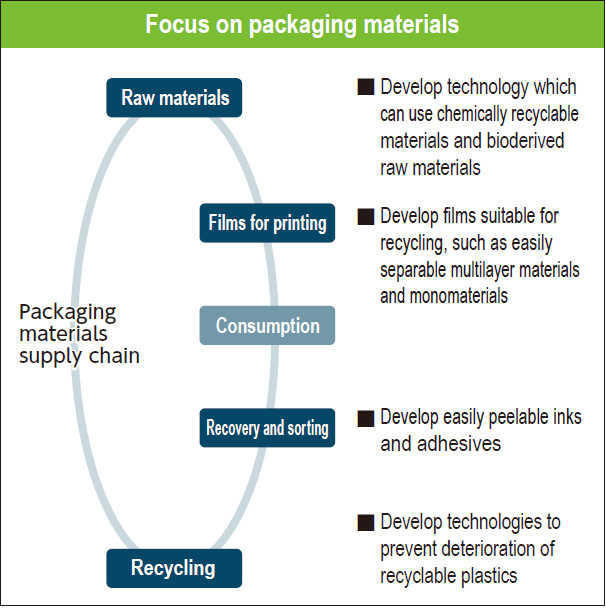 02

Leveraging Biorefinery Technologies to Help Realize Decarbonization through the Development of a Biodegradable SAP

Biorefinery technologies, which make it possible to use biomass, a renewable resource, rather than petroleum-derived raw materials in the production of chemicals, are attracting increasing attention around the world. Since summer 2019, the DIC Group and Tokyo-based biotech startup Green Earth Institute Co., Ltd. (GEI) have promoted joint research aimed at developing a naturally derived aspartic acid–based biodegradable waterborne superabsorbent polymer (SAP). In this initiative, GEI—which boasts outstanding expertise in the development of green chemicals—is charged with developing naturally derived aspartic acid using an innovative fermentation technology that absorbs CO2. DIC's role is to create a process for polymerizing the new aspartic acid and to explore ways to scale up the production system.
Principal applications for conventional SAPs include paper diapers, soil modifiers and cosmetics. However, because such SAPs are petroleum-derived, they are a major cause of marine plastics and waste plastic. The SAP under development by the DIC Group and GEI is made with a recyclable material, making it biodegradable, and is thus expected to contribute to both the realization of environment-friendly products that help resolve these issues as well as to decarbonization and the reduction of waste plastic.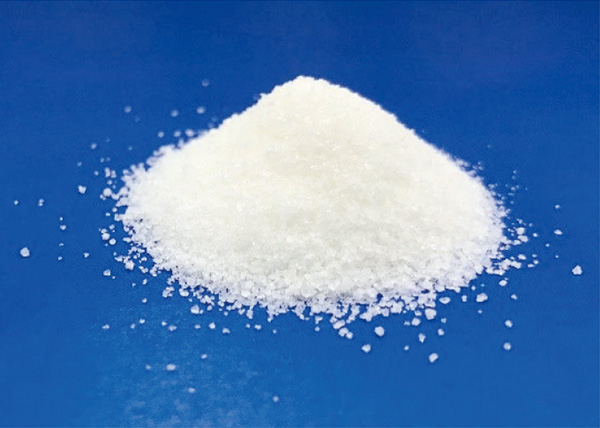 TOPIC
DIC Provides Hollow-Fiber Membranes for Use in ECMO
DIC provides hollow-fiber membranes to add oxygen to the blood in extracorporeal membrane oxygenation (ECMO)*, which is currently being used worldwide to treat critically ill COVID-19 patients. Oxygenators replace the function of the patient's own lungs, temporarily drawing low-oxygen venous blood from the patient's body to allow artificial oxygenation and then returning it to the body.
A hollow-fiber membrane is a bundle of hollow fibers that oxygenates blood by flowing it across the outer surface of the gas permeable bundle while passing oxygen through the inside. DIC's hollow-fiber membranes for this application are made with a special polyolefin resin that effectively minimizes the risk of thromboembolic complications and have earned a solid reputation for reliability over the three decades since first being adopted for use as oxygenator gas separation membranes in 1990. Given the increasing number of patients worldwide with acute respiratory distress syndrome (ARDS) as a result of the COVID-19 pandemic, DIC will continue working to help ensure a steady supply of indispensable medical equipment.
ECMO is an extracorporeal technique for providing respiratory and circulatory support to patients with ARDS using a pump and an oxygenator.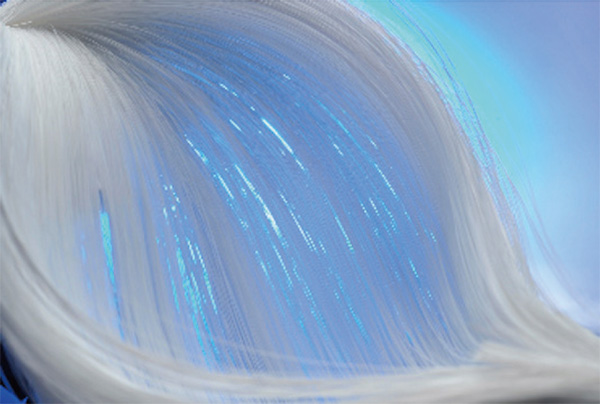 Encouraging Familiarity with DIC Group Materials
The DIC Group participates in a variety of major trade shows every year with the aim of encouraging familiarity with the DIC Group products and development efforts. In fiscal year 2018, the Group introduced materials that will contribute to a stress-free digital society at FINETECH JAPAN (Makuhari, Chiba Prefecture), the JPCA Show (Tokyo Big Sight) and Chemical Materials Japan (Yokohama, Kanagawa Prefecture), materials relevant to the issue of marine plastic at Tokyo Pack 2018 (Tokyo Big Sight) and health- and safety-related products at FOOD TABLE in Japan 2018 (Makuhari, Chiba Prefecture). Overseas, the Group exhibited plastic materials that help reduce the weight of vehicles at PLASTINDIA 2018 (Gandhinagar, Gujarat) and CHINAPLAS 2018 (Shanghai) and took part in a variety of segment-specific events, including Paint India 2018 (Mumbai), Security Printers 2018 (Dublin, Ireland), and in-Cosmetics Global 2018 (Amsterdam), to promote dialogue with a wide range of stakeholders.
In fiscal year 2019, the DIC Group will again take part in key trade shows to introduce Group products, development efforts and core technologies, hear the views of stakeholder, with the aim of realizing distinctively DIC materials that resolve challenges and are useful to society.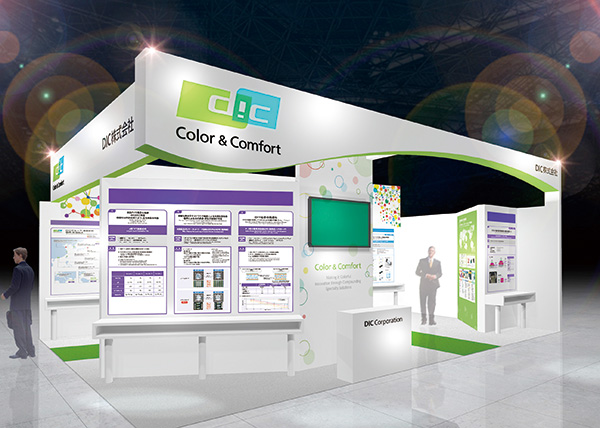 VOICE
We are working to create next-generation businesses that will ensure a sustainable future for everyone.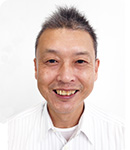 In formulating our new medium-term management plan, DIC111, we held extensive discussions on how to best incorporate sustainability, represented by the SDGs, into the creation of next-generation businesses. One conclusion this process yielded was that there was a need for another scale— namely, sustainability indicators—for assessing businesses. That prompted us to revisit the question of who "sustainability" is for.
Our goal is not to promote sustainability exclusively for customers, nor is it only a way for us to fulfill our responsibility as a corporate citizen. Rather, we must seek to ensure a sustainable future for everyone—the DIC Group, including the employees engaged in production, the customers who use our products, and also society, to which our products ultimately contribute. This belief will continue to guide our efforts to create nextgeneration businesses.
Manager, New Business Development Headquarters Nobuo Kobayashi
TOPICS
DIC Products and Know-How Are Helping Improve the Safety of Thailand's Roads
According to World Health Organization (WHO) statistics published in 2015, the traffic death rate in Thailand was 36.2 people per 100,000, second highest in the world and eight times the rate in Japan. In Japan, one strategy employed to increase traffic safety that has contributed to a reduction of accidents is colored pavement, which improves visibility for drivers. In Thailand, colored pavement has recently been used around airports and in tourist areas, but there have been complaints that not enough has been done to prevent road surfaces from becoming slippery in the rain. DIC Group company Siam Chemical Industry worked with a Japanese-owned formulator to conduct verification tests for a heat-blocking slip-resistant road surfacing material that balances two performance features that have proven successful in Japan, namely, slip-resistance and heat blocking, which is effective in countering the heat island effect and increasing the durability of roads. The company has since begun introducing this material to the Thai authorities. Going forward, Siam Chemical Industry will continue to capitalize on technologies developed by the DIC Group in Japan to help reduce the incidence of traffic accidents in Thailand and eliminate urban heat islands.

Ties with Customers
With the aim of becoming a unique global company that is trusted by society, the DIC Group prioritizes and works to strengthen communications with its customers. Principal avenues of communication include participating in exhibitions, events and lectures, and holding workshops for business partners. In fiscal year 2020, the spread of the COVID-19 pandemic encouraged the Group to move its own exhibitions, presentations and other events online, as well as to take part in global exhibitions that shifted to an online format, including CAD RETEC 2020, a global technical conference on plastics, in September and International Plastic Fair (IPF) Japan 2020 in November. Sun Chemical, which oversees Group operations in the Americas and Europe, also participated in online events such as FlexoTech magazine's FlexoTech Talk in October and held webinars for customers. In Japan, the PRC and the Asia–Pacific region, DIC Group companies made use of their websites to enhance the provision of information to customers and post videos introducing new products.
Finally,DIC continued employing a dedicated system in operation since 2013 to measure the portion of sales accounted for by repeat customers, using this as a measure of customer satisfaction based on sales data for the last three years. The Company thus works unceasingly to bolster its grasp of and improve customer satisfaction.
Digital Marketing
The DIC Group actively promotes digital marketing activities. With the increasing dominance of electronic communications, including email, social media and websites, the focus for communication with customers has rapidly shifted to these media. Accordingly, the DIC Group has introduced marketing automation designed to more effectively utilize electronic communications channels with the aim of responding swiftly to customer requests. To ensure its ability to address inquiries in a timely manner, in fiscal year 2019 the Group will began introducing sales force automation (SFA). In the current fiscal year, the Group will significantly expand the scope of adoption in Japan and overseas, positioning it to adapt to the advance of the digital age.