Goals and Achievements of Major Initiatives
Promote sustainable procurement.
| | |
| --- | --- |
| Goals for fiscal year 2020 | Reduce procurement-related risks by closely inspecting the sustainability efforts—including responses to environmental regulations—of suppliers of key materials for which the DIC Group is heavily dependent on the PRC and India. |
| Achievements in fiscal year 2020 | In the PRC, risks to business continuity of inspections of the need for major suppliers to acquire environmental emissions permits*1 and information on the consolidation of chemical industrial parks were assessed. Inspections in India were postponed to fiscal year 2021 because of COVID-19. |
| Evaluation | ★★ |
| Goals for fiscal year 2021 | Reduce procurement-related risks by closely inspecting the impact of the tightening of regulations and consolidation of chemical industrial parks in the PRC and India on manufacturers of key raw materials, as well as the status of such manufacturers' sustainability efforts. |
| | |
| --- | --- |
| Goals for fiscal year 2020 | Continue to seek out new suppliers and conduct on-site inquiries using the revised DIC Group Sustainable Procurement Guidebook. |
| Achievements in fiscal year 2020 | The revised DIC Group Sustainable Procurement Guidebook was published in February 2020 in Japanese, English and Chinese. On-site inquiries based on the revised version were conducted for major suppliers. |
| Evaluation | ★★ |
| Goals for fiscal year 2021 | Use the revised DIC Group Sustainable Procurement Guidebook (DIC) and the EcoVadis*2 tool (Sun Chemical) to conduct on-site inquiries and ensure a grasp of suppliers' overall ESG initiatives. |
Evaluations are based on self-evaluations of current progress.
Key: ★★★ = Excellent; ★★ = Satisfactory; ★ = Still needs work
These permits are nationwide standard authorizations that all companies were required to achieve by the end of fiscal year 2020.
EcoVadis maintains an information platform providing ESG ratings and a performance improvement tool for global supply chains.
Basic Approach to Sustainable Procurement
Having recognized the increasing importance of addressing global issues related to human rights, climate change and water risk, among others, as social imperatives, the DIC Group promotes socially responsible procurement practices. To ensure its extended supply chain functions in a socially responsible manner, in 2008 the Group established the DIC Group Universal Purchasing Policy, based on which it later formulated purchasing management regulations and clarified issues it expects suppliers to address. Using the DIC Group Sustainable Procurement Guidebook, revised in February 2020, the Group promotes sustainable procurement across its supply chain by ensuring that all suppliers implement improvements and initiatives as necessary. Group companies in Japan, the Americas and Europe, Greater China and the Asia–Pacific region collaborate to ensure sustainable procurement on a global basis.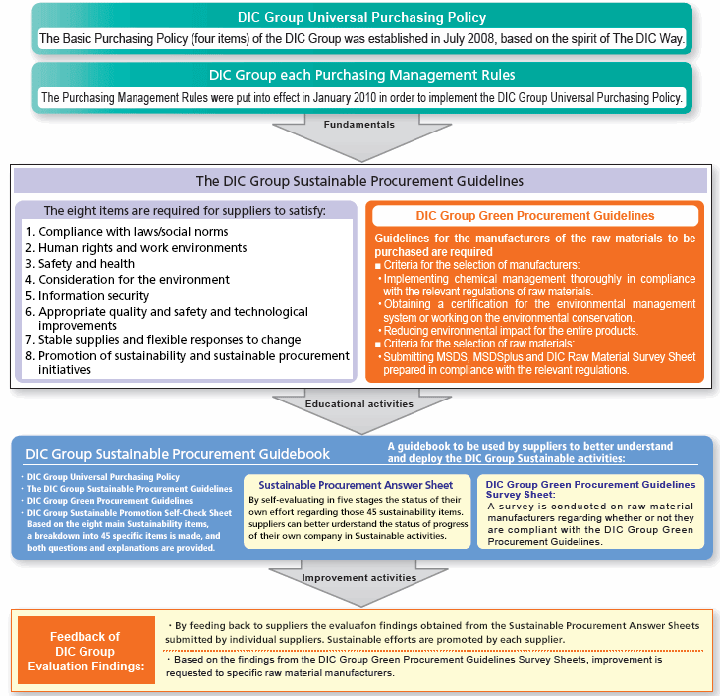 The DIC Group Universal Purchasing Policy
Guided by an action policy established to realize the DIC Group's basic sustainable procurement principles, the Purchasing Department adheres to the following guidelines in dealing with suppliers:
Fair and transparent business practices
The DIC Group will implement fair and open purchasing activities with suppliers based on global perspectives, without the constraints of conventional commercial customs.
An appropriate purchasing process and the building of relationships of mutual trust
The DIC Group, as a good partner for suppliers, will build long-lasting, mutually trusted relationships with suppliers and work together with them for mutual harmony and benefit, while complying with relevant regulations/social norms, domestic and overseas, and pursuing adequate quality and prices.
Satisfying environmental/safety needs
The DIC Group will take responsibility as an exemplary corporate citizen for environmental affairs, occupational safety, human health and product quality, always take into account changes in society and implement environment-friendly purchasing activities.
Challenge the creation of new value
In order to respond at a high level to a new value sought by society, the DIC Group will proactively challenge the creation of such value together with suppliers, with whom the same goal can be shared, and strive to grow together with them in a sustainable manner.
The DIC Group Sustainable Procurement Guidelines
Compliance with laws/social norms
Human rights and work environments
Safety and health
Consideration for the environment
Information security
Appropriate quality and safety and technological improvements
Stable supplies and flexible responses to change
Promotion of sustainability and sustainable procurement initiatives
Encouraging Sustainable Procurement
Based on the DIC Group Universal Purchasing Policy and incorporating requirements contained in guidebooks put out by external organizations, including the Japan Electronics and Information Technology Association (JEITA), in 2010 DIC formulated the DIC Group CSR Procurement Guidelines. To address increasingly urgent and evolving expectations regarding the sustainability of companies' procurement practices, these guidelines were recently modified and renamed the DIC Group Sustainable Procurement Guidelines. Notable revisions were made to sections on the formulation of a human rights policy, the management of chemical substances, minimization of impact on the environment, the efficient use of water resources and energy, the establishment of medium-term targets for reducing greenhouse gas emissions, and the formulation of BCPs to guarantee stable supplies. With the aim of compelling suppliers to observe these guidelines, as well as to comply with social imperatives outlined by the Responsible Business Alliance (RBA) and the TCFD, the Group has also prepared the DIC Group Sustainable Procurement Guidebook, version 3 of which was published in February 2020.
The Group uses the guidebook to conduct assessments and on-site inquiries and to promote awareness among suppliers worldwide. A separate mechanism exists for taking the results of sustainability assessments into account when selecting new suppliers. The Group has also formulated the DIC Group Green Procurement Guidelines, in line with which it obliges suppliers to ensure the stringent management of chemical substances. In addition, the Group entreats suppliers to develop and release products that have less of an impact on the environment, promote green procurement and lower the environmental impact of the materials they procure—and the packaging and transport, production and engineering thereof—by reducing resources and energy used, decreasing the weight and expanding the useful lifespan of, and reducing CO₂ emissions from, such materials.
The DIC Group Green Procurement Guidelines
In line with the DIC Group Universal Purchasing Policy, DIC formulated the DIC Group Green Procurement Guidelines, which prohibit the procurement of materials containing hazardous substances in seven categories.*1 The guidelines mandate the submission of a DIC Raw Materials Survey, an SDS and a chemSHERPA,*2 as well as a DIC Group Green Procurement Guidelines Survey, when purchasing raw materials, thereby creating a system for eliminating substances of concern. Submission of a Conflict Minerals Survey is also required.
(1) Substances the production of which is prohibited, as outlined in Article 55 of Japan's Industrial Health and Safety Act; (2) Substances designated as class-1 specified chemical substances in Japan's Act on the Evaluation of Chemical Substances and Regulation of Their Manufacture, etc.; (3) Substances designated for monitoring under Japan's Act on the Evaluation of Chemical Substances and Regulation of Their Manufacture, etc.; (4) Chemical substances the production of which is already prohibited, as detailed in Japan's Act on the Protection of the Ozone Layer Through the Control of Specified Substances and Other Measures (ozone-depleting substances listed in the Montreal Protocol); (5) Specified particulates denoted in Japan's Air Pollution Control Act; (6) Specified poisonous substances indicated in Japan's Poisonous and Deleterious Substances Control Act; and (7) Specified substances detailed in the Stockholm Convention on Persistent Organic Pollutants.
chemSHERPA is a scheme designed to facilitate the accurate and efficient sharing of information on chemical substances in products across the entire supply chain. DIC began using chemSHERPA in late fiscal year 2017.
Advance Assessment of New Suppliers
In addition to requiring submission of the four mandatory documents listed above, as well as a Conflict Minerals Survey, DIC conducts comprehensive advance assessments of major new suppliers, including from a CSR perspective.
Supplier Self-Evaluations
In accordance with the DIC Group Sustainable Procurement Guidebook, the DIC Group asks suppliers to evaluate themselves by completing a questionnaire, which it uses to ascertain the status of suppliers' sustainable procurement practices. The questionnaire further segments the Group's eight procurement guidelines into 45 issues, including consideration for human rights and work environments, acquisition of certification under ISO 14001, implementation of green procurement and promotion of sustainable procurement to secondary suppliers.

Analyzing the Results of Questionnaires
Between June 2020 and February 2022, the DIC Group used version 3 of the DIC Group Sustainable Procurement Guidebook, which was published in February 2020, to conduct assessments for 348 suppliers, accounting for more than 70% of its procurement spending. In addition to analyzing and assessing questionnaire responses, the Group provided feedback and where necessary requested corrective measures, using written comments or remote interviews because of COVID-19.
Note:Between November 2013 and December 2019, assessments were conducted using version 1 and then version 2 of this guidebook for a cumulative total of 764 companies.
Conducting On-Site Inquiries
From fiscal year 2011 through fiscal year 2019, the DIC Group provided feedback through on-site inquiries or written comments to 102 suppliers. In an onsite inquiry, the Group and the supplier confirm the self-evaluation provided via the questionnaire and discuss corrective measures. Other efforts include introducing examples of Group ESG initiatives to assist the efforts of suppliers to achieve sustainability. In fiscal year 2020, on-site inquiries were not conducted due to COVID-19.
Global Procurement Initiatives
In fiscal year 2020, the DIC Group continued working to fortify understanding among certain Group companies using version 3 of the DIC Group Sustainable Procurement Guidebook and conduct on-site inquiries for certain key suppliers. Sun Chemical began to survey suppliers using the EcoVadis tool. Going forward, DIC and Sun Chemical will continue to exchange views on future sustainable procurement issues at meetings of the Sustainability Committee. Group company Siam Chemical Industry once again achieved a silver medal in the EcoVadis assessment for the second consecutive year.
Ensuring the Sustainable Procurement and Use of Raw Materials
The DIC Group promotes the sustainable use of raw materials from a medium- to long-term perspective. This includes giving consideration to a wide range of factors, including climate change and resource conservation, when using recyclable materials. Looking ahead, the Group will expand the global application of its sustainable raw materials initiatives.
Promoting Awareness In-House
The DIC Group provides regular training for in-house purchasing personnel, including point of hire, when transferred and prior to meeting with customers. In February 2020, the Group posted the revised version of the DIC Group Sustainable Procurement Guidebook on the DIC intranet to promote awareness and held related presentations at overseas Group companies.
VOICE
We are working to build partnerships with suppliers through sustainable procurement.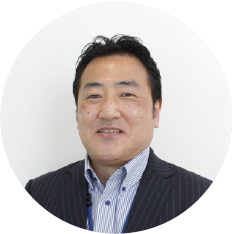 In addition to manufacturing and selling inks, DIC Graphics provides solutions that encompass the proposal and sale of products sourced from other manufacturers. My department is in charge of procuring such products, which are diverse in nature and include solvents used in inks, printing plates and chemical cleaning agents used on printing floors, as well as equipment that helps customers reduce labor requirements. We currently work with approximately 300 suppliers. Sustainable procurement initiatives are essential to building effective partnerships with these companies. Supplier inquiries have traditionally focused on considerations such as quality, price and stable supply capabilities, but we recognize the increasing importance of sustainable procurement, which incorporates ESG perspectives, to our efforts to finding and building partnerships with promising suppliers.
Manager, Raw Materials Management, Supply Chain Management Group, DIC Graphics Corporation  Kazunori Karasawa
We promote sustainable procurement by implementing continuous improvement.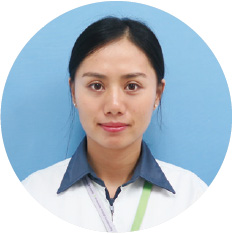 I work for at DIC Synthetic Resins (Zhongshan), where I am in charge of procuring raw materials for metal carboxylates used in tires. The supply chain for these metal carboxylates depends on leading global brand owners and supplies of raw materials from a limited number of suppliers. Accordingly, we view each supplier as an indispensable business partner and work to build relationships based on mutual trust while striving to ensure sustainable procurement.
To improve quality and promote sustainability across the supply chain, we regularly survey suppliers using questionnaires, while purchasing, quality assurance and production staff conduct audits to deepen mutual understanding of the status of efforts to comply with laws and regulations, ensure occupational safety and health, and protect the environment. We provide feedback to suppliers on audit results and request corrective actions when standards are not met while at the same time providing related information to support improvements. As part of our efforts to ensure responsible procurement of minerals, we collaborate with corporate headquarters to conduct surveys of companies supplying processed cobalt products jointly and share information.
In August 2019, DIC Synthetic Resins (Zhongshan) was awarded a silver medal by EcoVadis for its ESG initiatives. Rather than being satisfied with where we are now, however, I look forward to working actively with suppliers to further advance the sustainability of our procurement practices.
Officer, Procurement Department, DIC Synthetic Resins (Zhongshan) Co., Ltd.  Yu Fang Zhou
We are pursuing continuous improvements with the aim of ensuring sustainable procurement.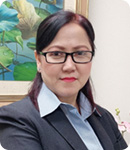 I have worked in the Purchasing Department of Siam Chemical Industry for roughly 24 years.
Today, companies worldwide face an ever-more diverse array of challenges, including rising awareness of the need to achieve sustainability. The role of Siam Chemical Industry's Purchasing Department has been changed so as to move forward activities with an accurate understanding of social requirements based on the DIC Group's basic sustainability policy, which emphasizes CSR. Accordingly, the department now has the added responsibility of reducing social and environmental impacts through cooperation with partners and customers across our supply chain. The department will work diligently in this regard, and will also convey information in a timely manner as stakeholders today are as interested in environmental and social governance as they are in quality, cost and delivery (QCD).
Siam Chemical Industry was awarded a silver medal for its CSR performance by EcoVadis on February, 2019. We hope to eventually earn a gold medal by strengthening our supply chain through ongoing improvement activities, rather than being satisfied with where we are now. This will not be easy. As the requirements of customers and society change constantly, it is necessary to realize sustainable procurement corresponding to that change.
I will continue to learn more about sustainable procurement and will work to further promote the exchange of information with both suppliers and the DIC Group, thereby increasing understanding as well as support to ensure we meet our goals. I would also like to see the DIC Group as a whole realize more advanced sustainable procurement.
Purchasing Department, Siam Chemical Industry Co., Ltd. Wantanee Prodpran
DIC's efforts to build win–win relationships with suppliers has enabled it to realize sustainable procurement.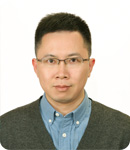 My job is in the purchasing of materials for DIC Group companies in Greater China. I have gained extensive know-how in the area of CSR through in-house training, among others, and have been actively involved in promoting CSR among suppliers. One of the biggest challenges has been finding an easy-to-understand way to explain the need for CSR to suppliers, because it is not easy to fully grasp actual initiatives based on responses to supplier self-evaluation questionnaires. In fiscal year 2016, we conducted on-sight inquires for six suppliers in Greater China. While the standards for these inquiries centered on traditional concerns, namely, quality, cost and delivery, we explained to suppliers the need to give consideration to ESG in advance and secured their understanding. We also exchanged opinions with suppliers regarding CSR initiatives. When we discovered particularly outstanding initiatives being implemented by suppliers, as well as when we felt suppliers' understanding of CSR fell short, we introduced DIC initiatives as case studies. This has allowed us to build win–win relationships with suppliers that I am confident will underpin sustainable growth for all concerned going forward.
Group Purchasing, DIC (Shanghai) Co., Ltd. Kevin Ke