With the aim of ensuring it achieves the targets of its DIC Vision 2030 long-term management plan, which kicks off in fiscal year 2022, the DIC Group has once again identified material issues, that is, issues with the potential to significantly affect its performance.
Abstracting Material Issues and Identifying Priority Materiality Themes
The DIC Group conducted its first materiality assessment in fiscal year 2019. In fiscal year 2021, the Group once again abstracted material issues, referencing GRI's G4 Sustainability Reporting Guidelines—considered the global standard—and items weighed by ESG assessment organizations, and also considering issues delineated in DIC Vision 2030 and The DIC Way, as well as social imperatives. Based on the results of this process, which also involves discussions with objective outside experts, and extensive deliberations by the Sustainability Working Group, which is responsible for the implementation of concrete strategies, and the Sustainability Committee, which functions as an advisory body regarding sustainable management, the Group identified eight material issues.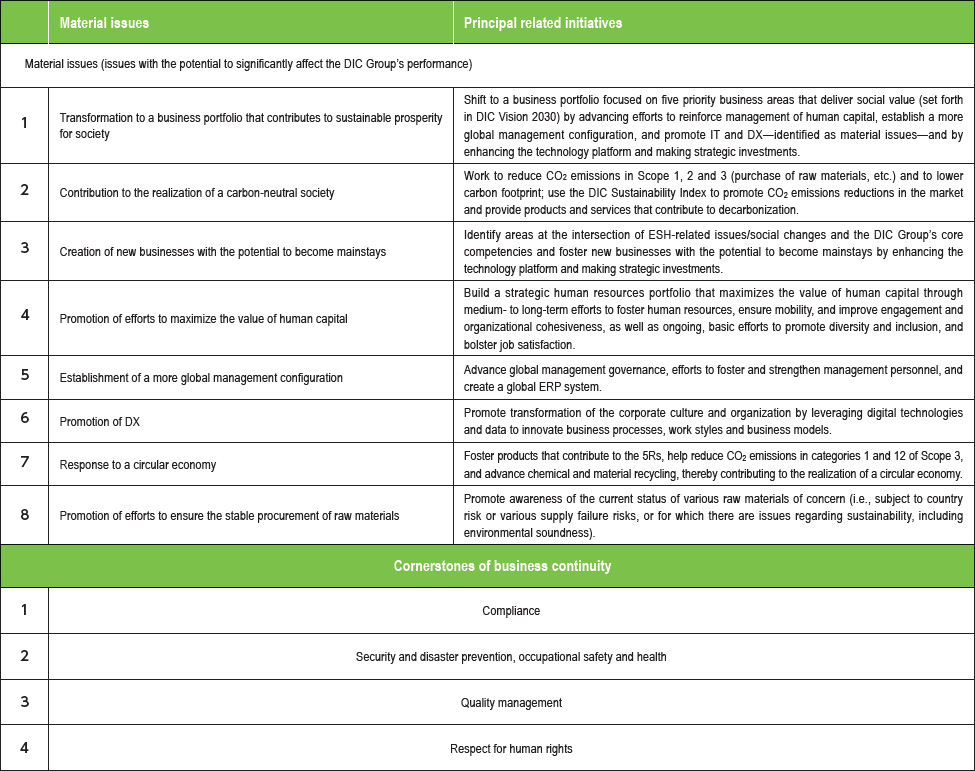 DIC Group Management Issues Recognized in the Identification of Priority Materiality Themes
The DIC Group has recognized each of the following as management issues with the potential to impact management that will require continuous efforts to strengthen/address through its business activities: Product stewardship,* reduction of environmental impact (emissions into air and water), ability to optimize capital efficiency, strengthening of partnerships, communication with customers and markets, business continuity (business continuity planning (BCP)), political and geopolitical change (country risk), information security, intellectual property strategies, contribution to local communities, response to tax-related risks, response to pandemics, response to currency fluctuations, and realization of colorful and comfortable lifestyles.
The DIC Group identified product stewardship as a material issue in its fiscal year 2019 materiality assessment. However, thanks to the Group's steady progress in the implementation of the Global Chemical Information Project (GCIP) and the full-scale deployment of the DIC Sustainability Index, it is not among material issues identified in fiscal year 2021.
For each material issue identified in fiscal year 2021, the DIC Group has set key performance indicators (KPIs) and reported the progress of related initiatives. The Group will continue working to address material issues from a long-term perspective, positioning it to drive the expansion of its businesses, with the aim of achieving the targets of DIC Vision 2030 and ensuring sustainable growth further into the future.