Basic Approach
DIC actively discloses information and publicizes its Responsible Care initiatives, as well as endeavors to disseminate knowledge regarding ESH-related issues and respond appropriately to public concerns.

Information Disclosure and Engaging with Society
The DIC Group strives to increase the transparency of its activities through the active disclosure of information and at the same time promotes dialogue with stakeholders by, among others, providing safety- and environment-related data through Group websites, the DIC Report and other media, as well as by holding environmental presentations for local residents at production facilities.
The DIC Group also promotes a variety of efforts to deepen its engagement with society. In Japan, such efforts include preparing site reports, inviting junior and senior high school students in for hands-on lab lessons, participating in community disaster drills and providing assistance for local festivals and other local events. Overseas Group sites seek to advance dialogue and interaction with local communities by participating in tree plantings and other activities aimed at helping prevent global warming and preserve biodiversity. In fiscal year 2021, many of these efforts were suspended as a consequence of COVID-19. The Group looks forward to resuming active engagement with society as soon as possible.
TOPICS
DIC Plastic Contributes Helmets to Town in Saitama Prefecture
As part of its effort to contribute to the local community, Group company DIC Plastics donated 380 helmets to the town of Ina, in Saitama Prefecture, of which 280 were presented to the town hall and 100 to the local fire department. DIC Plastic decorated the donated helmets with the town's official emblem, which features stylized hiragana characters for the name "Ina" linked together around a circle like the petals of a flower, symbolizing residents unified to create a beautiful community. A video of the presentation was uploaded to the town's official website.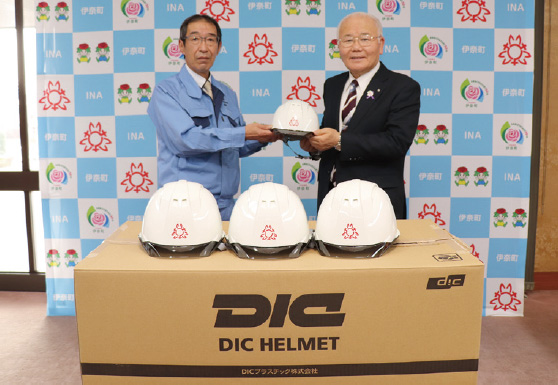 Responsible Care Regional Town Hall Meeting Is Conducted
In February 2019, the Komaki Plant conducted the 9th Responsible Care Aichi Regional Town Hall Meeting. The event was attended by approximately 70 individuals, including government officials and representatives of other companies with operations in the area. In his opening remarks, Komaki Plant general manager Kazuyuki Okutani said, "Safety and environmental initiatives are critical for chemicals manufacturers. In recent years, demands that companies address ESG-related issues have intensified. Our goal in holding today's town hall meeting is to encourage a broad understanding of our efforts by regional stakeholders with the aim of ensuring peace of mind." Responsible Care town hall meetings, which are sponsored by the JRCC, with the support of the JCIA, are held to provide details on chemicals manufacturers' environmental conservation and disaster prevention initiatives with the aim of deepening understanding between manufacturers and stakeholders in the communities where they have production facilities. The 2019 event was the ninth held by DIC in Aichi Prefecture. As an active proponent of Responsible Care, DIC will continue to conduct town hall meetings as a way of engaging with local stakeholders.