Goals and Achievements of Major Initiatives
Reduce CO2 emissions attributable to logistics.
Goal for fiscal year 2019
Reduce energy consumption per unit of production attributable to logistics by 1% by promoting modal shift and improving transport efficiency.
Achievements in fiscal year 2019
①Energy consumption per unit of production attributable to logistics rose 1%.
②CO2 emissions attributable to logistics declined 2%.
Evaluation
★
★
Goal for fiscal year 2020
Reduce energy consumption per unit of production attributable to logistics by 1% by promoting modal shift and improving transport efficiency.
Evaluations are based on self-evaluations of current progress.
Key: ★★★ = Excellent; ★★ = Satisfactory; ★ = Still needs work
Basic Approach
The DIC Group works with logistics partners to minimize risks, including by supplying information needed for the safe transport of its products.
Policies and Framework for Promotion
Having positioned the reduction of CO2 emissions attributable to the transport of its products as a key aspect of its commitment to promoting Responsible Care, DIC sets annual targets and promotes related initiatives on an ongoing basis. DIC's logistics configuration—components of which include transport between production facilities, the transport of products to customers and international logistics—previously centered on a dedicated subsidiary, established in 1999, which operated under the direct supervision of DIC. In a bid to rationalize and increase the efficiency of logistics, in 2011 DIC transferred ownership of the subsidiary to a partner firm and began to outsource its logistics. Since then, the Company has worked closely with this and other partner firms to improve the safety of, and reduce CO2 emissions attributable to, logistics. With the aim of responding better to social imperatives associated with the transport of chemicals over the medium term, in January 2016 DIC combined the logistics components of its various departments to create an independent Logistics Department.
The Logistics Department, which consists of the Domestic Planning Group and the Overseas Planning & International Trade Administration Group, is charged with advancing initiatives to enhance the safety and reduce the environmental impact of logistics. The Domestic Planning Group, as a consignor, coordinates with logistics partners—third-party logistics (3PL)*1 firms—to formulate logistics policies and promote plans designed to enhance the efficiency of domestic logistics. The Overseas Planning & International Trade Administration Group is charged with planning and devising measures to optimize logistics across Asia, promoting Groupwide efforts to capitalize on free trade agreements (FTAs)*2 and implementing proposals for reducing import–export costs.
3PLs are firms that provide partial or complete outsourced logistics services.
FTAs are agreements between two or more countries or customs territories to eliminate trade barriers for a set period of time, thereby encouraging trade.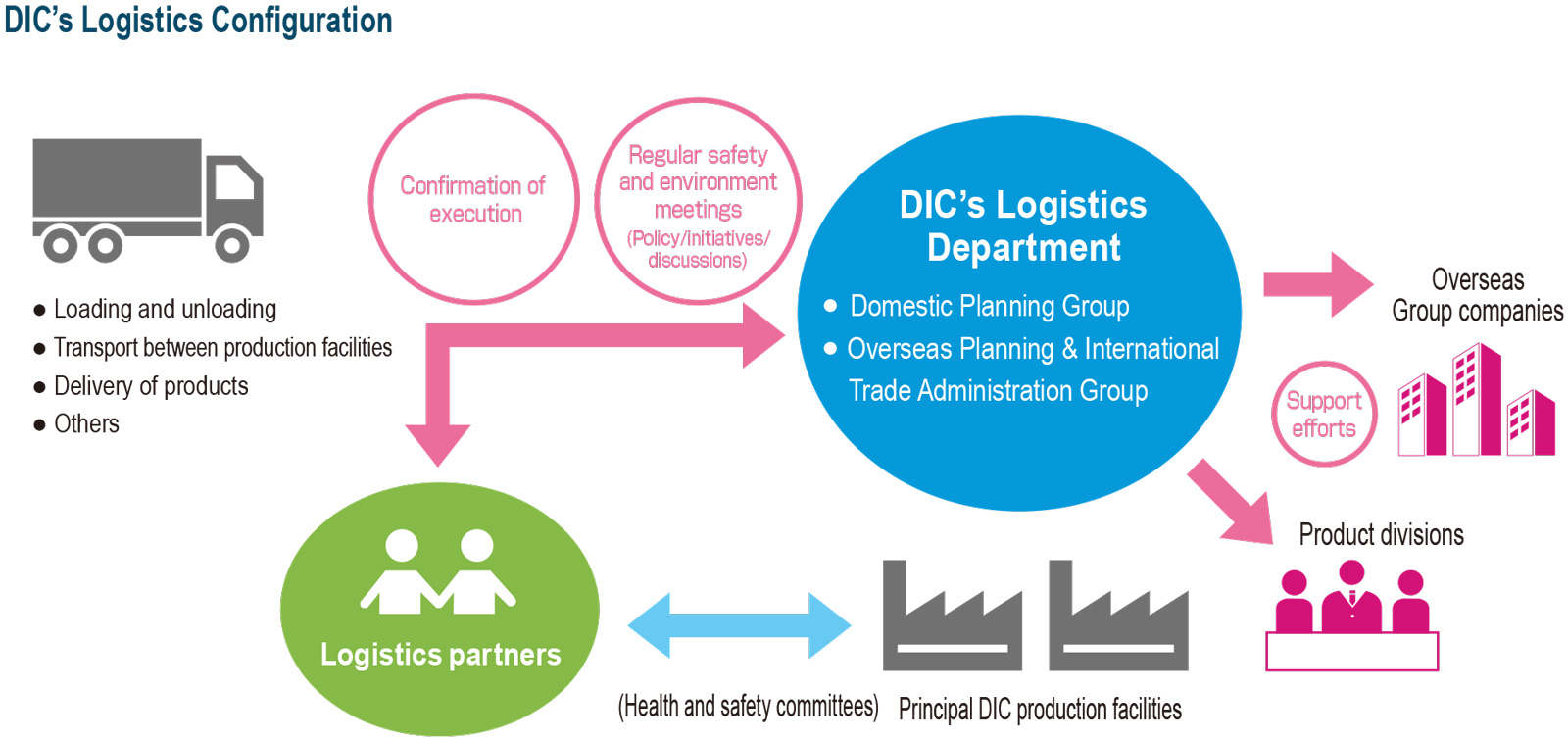 Reducing Environmental Impact and Supporting White Logistics
The volume of products transported in Japan in fiscal year 2019 slipped 2.1% and energy consumption and CO2 emissions attributable to logistics edged down 1.7% and 1.8%, respectively. Energy consumption per unit of production attributable to logistics worsened, rising 1.0%. This was despite a 29% increase in the volume of products shipped using modes of transport qualifying as "modal shift" and an improvement in the modal shift rate to 12.7%, from 9.7% in fiscal year 2018, and reflected a decline in the volume of products transported, which pushed down load-carrying efficiency for both local and charter transport.
In Japan, a critical shortage of qualified drivers and the reduction of driver working hours as a result of government efforts to promote work style reforms continue to pose challenges for the logistics industry. As part of its effort to address such challenges, in November 2019 the Company declared its support for the White Logistics Movement, an initiative put forward by the Ministry of Land, Infrastructure, Transport and Tourism, the Ministry of Economy, Trade and Industry, and the Ministry of Agriculture, Forestry and Fisheries to improve the work environment in the logistics industry. Because extensive specialized knowledge and skill in handling hazardous and toxic substances is required, the shortage of drivers able to transport chemicals is particularly severe. DIC's decision to support this movement reflects its ongoing commitment to working with logistics partners to enhance transport efficiency and advance modal shift.
In fiscal year 2017, DIC began exploring the idea of shared logistics and in the second half of fiscal year 2019 commenced actual collaboration with multiple other companies. While the number of products eligible for shared logistics is currently limited, the Company will continue working to expand volume to facilitate the use of larger vehicles and improve load-carrying efficiency, thereby reducing resulting CO2 emissions.
Overseas, DIC has emphasized support for efforts to enhance logistics in the Asia–Pacific region, but in fiscal year 2019 expanded its focus to include Greater China. To promote rationalization and enhance transport efficiency in Greater China, the Company has sounded out core local Group companies to better grasp their needs and in fiscal year 2020 will expand the scope of its efforts. In collaboration with the logistics manager for Greater China, who is based in Hong Kong, DIC will formulate strategies for leveraging its expert capabilities to improve transport efficiency across the region and begin preparing to capitalize on the Regional Comprehensive Economic Partnership (RCEP), which is scheduled to go into effect in the near future, to maximize tax-saving benefits for the entire DIC Group. Looking ahead, DIC aims to optimize efficiency by establishing a logistics network linking logistics teams in the Asia–Pacific region, Greater China and the Logistics Department.
VOICE
We are addressing the shortening of transport flow lines as a common challenge and developing multifaceted remedial measures.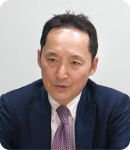 A common challenge in logistics, whether we are looking at our operations in Japan or overseas, is to shorten transport flow lines. By promoting related initiatives, we will also help reduce energy consumption, CO2 emissions and transport costs. Accordingly, we will continue to put our heads together to determine effective approaches and develop and test promising new measures. For example, in Japan DIC currently leases a considerable number of warehouses, which it uses for inventory adjustment and to ship products. We are currently investigating whether the length of related flow lines is appropriate. This is just one of a number of efforts to reexamine aspects of logistics that were previously ignored. The operating environment for logistics services is increasingly harsh. We have opted to view this as an opportunity for an overhaul with the aim of further rationalizing and increasing the efficiency of our logistics practices.
General Manager, Logistics Department Kazuhiko Yamada
Safety Management in Logistics
Safety Management Initiatives
The firms to which the DIC Group outsources logistics use containers that comply with the Fire Service Act and other transportation laws, as well as with related UN standards. The Group supplies information needed to display labels complying with the Globally Harmonized System of Classification and Labelling of Chemicals (GHS) as well as provides SDSs and other documentation to ensure safe shipping in Japan and overseas.
In Japan, the Logistics Department cooperates with logistics partners, meeting regularly to discuss measures for improving the safety of both loading and transport work. Of particular note, logistics quality issues that cause trouble for customers—including leaks, undelivered cargo and delivery errors—are designated as incidents for priority attention and targets, number of incidents, cause and countermeasures are confirmed at monthly meetings. In fiscal year 2019, the incident rate was 35 ppm, a significant improvement from 47 ppm in fiscal year 2018. This was attributable to a variety of steady efforts, including providing continuous training for individuals handling liquid containers and strengthening inspections to raise the awareness of logistics staff. In addition, members of plant health and safety committees attend each other's meetings to exchange information and promote on-site safety improvement initiatives.
The Logistics Department also inspects the offices of logistics partners located on-site at its 20 main domestic production facilities. In fiscal year 2019, inspections were conducted at seven of these offices, during which issues were pointed out and improvements confirmed. DIC further endeavors to maintain and enhance safety by requiring transport personnel to carry Yellow Cards*.
Yellow Cards are part of activities recommended by the JCIA. These cards contain information about the correct actions to ta ke if an accident occurs. They provide contact details to ensure proper responses by transportation companies, firefighters and police officers if an accident occurs during the transport of chemical substances. Transport personnel must carry these cards at all times.
TOPICS
Cushioning Materials Are Supplied to Route Operators at the Time of Shipping
Regular shipments of products usually involve issues such as damage and the soiling of packaging during transport. In response, DIC has explored the implementation of a measures to counter such issues, including the use of cushioning and nonslip materials when packing products, and has begun implementing and evaluating the impact at certain sites. Such efforts have earned favorable reviews, including for reducing damage to packages and accidents caused by falling loads, as a result of which the Company plans to expand the range of eligible products in the future.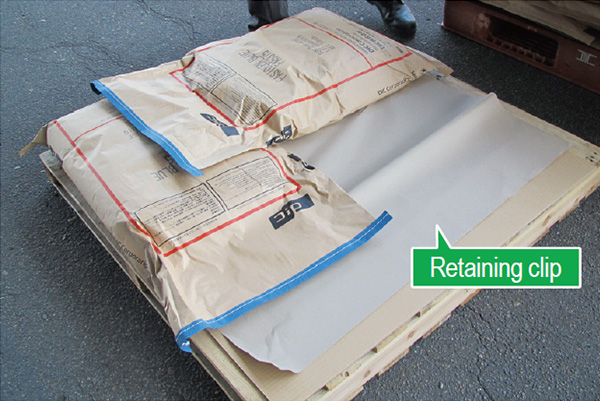 VOICE
My goal is to transform the Logistics Department into an entity that can respond swiftly to changes in the operating environment.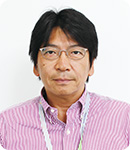 We have declared our support for the White Logistics Movement and continue to take steps to ensure that DIC remains a preferred shipper. However, recent events that threaten to undermine corporate activities—notably the spread of COVID-19 and the resulting postponement of the Tokyo 2020 Olympic and Paralympic Games—have underscored the need to do whatever we can to protect and maintain our supply chains.
The Logistics Department is important as it brings together customers and our products. To contend with the sometimes dizzying changes in the operating environment, we will continue working with our logistics partners to determine the best ways to deliver our products in a manner that meets customers' needs while at the same time maintaining a keen awareness of the need to also respond to sociocultural changes.
General Manager, Logistics Department, DIC Corporation Kenichi Tsuruta