Goals and Achievements of Major Initiatives
Reduce CO₂ emissions attributable to logistics.
Goal for fiscal year 2020
Reduce energy consumption per unit of production attributable to logistics by 1% by promoting modal shift and improving transport efficiency.
Achievements in fiscal year 2020

Energy consumption per unit of production attributable to logistics was level.
CO₂ emissions attributable to logistics declined 3%.

Evaluation
★ ★
★ ★
Goal for fiscal year 2021
Reduce energy consumption per unit of production attributable to logistics by 1% by promoting modal shift and improving transport efficiency.
Evaluations are based on self-evaluations of current progress.
Key: ★★★ = Excellent; ★★ = Satisfactory; ★ = Still needs work
Basic Approach
The DIC Group works with logistics partners to minimize risks, including by supplying information needed for the safe shipping/transport of its products.
Policies and Framework for Promotion
Having positioned the reduction of CO₂ emissions attributable to the transport of its products as a key aspect of its commitment to promoting Responsible Care, DIC sets annual targets and promotes related initiatives on an ongoing basis. DIC's logistics configuration—components of which include transport between production facilities, the transport of products to customers and international logistics—previously centered on a dedicated subsidiary, established in 1999, which operated under the direct supervision of DIC. In a bid to rationalize and increase the efficiency of logistics, in 2011 DIC transferred ownership of the subsidiary to a partner firm and began to outsource its logistics. Since then, the Company has worked closely with this and other partner firms to improve the safety of, and reduce CO₂ emissions attributable to, logistics. With the aim of responding better to social imperatives associated with the transport of chemicals over the medium term, in January 2016 DIC combined the logistics components of its various departments to create an independent Logistics Department.
The Logistics Department, which consists of the Domestic Planning Group and the Overseas Planning & International Trade Administration Group, is charged with advancing initiatives to enhance the safety and reduce the environmental impact of logistics. The Domestic Planning Group, as a consignor, coordinates with logistics partners—third-party logistics (3PL)*1 firms—to formulate logistics policies and promote plans designed to enhance the efficiency of domestic logistics. The Overseas Planning & International Trade Administration Group is charged with planning and devising measures to optimize logistics across Asia, promoting Groupwide efforts to capitalize on free trade agreements (FTAs)*2 and implementing proposals for reducing import–export costs.
3PLs are firms that provide partial or complete outsourced logistics services.
FTAs are agreements between two or more countries or customs territories to eliminate trade barriers for a set period of time, thereby encouraging trade.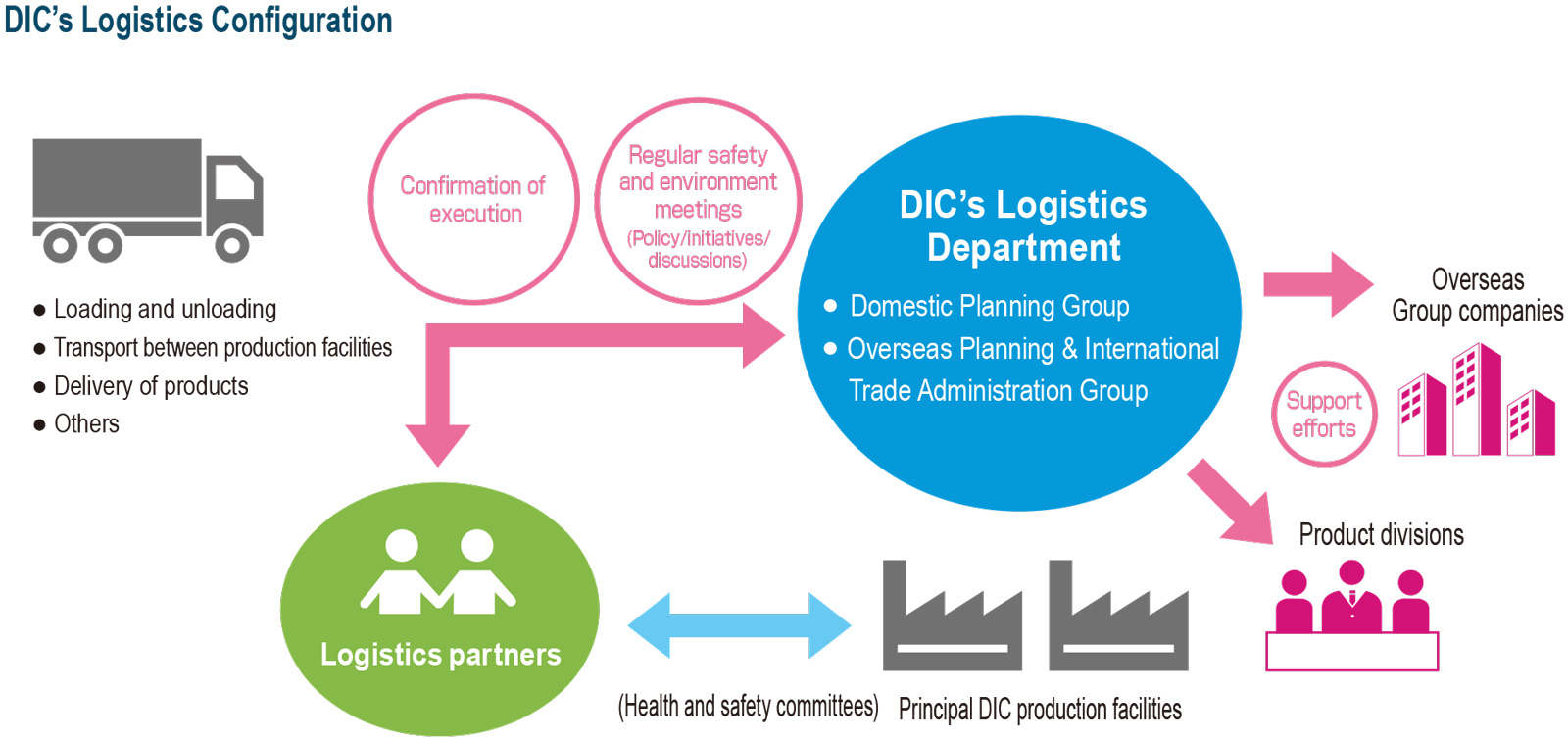 Reducing Environmental Impact and Supporting White Logistics
In Japan, the DIC Group promotes the transport of products using modes of transport qualifying as "modal shift" with the aim of reducing the impact of its logistics activities on the environment. In fi scal year 2020, the volume of products transported in Japan by the Group declined. This and other factors underscored a 3% decline in both and energy consumption and CO₂ emissions attributable to logistics.
Until recently, Japan's logistics industry had struggled to address a critical shortage of qualifi ed drivers. In fi scal year 2020, an initial decrease in shipment volume with the arrival of COVID-19 prompted fears of a surplus of drivers, reversing what had been a persistent, critical shortage. This turned out to be only a temporary phenomenon. Concerns soon shifted to the aging of the current population of drivers, an ongoing issue that had not yet been adequately addressed, and the high turnover rate among drivers as a result of COVID-19, which had made it even more diffi cult to recruit new human resources. In fact, demand for logistics services from certain industries has soared, owing to growth in the popularity of online shopping and fl ea market sites, a trend that has accelerated as a result of COVID-19.
Against this backdrop of uncertainty, the Company continues to support the White Logistics Movement, an initiative put forward by three government ministries—the Ministry of Land, Infrastructure, Transport and Tourism, the Ministry of Economy, Trade and Industry, and the Ministry of Agriculture, Forestry and Fisheries—to improve the work environment in the logistics industry. By implementing measures in line with its own declaration of voluntary action, the Company also works to strengthen cooperation with logistics partners and transport companies to ensure business continuity. Overseas, DIC emphasizes support for efforts to further rationalize and enhance the effi ciency of logistics in the Asia–Pacifi c region and Greater China through the remote sharing of information. This includes preparing Group regulations, manuals and systems in advance of the Regional Comprehensive Economic Partnership (RCEP), which is scheduled to go into effect in the near future.
Safety Management in Logistics
Safety Management Initiatives
The firms to which the DIC Group outsources logistics use containers that comply with the Fire Service Act and other transportation laws, as well as with related UN standards. The Group supplies information needed to display labels complying with the Globally Harmonized System of Classifi cation and Labeling of Chemicals (GHS) as well as provides SDSs and other documentation to ensure safe shipping whether in Japan or overseas. The Group also holds in-house presentations regarding transport of products requiring UN numbers (i.e., hazardous substances) by sea and air to facilitate the sharing of information, including alerts.
In Japan, the Logistics Department cooperates with logistics partners, meeting regularly to discuss measures for improving the safety of both loading and transport work. Of particular note, logistics quality issues that cause trouble for customers—including leaks, undelivered cargo and delivery errors—are designated as incidents for priority attention and targets, number of incidents, causes and countermeasures are confirmed at monthly meetings. In fiscal year 2020, the incident rate was 29 ppm, a 17% improvement from fiscal year 2019. This was attributable to a variety of steady efforts, including the ongoing provision of training for individuals handling liquid containers and promoting the implementation of measures aimed at preventing accidents. In addition, members of plant health and safety committees attend each other's meetings, as well as meetings of logistics partners' accident prevention committees, to exchange information and encourage on-site safety improvement initiative s.
The Logistics Department also inspects the offices of logistics partners located on-site at its 19 main domestic production facilities. In fiscal year 2020, inspections were conducted at five of these offices, during which issues were pointed out and improvements confirmed. In addition, DIC endeavors to maintain and enhance safety by requiring transport personnel to carry Yellow Cards.*
Yellow Cards are part of activities recommended by the JCIA. These cards contain information about the correct actions to take if an accident occurs. They provide contact details to ensure proper responses by transportation companies, firefighters and police offi cers if an accident occurs during the transport of chemical sub stances. Transport personnel must carry these cards at all times.
TOPICS
Environment, Safety and Quality Meetings in the Era of COVID-19
During fiscal year 2020, the COVID-19 pandemic made it necessary for DIC to take environment, safety and quality meetings with 3PLs located on-site at its 19 main domestic production facilities online. Despite the restrictions of the online format for safety training, the Company reiterated the importance of robust safety awareness and learning from past accidents, both of which it believes played a key role in reducing the incident rate for the period, as indicated on page 103.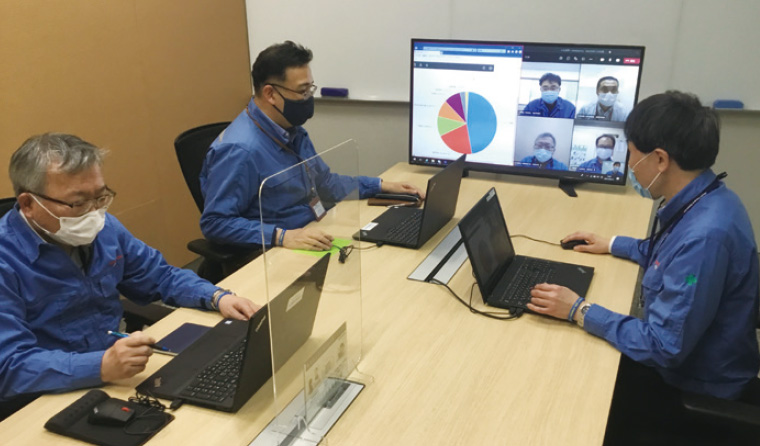 Cushioning Materials Are Supplied to Route Operators at the Time of Shipping
Regular shipments of products usually involve issues such as damage and the soiling of packaging during transport. In response, DIC has explored the implementation of a measures to counter such issues, including the use of cushioning and nonslip materials when packing products, and has begun implementing and evaluating the impact at certain sites. Such efforts have earned favorable reviews, including for reducing damage to packages and accidents caused by falling loads, as a result of which the Company plans to expand the range of eligible products in the future.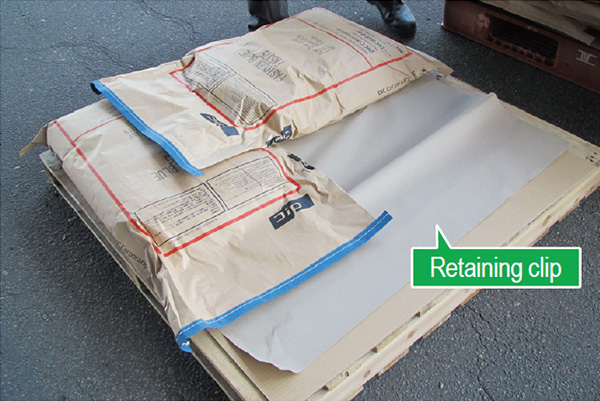 VOICE
Even COVID-19 cannot stop the transport of products.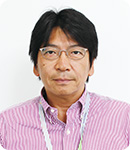 Everything in 2020 was colored by COVID-19. Initially, calls for companies to shift to telework assumed that the Tokyo 2020 Olympics and Paralympics were going ahead, but with the declaration of a state of emergency across much of Japan remote working took on a different level of importance. Preventing the further spread of the pandemic added another layer of difficulty to efforts by DIC, as consignor, and by 3PLs and other logistics firms, to maintain normal operations. In the autumn, we also began to feel the impact of insufficient container space and a shortage of dock workers, a challenge we continue to deal with today.
T he Logistics Department is keenly aware of the need to work c losely with logistics f irms and shipping c ompanies and to ensure that shipments of our products are not delayed, even given the current global situation. I am grateful to the cooperation and efforts of our partner companies to respond to our expectations.
General Manager, Logistics Department, DIC Corporation Kenichi Tsuruta