Goals and Achievements of Major Initiatives
Reduce CO2 emissions attributable to logistics (Scope 3).
Goals for fiscal year 2018

Reduce CO2 emissions attributable to logistics by 1.0% by promoting modal shift and improving transport efficiency.

Achievements in fiscal year 2018
①Energy consumption per unit of production attributable to logistics declined 1.0%.
②CO2 emissions attributable to logistics declined 10.0%.
Evaluation
★★
★★
Goals for fiscal year 2019
Reduce CO2 emissions attributable to logistics by 1.0% by promoting modal shift and improving transport efficiency.
Increase the volume of products transported for which modal shift is used—crucial to achieving the above 1.0% annual reduction—by 10.0%.
Evaluations are based on self-evaluations of current progress.
Key: ★★★ = Excellent; ★★ = Satisfactory; ★ = Still needs work
Basic Policy and Framework for Promoting Initiatives
DIC's commitment to promoting Responsible Care encompasses initiatives aimed at reducing CO2 emissions attributable to the transport of its products. The DIC Group's logistics configuration— components of which include transport between production facilities, the transport of products to customers and international logistics—previously centered on a dedicated subsidiary, established in 1999, that operated under the direct supervision of DIC. In a bid to rationalize and increase the efficiency of logistics, in 2011 DIC transferred ownership of the subsidiary to a partner firm and began to outsource its logistics. Since then, the Group has worked closely with this and other partner firms to improve the safety of and reduce CO2 emissions attributable to logistics.
With the aim of better responding to social imperatives associated with the transport of chemicals over the medium to long term, in January 2016 DIC combined the logistics components of its various departments to create an independent Logistics Department. As a consignor, the new department, which comprises three sections—domestic planning, overseas planning and the global trading group—is charged with formulating logistics policies and promoting efforts to enhance efficiency, as well as with coordinating with logistics partners, that is, third-party logistics (3PL*) firms providing complete outsourced logistics services, to further enhance safety and reduce environmental impact.
3PLs are firms that provide partial or complete outsourced logistics services.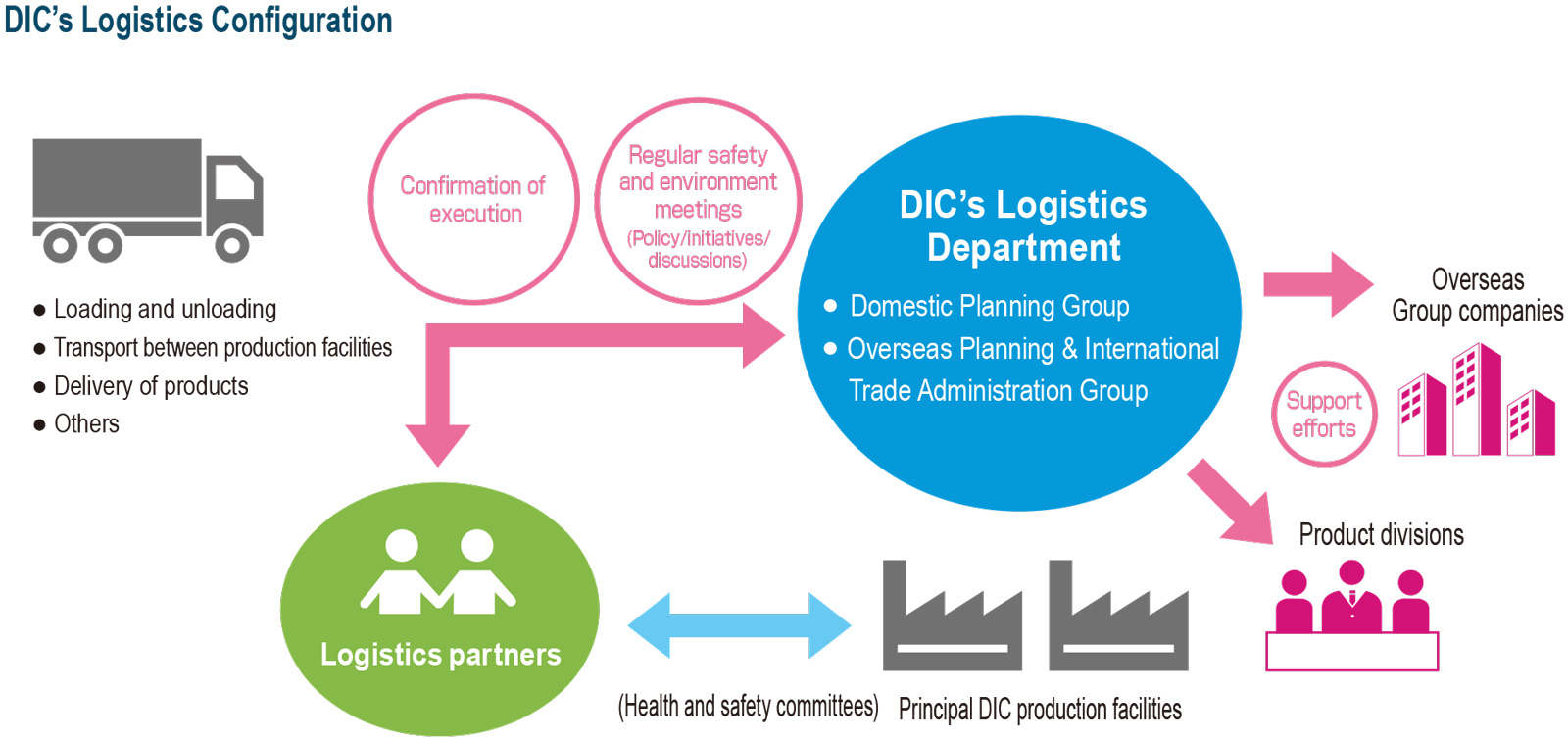 Reducing Greenhouse Gases Attributable to Logistics
The volume of products transported by the DIC Group in Japan in fiscal year 2018 declined 8.0% and energy consumption and CO2 emissions attributable to logistics decreased 10.0% and 10.6%, respectively. Energy consumption per unit of production attributable to the transport of products improved 1.0%. These results reflected a 19.0% decline in single consignment shipments and a 17.0% increase in consolidated shipments, which increased efficiency. With the use of maritime shipping from the Kansai area to Hokkaido and from the Kashima area to the Kansai area severely curtailed by torrential rains in southwestern Japan in July and multiple typhoons, the Group succeeded in maintaining a modal shift rate of 9.7%.
In Japan, a critical shortage of qualified drivers and the reduction of driver working hours as a result of government's efforts to encourage work style reforms have become key challenges for the logistics industry. To address these challenges, the Logistics Department works with the DIC Group's logistics partners to implement initiatives aimed at improving working conditions for drivers. In fiscal year 2018, these included verifying standby times—i.e., time waiting for cargo to be loaded—at production facilities, thereby reducing risks associated with overwork. In fiscal year 2019, the Group plans to improve transport efficiency by reviewing delivery conditions. In fiscal year 2017, the Group commenced shared logistics on a trial basis. While this did not yield significant benefits in fiscal year 2018, the Group will step up efforts to ensure solid results in fiscal year 2019.
In an effort to assist overseas DIC Group companies, in fiscal year 2017 a logistics manager was assigned to DIC Asia Pacific in Singapore, and began implementing initiatives aimed at rationalizing and increasing the efficiency of logistics in the Asia–Pacific region. In addition, a local "country leader" was appointed for each country/territory in the region with the goal of ensuring efforts to strengthen logistics frameworks take into account local business customs. In fiscal year 2019, the Logistics Department, the DIC Asia Pacific logistics manager and country leaders will collaborate to bolster the efficiency of regional logistics, focusing particularly on India and Australia.
VOICE
We are addressing the shortening of transport flow lines as a common challenge and developing multifaceted remedial measures.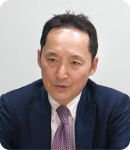 A common challenge in logistics, whether we are looking at our operations in Japan or overseas, is to shorten transport flow lines. By promoting related initiatives, we will also help reduce energy consumption, CO2 emissions and transport costs. Accordingly, we will continue to put our heads together to determine effective approaches and develop and test promising new measures. For example, in Japan DIC currently leases a considerable number of warehouses, which it uses for inventory adjustment and to ship products. We are currently investigating whether the length of related flow lines is appropriate. This is just one of a number of efforts to reexamine aspects of logistics that were previously ignored. The operating environment for logistics services is increasingly harsh. We have opted to view this as an opportunity for an overhaul with the aim of further rationalizing and increasing the efficiency of our logistics practices.
General Manager, Logistics Department
Kazuhiko Yamada
Safety Management in Logistics
The firms to which the DIC Group outsources logistics use containers that comply with the Fire Service Act and other transportation laws, as well as with related UN standards. The Group supplies information needed to display labels complying with the GHS as well as provides SDSs and other documentation to ensure safe shipping in Japan and overseas.
In Japan, the Logistics Department cooperates with its logistics partner firms, meeting regularly to discuss measures for improving the safety of both loading and transport work. Of particular note, logistics quality issues that cause trouble for customers—including leaks, undelivered cargo and delivery errors—are designated as incidents for priority attention. Targets, number of incidents, causes and countermeasures are confirmed at monthly meetings to ensure steady improvement. In fiscal year 2018, the incident rate was 46 ppm, essentially level with the previous period's rate (44ppm). Members of plant health and safety committees attend each others' meetings to exchange information and promote on-site safety improvement initiatives.
The Logistics Department also inspects the offices of logistics partners located on-site at its 20 main domestic production facilities. In fiscal year 2018, inspections were conducted at nine of these offices, during which issues were pointed out and improvements confirmed. In addition, DIC endeavors to maintain and enhance safety by requiring transport personnel to carry Yellow Cards*.
Yellow Cards are part of activities recommended by the JCIA. These cards contain information about the correct actions to take if an accident occurs. They provide contact details to ensure proper responses by transportation companies, firefighters and police officers if an accident occurs during the transport of chemical substances. Transport personnel must carry these cards at all times.
TOPICS
TOPICS Training in the proper use of forklifts to move tote tanks and registration system for qualified forklift drivers introduced
In fiscal year 2017, an inappropriate fork angle or stopping speed during the transport of tote tanks using forklifts resulted in six accidents involving tanks dropping or toppling over at DIC Group sites in Japan. Against this backdrop, prompted by a proposal by logistics partner Hitachi Finenext Transport System Co., Ltd., in June 2018 DIC introduced a program to train employees in the proper use of forklifts for moving tote tanks at seven sites. Training involved recreating actual accidents that resulted in tote tanks being dropped from forklifts and damaged, enabling participants to experience problems firsthand and learn safe handling, including appropriate fork angles and stopping speeds. DIC also took advantage of the training program to adopt new nonslip forklift mats and to introduce a registration system for employees who have completed training with the aim of prohibiting unregistered—i.e., unqualified—individuals from using forklifts to move tote tanks. Between June and December 2018, training was provided 13 times, as a result of which the number of registered employees reached 363, underscoring increased awareness on the part of employees. As of December 31, 2018, no new accidents involving the dropping or toppling over of tote tanks had been reported since the launch of training.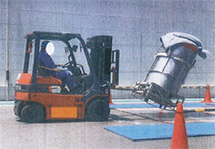 TOPICS DIC Uses Container Vibration Data to Improve Transport Quality
As part of its effort to improve transport quality, in fiscal year 2017 DIC's Logistics Department conducted tests to verify the degree of damage to 18-liter oil cans and other cargo containers from vibration during transport. When DIC products are transported in oil cans, the cans are generally secured with cable ties and packed onto pallets, which are then loaded onto transport trucks. Tests verified that even on extremely rough roads, cans suffered no major damage, with impact limited to minor scratches. As a result, the department concluded that damage to cans was occurring when pallets were loaded and unloaded from trucks using forklifts, as a result of which it inferred that the risk of damage to cans increases the more times they must be unloaded and reloaded at transfer points. The department shared test data with logistics partners to serve as a yardstick for joint efforts to formulate remedial measures. As a company that manufactures and transports chemical substances, DIC will continue working to ensure the safety of its logistics practices.
VOICE
We are taking various steps to ensure DIC remains a preferred shipper.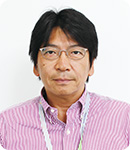 Recent years have seen major changes in Japan's logistics industry, with underlying factors including the aging of drivers, resulting in a shortage of experience and skill, and the government's efforts to encourage work style reforms. In this environment, ensuring safe and timely transport of cargo requires shippers to be both flexible and proactive. One way we have sought to meet this challenge is by investigating and improving driver standby times at production facilities. This reflects our belief that efforts such as this are crucial to helping prevent drivers from being overworked and improving safety, and to ensuring that we remain a preferred shipper. Similarly, we are also promoting modal shift and shared logistics with the aim of reducing greenhouse gas emissions attributable to the transport of our products.
We recognize the transformation of logistics practices as a key social imperative for shippers. Accordingly, we will continue to strengthen efforts to work with production facilities and logistics partners to identify and address new issues.
General Manager, Logistics Department
Kenichi Tsuruta