Goals and Achievements of Major Initiatives
Enhance awareness of compliance.
Goals for fiscal year 2020

Achieve target for percentage of employees participating in the e-learning program (95%).
Implement legal training for DIC executives (once), executives of Group companies in Japan (once) and at DIC Group companies in six countries overseas.

Achievements in fiscal year 2020

Excluding regions where people were unable to gather because of COVID-19, the percentage of employees participating in e-learning exceeded 95%.
Legal training was implemented in Japan for DIC executives and employees assigned to overseas posts.

Evaluation
★★
Goals for fiscal year 2021

Achieve target for percentage of employees participating in the e-learning program (95%).
Implement legal training. If COVID-19 remains an issue, opt for a remote format.
Conduct business fairly.
| | |
| --- | --- |
| Goals for fiscal year 2020 | Achieve target of zero violations of antitrust and anti-corruption laws. |
| Achievements in fiscal year 2020 | Zero violations of antitrust and anticorruption laws were reported. |
| Evaluation | ★★ |
| Goals for fiscal year 2021 | Achieve target of zero violations of antitrust and anti-corruption laws. |
Evaluations are based on self-evaluations of current progress.
Key: ★★★ = Excellent; ★★ = Satisfactory; ★ = Still needs work
Basic Approach to Compliance
Compliance in the DIC Group encompasses not only obeying laws but also acting in a manner that is in keeping with social norms and the expectations of customers, communities and other stakeholders. With the aim of ensuring sustainable growth for businesses that are both fair and transparent, DIC formulated the DIC Group Code of Business Conduct, a unified set of guidelines the adherence to which it considers to be the foundation of compliance. DIC compels all DIC Group employees to conduct themselves in accordance with the code.
The DIC Group Code of Business Conduct
The DIC Group completed the DIC Group Code of Business Conduct in July 2014. The code not only mandates compliance with national laws and international rules but also presents 10 principles essential to the professional conduct of DIC Group employees. The Group held presentations for all existing Group employees at the time of release, while new employees receive training at point of hire. The goal of such training is to ensure employees worldwide share values cherished by the Group and approach their responsibilities with a sense of responsibility and a commitment to doing the right thing.
10 Principles Essential to Professional Conduct
Your Rights as an Employee: Respect, Dignity, Privacy
Environment, Safety and Health
Your Responsibility to Avoid Potential Conflicts of Interest and to Protect Group Property
Anti-Corruption and Anti-Bribery Policy
Your Relationship with Governments and Government Officials
Your Relationship with Customers, Suppliers, and External Third Parties
Money Laundering and Anti-Terrorism
Forced Labor, Child Labor, Conflict Minerals
Insider Trading
Proper Accounting and Internal Controls Relating to Financial Reporting
Initiatives to Promote Compliance
The DIC Group promotes compliance through the following initiatives:
Training focused on legal issues to improve compliance awareness is provided for employees at point of hire, when promoted and before transfer overseas. In addition, to promote awareness of the DIC Group Code of Business Conduct and compliance, in fiscal year 2020 e-learning was implemented in Japan and at DIC (China), DIC Asia Pacific and Sun Chemical, which oversee operations in, respectively, Greater China, the Asia–Pacific region, and the Americas and Europe.
Legal training focused on governance-related issues was also implemented in Japan (twice for DIC executives, once for the presidents of Group companies in Japan, and once for domestic employees assigned to overseas posts).
Compliance officers are appointed at all regional headquarters—DIC (Japan), Sun Chemical (the Americas and Europe), DIC (China) (the PRC) and DIC Asia Pacific (Asia and Oceania)—to spearhead global compliance efforts.
The DIC Group vows that it will not violate the principles of the DIC Group Code of Business Conduct, even if such a violation would appear to profit the Group. As a corporate citizen, the Group also pledges to respect social norms and act in a sound and socially acceptable manner. In fiscal year 2020, there were no serious violations of compliance laws.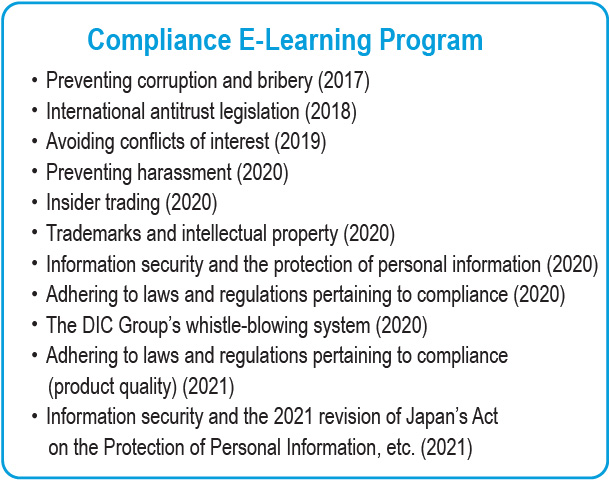 Establishing and Operating a Whistle-Blowing System
The DIC Group has established a compliance whistle-blowing system independent from channels for communication used in the conduct of business. This system encompasses hotlines that can handle reports of compliance issues and questions in the languages of more than 160 countries. The Group has also devised strict rules under this system to protect whistle-blowers from retaliation and works to ensure the system functions in a proper manner.
When a report is received, the Group responds swiftly and appropriately, giving due consideration to pertinent laws while also incorporating internal and external opinions, to identify and correct violations and where necessary to take disciplinary action. Details of reports and steps taken in response are reported to the Board of Directors. The Group will continue to use its whistle-blowing system to ensure the prompt discovery and correction of misconduct. In fiscal year 2020, approximately 25 reports were received on compliance issues and labor matters such as power harassment and discrimination, but none were judged to be serious. DIC began providing e-learning focused on the Group's whistle-blowing system in December 2020.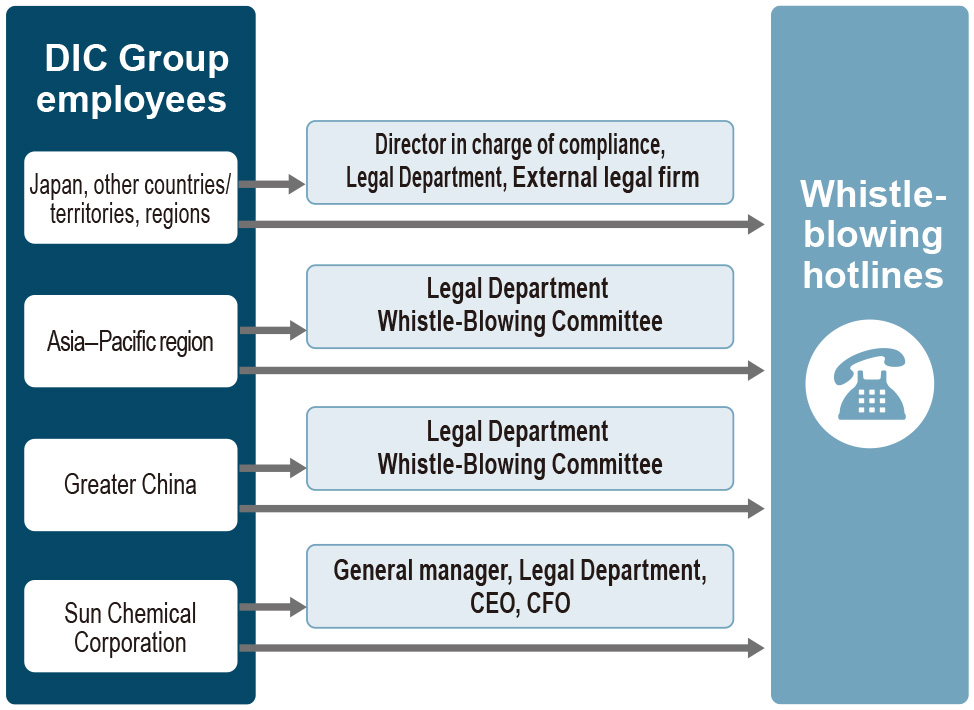 Antitrust and Anti-Corruption Legislation
The DIC Group has formulated a basic policy to comply with antitrust legislation and made Groupwide efforts to ensure fair business practices. The DIC Group Code of Business Conduct includes rules for complying with antitrust legislation and prohibits involvement in corruption. Since fiscal year 2014, the Group has held more than 160 presentations regarding antitrust and anti-corruption legislation for relevant employees to ensure strict compliance with the laws of the countries in which it operates.
Promoting Compliance with Legislation Regarding the Timely Payment of Subcontractors
With the aim of enhancing understanding of the importance of appropriate and fair transactions with subcontractors, the Legal Unit held presentations on legislation regarding the timely payment of subcontractors for the purchasing departments of domestic DIC Group companies that incorporated case studies, and offered e-learning, principally for employees in charge of subcontractors. In addition, DIC has prepared the Manual for Internal Auditing of the DIC Group's Compliance with Japan's Act Against Delay in Payment of Subcontract Proceeds, Etc., to Subcontractors and created a framework for conducting audits in a more efficient manner. The Group also encourages employees in related positions to participate in programs sponsored by external organizations, including a workshop promoting adherence to the Act sponsored by the Japan Fair Trade Commission and the Small and Medium Enterprise Agency.
Taxation Compliance
In November 2017, the DIC Group formulated an official approach to tax. As an organization with global operations, the Group engages in fair and appropriate tax planning that reflects the nature of its businesses. The Group is also aware of risks associated with transfer price taxation and the use of tax havens, and of its obligation to pay appropriate taxes in the proper jurisdictions as appropriate for its operations. The chart to the right shows a breakdown of taxes in Japan and overseas in fiscal year 2020.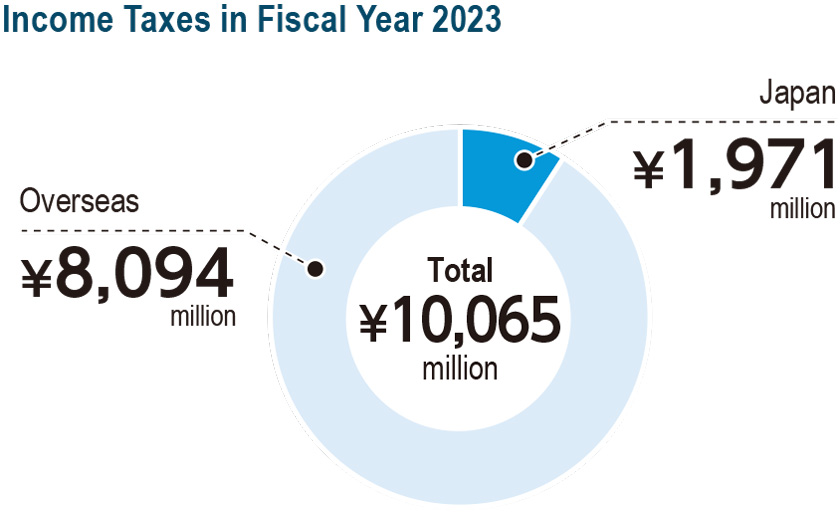 VOICE
We provide legal services that are essential to the DIC Group's global operations.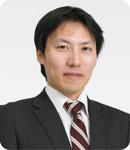 I am currently on assignment at DIC (China) as an overseas trainee, overseeing legal matters in collaboration with the staff of DIC (China)'s legal department. To ensure legal compliance when operating in a country or territory with different laws and regulations it is essential to consult local legal experts. This can be difficult if you don't have a basic knowledge of the country or territory's laws. As a trainee, I have come to realize that Legal Department staff members are expected to communicate with legal experts as well as serve as intermediaries between experts and business units. Looking ahead, I will continue working to gain a firmer grasp of needs associated with global operations with the goal of providing effective legal services.
Legal Department Shunji Tashiro