Promoting Digital Transformation
Introduction
In fiscal year 2017, DIC began advancing digitalization in technical and production departments. In fiscal year 2020, the Company established the DX Promotion Department, a dedicated department charged with advancing DX, and began advancing data coordination among multiple departments in addition to department-specific efforts. The first challenges the new department will address are to improve the efficiency of Companywide business processes and to step up efforts to foster human resources, after which it will turn its attention to transforming the DIC Group's business format and business models.
Initiatives in Technical and R&D Departments
Technical and R&D departments introduced an automated machine learning platform in fiscal year 2017 and since fiscal year 2018 have deployed AI and MI* in some areas of materials development. In January 2021, DIC established the Data Science Center, which houses data scientists and AI engineers, to facilitate the introduction of AI and MI into the development of products and technologies, and embarked on full-scale initiatives to bolster business process efficiency Companywide that leverage AI.
Going forward, DIC will step up efforts to foster human resources in-house. The Company will also work with third-party organizations and make AI infrastructure–related investments to expand and enhance the Data Science Center with the aim of halving the development stage for new products and doubling the number of development themes underpinning its two core strategies: Value Transformation, that is, strengthening corporate structure through qualitative reforms of businesses, and New Pillar Creation, or the creation of new businesses in response to ESH-related issues and social changes.
MI applies statistical analysis and other informatics techniques to search large amounts of data for new materials.
Production Department Focus: Creating Smart Production Facilities
Production departments will advance use of factory automation (FA) to automate production systems, in addition to pursuing collaboration both in-house and with external organizations to realize "smart factories,"* and improve the manufacturing infrastructure by building an operational technology (OT) control network environment. The Company is also taking decisive steps to innovate key processes through digitalization, as well as using AI to assist efforts to pass on expert skills. To further advance DX in production, DIC recently inaugurated the Production Division Digitization Working Group with the goal of rallying its collective strengths in the drive to create smart factories.
A smart factory is a highly digitalized production facility where equipment and devices on production lines, which are linked via the IoT and networks, collect and share various information, enhancing the visibility of product quality and equipment status, among others, making it possible for the facility to optimize and improve production processes.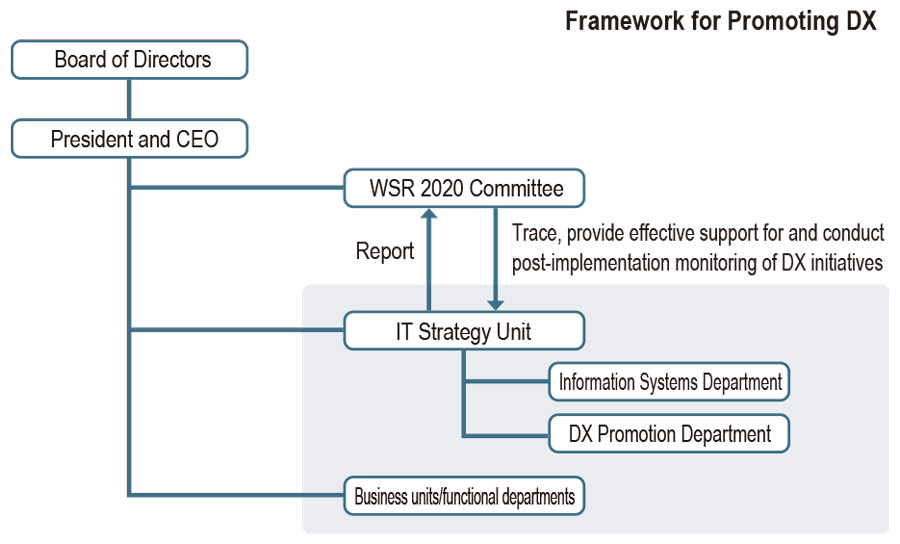 Automation that Leverages AI Technologies and Increased Production Data Visualization to Improve the Efficiency of Operations
For the creation of production schedules, a task usually performed using Excel or by hand, DIC has introduced production schedulers at some sites in Japan and overseas and have begun to analyze the benefits, which have included the systematization of scheduling skills and a shortening of work hours. DIC is also striving to improve the efficiency of operations, including going paperless, i.e., using electronic documentation and dashboards to visualize operating status and facilitate the smooth handing over of work duties.
Using Digital Twins to Optimize Small-Lot, Diversified Batch Processes
At a polymer production facility, DIC is enhancing the infrastructure by building an OT network aimed at facilitating a centralized monitoring system that ensures stable production with minimal staff. The objective of these measures is to reduce labor requirements, as well as to improve productivity and quality. At the same time, the Company is working with third-party organizations to optimize small-lot, diversified batch processes by making use of digital twins* with advanced simulation capabilities employing AI and IoT technologies to realize key process innovations and establish technologies for optimized automated operations.
A digital twin is a virtual/digital replica of an actual physical environment. The creation of digital twins facilitates realistic simulations.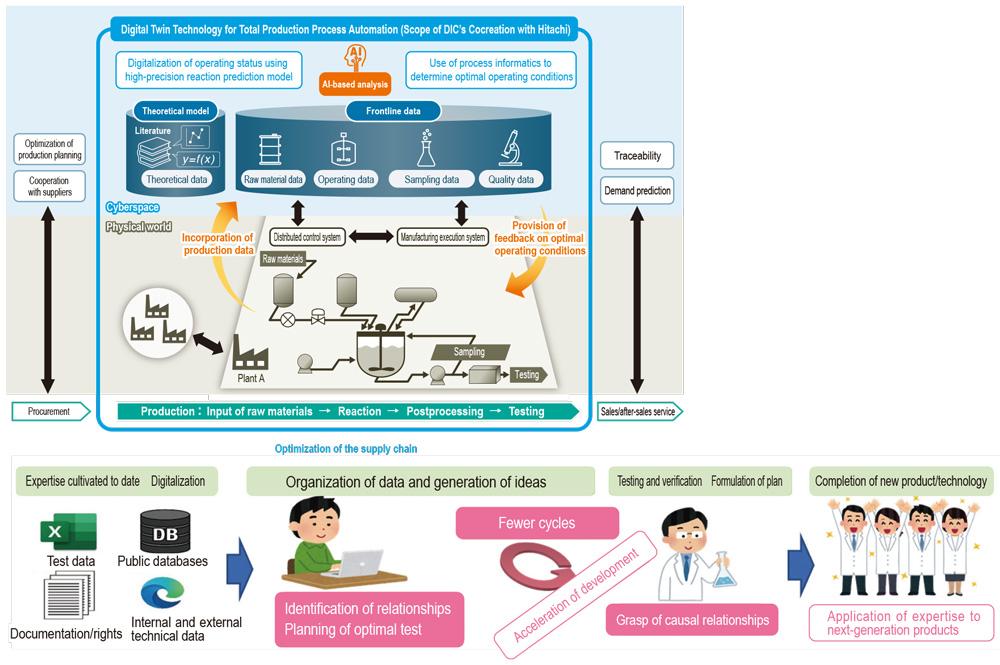 Fusing the Tacit Knowledge of Experts and AI to Pass Knowledge on to Future Generations
DIC has selected a pigments production facility as a model factory and is working to leverage open innovation to "generalize"* the tacit knowledge of experts cultivated over years of experience using self-improving AI. This initiative is designed to ensure such knowledge is effectively passed on to future generations. In addition, smart glasses are being used to support the inauguration of a new production line at the Shiga Plant, allowing access to hands-free remote support from overseas equipment manufacturers.
In this context, "generalize" means to transform the exclusive, specialized knowledge of experts into an easy-to-understand form that is easy for subsequent generations to understand.

Sales and Digital Marketing Initiatives
In sales and marketing, DIC is capitalizing on marketing automation (MA) to hold online exhibitions in an effort to promote efficient sales and marketing initiatives in this era of COVID-19. In February 2021, the Company had a booth and held a virtual exhibition as part of its participation in TOKYO PACK 2021, a key packaging materials industry trade show held online, as well as debuted a virtual trade show platform introducing approximately 50 packaging-related products and solutions, which has since been visited by a wide range of customers. In the area of sales. the DIC Group seeks to visualize and streamline related activities, expedite customer service and increase the contract conclusion rate through information sharing, collaborating to conduct various initiatives, as well as to analyze and deploy accumulated sales data. To these ends, the Group is exploring the introduction of a sales force automation (SFA) system.
MA uses tools and software to support marketing efforts, including the securing of new customers and the cultivation of prospective customers.
Initiatives in the Area of Human Resources
DIC is also placing a priority on fostering the human resources necessary to advance various efforts. In fi scal year 2020, the Company began offering training for future data scientists in the effective use of data. The former aims to expand the number of data scientists on staff by 2023 through internal and external training. For the latter, DIC has established a framework that seeks to improve data literacy at all levels and ranges from seminars and tailored training for management-level employees to a rank-specifi c curriculum for regular employees.