Goals of Major Initiatives for Fiscal Year 2022
Promote DX.
Goals for fiscal year 2022

Establish a framework that balances the need for speed with that for the management of risks.
Advance DX measures across multiple business units/functional departments.
Begin exploring business model transformation.
Basic Policy
The DIC Group promotes digital transformation (DX) with the objective of providing new value and reinforcing its corporate structure through the use of digital technologies and data. The Group is advancing initiatives in three key areas: Market,* production and technology, and supply chain management (SCM). The Group is also working to realize a next-generation digital integrated platform and securing and training human resources to establish the infrastructure necessary to advance DX.
"Market" is used here in the sense of sales and marketing functions.
Framework for Promotion
In fiscal year 2022, DIC created the IT Strategy Unit. This new unit oversees the Information Systems Department and the DX Promotion Department and will leverage data and digital technologies, eliminating boundaries between IT and DX, to promote process optimization, work style reforms and the innovation of business models on a global scale over the short term, as well as the medium to long term. Looking ahead, the Company expects to see an increase in the promotion of independent DX initiatives by individual business units and functional departments. Accordingly, the Work Style Revolution (WSR) 2020 Committee, established in fiscal year 2022, will trace, provide support for and conduct post-implementation monitoring of such initiatives to ensure optimization from a Companywide perspective.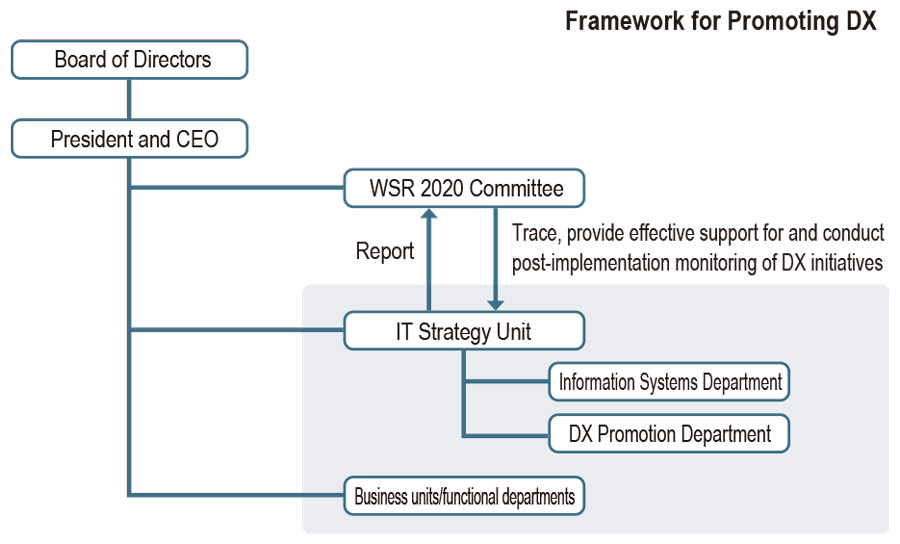 Market
Through DX, DIC seeks to enhance brand strength through the creation of high-level customer experiences and achieve business model transformation. With the increasing use of telework and the accelerating digitalization of operations, the importance of web-based research and communication is growing. The DIC Group recognizes the importance of digital media as a channel for communication with customers. In fiscal year 2021, the Group significantly expanded product-related content on its global website and held online exhibitions with the goal of helping customers resolve issues in specific business areas. In fiscal year 2022, the Group will expand and refine its approach, stepping up the pace in expanding the global website's product-related content and holding online exhibitions in additional business areas and webinars. To advance business model transformation, the Group has begun looking at measures to further strengthen cooperation between business units and the IT Strategy Unit.
Production and Technology
On the production side, DIC is deploying digital technologies widely at production sites with the aim of realizing smart factories that reduce workloads and ensure safe, stable operations. In fiscal year 2021, DIC developed and began using Prism, an AI-based system for production sites with the purpose of handing down the skills and knowledge of experts at production sites, and began work on the practical application of digital twins technology to automate entire resin production processes. On the technology side, the Group sought to expedite the transformation of its business portfolio, as outlined in its DIC Vision 2030 long-term management plan, by shifting the focus of efforts to computational science, which uses AI and MI.* In fiscal year 2021, the Group established the Data Science Center, which houses AI specialists, through which it is working to halve the development stage for new products and double the number of development themes in play.
MI applies statistical analysis and other informatics techniques to search large amounts of data for new materials.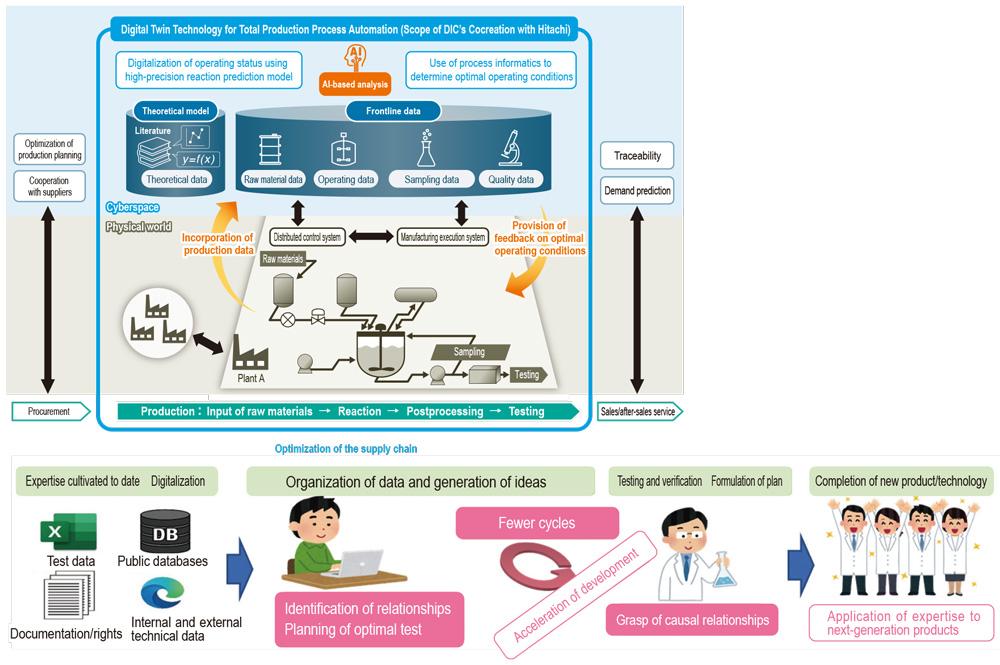 SCM
In addition to improving the visibility of the fl ows of goods and information through its supply chain, the DIC Group is standardizing and integrating business processes and key performance indicators (KPIs) to promote supply chain reforms designed to improve efficiency and management on a global basis. To this end, the Group is leveraging digital technologies to realize real-time platform linkage between sales and production data and statistical demand forecasting, an initiative it expects to begin rolling out gradually in fiscal year 2022.
Core Business Systems
The DIC Group plans to update core business systems in fiscal year 2024. Seeing this as an opportunity, the Group will respond to changes in its operating environment, business structural reforms and advances in digital technologies to build a global digital platform that will be capable of evolving even 10 years down the road, as well as an operating configuration for this platform. As part of this initiative, the Group will also establish a next-generation digital integration platform that will facilitate fl exible and rapid system linkage with external parties, as well as data analysis from multiple perspectives.
Securing and Fostering Human Resources
DIC is also placing a priority on fostering the human resources necessary to advance various efforts. In fiscal year 2020, the Company began offering training for future data scientists and other individuals whose jobs will require the use of data. In fiscal year 2022, the Company began offering tailored "DX leader" training, which emphasizes the use of digital technologies to drive business and operational reforms, to selected candidates from business units and functional departments. The Group will also actively recruit human resources from outside the Company, mainly in such areas as agile development, for positions that cannot be filled by internal human resources.
TOPICS
Efforts to Promote Digital Marketing Are Progressing.
Three years have passed since DIC introduced Salesforce cloud-based services and marketing automation. In fiscal year 2021, the Company held a website content creation support workshop, an initiative that has accelerated the use of these services Companywide. Workshop participants are asked to envision what sorts of solutions DIC can offer its customers and beyond that to its customers' customers, and to create websites from two perspectives: Products and customer value. Using digital means, the Company then conducted surveys via these websites. Participating departments have succeeded in making contact with a steady stream of customers they would not otherwise have access to in the course of normal sales activities.
One advantage of digital technology is that results are quantifiable and timely. Increased visibility means that the individuals in charge in any given business unit will be able to see and understand the numbers, encouraging them to think spontaneously about what can be done next or how can this be followed-up effectively. DIC will continue working to communicate the appeal of its products by encouraging market-driven thinking across the Company
Marketing innovation uses tools and software to support marketing efforts, including the securing of new customers and cultivation of prospective customers.