Basic Approach
Responsible Care Department specialists with expertise, experience and auditing capabilities regularly collaborate with executive officers to audit Responsible Care initiatives at Group companies. Top DIC executives also take part in ESH audits at numerous sites each year to enhance Responsible Care performance across the DIC Group.
Overseas, Responsible Care Department specialists and regional headquarters' ESH officers assess the progress of efforts at production sites and work together to enhance the effectiveness of Responsible Care initiatives.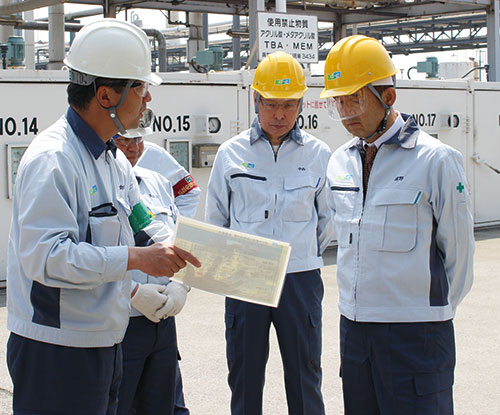 Initiatives in Fiscal Year 2018
Third-Party Audits
In Japan, Responsible Care Department specialists have audited the Responsible Care efforts of domestic consolidated subsidiaries since fiscal year 2014 to verify efforts and support improvement activities. In fiscal year 2018, audits were conducted at DIC's nine principal sites and DIC Graphics' four sites. In addition, third-party safety audits were conducted at key sites in Japan (the Sakai and Komaki plants) as an objective way to identify issues.
The Company also conducted audits using self-assessment checklists of 13 sites belonging to nine other domestic Group companies with the aim of enhancing safety and environmental management. ESH officers from DIC's principal sites took part in the audits of domestic Group company sites and also provided directions regarding the administration thereof.
Similar efforts are also promoted overseas, with audits becoming more stringent every year. In fiscal year 2018, the Group conducted inspections to determine the status of management systems, as well as Responsible Care audits using self-assessment checklists in three areas (environment, safety and health), at 21 sites belonging to 21 companies in Greater China, four sites belonging to three companies in the ROK and 21 sites belonging to 16 companies in the Asia–Pacific region. The Group also promotes steady progress through application of the PDCA cycle.
In Greater China, third-party audits were conducted at DIC (China) sites, while monitoring was implemented at sites belonging to Qingdao DIC Finechemicals Co., Ltd., DIC Synthetic Resins (Zhongshan) Co., Ltd. and Changzhou Huari New Material Co., Ltd. In Europe, the Americas and Africa, audits were conducted at 33 sites belonging to the Sun Chemical Group and seven sites belonging to subsidiary Seiko PMC Corporation, which manufactures chemicals for paper production and resins for printing inks and reprographic products, with audit results and the progress of subsequent remedial measures communicated to DIC. The Group reported two violations* of Responsible Care–related regulations overseas during the period. Prompt steps were taken to make improvements.
Violations with a penalty exceeding $10,000