Framework for Promotion
The DIC Group regularly audits Responsible Care initiatives at Group companies, plants and R&D facilities. Audits are conducted by Responsible Care Department specialists with expertise, experience and advanced auditing capabilities, executive officers in charge of production, site administrators and employee union–endorsed members. Using selfassessment checklists, auditors assess the progress of remedial measures implemented in response to issues cited during previous audits. DIC's president and CEO also participates in ESH audits, underscoring top executives' commitment to playing an active role in ensuring the effectiveness of ESH-related initiatives. Overseas, Responsible Care Department specialists and regional headquarters' ESH officers use self-assessment checklists to ascertain the progress of efforts with the aim of enhancing Responsible Care initiatives at individual sites.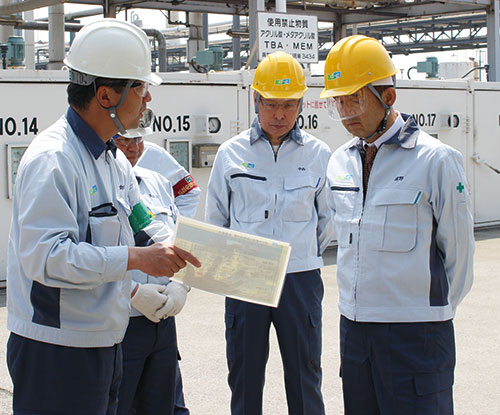 Principal Initiatives in Fiscal Year 2020
On-Site Audits Conducted at Sites to Enhance Safety
In Japan, Responsible Care Department specialists conduct audits not only at DIC but also at domestic DIC Group companies since fiscal year 2014 to verify initiatives and support improvement activities. As usual, in fiscal year 2020 audits were conducted at DIC's nine principal sites and DIC Graphics' two sites. These included a third-party safety audit at one facility and a legal inspection by a third-party consulting firm at two facilities as an objective way to identify issues. In addition, audits centering on rigorous site inspections were conducted at 11 sites belonging to nine other domestic Group companies with the aim of improving the level of environmental and safety management.
Similar efforts are also promoted overseas, with audits becoming more stringent every year. In fiscal year 2020, the Group conducted Responsible Care audits at 24 sites belonging to 17 companies in the Asia–Pacific region. Owing to COVID-19, these audits were conducted by the sites themselves. In Greater China, audits were conducted at 15 sites belonging to 14 companies, including third-party audits at three sites in Taiwan. The audits in Taiwan were conducted by the sites because of COVID-19. In the Americas, Europe and Africa, Responsible Care audits were conducted at 22 sites belonging to Sun Chemical Group companies and 12 sites belonging to the Seiko PMC Group, which manufactures chemicals for paper production and resins for printing inks and reprographic products, although unlike in other years these too were implemented online owing to COVID-19. Two violations of Responsible Care–related regulations were reported overseas in the period under review, in response to which prompt remedial measures were swiftly implemented.
Violation with a penalty exceeding $10,000