Communication with Society
Ties with Society
In addition to the business community, the DIC Group strives to communicate effectively with ordinary consumers, including students.
Communication in the Field of Education
Nutrition Education Classes for Children
In March 2020, DIC Lifetec held a 60-minute nutrition education class at the Shibuya Children's Science Center Hachi Lab, a facility in Tokyo providing a variety of extracurricular science, technology and math programs. To protect against COVID-19, participation in the class, which was titled "Exploring the Secrets of the Color of Sweets," was limited to 18 children selected by lottery. A hands-on event focused on Spirulina edible algae—the source of a natural blue food coloring commonly used in health foods and sweets—the class was designed to foster children's curiosity about food. Activities included studying food labels used on the packages for sweets currently on the market, taking part in a colorant extraction experiment and observing Spirulina under a microscope. Feedback from the children was positive, with many indicating that the class had deepened their interest in both food and food labeling, saying that they had enjoyed the experience and wanted to learn more about the food they eat.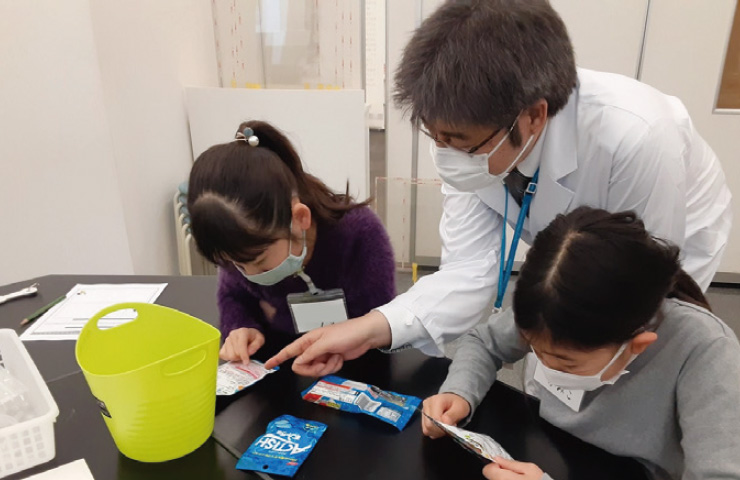 Tours for Parents and Guardians
In January 2020, DIC Estate invited the parents and guardians of students at Ichikawa Ohno School for Special Needs Education High School to tour its facilities. A total of 19 individuals, including two teachers, took part in the tour, which included a presentation on the company's operations and an explanation of the company's mail room and tea dispenser maintenance section. The president of DIC Estate, which actively promotes the hiring of graduates of special needs schools, gave a short address to participants before the tour. "All people are unique and different from one another. A disability is just one part of what makes a person who they are," he said, explaining that the company works with new employees after they are hired to set and achieve goals on an ongoing basis with the objective of encouraging continued personal growth and ensuring their development as working, contributing adults.
The general manager of the Business Support Department then spoke about some of the areas in which employees recruited from special needs schools work, describing ordinary daily workflows. He also explained that the company promotes a variety of initiatives, including encouraging non-disabled employees to take training in the provision of support for individuals with intellectual or developmental disabilities, and seeks to provide greater career opportunities for such individuals.
DIC Estate conducts such tours throughout the year, as well as offers internships to students from special needs schools. In addition to conveying a true picture of the DIC Group, the company seeks to encourage interest in DIC Estate as a career path based on a full and accurate understanding.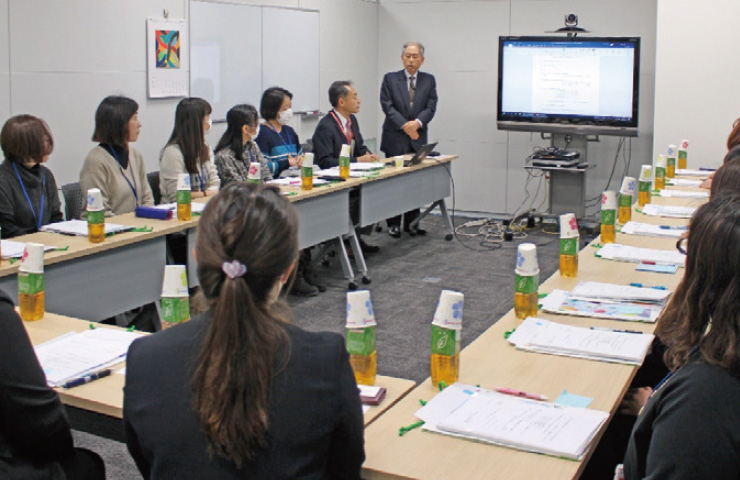 Kawamura Memorial DIC Museum of Art
In celebration of its 30th anniversary, the Kawamura Memorial DIC Museum of Art staged a commemorative exhibition titled "Overlapping Circles: 5 Artists Collaborate with the Collection." As can be seen from the ceiling light fixture and stained glass in the museum's entrance hall, the museum incorporates "overlapping circles" as a design motif in various places. In addition to representing the friendship between the museum's first director, Katsumi Kawamura, and architect Ichiro Ebihara, this motif also symbolizes interactions between museum visitors and the works of art on display. As suggested by the reference to this motif in its title, the exhibition spotlighted the encounters between five well-known contemporary artists with works from the museum's collection. During the year, a special page was also added to the Japanese version of DIC's global website titled "The Rothko Room: 360° View" that provides a panoramic look of the Kawamura Memorial DIC Museum of Art's beautiful natural setting, as well as a look inside the museum's Rothko Room, which displays seven paintings from Mark Rothko's Seagram Murals series.
Calendar
DIC's original calendar for 2021, titled simply "Calendar 2021 The Rothko Room," was honored with a silver award (category 1) in the 72nd All Japan Calendar Competition, sponsored by the Japan Federation of Printing Industries and Fuji Sankei Business-i, a well-known Japanese business and finance publication. An annual event, the All Japan Calendar Competition recognizes the best calendars produced by general for-profit organizations, publishers and printing companies, among others, in terms of printing technology, planning, design, functionality and creativity. The Company will continue to plan, design and produce attractive, useful original calendars that appeal to stakeholders.
Corporate Advertising
DIC continued to promote active branding initiatives in line with its "Color & Comfort" brand slogan. The Company produced a fifth installment of its brand advertisement for television featuring actress Riho Yoshioka that focused on the DIC Group's products, the value it provides to society and its commitment as a corporate entity. Capitalizing on the increasing diversification of media, DIC also focused efforts on digital advertising.
Website and Social Media
In fiscal year 2020, DIC redesigned and reorganized its global website with the aim of enhancing communication with stakeholders. To further improve convenience for visitors, the Company also introduced a tool for analyzing user behavior when on the website. To enhance awareness of the DIC Group on the part of global stakeholders, Group companies in Japan, the PRC and the Asia–Pacific region unified the designs of their respective websites.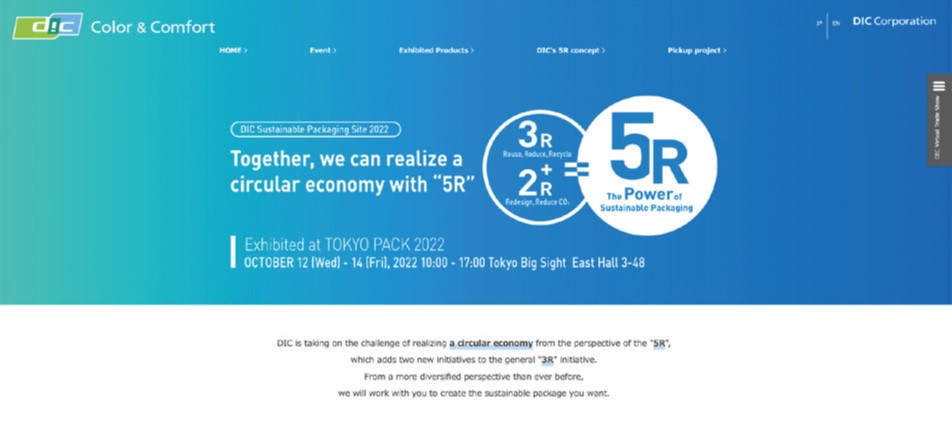 Communication with Local Communities
While COVID-19 restricted the holding of community-focused events, DIC Group companies around the world promoted a variety of initiatives to assist the efforts of communities in fighting the pandemic. In Japan, the Group donated 10,000 N95 and other high-performance masks from its stockpile, approximately 7,000 bottles of nutritional drink Linagreen® 21 Extract K1 and droplet infection–preventing face shields manufactured using proprietary technologies to healthcare facilities. In the Asia–Pacific region, DIC Group employees prepared DIC Health Packs, kits containing a variety of COVID-19 protective items, which were donated to senior care facilities, among others.
Monetary Contributions and Other Expenditures
The DIC Group conducts its operations while maintaining relationships with a broad range or external industry and other organizations.
Monetary Contributions
The DIC Group's monetary contributions in fiscal year 2021 amounted to approximately ¥34 million. In Japan, monetary contributions included a designated donation of roughly ¥9 million to support education and research, and around ¥11 million to specified public service promotion corporations and for other social contribution–related purposes. The Group made no any contributions to political organizations during this period.
Participation in Industry Organizations
In its capacity as a manufacturer of fine chemicals, the DIC Group participates in a variety of activities as a member of key industry organizations, including providing specialized information, conducting investigations and collecting materials. In Japan, the Group is a member of organizations ranging from the JCIA, the Keidanren, the Japan Dyestuff and Industrial Chemicals Association (JDICA), the Japan Thermosetting Plastics Industry Association (JTPIA) and the Japan Printing Ink Makers Association (JPIMA) to the Global Compact Network Japan (GNCJ). In fiscal year 2021, expenditures for participation in various external activities (membership dues) across the entire global DIC Group amounted to approximately ¥158 million.
Ties with the Media
DIC is reinforcing its publicity activities as a means of communicating with its many stakeholders, including its customers, shareholders, investors and local communities. This reflects its conviction that promoting active disclosure that facilitates objective media coverage is vital to securing stakeholders' understanding of the DIC Group and its operations, and to promoting a sense of unity among employees. In fiscal year 2020, DIC put out news releases regarding new products, capital investments, operating results and sustainability, among others. The Company also put out information about the Group's initiatives in the fight against COVID-19, underscoring its commitment as a chemicals manufacturer to helping provide safety and peace of mind for people everywhere.