Communication with Society
Ties with Society
In addition to the business community, the DIC Group strives to communicate effectively with ordinary consumers, including students.
Kawamura Memorial DIC Museum of Art
After a half-year closure for maintenance, the Kawamura Memorial DIC Museum of Art reopened with a special Collection Viewpoint series' exhibition titled "Christo and Jeanne-Claude: Wrap, Pack, Stack." A second special exhibition, "Minimal/Conceptual: Dorothee and Konrad Fischer and the Art Scenes in the 1960s and 1970s," co-organized by Kunstsammlung Nordrhein-Westfalen, the art museum of the German state of North Rhein–Westphalia, began in the autumn. In addition to multiple examples of Minimal and Conceptual art, the exhibition featured valuable materials related to their creation, including letters and instructions, providing an opportunity for visitors to look back at two key trends that had a major impact on present-day art.
In fiscal year 2021, the museum was able to restart regularly scheduled guided tours, which it had paused temporarily, after taking extensive steps to prevent the spread of COVID-19. The museum also continued to offer its "mite!" interactive art-viewing experience online. The new outdoor visitor lounge, completed in fiscal year 2020, provided a welcome space where people can eat and drink and wait for the shuttle buses that run between the museum and local railway stations.
Calendar
In addition to featuring works from the collection of the Kawamura Memorial DIC Museum of Art, DIC's original calendar for 2022—titled simply "Calendar 2022 Roy Lichtenstein"—is designed with a color scheme compatible with CUD, printed with environment-friendly inks and produced in a manner that is environmentally sound and conducive to recycling, thereby leveraging multiple key DIC Group technologies. DIC's calendar received an incentive award (category 1) in the 73rd All Japan Calendar Competition. The Company will continue to plan, design and produce attractive, useful original calendars that earn high marks from stakeholders.
Corporate Advertising
DIC continued to promote active branding initiatives in line with its "Color & Comfort" brand slogan. The Company produced a sixth installment of its brand advertisement for television featuring actress Riho Yoshioka that puts the spotlight on DIC Group products, the value it provides to society and its commitment as a corporate entity. Capitalizing on the increasing diversification of media, DIC also focused efforts on digital advertising.
Website and Social Media
To enhance communication with stakeholders, DIC unified the design and expanded the clearly worded content of DIC Group company websites. As noted in "Ties with Shareholders and Investors" above, the Company's website- and social media–related initiatives continue to be evaluated highly by external organizations. DIC is also working to further improve website accessibility to overseas stakeholders.
The expansion of ESG information is another focus of DIC's website improvement efforts. In addition to explaining its sustainability policy in an easy-to-understand manner, the Company is increasing its publication of related quantitative data in response to requests for information from a variety of stakeholders. In fiscal year 2021, DIC won a grand prize in the new Sustainability category of Daiwa Investor Relations' Internet IR Awards.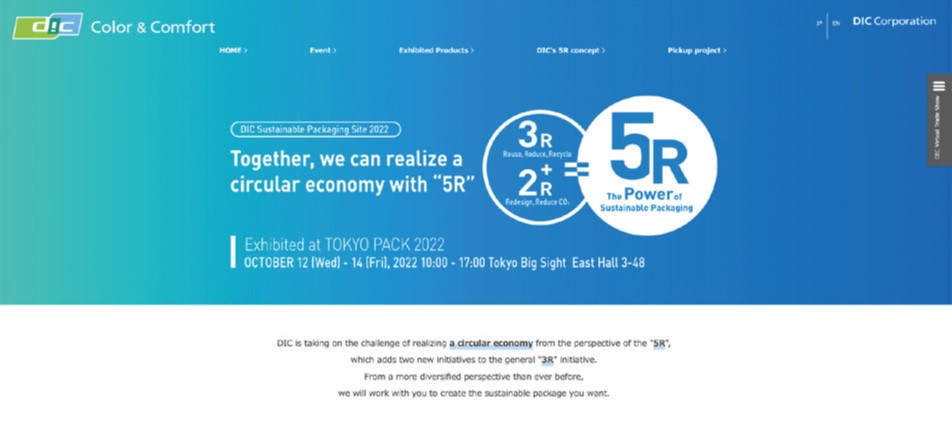 Communication with Local Communities
Despite restrictions on community-focused events due to COVID-19, DIC Group companies promoted a variety of initiatives while taking stringent steps to prevent the spread of infection. Examples included a nutrition education class titled "Exploring the Secrets of the Color of Sweets" offered by DIC Lifetec Co., Ltd., at the Shibuya Children's Science Center Hachi Lab, a facility in Tokyo providing a variety of extracurricular science, technology and mathematics programs. At the Kawamura Memorial DIC Museum of Art, staff continued to plant trees as part of a program to create a wooded area where visitors can relax within an ecosystem that supports the coexistence of wild birds and small animals.
Monetary Contributions and Other Expenditures
The DIC Group conducts its operations while maintaining relationships with a broad range of industry associations and other external organizations.
Monetary Contributions
The DIC Group's monetary contributions in fiscal year 2021 amounted to approximately ¥34 million. In Japan, monetary contributions included a designated donation of roughly ¥9 million to support education and research, and around ¥11 million to specified public service promotion corporations and for other social contribution–related purposes. The Group made no contributions to political organizations during the period.
Participation in Industry Organizations
In its capacity as a manufacturer of fine chemicals, the DIC Group participates in a variety of activities as a member of key industry organizations, including providing specialized information, conducting investigations and collecting materials. In Japan, the Group is a member of organizations ranging from the JCIA, the Keidanren (Japan Business Federation), the Japan Dyestuff and Industrial Chemicals Association (JDICA), the Japan Thermosetting Plastics Industry Association (JTPIA) and the Japan Printing Ink Makers Association (JPIMA) to the Global Compact Network Japan (GNCJ). In fiscal year 2021, expenditures for participation in various external activities (membership dues) across the entire global DIC Group amounted to approximately ¥158 million.
Ties with the Media
DIC is reinforcing its publicity activities as a means of communicating with its many stakeholders, including its customers, shareholders, investors and local communities. This reflects its conviction that promoting active disclosure that facilitates objective media coverage is vital to securing stakeholders' understanding of the DIC Group and its operations, and to promoting a sense of unity among employees. In fiscal year 2021, DIC put out news releases regarding the acquisition of a business, new products, investments in facilities, operating results and sustainability, among others. The Company also disseminated information about the Group's initiatives in the fight against COVID-19, underscoring its commitment as a chemicals manufacturer to help provide safety and peace of mind for people everywhere.