Communication with Society
Ties with Society
In addition to the business community, the DIC Group strives to communicate effectively with ordinary consumers, including students.
Communication in the Field of Education
In July 2019, the Central Research Laboratories sponsored a booth at the 9th Chiba Science School Festival, held at the Tsudanuma campus of the Chiba Institute of Technology. This is the second consecutive year that the Central Research Laboratories has taken part in this event, which is sponsored by Chiba Science School Net, and it has done so with the goal of supporting the scientific research efforts of senior high school students and encouraging elementary and junior high school students to take a greater interest in science. Organized under the theme of "Isolating Natural Colorants," the DIC booth at the 2019 festival offered students the chance to conduct experiments in the extraction of Spirulina's natural blue colorant. The response from the 30 participating students and parents was enthusiastic, with many expressing surprise at the beautiful blue colorant that resulted from the filtration of a dark green liquid.
The following month, the DIC Group once again hosted the Chiba Prefectural Dream Challenge Hands-On School, a popular program for elementary school–age children organized by the prefecture's Board of Education, at the Central Research Laboratories' convention hall and the Kawamura Memorial DIC Museum of Art. This program invites children and their parents to company and university research labs in Chiba Prefecture to conduct experiments and tour facilities. Students and family members participating in the 2019 program conducted experiments in the extraction of colorants from Spirulina and paper chromatography using aqueous felt-tipped pens.
In October 2019, for the second consecutive year the Central Research Laboratories and the Kawamura Memorial DIC Museum of Art invited first-year students in Chiba Prefectural Sakura East High School's fashion design program for a program titled "Colors and Chemicals," which included lectures and practical training, as well as a museum tour. The Central Research Laboratories' convention hall hosted the lectures, which focused on the basics of colors and were led by DIC employees, as well as the practical training, during which participants were asked to collaborate in creating a color scheme on the theme of "Tokyo" using the DIC Color Guide®, an exercise that all seemed to enjoy. The students were then taken on a tour of the Kawamura Memorial DIC Museum of Art, during which they listened intently to the explanations given by museum staff that appeared to capture their interest.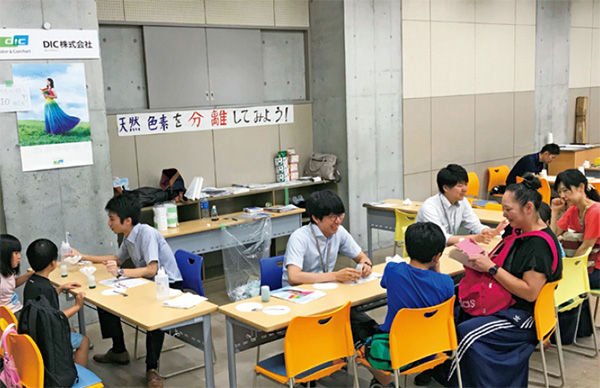 Kawamura Memorial DIC Museum of Art
From late March through mid-June, the Kawamura Memorial DIC Museum of Art held an exhibition titled "Joseph Cornell: Collage & Montage," which brought together works from the museum's collection with approximately 50 other assemblage boxes and collages from other museums and private collectors in Japan. Other 2019 highlights included the Collection Display, which began in late June and featured works by media artist Katsuhiro Yamaguchi, and "Painting into Sculpture—Embodiment in Form," an exhibition of sculptures by painters and the paintings that inspired them. Beginning in June, the museum also exhibited newly acquired works, including Black Curve (1994) by American artist Ellsworth Kelly (1923–2015) and numerous prints. The museum, which in 2020 is celebrating the 30th anniversary of its opening, will continue to welcome guests to enjoy its extensive collection of art, beautiful natural setting and outstanding architecture.
Calendar
DIC's original calendar for 2020, titled simply "Calendar 2020 Frank Stella," was honored with a silver award (category 1) in the 71st All Japan Calendar Competition, sponsored by the Japan Federation of Printing Industries and Fuji Sankei Business-i, a well-known Japanese business and finance publication. An annual event, the All Japan Calendar Competition recognizes the best calendars produced by general for-profit organizations, as well as publishers and printing companies, among others, in terms of printing technology, planning, design, functionality and creativity. The Company will continue to plan, design and produce attractive, useful original calendars that appeal to stakeholders.
Corporate Advertising
In fiscal year 2016, DIC declared a new brand slogan, "Color & Comfort," and launched an ambitious branding program. In fiscal year 2019, the Company produced the fourth installment of its brand advertisement for television, Sekai wo Iro de Kaeteiku ("Changing the world through color"), as well as a series of print and transport advertisements.
Website and Social Media
DIC continues to make use of social media to bolster name recognition in the PRC. The Company also revamped the Chinese-language version of its corporate website, an undertaking that included introducing a new section titled "Vivid China." This led to an increase in website access within the PRC, contributing to record-high use in terms of both sessions and visitors.
Communication with Local Communities
The DIC Group promotes a variety of community-focused initiatives, including deploying the DIC Color Guide ® Event Pack, which originated with an employee proposal, to conduct workshops that provide an opportunity for interacting with local children and their families. In fiscal year 2019, such an event was held at a commercial facility in Nagoya. DIC also held an evening bon odori (Bon Festival dance) on the site of its Tokyo Plant, creating an opportunity to interact with nearby residents. The Group will continue to promote events on its sites, as well as in communities and at schools, to advance communication with local communities.
Monetary Contributions and Other Expenditures
The DIC Group conducts its operations while maintaining relationships with a broad range of external industry and other organizations.
Monetary Contributions
The DIC Group's monetary contributions in fiscal year 2020 amounted to approximately ¥39.0 million. In Japan, monetary contributions included a designated donation of roughly ¥10.0 million to support education and research, and around ¥11.0 million to specified public service promotion corporations and for other social contribution -related purposes. The Group also made monetary contributions totaling approximately ¥200,000 to political organizations during this period.
Participation in Industry Organizations
In its capacity as a manufacturer of fine chemicals, the DIC Group participates in a variety of activities as a member of key industry organizations, including providing specialized information, conducting investigations and collecting materials. In Japan, the Group is a member of organizations ranging from the JCIA, the Keidanren, the Japan Dyestuff and Industrial Chemicals Association (JDICA), the Japan Thermosetting Plastics Industry Association (JTPIA) and the Japan Printing Ink Makers Association (JPIMA) to the Global Compact Network Japan (GCNJ). In fiscal year 2020, expenditures for participation in various such external activities (membership dues) across the entire global DIC Group amounted to approximately ¥167.0 million.
Ties with the Media
DIC is reinforcing its publicity activities as a means of communicating with its many stakeholders, including its customers, shareholders, investors and local communities. This reflects its conviction that promoting active disclosure that facilitates objective media coverage is vital to securing stakeholders' understanding of the Group and its operations and promoting a sense of solidarity among employees. In fiscal year 2019, DIC put out news releases regarding new products, capital investments, operating results and sustainability, among others. By proposing and accepting interviews on key topics such as its efforts to protect its intellectual property rights, DIC has also succeeded in bringing forward issues of concern not only to the Company but also to the chemicals industry as a whole.