Topic
Efforts to Reduce Environmental Impact by Using Water-based Biomass Ink Made with Plant-Based Packaging Resin
Sun Chemical Promotes Initiatives Aimed at Addressing an Important Social Imperative
Sun Chemical, which oversees the DIC Group's operations in Europe and the Americas, is one of the world's leading manufacturers of printing inks. The company develops and supplies a broad range of products that address diverse social imperatives.
Social Imperative
Brands today are under a lot of pressure to be environment-friendly. Studies have shown that consumers want more sustainable packaging and global retailers have made it clear that they prefer to work with brands that integrate environment-friendly practices in their packaging.
Recognizing these trends, brands are taking dedicated steps to vet and study the environmental practices implemented by their suppliers and partners. In fact, some brands in the fast/quick food service industry have gone so far as to push forward initiatives that focus on using all-natural packaging.
This has led to a push for greener inks with a higher level of bio-renewable content. A bio-renewable ink can be derived from tree, plant, insect and/or animal materials, according to the U.S.-based National Association of Printing Ink Manufacturers (NAPIM). These can include resins, gums, oils, waxes, solvents, and other polymer building blocks.
Brand owners want these bio-renewable inks to maintain the same quality and performance requirements of a non-renewable ink, keep to a cost that is competitive with non-renewable inks and comply with the standards outlined by the brand and a variety of regulations, including California's Proposition 65 and the European Union's Toy Safety Directive, among others.
Sun Chemical's Response
Sun Chemical has responded to the industry challenges by rolling out a line of inks that meet environment-friendly, bio-renewable and biodegradable standards that the industry, brand owners, retailers and consumers are looking for.
Formulated with significantly higher levels of bio-renewable resin content compared to other previous market offerings from Sun Chemical, the new SunVisto® AquaGreen water-based inks deliver the required critical performance attributes needed across a range of paper packaging applications.
The inks can be blendable using varnishes and standard water-based pigment dispersions, and do not compromise end-use or on-press performance. They also offer outstanding print fidelity and ink resolubility on press, quick setting for in-line converting and high levels of resistance properties to rub, abrasion, water and grease.
Sun Chemical's R&D and compliance teams from Europe, North America and South America spent a year and a half replacing chemicals with natural products to ultimately provide an ink solution that was comparable in cost, delivered the required performance attributes, and met all the standards and regulatory compliance requirements.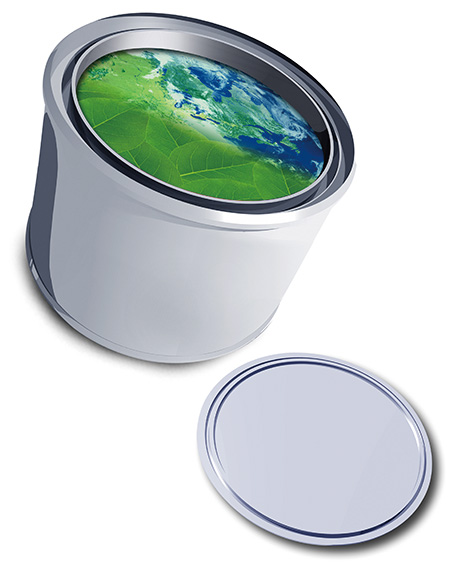 VOICE
Sun Chemical is fulfilling its responsibilities to ensure sustainable business practices.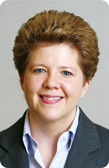 Sun Chemical is a recognized leader in compliance and R&D, with a strong commitment to sustainable practices. Those attributes were why a customer in North America approached us with a project to see if we could create a series of natural bio-renewable inks that would meet the sustainability needs and standards of major fast/quick food service brands. It was a major undertaking with a lot of testing and trial runs. It was inspiring to see our team's determination to find the right raw materials needed to accomplish the goals and requirements of our customer and global regulations.
Vice President, Marketing Penny Holland
2018 Special Feature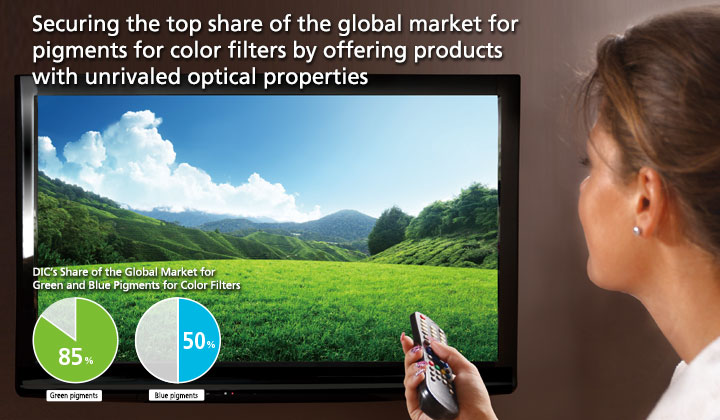 Pigments for Color Filters Used in LCDs and OLED Displays(Functional Pigments)
Securing the top share of the global market for pigments for color filters by offering products with unrivaled optical properties with unrivaled optical properties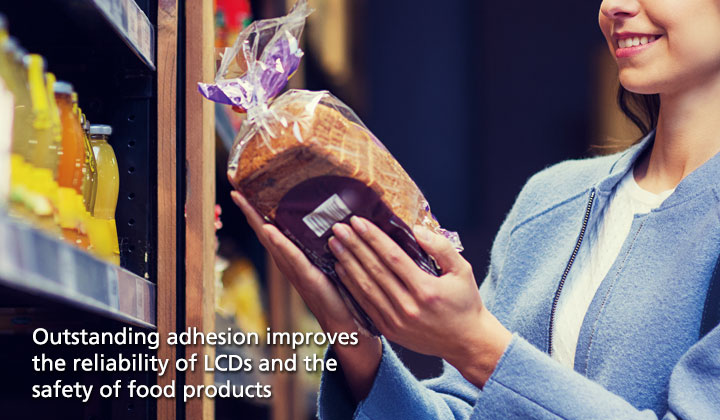 Adhesive Primers for Optical and Packaging Films
Outstanding adhesion improves the reliability of LCDs and the safety of food products

TOPICS
Efforts to Reduce Environmental Impact by Using Water-based Biomass Ink Made with Plant-Based Packaging Resin
Sun Chemical Promotes Initiatives Aimed at Addressing an Important Social Imperative