Special Feature
Adhesive Primers for Optical and Packaging Films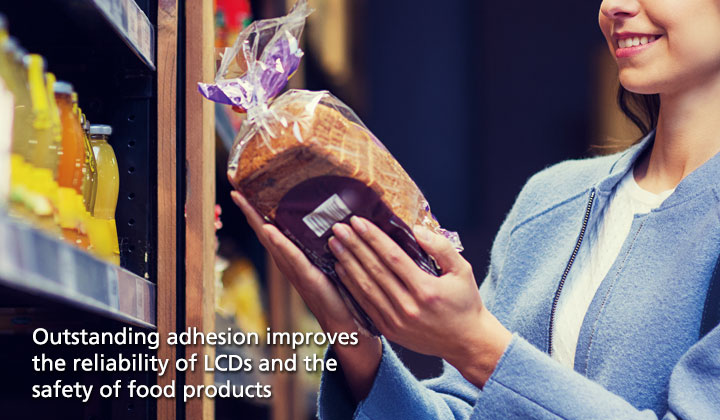 Value Creation
Ultrathin (less than 1/10,000 millimeter) waterborne polyurethane resin adhesive primer
DIC's ultrathin high-performance films are used extensively for optical applications, including liquid crystal displays (LCDs) for televisions, PCs and smartphones, and food product packaging applications, such as retortable pouches and snack food packets. While such films appear to be a single layer, they actually comprise multiple layers that are laminated together. The multilayer structure makes it possible to impart critical performance features, including transparency, electroconductivity, antireflectivity and brightness in the case of films for optical applications and heat resistance as well as oxygen-barrier properties and moisture resistance in the case of films for food packaging applications.
Film layers are generally laminated using adhesives. However, in situations where the surface attributes of polyethylene terephthalate (PET) film discourage adhesion, an adhesive primer (aqueous polyurethane surface modifier; also called an anchor coat or an adhesion promoter) is applied prior to the laminating adhesive. While less than 0.1 micron (1/10,000 millimeter) thick, the primer ensures a powerful bond between the PET film substrate and coating layer, thereby playing a key role in enhancing the properties of highperformance films.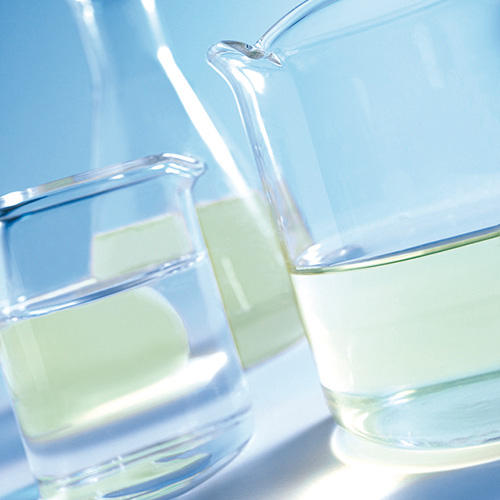 Primers Help Increase LCD Brightness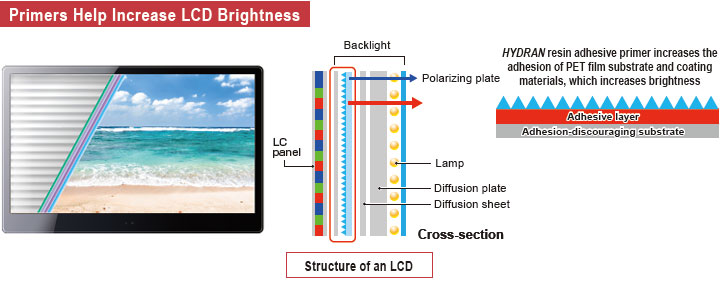 DIC's popular HYDRAN resins: Reliable, easy-to-use and environment-friendly
Polyurethane resins are copolymers that boast excellent adhesion to a variety of substrates. Polymer design can be leveraged to impart various desired characteristics, facilitating a broad range of applications, including bonding fibers, films and metals. Waterborne polyurethane resins, in particular, deliver outstanding adhesion, while cross-linking agents can be used to enhance strength, adhesion and resistance to water, heat and moisture.
DIC has more than 40 years of experience as a manufacturer of polyurethane resins. One of its best-known products is the HYDRAN series of waterborne adhesive polyurethane resins, which are rated highly for increasing the adhesion, transparency, abrasion resistance and durability of substrate and coating materials, and for enhancing the workability—including superb surface slip, windability and blocking resistance*1—of HYDRAN-coated films.
Because they are solvent-free, HYDRAN resins also eliminate concerns regarding emissions of volatile organic chemicals (VOCs), making it an ideal choice from the perspectives of reducing the negative environmental impact of food packaging and protecting the safety and health of production workers. In addition, in the production of aluminum food trays, the use of aluminum vapor deposition*2 on HYDRAN-coated PET film uses significantly less energy than the conventional process, which involves laminating together layers of PET film and aluminum foil with an adhesive, and reduces tray weight.
Blocking is the undesired adhesion of adjacent layers of film when winding. Blocking causes various issues, including hindering surface slip and preventing peeling off.
Minute particles of aluminum are evaporated in a vacuum using, for example, an electron beam or high-frequency induction. The vaporized aluminum is deposited on the film substrate, where it condenses.
The PET Film Value Chain

A Distinctively
DIC Response
Maximizing top-class polymer technologies and an extensive global network to establish a strong brand image and a proven track record as a supplier
Building on its pigment and resin dispersion and formulating technologies realized through the production of printing inks, DIC is promoting the development of high-value-added products that leverage its basic and core technologies. The former category includes technologies in the area of optics and color, organic molecular design, polymer design and dispersion technologies, while the latter includes those in the area of synthesis, compounding formulation and surface treatment. DIC's efforts in this area are underpinned by its ability to integrate technological resources originating across the DIC Group to combine materials with diverse properties and performance characteristics.
DIC's success in commercializing a waterborne polyurethane resin adhesive primer for optical and food packaging applications is attributable to its know-how in peripheral areas such as high-performance films, coatings and adhesives. The Company makes use of its vast store of development and production knowhow to realize distinctively DIC responses to market needs.
DIC's Wealth of Technologies in Areas Peripheral to Primers
Promoting business diversification through information gathering and global marketing
Polymers is one of five business segments into which the DIC Group classifies its global operations. The remaining four are Printing Inks, Fine Chemicals, Compounds and Application Materials. These four segments overlap with the Polymers segment not only on the technology front but also because they frequently manufacture and sell products for common applications and operate in the same geographic markets. As a consequence, all five segments inevitably share customers and suppliers. The Group's adhesive primer business thus works with Group companies in each country and territory, enabling it to efficiently gather information on markets and customers and to modify its sales strategies accordingly.
Because primers are intermediate materials, the handling methods and coating technologies employed in their use impact the quality of finished products. Accordingly, DIC recognizes the importance of a sales approach that encompasses consulting on everything from formulation to process management. Here, too, DIC thus capitalizes on its extensive experience to provide tailored production support, as well as to sell products, to film manufacturers and other customers. This approach has earned the Company a solid reputation for reliability.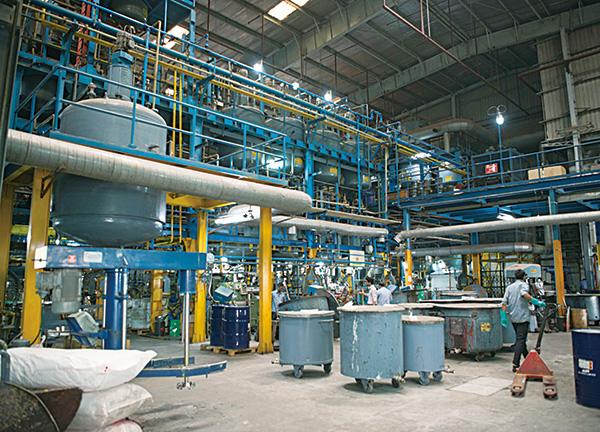 KEY PERSON of DIC
Having inherited DIC's DNA, we are promoting the development of businesses that respond to social imperatives.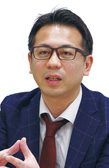 While potential applications for adhesive primers are numerous, we have narrowed our focus to optical and food packaging films. We have succeeded in expanding our shares of both markets by promoting the development of formulations and products that comply with the selection criteria and required performance characteristics of leading customers in each of the countries and territories in which we operate.
At all stages, I find myself impressed by our wealth of technological and human resources, as well as by our meticulously crafted global network, which is attributable to the fact that we were early to turn our attention to overseas markets. Our ability to effectively combine such assets results in a dynamic force that I liken to a chemical reaction. These assets, amassed over 100 years in business, are the building blocks of DIC's DNA. They are also the driving force behind our efforts to develop products and global businesses that respond accurately to rapidly evolving social imperatives.
Manager, Dispersion Sales Group, Polymers Product Division Kenji Ikeda
We are leveraging synergies between our development capabilities and informationgathering prowess in the rapidly evolving LCD market.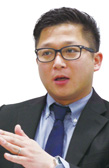 PET film adhesive primers for optical applications used in LCDs must enhance brightness and outstanding adhesion to film substrates cured using ultraviolet (UV) light to impart hard coat properties. DIC's primer delivers excellent adhesion to a wide variety of UV-cured resins and does not impede either the length of usability after mixing or the transparency of the film after coating, user-friendly features that have earned high marks from customers. I see our development capabilities in this area as representing the technological depth of departments responsible for producing polyurethane raw materials and for using these materials in products. The synergies between these capabilities and our information-gathering prowess enables us to provide a broad range of intermediate materials that anticipate the needs of LCD manufacturers. In the LCD market, models change with astonishing rapidity. To grow our share of this market, we must treat our distinctive development and information-gathering capabilities like the wheels on a vehicle, synchronizing movement while at the same time increasing speed.
DIC (Shanghai) Co., Ltd. Sou Kanegae
As the performance of food packaging continues to rise, we continue working to communicate the value of DIC's primer to an ever-greater number of customers.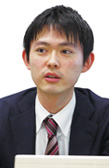 I am in charge of sales of primer for use in food packaging to customers in the Asia–Pacific region, Europe and the Americas. With living standards in emerging economies improving visibly, expectations vis-à-vis the performance of packaging films for food products are increasing, spurring demand for multilayer films that extend the shelf life of food and can withstand cooking. DIC's primer has established a solid brand image among market-leading packaging film manufacturers with outstanding technological capabilities. For mid-tier mass producers, knowledge regarding primers and production support are critical. Accordingly, with an approach that focuses on resolving the issues faced by customers uppermost in our minds, which we have dubbed "DIC Special Solutions," we are participating in an initiative led by DIC Asia Pacific Pte Ltd to collaborate closely with Group companies in countries and territories across the region to cultivate a greater variety of customers.
Dispersion Sales Group, Polymers Product Division Daisuke Nagaoka
Our efforts focus on developing products for off-line film producers.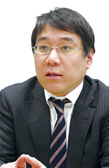 Customers for adhesive primers fall into two categories. The first category, which consists primarily of major manufacturers, uses the in-line method, which involves coating primer onto film before the termination of crystal orientation*, after which the manufacturing is completed with drying, stretching and heat treatment. The second category, mainly mid-tier producers, uses the off-line method, which involves coating film in a separate process after the termination of crystal alignment, stretching and heat treatment. DIC's primer enjoys a solid reputation and a strong track record among manufacturers in the first category, but we recognize that expanding this business depends on increasing sales to manufacturers in the second category. Off-line coating is challenging from both technology and cost perspectives, so we will need to provide carefully tailored support services. Nonetheless, securing customers in as-yet untapped areas is the key to the next phase of growth for this business, so teams across the DIC Group will work as one to promote the development of new products and to further improve sales results.
Biaxially oriented PET film is a crystalline polymer, while "crystal orientation" represents the degree of alignment of crystal axes. Stretching and heat treatment improves film's resistance to, among others, heat, impact and chemicals.
Polymer Technical Group 2, Polymer Technical Division 2 Kazuhiko Chiyonobu
TOPICS
Establishing the Polymer Technical Center–Asia Pacific and Promoting Local Production and Consumption of DIC's HYDRAN Resin Adhesive Primers
Efforts to accelerate development and supply capabilities in a key growth market proceed
DIC primarily produces HYDRAN resin adhesive primer at the Hokuriku Plant in Japan. Against a backdrop of rising demand in other Asian markets, the Company has sought to accelerate the development of products tailored to regional needs and reinforce its supply configuration by establishing the Polymer Technical Center–Asia Pacific within the site occupied by DIC Group company Siam Chemical Industry Co., Ltd.
In fiscal year 2017, DIC's technical team and Siam Chemical Industry collaborated to complete trial production of the primer using actual equipment at the Polymer Technical Center–Asia Pacific. In fiscal year 2018, steps will be taken to further perfect production lines and obtain customer evaluations with a view to commencing fullscale production in fiscal year 2019. In addition to establishing two production sites for the primer, in Japan and in Thailand, DIC will take steps to localize sales capabilities, thereby positioning it better to supply products in a more timely manner, in line with its global strategy of promoting local production and consumption.
KEY PERSON of DIC
We will continue to leverage DIC's management resources to drive the expansion of the DIC Group's operations in Asia.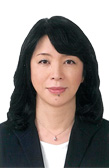 Siam Chemical Industry was established in 1974, making it one of the oldest Japanese-affiliated companies in Thailand, and is primarily engaged in the manufacture and sale of synthetic resins for coatings, molding and industrial applications. Our integrated management of production, sales and technological functions, which enables us to guarantee the same level of quality as DIC in Japan, is our principal competitive advantage, underpinning steady growth to date. In a move aimed at reinforcing our operating foundation to further support sustainable growth and responding to environmental issues in Thailand, we recently started up newly installed solar panels. In response to environmental needs across Asia, we also plan to invest decisively to facilitate production of HYDRAN waterborne polyurethane resins. We will continue to leverage DIC's management resources effectively grasp regional needs and drive the expansion of the Group's operations in Asia.
President, Siam Chemical Industry Co., Ltd. Sumiko Mochizuki
We are working to respond swiftly to market needs in Southeast Asia.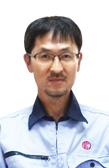 The Polymer Technical Center–Asia Pacific was established in fiscal year 2015 within the site occupied by Siam Chemical Industry with the goal of responding swiftly to changing needs in fast-growing Southeast Asian markets. In fiscal year 2017, we launched a similar team in Indonesia. Our efforts focus not only on polyurethane resins, but also acrylic resins, polyester and other resins for a broad range of applications. In addition to hiring experts in various areas to facilitate advanced R&D and the provision of superior technical services, specialists in analysis technologies have been posted to the Polymer Technical Center–Asia Pacific to work with local technical staff. We are currently capitalizing on the newly developed HYDRAN resin adhesive primer, which draws on DIC's expertise in the area of materials for printing, to provide distinctively DIC solutions that address local needs.
General Manager, Polymer Technical Center–Asia Pacific Akifumi Yamamoto
2018 Special Feature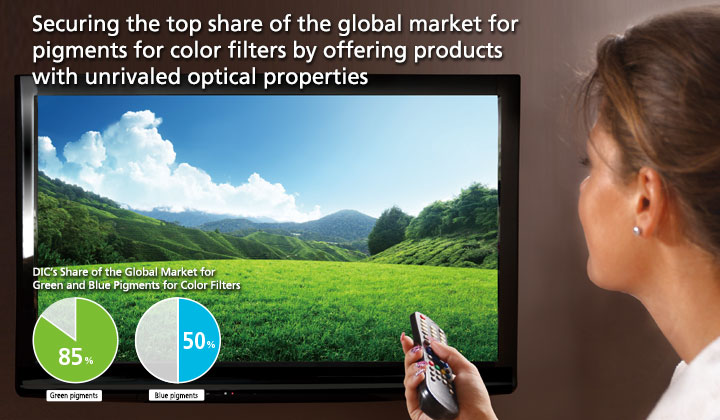 Pigments for Color Filters Used in LCDs and OLED Displays(Functional Pigments)
Securing the top share of the global market for pigments for color filters by offering products with unrivaled optical properties with unrivaled optical properties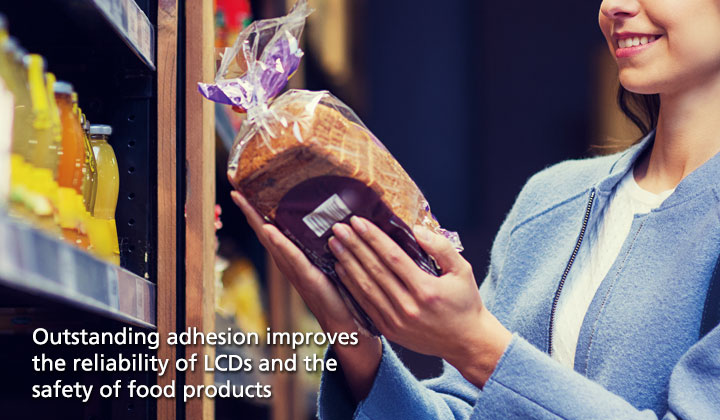 Adhesive Primers for Optical and Packaging Films
Outstanding adhesion improves the reliability of LCDs and the safety of food products

TOPICS
Efforts to Reduce Environmental Impact by Using Water-based Biomass Ink Made with Plant-Based Packaging Resin
Sun Chemical Promotes Initiatives Aimed at Addressing an Important Social Imperative