Special
Feature Water-Based Flexo Ink for High-Resolution Printing on Flexible Packaging (Marine Flex LM-R)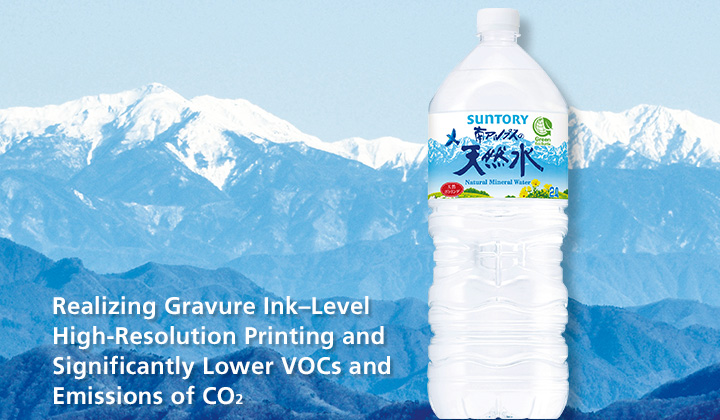 Value Creation
Expanded use of environment-friendly water-based flexo inks in the area of food packaging
The market for packaging inks today is dominated by solvent-based products, which boast outstanding wettability on plastic film substrates and dry swiftly after printing. Nonetheless, demand for water-based, UV-curable and other environment-friendly alternatives is rising sharply, underpinned by the need to address key social imperatives, including the lowering of volatile organic compounds (VOCs), which pollute the air and impact working environments; the curbing of global CO₂ emissions; and the reduction of energy consumed in printing.
While printing on packaging films centers on gravure printing, an intaglio printing process, and flexographic printing, a type of letterpress printing, the latter is leading the global shift toward water-based inks. The principal reason for this is that flexographic printing uses less ink than gravure printing, meaning that even when water-based inks—which dry more slowly than solvent-based inks—are used, drying requires little energy, facilitating superior productivity, i.e., high-speed printing. However, the small volume of ink used makes high-density, high-precision printing difficult, as a result of which flexographic printing has traditionally been seen as inferior to gravure printing, spurring demand for improvements.
Against this backdrop, in fiscal year 2015 DIC and DIC Graphics created a project team to develop a water-based flexo ink for use on flexible packaging for food products, cosmetics and other items, which is made primarily with plastic film. Leveraging its proprietary mixing and dispersion technologies, DIC succeeded in developing an innovative ink that achieves a high optical density, lifting print quality to a level similar to that obtained with gravure printing. The Company also revamped the resin binder, beginning with its structure, to prevent the ink's high density from weakening adhesion during lamination and to increase the resolubility of ink remaining on the printing plate following transfer to the print substrate, thereby ensuring the stability of print quality. The new ink, Marine Flex LM, which was announced at a trade show in October 2016, upended many preconceived notions of flexo inks.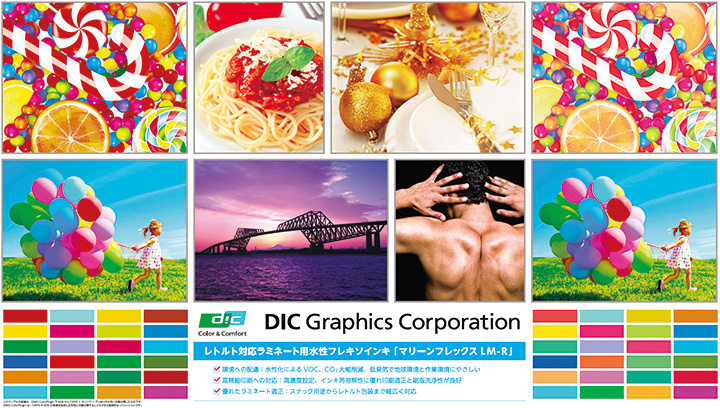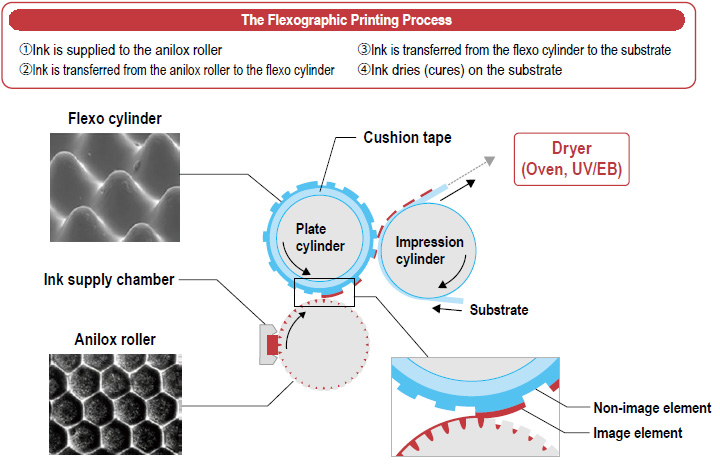 A Distinctively
DIC Response Securing the adoption of a new water-based flexo ink on the label for Suntory Tennensui
An innovative, environment-friendly offering, Marine Flex LM facilitated the DIC Group's entry into the market for packaging inks. However, sales volume fell short of expectations. One reason for this is the steep capital investment necessary for customers to switch from gravure printing to flexographic printing, as a result of which it is expected to take some time before the level of adoption in Japan catches up to that in Europe and the Americas. However, certain major beverage manufacturers have stepped up efforts to switch from oil-based gravure to water-based flexographic printing to reduce VOCs and CO₂ emissions and conserve energy used in printing on film for PET bottle wrap-around labels and sought to expand the range of products for which such labels are used. Convinced by this trend that its instinct had not been wrong, in July 2017 the project team steered its focus toward developing a new water-based flexo ink for wrap-around labels.
The way forward for the team remained challenging. While films for food packaging commonly consist of three film layers—a substrate and a top layer sandwiching an ink layer—that are laminated together, wrap-around labels comprise two laminated film layers, that is, an ultrathin substrate and a reverse-printed top layer. Moreover, PET bottles have ridges, which enhance strength, recyclability and other properties, so labels must also be able to withstand contact and vibration during transport from factory to warehouse or store and the integrity of inks and label designs must be maintained even if bottles become soaked when used outdoors.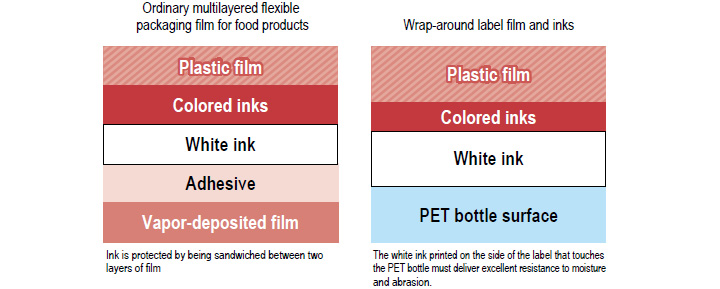 To fulfill such challenging requirements, the project team leveraged the DIC Group's broad network, asking companies to which potential customers consign the manufacture of wrap-around labels to evaluate the physical properties of prototypes, repeatedly conducting rigorous tests and making continual improvements. The challenges here were many and included developing an exclusive white ink (for white underprinting, which creates opacity so that label design is not influenced by the color of the beverage), selecting a new curing agent, improving wet abrasion resistance during transport and ensuring stable large-lot print quality, i.e., by optimizing ink viscosity, plate surface drying speed and ph level.
The team resolved each of these challenges and in December 2018 achieved a water-based flexo ink that passed all material properties evaluation tests and boasted VOCs and CO₂ emissions (energy consumption) significantly lower than solvent-based gravure inks. The new ink and the Marine Flex ECG digital color management system, developed by DIC Graphics, together make it possible to use multicolor process printing instead of spot colors for printing on flexible packaging and thus to reduce wasted ink and improve operating rates for printing equipment. Soon afterward, the new ink—Marine Flex LM-R—was chosen by Suntory Beverage & Food Limited for use on the labels of the 2.0-liter bottles of its core Suntory Tennensui water. Shipments to Suntory began in May 2019.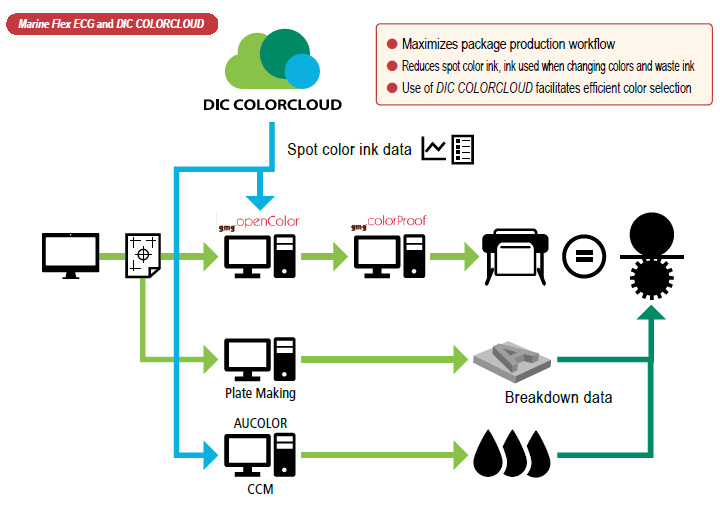 Suntory: A Customer's Story
Sustainability Initiatives
Since its founding in 1899, the Suntory Group has sought to contribute to a sustainable society as a company committed to "Mizu To Ikiru"' ("living with water"). To this end, we are committed to delivering products and services of the highest quality, as well as to promoting initiatives aimed at ensuring harmony with nature.
Based on its long-term Environmental Vision toward 2050, the Suntory Group has set targets for 2030 and has long been an industry leader in promoting efforts to reduce CO₂ emissions and its environmental impact. Having positioned issues related to water as its priority, the group is implementing a variety of next-generation initiatives in line with the Suntory Group Water Philosophy, including the Outdoor School of Forest and Water and the Suntory Mizuiku Natural Water Education program, with the aim of teaching people about the importance of water. Employees also contribute to society by taking part in tree thinning and planting activities at water sources.
The Suntory Group is also promoting the development and adoption of environment-friendly packaging through its "2R + B" (Reduce, Recycle + Bio) strategy, as well as through bottle-to-bottle recycling, and has introduced PET bottle caps made with 30% bio-derived materials. Such initiatives continue to earn high marks.
Reducing the Environmental Impact of Packaging
The Suntory Group is working to reduce the environmental impact of its packaging. The focus of these endeavors has shifted from making conventional materials lighter, thinner and more compact to modifying existing and developing new materials. With consumer awareness of sustainability and rising demand for recyclable packaging and easily removable labels rising, the environmental soundness of products is expected to directly affect end users' purchasing trends in the years ahead.
In addition to ensuring stable supplies, enhanced quality and cost competitiveness, the Suntory Group looks for materials that offer a lower environmental impact. This belief was behind its recent decision to adopt DIC's Marine Flex LM-R water-based flexo ink for printing wrap-around labels. The decision to print labels with water-based flexo inks presented several challenges, including developing technologies to ensure the same high definition and productivity as gravure inks, but the outstanding environmental performance of Marine Flex LM-R encouraged us to take the plunge. We thus became the first company in the beverage industry to adopt water-based flexo inks for this purpose.
COMMENT
The Suntory Group places a strong emphasis on environmental protection in all areas of its operations. In considering whether to adopt water-based flexo inks, we weighed up the risk of being the first company to do so against the risk of not taking this step. Recognizing the potential impact of environment-friendly water-based inks on the packaging industry as a whole, we became the first company to adopt DIC's Marine Flex LM-R waterbased flexo ink. By more quickly developing increasingly innovative environment-friendly packaging, we can help pass on a sustainable global environment to the next generation. Accordingly, our focus is on driving our industry forward, rather than on maintaining the status quo. We look forward to seeing DIC continue to actively disseminate information on the environmental benefits of water-based flexo inks and encourage their use, as well as to raise awareness of environmental issues. Environment-friendly materials will continue to be an important consideration for packaging manufacturers, so we also look forward to new ideas and suggestions from DIC in the years ahead.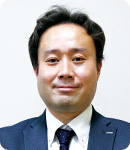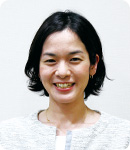 KEY PERSON from DIC
We seek to build win–win relationships with new clients.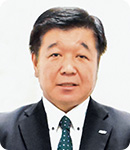 For this project, we secured the cooperation of companies to which customers consign label manufacturing and of printing companies—which together form the core of the wrap-around label supply chain—and thus benefited from their expertise in evaluating the physical properties and in flexographic printing with water-based inks. In this and other such efforts, we seek to build win–win relationships with new clients while at the same time deepening collaboration in both human and technological terms. This project also reinforced our belief that such an approach will be crucial to realizing the pledge to deliver packaging solutions that contribute to sustainability for the global environment outlined in DIC111.
Liquid Ink Product Group, Osaka Branch, DIC Graphics Corporation Toshiya Fuji
Packaging innovations aligned with Brand Owner's needs.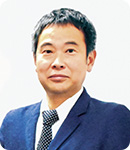 The Marketing Management Unit started to develop water-base flexo ink for flexible packaging for Suntory, one of the biggest beverage company in Japan. The direct marketing toward Brand Owner was the key success for entering in new business for pet bottle's label ink. The road toward this achievement was not easy, but the marketing team was able to grasp the accurate demand of Suntory, streamline the overall supply chain of the manufacture by cooperating amongst DIC Graphics and the Logistics Materials as well as the sale and technical units. Therefore, by approaching and hearing directly to Suntory, the team could select the specific target products and provide the accurate solution to the brand owner.
Unit Leader, Next-Generation Packaging Material Business Unit, New Business Development Headquarters, DIC Corporation Yoshiaki Fukuda
Our task was to leverage the convenience of DIC COLORCLOUD in the area of water-based flexo inks.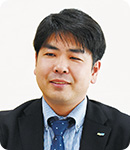 Marine Flex ECG, which was developed to help expand the popularity of our water-based flexo ink, is a digital color management system that improves the efficiency of packaging production, reduces wasted ink and improves operating rates for printing equipment. Our existing DIC COLORCLOUD–based color management system, which was launched in fiscal year 2016, had already earned high marks from designers and printing floors for reducing time allotted to the process of trial-and-error and shortening time required for color print checks. The DIC Group's ability to provide superior digital solutions is one of its key strengths.
Sales Team 3, Tokyo Liquid Ink & Coatings Sales Group 3, Liquid Ink & Coatings Division, DIC Graphics Corporation Akihiro Tsuchiya
We sought to maximize the DIC Group's extensive network.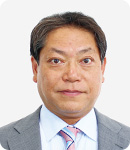 In addition to printing inks, resins and packaging materials, the DIC Group's operations encompass the production and sale of plastic pallets and containers used in distribution. Such logistics materials are sold directly to a variety of customers, including beer brewers and large rental companies. Thanks to the extensive business contacts we have built up in these businesses, we enjoy direct access to the voices of brand owners, ensuring that we are aware of overall trends in the industry.
The distinctive, broad network that the DIC Group has built as an organization handling a wide range of products is one of the factors behind the success of this project. I look forward to continuing to propose solutions that brand owners seek from us, as we did in the case study involving the adoption of our water-based flexo ink presented in this special feature.
Manager, Logistics Materials Sales Group, Composite Material Products Division, DIC Corporation Hiroki Mitsuhashi
Material properties evaluation tests posed a higher hurdle than we had expected.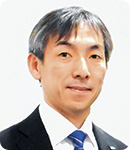 For DIC's ink to be adopted for use on wrap-around labels, it absolutely must pass the material properties evaluation tests of the companies to which potential customers consign the manufacture of labels. These tests posed a higher hurdle than we had expected and we failed repeatedly. However, the evaluation process helped give us a solid understanding of just how harsh an environment PET bottles are placed in between shipment from the factory through to sale and use. Balancing print quality and environmental performance is a difficult challenge. I look forward to applying the experience I gained through this project to the development of new packaging inks.
Manager, Dispersion Technical Group 4, Dispersion Technical Division 1, Tokyo Plant, DIC Corporation Rikei Sasaka
Special Topics 2019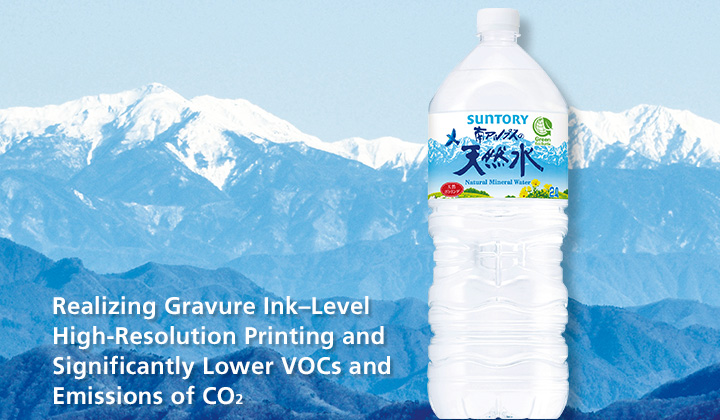 Water-Based Flexo Ink for High-Resolution Printing on Flexible Packaging (Marine Flex LM-R)
Realizing Gravure Ink–Level High-Resolution Printing and Significantly Lower VOCs and Emissions of CO₂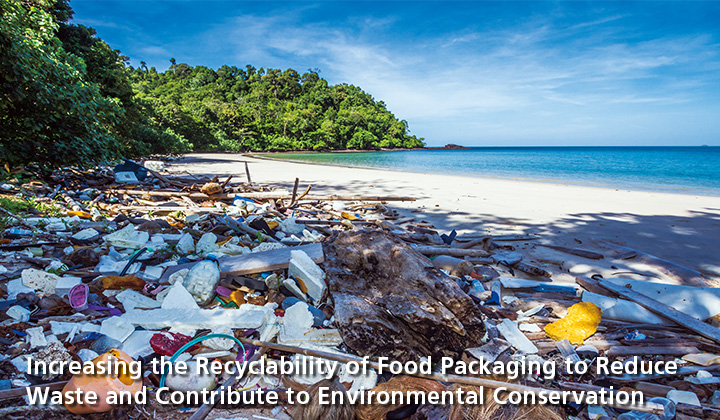 Water-based Water- and Oil-Resistant Coating Varnish for the Inner Surfaces of Paper and Paperboard Food Packaging(HYDRECT)
Increasing the Recyclability of Food Packaging to Reduce Waste and Contribute to Environmental Conservation

TOPICS
Sun Chemical developed SunColorBox, a unique set of tools and services that enable consistent and accurate digital color communication
Sun Chemical Promotes Initiatives Aimed at Addressing Important Social Imperatives