Polyester resins for coatings
BECKOLITE, FINEDIC, ALUKIDIR, BURNOCK

Polyester resins are synthetic resins in which a number of monomers are polymerized with ester bonds. They have good mechanical properties such as bending, impact, and abrasion resistance, and have excellent texture and appearance. They are used widely in the range of fields such as architectures, consumer electronics, woodworking, steel plates, pre-coating metals and adhesives.

Polyester resins (also called oil-free alkyd resins) can form strong cross-linked coatings by reacting with hardeners such as polyisocyanates and melamine resins. Alkyd resins are polyester resins for coatings which are modified with natural oils or fatty acids.

DIC offers the product portfolio that have achieved high functionality by modifying them with other resins such as acrylic, urethane, epoxy, phenol, and silicone.
Solvent free environmentally friendly resin. Since it adheres directly to metals, it can form hard and thick films with a single coating.
You can choose from a wide variety of expressions such as colors and patterns, as well as a variety of painting methods.
Self-emulsifying waterborne resins in which ionic hydrophilic groups are chemically introduced into the resin skeleton. Excellent film-forming properties and pigment dispersibility can be expressed.
There are six items, including country and region. Multiple selections available.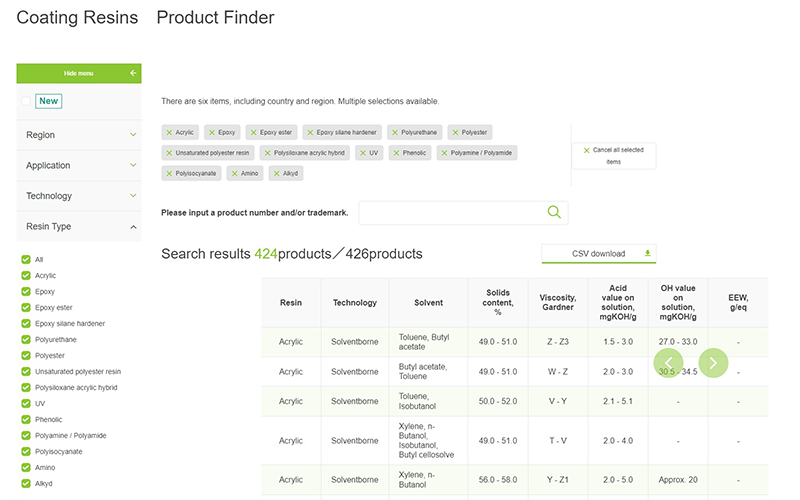 About
Polyester resins for coatings