DIC Begins Accepting Orders for Easily Installed and Repositioned IoT Flexible Wireless Environmental Sensor
-Easy-to-use sensor, which boasts the ability to detect conditions in any location, will contribute to the realization of an IoT-empowered society ー
Business & Product

News Release
Jan. 29, 2021
#IoT #5G #senssor
Tokyo, Japan—DIC Corporation announced that as of today it is accepting orders for HatteTotte™, a new flexible wireless sensor that can be used to detect temperature, humidity and illuminance in indoor environments in, for example, commercial facilities and office buildings. As an Internet of Things (IoT) device, this flexible wireless sensor connects to other devices over the Internet.

Wired temperature and humidity sensors currently dominate the market, but their use is difficult in many facilities because space for installation is limited, and the need to accommodate new tenants and floor layouts makes installation impracticable. Conventional wireless sensors generally have hard molded plastic casings that, while they allow easy attachment to surfaces using double-sided tape, may also come loose and fall, causing injury or damage. In addition, sensors to date have been aesthetically unattractive, prompting calls for improved designs. In response to such needs, DIC developed HatteTotte™, a flexible wireless sensor that offers multiple distinctive benefits, including ease of installation; a thin, light body with design properties that do not clash with facility interiors; a built-in battery that eliminates the need for any wires; and LoRaWAN® (Long Range Wide Area Network), facilitating long-range connectivity.
Key Features of HatteTotte™
Easy installation
Wireless; sticks to surfaces for easy installation, but also peels off, making it easy to reposition; detects temperature, humidity and illuminance.
Thin and light
A mere 5.8 mm thick and approximately 38 grams; soft and flexible body does not shatter even if it is dropped from a height and is trodden on, thus ensuring reassurance.
Uses LoRaWAN®, facilitating long-range connectivity
The use of LoRaWAN®※ long-range wireless communication makes it possible to communicate with a line-of-sight range of several hundred meters indoors and several kilometers outdoors.
Easy setup with Bluetooth®
Settings can be read and adjusted from a PC running on Microsoft Windows that supports Bluetooth®※ communications.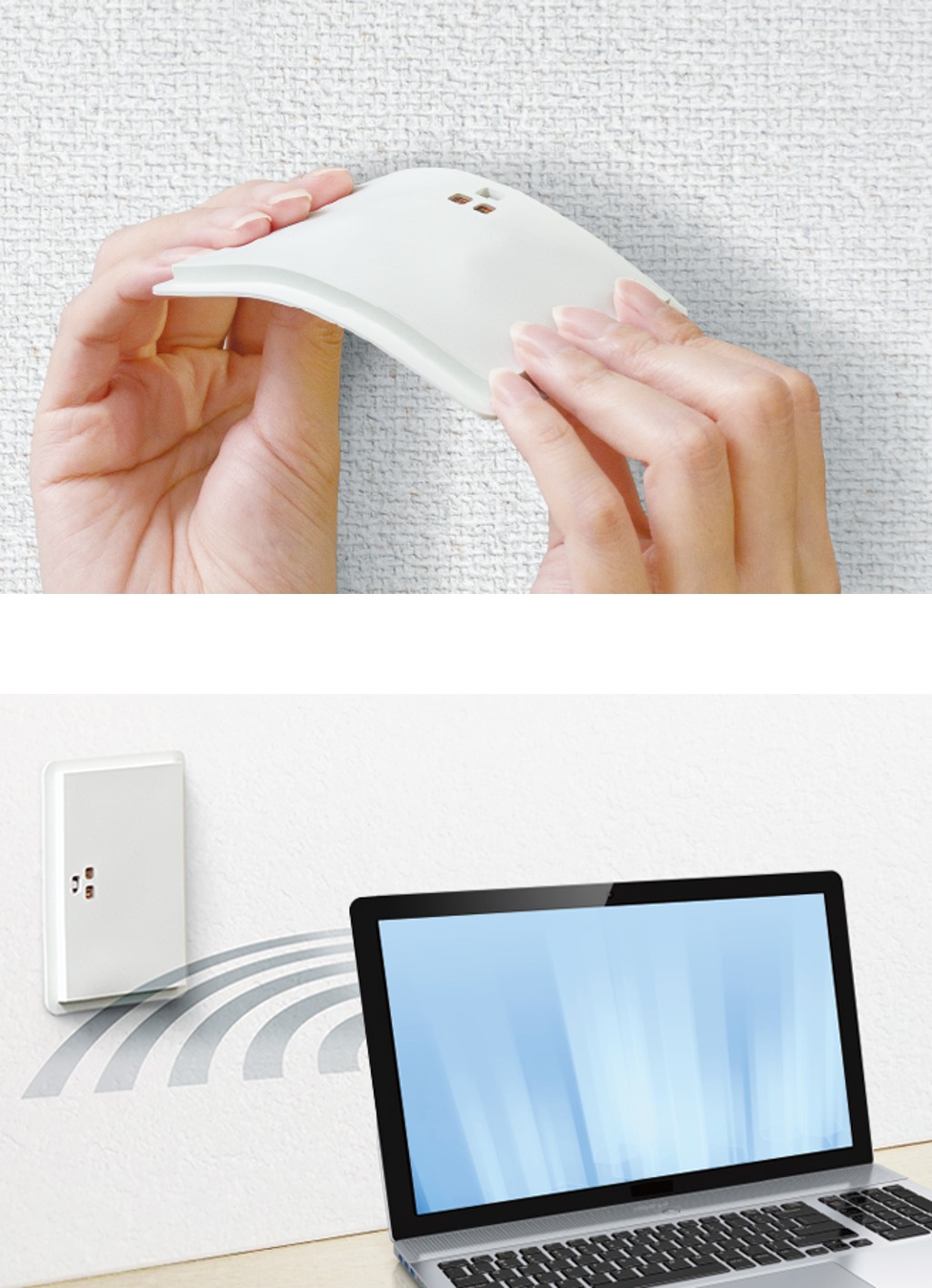 HatteTotte™ Systems
Systems used for HatteTotte™ have been provided by HOYA Digital Solutions Corporation, Koyo Electric Co., Ltd., Sohwa & Sophia Technologies Inc. and Uhuru Corporation (in alphabetical order).
DIC also plans to begin accepting orders soon for a waterproof version for use outdoors with an ingress protection rating of IPX6, meaning it can resist high-pressure, heavy sprays of water. In the future, the Company additionally plans to expand its lineup to include CO2 sensors and distance sensors, among others. Potential applications include detecting the "3Cs" environments (closed spaces, crowded places and close-contact settings), improving office environments and saving energy in offices and commercial facilities, warning of infectious disease and heatshock in care facilities, safety and security monitoring for people living alone, protecting museum exhibits, and warning of heatstroke at construction sites. DIC aims to achieve combined annual sales of ¥300 million for these products by 2023.

Guided by its current medium-term management plan, DIC111, DIC is promoting initiatives in line with two key strategies: Value Transformation, which focuses on strengthening the Company's corporate structure through qualitative reforms of existing businesses, and Value Creation, which emphasizes creating new businesses in response to environment, safety and health (ESH)-related concerns. One area in which DIC is concentrating efforts to create new businesses is electronics. Looking ahead, the Company will continue to advance the development of products that respond to changing social imperatives.

※LoRaWAN® is a registered trademark of the LoRa Alliance®; Buetooth® is a registered trademark of Bluetooth SIG, Inc.