Kainan Nobinos: A Tranquil Library Resplendent in Traditional Colors (Chapter 1: Irodori)
2021.03.29
Creating Shared Value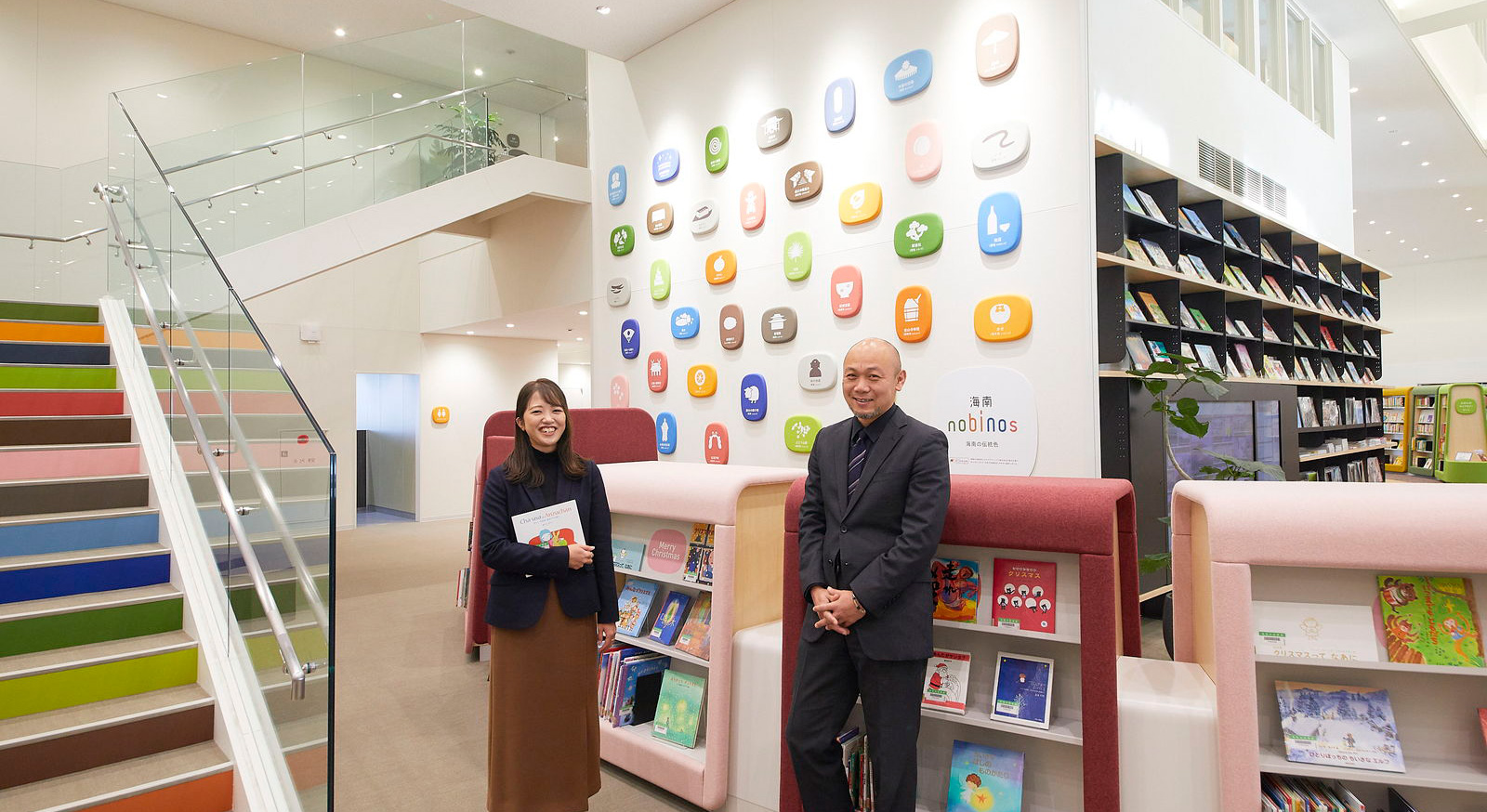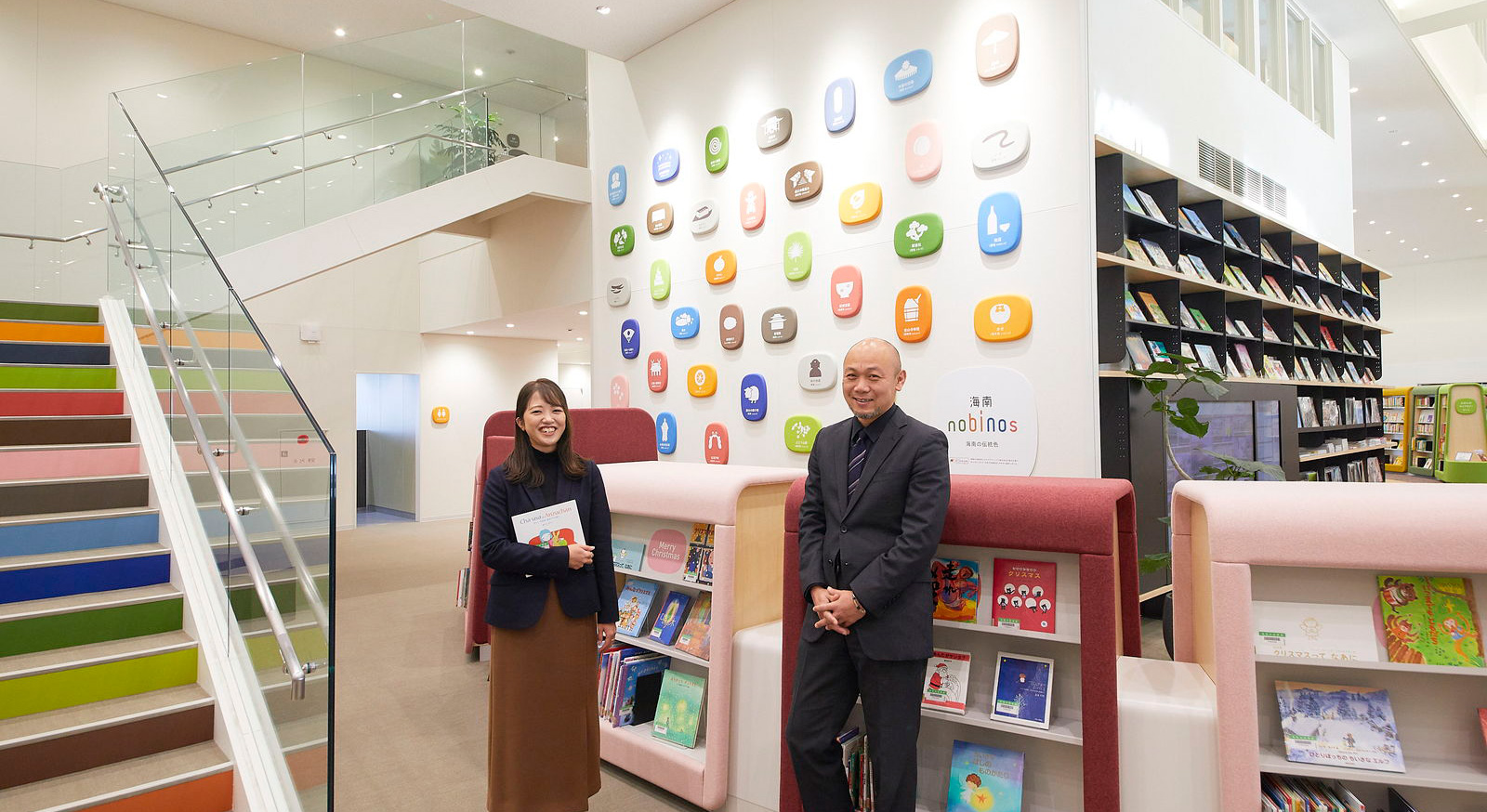 Kainan Nobinos opened in Kainan, Wakayama Prefecture in June 2020. This unique community complex features a library, a hall that holds up to 254 people, a bouldering room, a café, a public plaza and other facilities. Kainan Nobinos makes use of a range of DIC Group products and services. The library offers visitors a rare opportunity to browse through DIC Color Guide® color sample books, a popular tool in the graphic design and other fields, as well as to peruse the Asia Color Trend Book, an annually published design trend book that focuses on trends in Asia. The complex's color scheme is based on Traditional Colors of Kainan, a set of colors historically associated with Kainan drawn from the DIC Color Guide® Traditional Colors of Japan® series. The building materials and noncombustible veneers employ a universal design color scheme.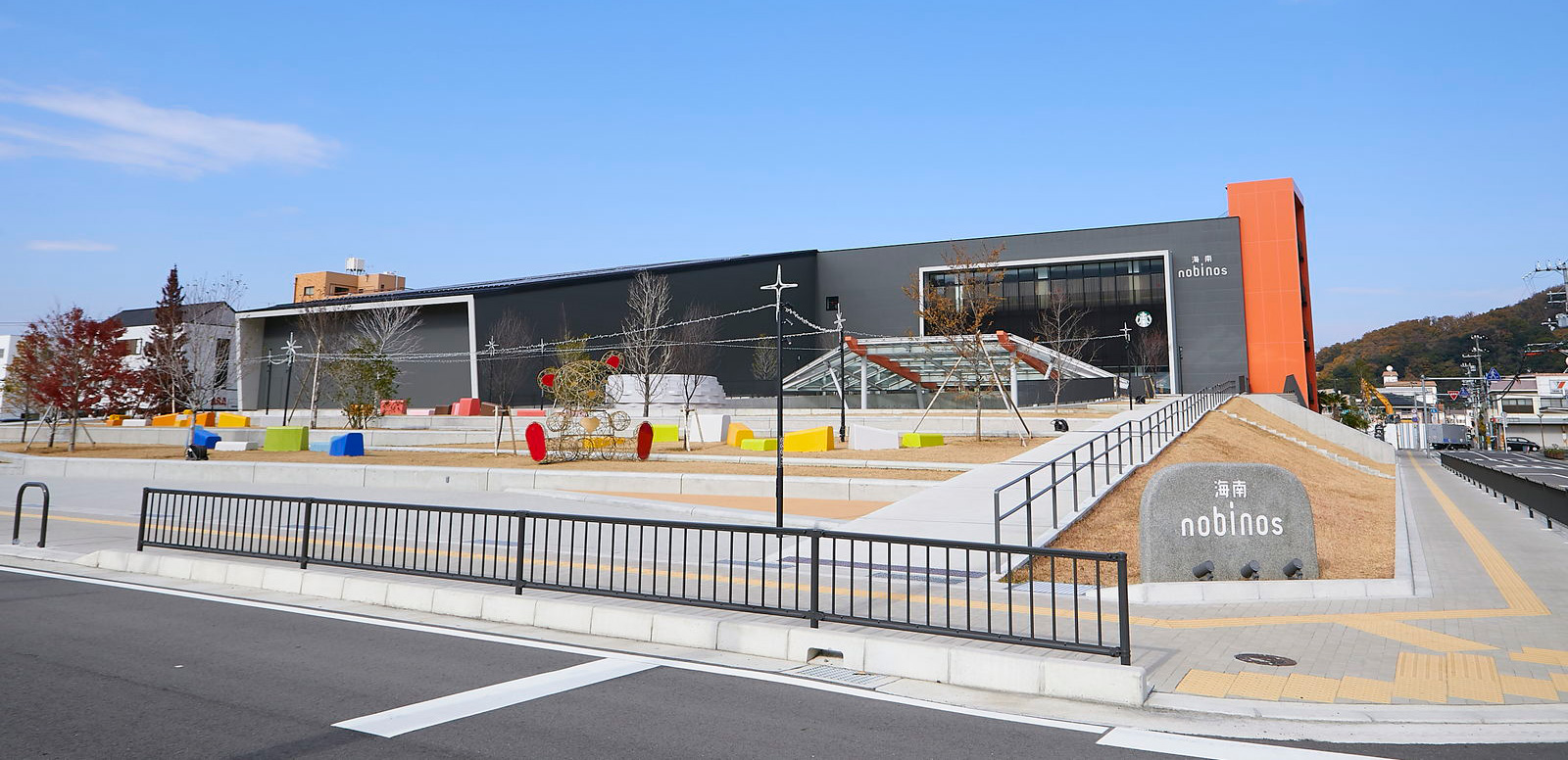 The creation of Kainan Nobinos was overseen by Takatoshi Uo of the Cultural Promotion Section of the Kainan Board of Education's Lifelong Learning Department. Erina Asari of the Strategic Planning & Market Development Group, part of DIC Graphics Corporation's Business Promotion & New Development Department, spoke with him about the background and concept of the complex, and about the traditional colors used.
A Vibrant Facility for the Residents of Kainan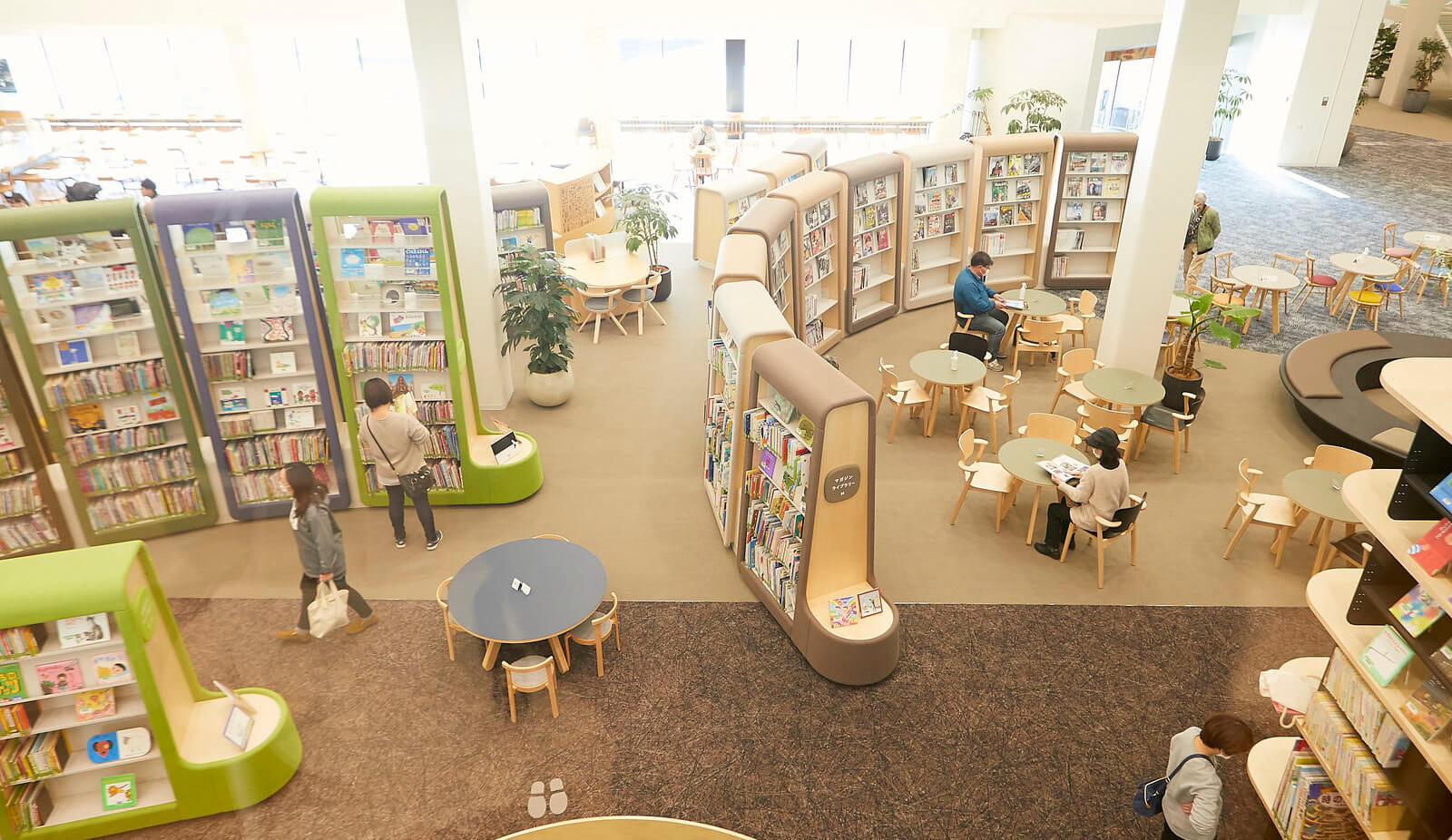 Why did you create Kainan Nobinos?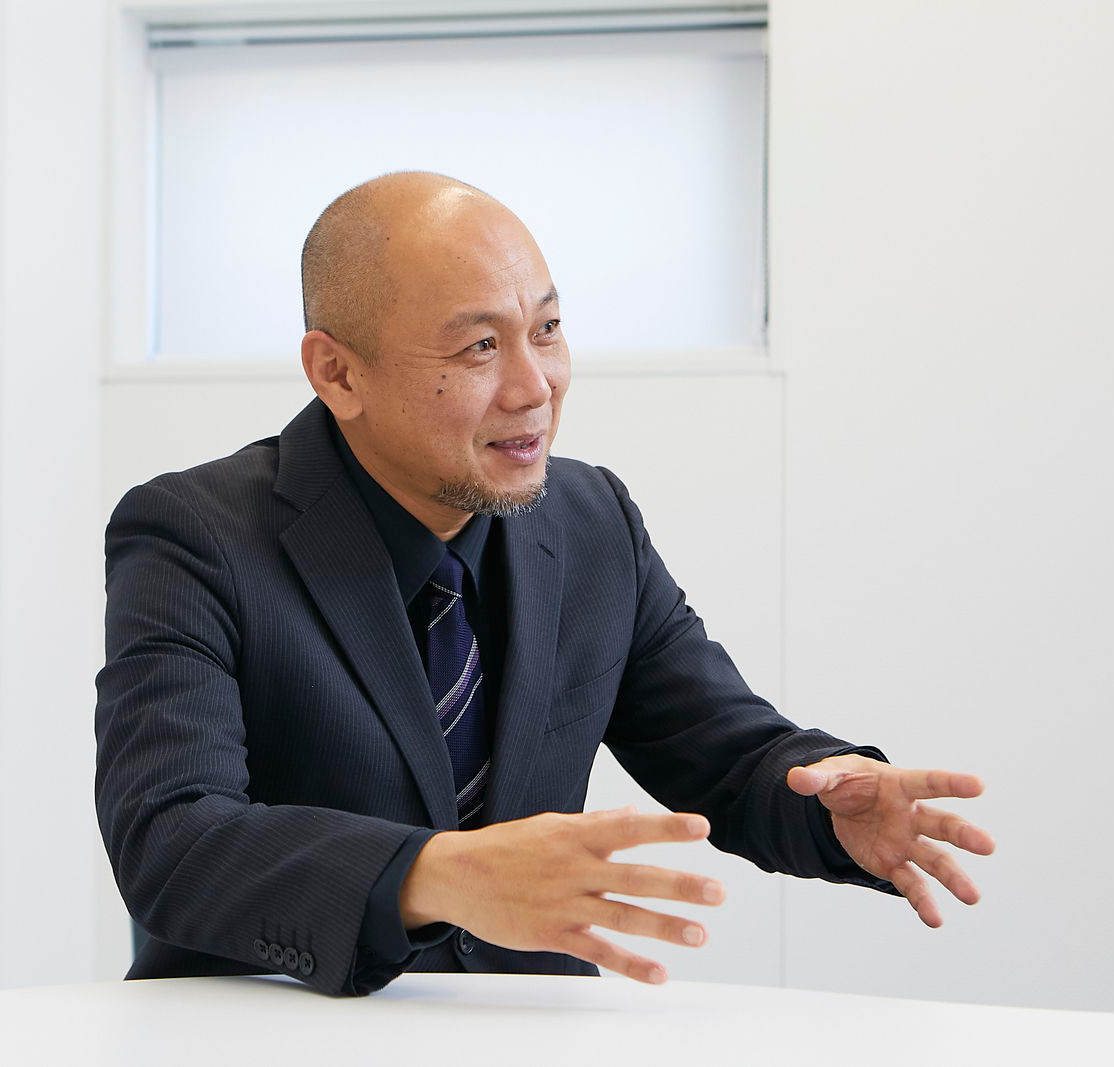 Uo: The site of Kainan Nobinos previously held Kainan City Hall and the city's children's library. In 2015, the local government decided to move city hall to higher ground and build a community complex on the old site. I was transferred to the Kainin Board of Education in 2016 to oversee the construction of the new facility, and was given two missions. One was to build a library, and the other was to create a vibrant facility that would attract local residents. Kainan's population had dropped to below 50,000 by that point, owing to declining birthrates and rapid aging. The city needed a place that would help revitalize the community, as well as provide childcare support for young parents.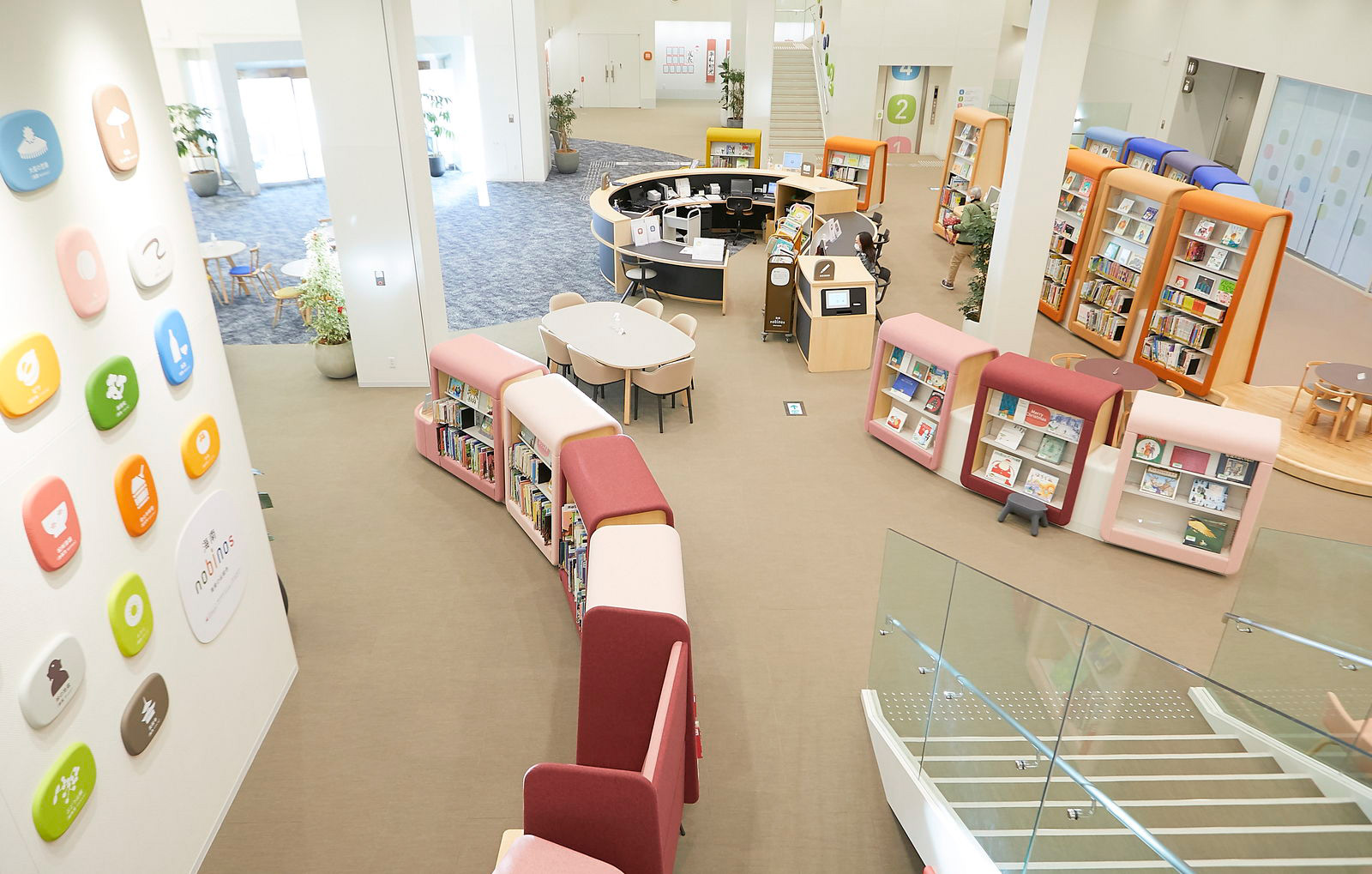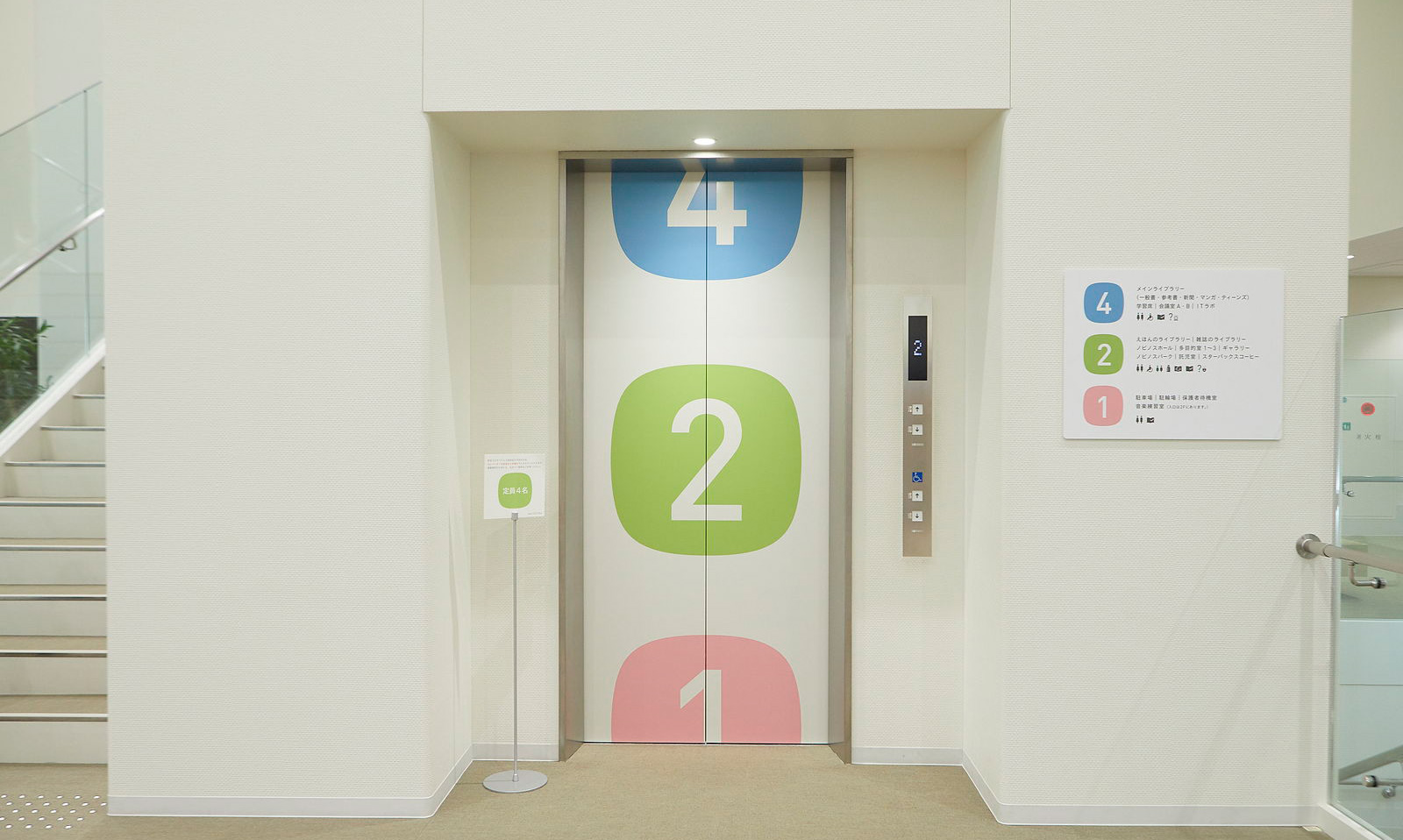 Floor-specific color coding makes navigation easy. The color chosen for the first floor is "Rainbow Pink," named after a species of dianthus. This color represents Kainan's famed Takatsu peaches, as well as Kameike, one of Wakayama Prefecture's three major irrigation ponds, and the approximately 2,000 cherry trees of Kameike Park in bloom.
What was the concept for Kainan Nobinos, and how did you go about building the complex?
Uo: The name "Nobinos" was chosen in a public contest. It comes from nobinobi, meaning "comfortable," and su, meaning "nest." In other words, it's a place where community members can gather and relax. We also asked children from elementary and junior high schools in Kainan to suggest ways to make the complex more comfortable for people of all ages. We made individuals of child-rearing age the prime user target with the aim of ensuring a vibrant atmosphere. We want such individuals to feel free to bring their children and use the library for many years to come. Planning started in 2016, with design and construction taking four years. We had originally scheduled the opening for April 2020 but pushed the date back to June 1 owing to the COVID-19 pandemic.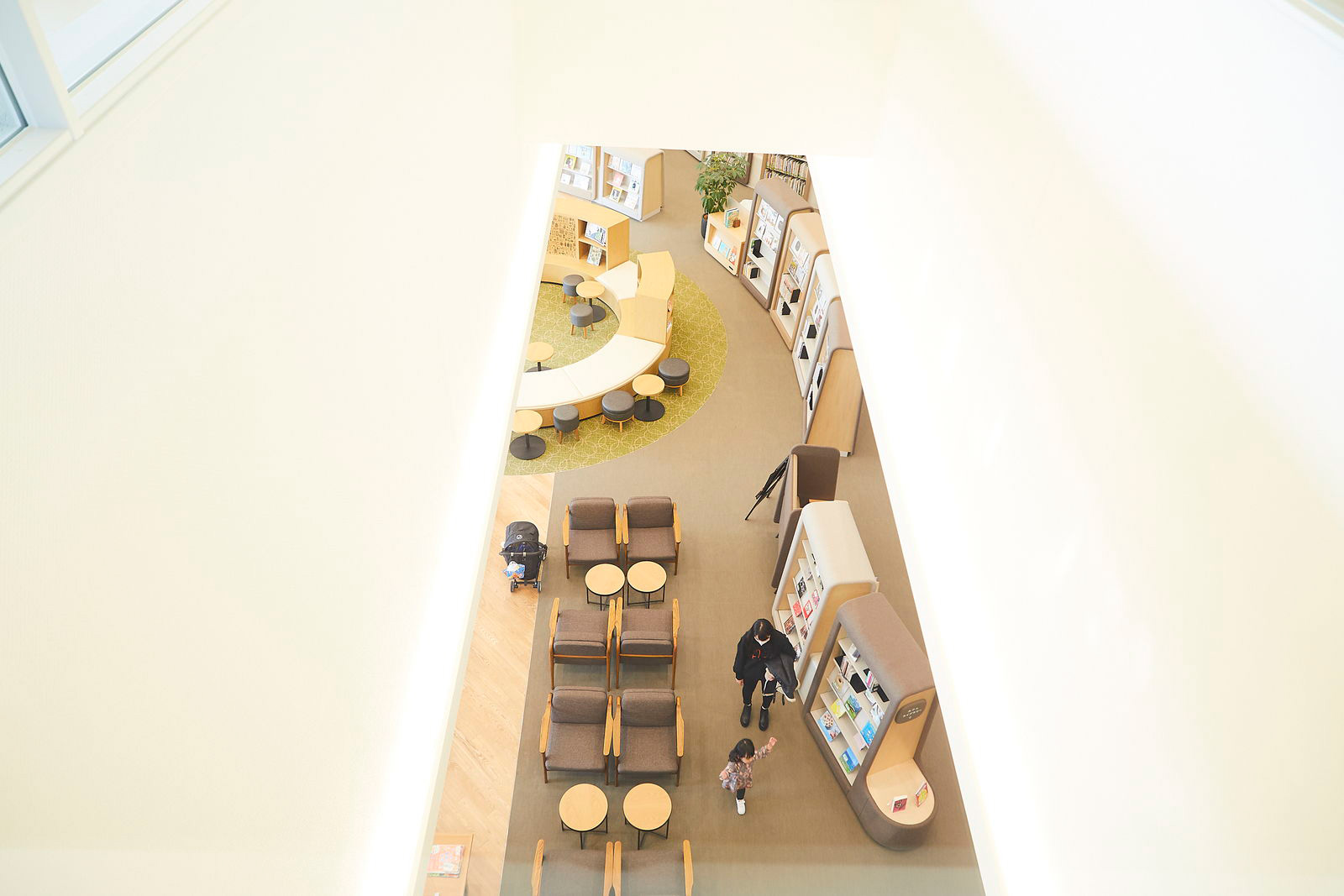 A Color Scheme that Conveys the Culture and Traditions of Kainan
A set of colors historically associated with Kainan chosen from the DIC Color Guide® Traditional Colors of Japan® series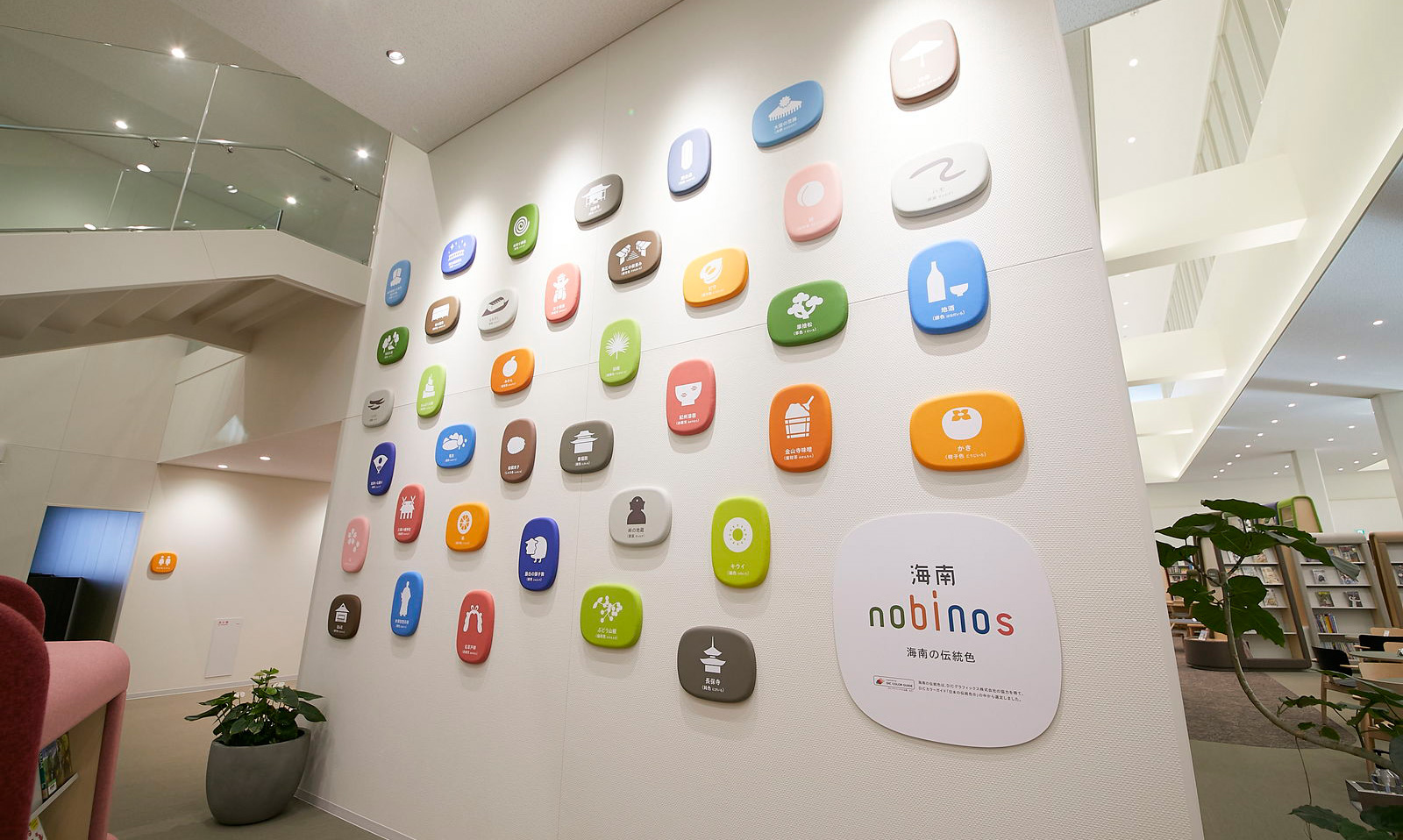 The facility makes extensive use of colors in the Traditional Colors of Kainan set, which are drawn from the DIC Color Guide® Traditional Colors of Japan® series. What inspired you to choose these colors?
Uo: I wanted to create a library that was comfortable and unique to Kainan, so I needed a story that would convey the city's unique traditions, customs and other charms. Wakayama Prefecture is home to seven structures that are designated national treasures, four of which are in Kainan. The city is also famous for Kishu lacquerware, the Tachibana orange—a type of mandarin orange which is said to have inspired Japanese confectionery and epitomizes this area's rich natural environment—and whitebait.
Some might find it surprising that Kainan is also known for the hemp palms used to make scouring brushes. It's worth noting that even locals are not always aware of what makes this area so attractive. I asked Masaaki Hiromura, who designed the signage for the complex, to advise us, and the decision was made to use colors historically associated with this area to present local specialties and convey the character of the city. That's why we decided to seek assistance from DIC Graphics, whose achievements include the Colors of Five Provinces project, which centered on traditional colors from the five historical provinces included in modern-day Hyogo Prefecture.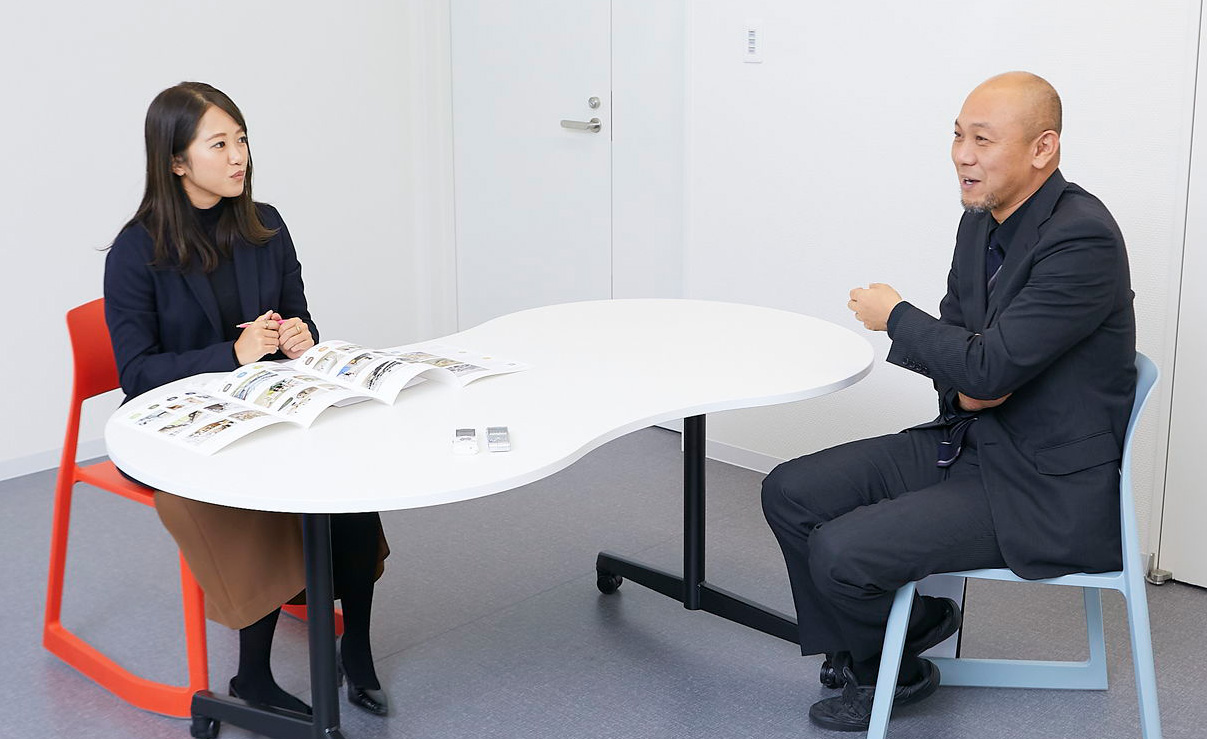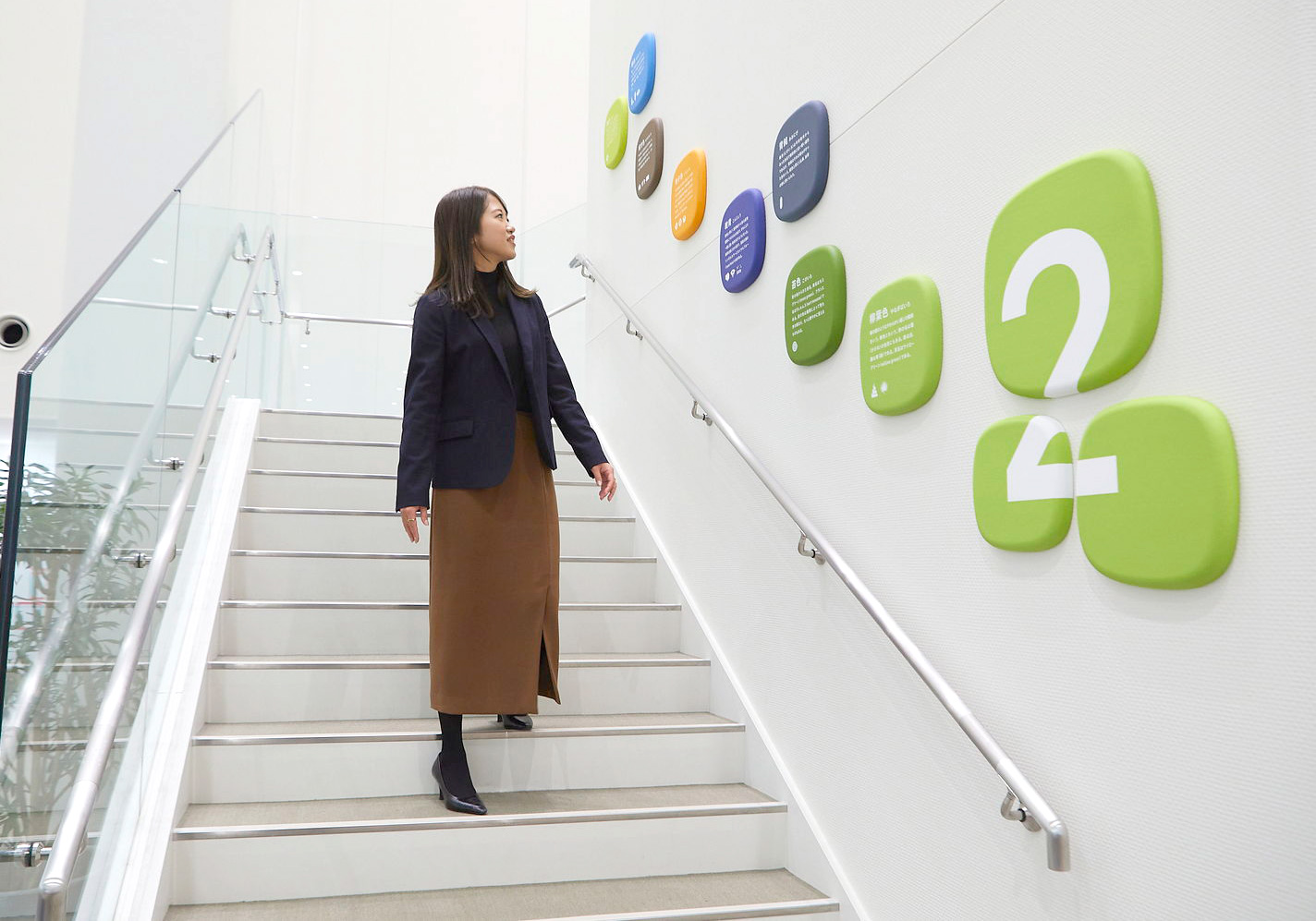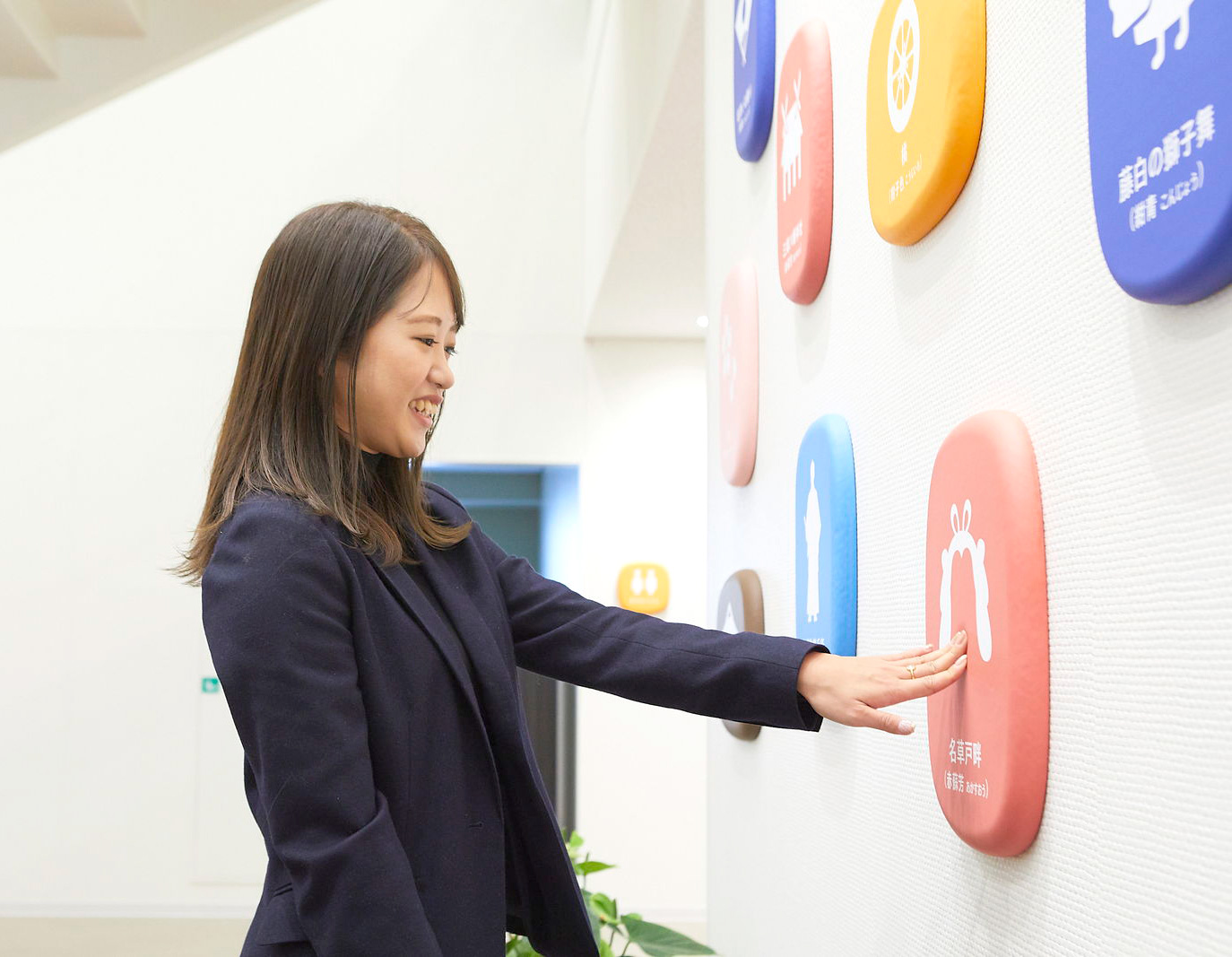 DIC supplied a description of the origins of each traditional color. The material used for each panel is soft-to-the-touch polyurethane resin. Below each color description are pictograms of products and cultural properties in which these colors are used.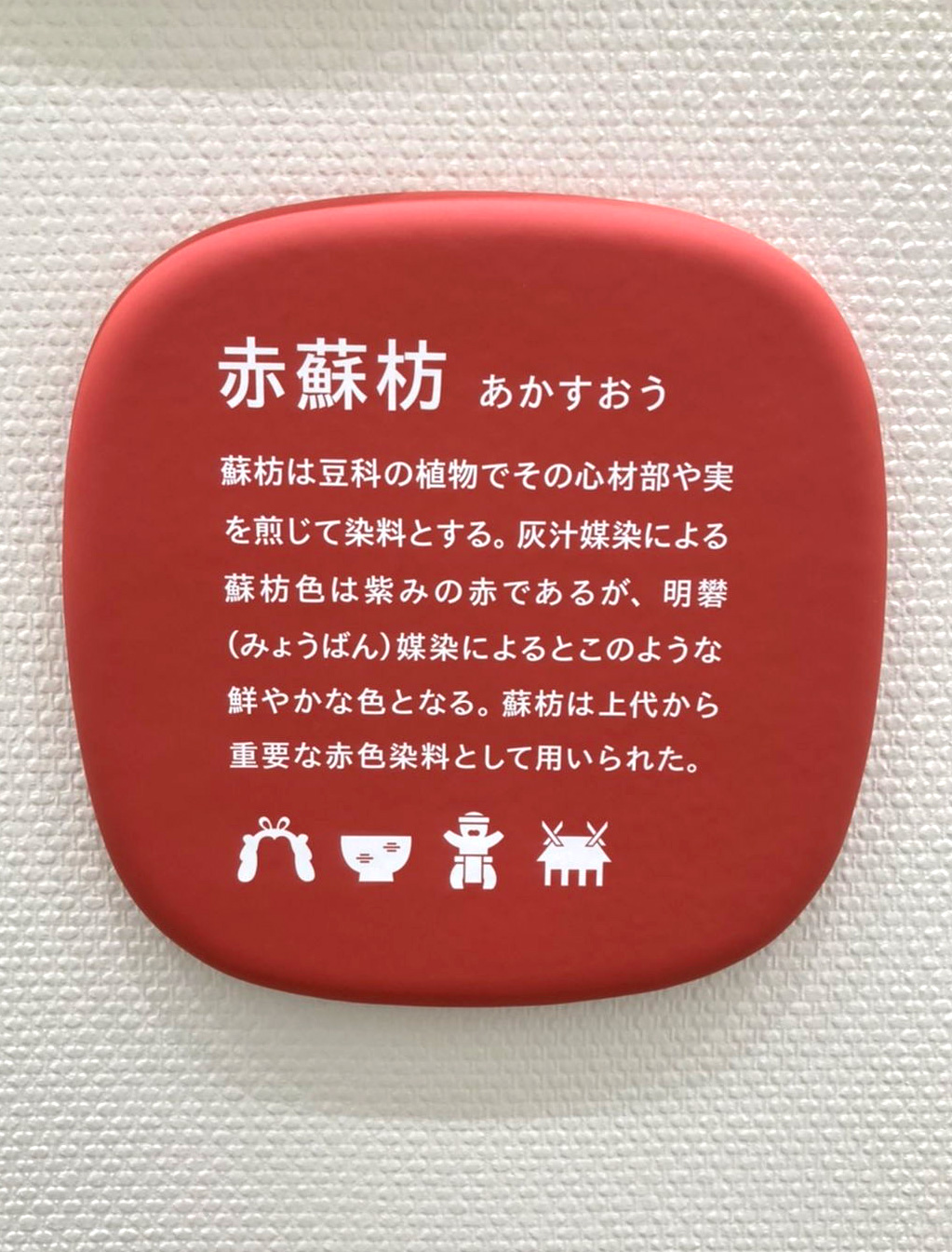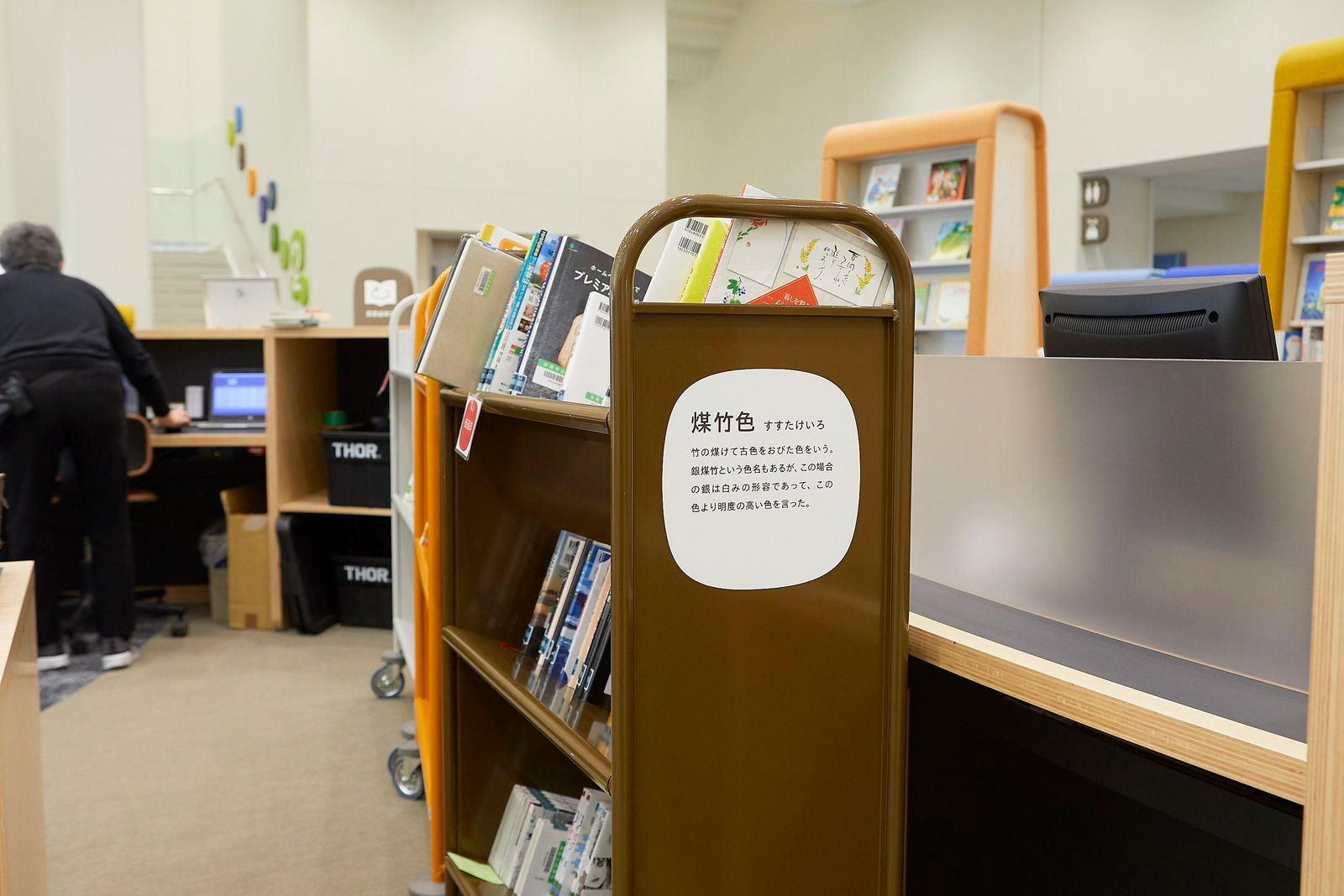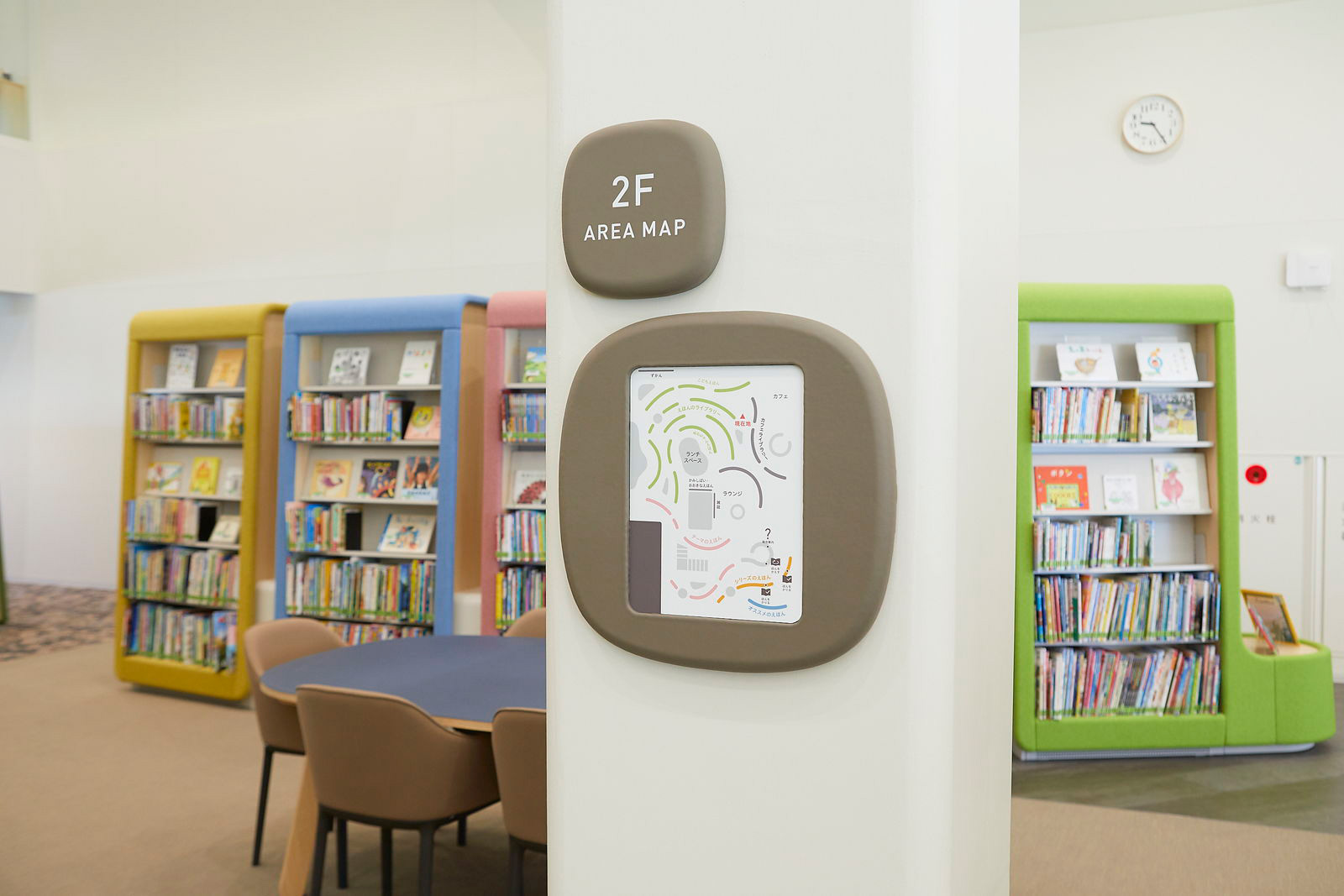 When I visited to propose colors for the Traditional Colors of Kainan set, I was excited and inspired that the colors I had chosen were almost identical to the ones you had envisioned.
Uo: I remember that. I had chosen 17 hues from the DIC Color Guide® Traditional Colors of Japan® series. For example, I had selected "Marigold" for the Tachibana orange. I wanted colors historically associated with Kainan that would give visitors an appreciation of the city's appeal. In the main library on the fourth floor, we have set up an area in which people can learn about this area's traditional colors, as well as about color in general, through the DIC Color Guide® and a variety of other materials. This is because I think that some visitors will want to know more. Those interested in the vast range of colors that are used in pigments, dyes and natural materials can peruse these materials. I would love to see Kainan produce a world-renowned designer someday!
Visitors Can Even Borrow the DIC Color Guide!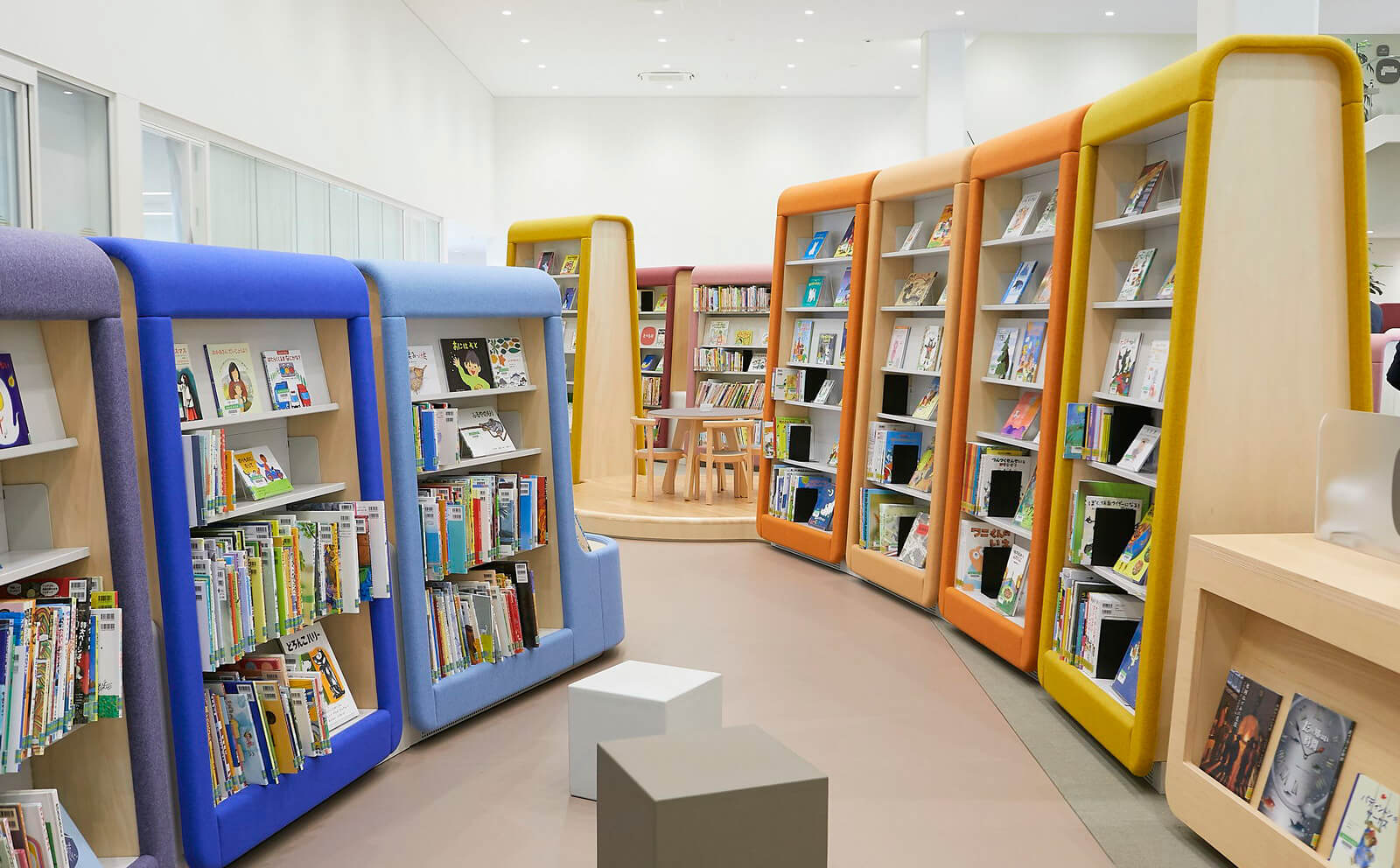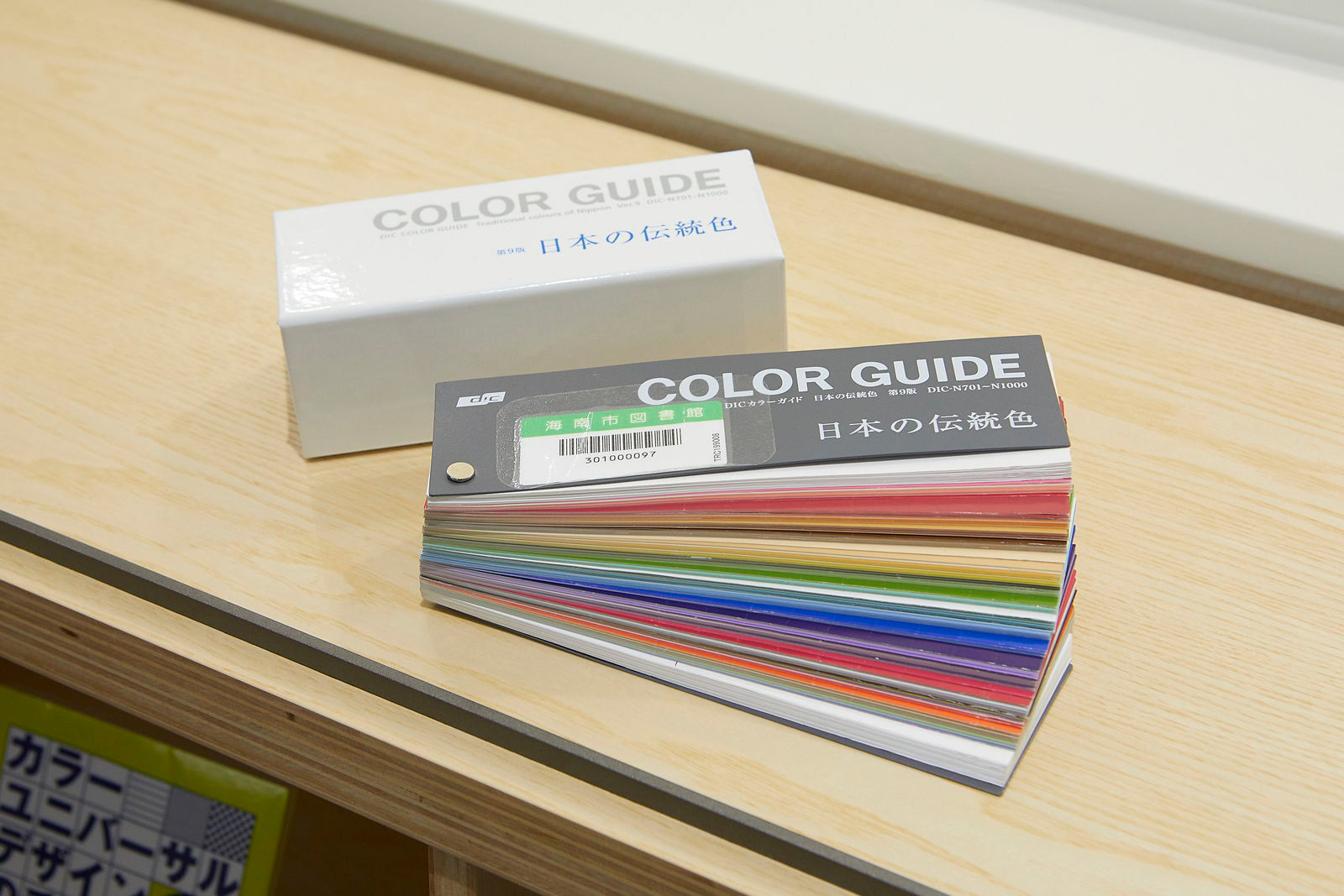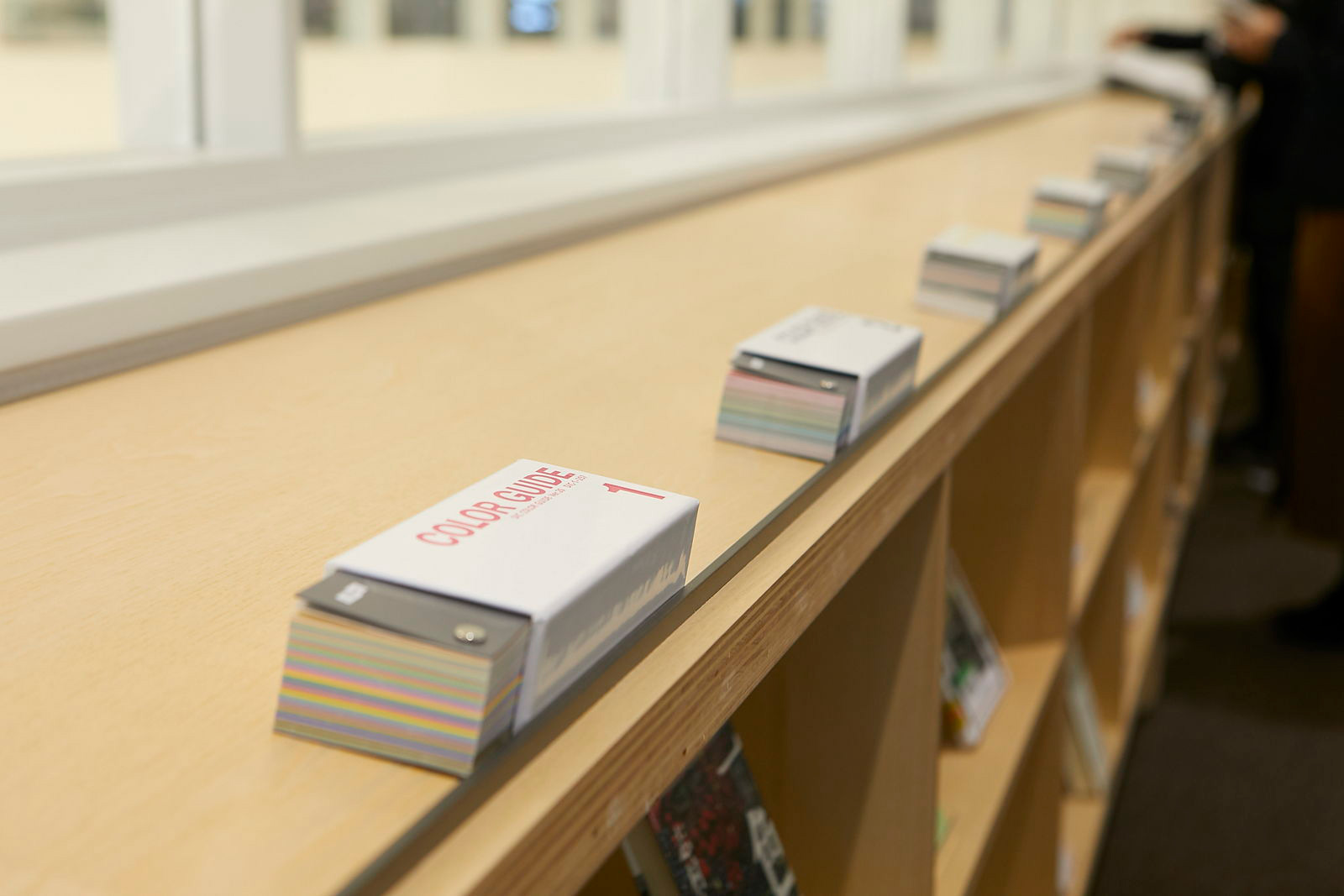 People can browse or borrow the Traditional Colors of Japan®, Traditional Colors of China® and other DIC Color Guide series in the fourth-floor main library's Color and Design Books section. Curious children can often be found flipping through these weighty color sample books, which contrast with the novels, comic books and novellas that form the bulk of the main library's collection.