Showcasing the Craftsmanship of the People Underpinning Manufacturing at DIC
Interviews with DIC Group Employees
Masters of Color & Comfort
Manager, Life & Infrastructure,
Marketing Management Unit
Kyoichi Toyomura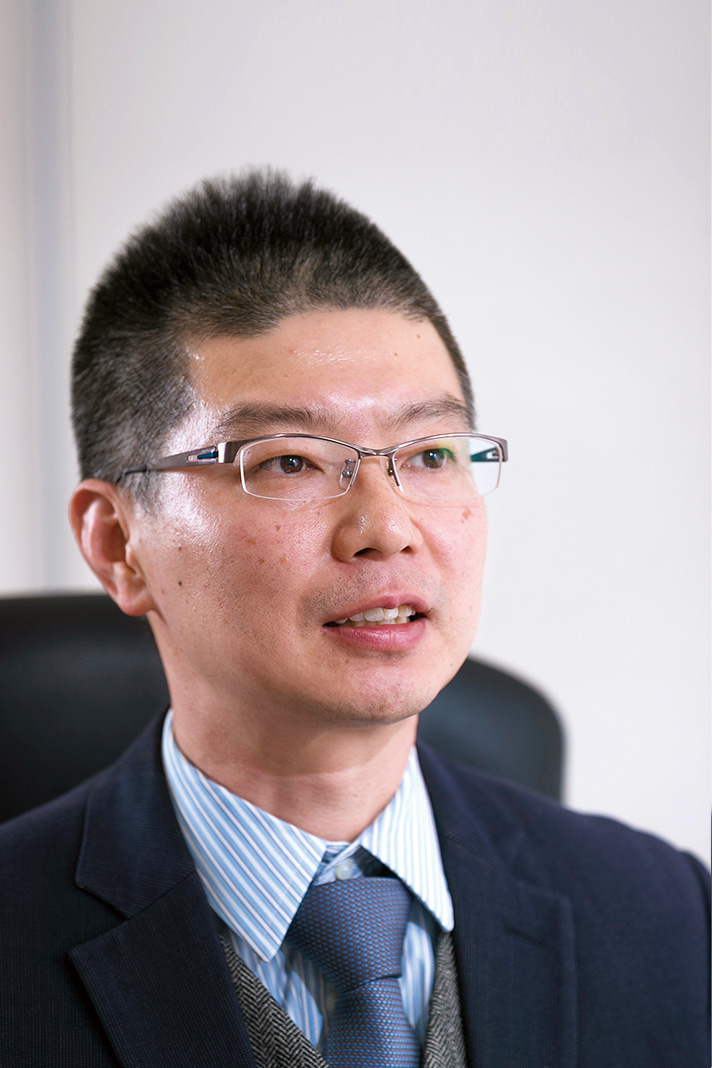 Mr. Toyomura joined the Company in 1994. Initially assigned to the Osaka Branch as part of the Special Compounds & Colorants Division, he was posted to Shanghai in 2004, then later to Hong Kong and finally Hangzhou before returning to Japan in 2011 to his current position. Mr. Toyomura is currently in charge of marketing for products for living environments, life sciences, and civil engineering and housing construction. In this capacity, he helps cultivate solutions that facilitate the application of DIC technologies in diverse fields.
Leveraging pigments that emit near infrared
to commercialize a contaminant
detection system
Innovative new device for detecting contaminants
Consumers are increasingly concerned about food safety, which is also a crucial issue for food product manufacturers as well as consumers. Contaminants in food products can result in serious incidents that endanger the safety of consumers. Companies can instantly lose credibility. Many manufacturers thus employ contaminant detection systems to prevent contaminants from getting into their products.
Still, nothing is perfect. No matter how hard they strive to keep outside contaminants at bay, food product manufacturers always face the risk of contamination from sources within. Examples include fragments of plastic or rubber from production line conveyor belts or workers' rubber gloves. The problem with such contaminants is that plastic and rubber have a lower relative density than metals, for instance, making them harder to detect using conventional magnetic and X-ray–based detection systems.
DIC and Mitsui Kinzoku Instrumentations Technology Corporation are currently collaborating to develop a contaminant detection system that will contribute greatly to resolving this issue. This groundbreaking new system combines DIC dyes that emit near infrared with a Mitsui Kinzoku Instrumentations Technology device that detects near infrared. The system will thus be able to identify plastic and rubber. With the system, near infrared–emitting dyes are previously mixed into plastic components for production line equipment. As a consequence, even if a fragment of such components were to fall into a food product during processing, the light emitted by the fragment would be visible to the system.
"This dye technology originated as something for use in the medical field," says Kyoichi Toyomura. "Because it was for the medical field and thus is not harmful to human health, our department came up with the idea of looking for applications in the food products industry, which prompted the suggestion of a contaminant detection system." It was Mr. Toyomura's untiring work that put this revolutionary detection system, which marks a radical departure from existing systems designed to detect metals, on track for development.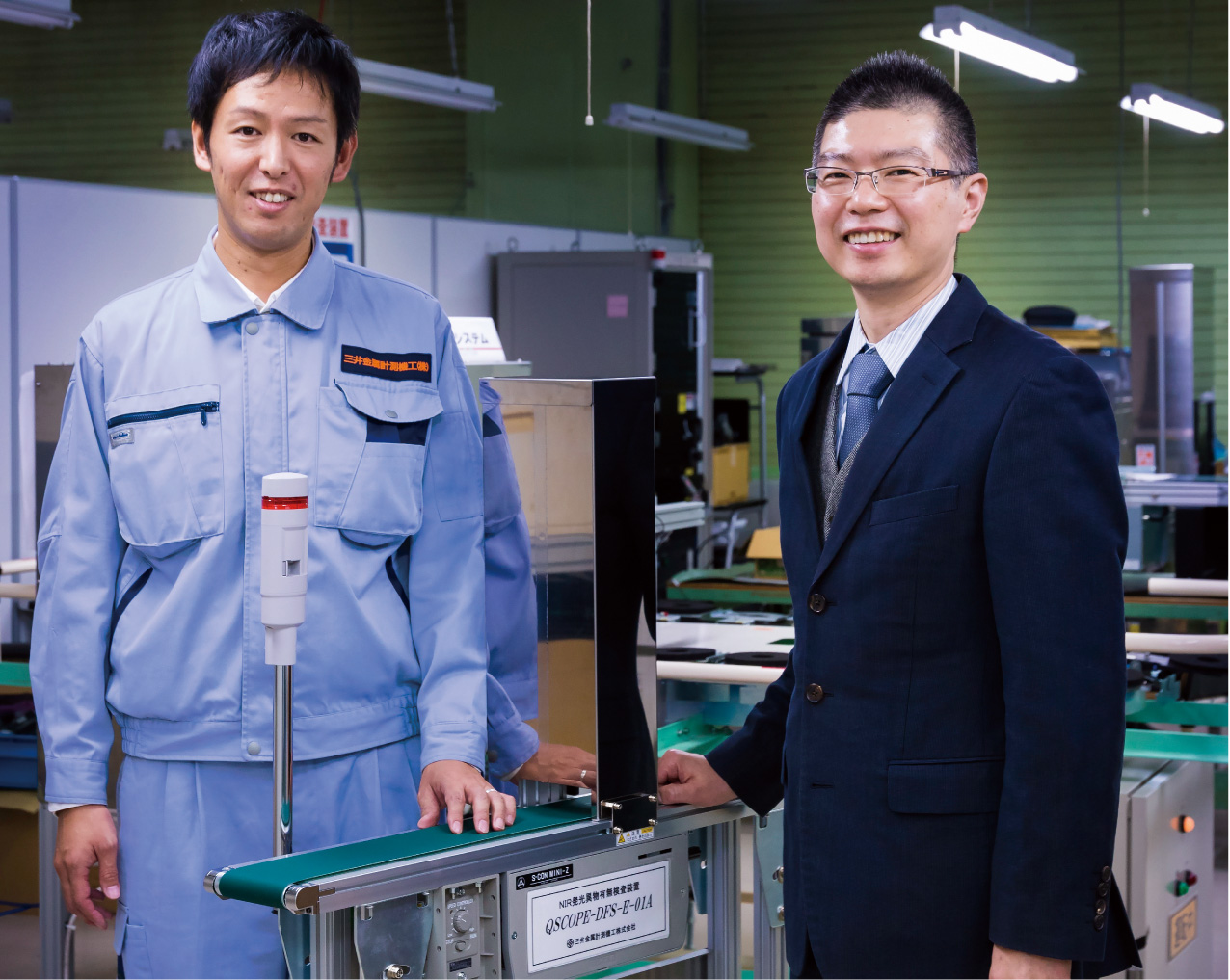 "Commercialization of this system
will also contribute to a better future
for children." (Mr. Hayase)
"We want to enhance food
safety and security by making
contaminants visible." (Mr. Toyomura)
Deputy General Manager, Product Planning Department,
Mitsui Kinzoku Instrumentations Technology Corporation
Hiroshi Hayase
Mr. Hayase was previously engaged in development in systems support and other areas within the Mitsui Kinzoku Group. He currently oversees planning for new in-house products, including fruit and vegetable sensors, and collaboration with external organizations, as well as verification of basic technologies and management of in-house intellectual property.
Steady efforts to cultivate applications for
a new technology
"Although we wanted to apply our technology to the food field, we were unsure what sort of system would be feasible," Mr. Toyomura says. "There was a great deal of trial and error. As well as garnering information from the Internet, we read a lot of relevant literature and even talked to university professors in our search for inspiration."
It was in the course of this effort that he found a hint in the National Diet Library, coming across a specialist book that members of the general public would be unlikely to read. "I thought the publisher might have some ideas to share, so I went to see them in Chiba Prefecture. They advised me to visit the Aichi Science and Technology Foundation in Aichi Prefecture."
The trail of clues continued. At the Aichi Science and Technology Foundation, Mr. Toyomura secured an introduction to Mitsui Kinzoku Instrumentations Technology. He immediately made what was effectively a cold call to the company, which recognized the potential of the DIC technology. The two companies agreed to undertake joint development. Hiroshi Hayase recalls how everything kicked off. "The idea of using dye to make plastic emit light so it could be detected was something that had never occurred to us. It was an idea that broadened the potential of our devices. It would have been foolish not to try something. We decided almost instantly to pursue joint development. We had been exploring the idea of developing a device to detect plastic contaminants for quite some time, but we were somewhat stuck as the means of detection were limited. It was right around then that we heard from Mr. Toyomura."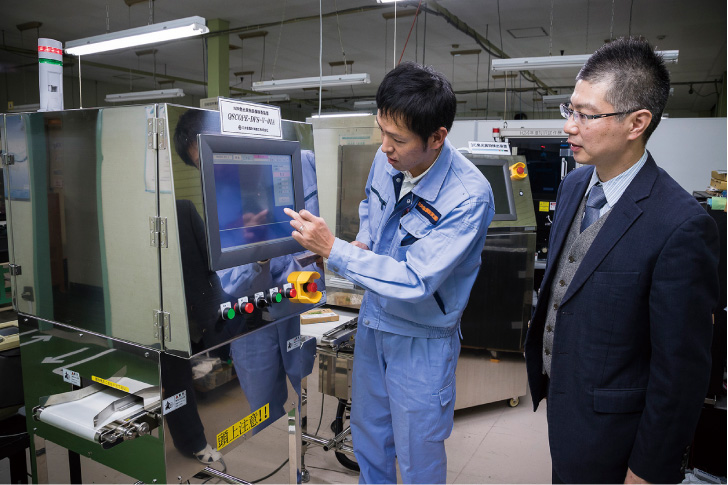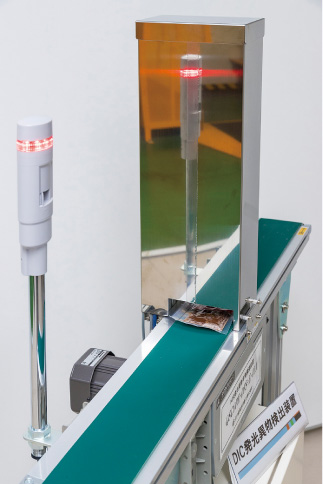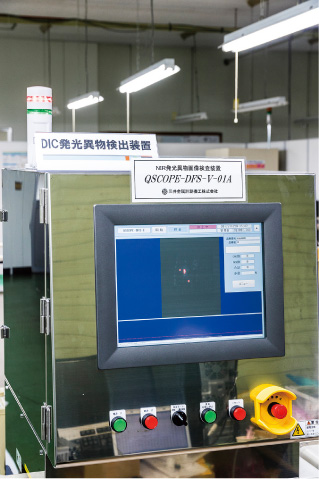 The hurdles to pioneering a new technology
There have been numerous hurdles to development because the system is so innovative. "It's a brand new system, so we've had to feel our way through," says Mr. Hayase. "Each time we think we've made concrete progress, two or three other issues pop up. Food product manufacturers make things that people eat, so they are exceptionally cautious. Of course, that is how they should be. It requires a certain boldness for companies in this industry to be early adopters of a new technology incorporating new equipment and unfamiliar dyes. It is important that we reward them for their courage by providing a system that is truly beneficial. We must put our utmost effort into the system and persevere in communicating its advantages until it gains general acceptance."
"Food producers have a range of factories and diverse production line specifications, so we have to work out how to efficiently incorporate our system into lines with only limited space," Mr. Hayase continues. "Accordingly, we have to determine what level of versatility and uniqueness we should aim for. It is also important to note that required contaminant detection levels vary depending on the type of food product. In some cases, the need is solely to know whether or not there is contamination, while in other cases you need more specific information. With some types of food products detection is easy, but for others a greater degree of sensitivity is needed. Accordingly, we had to create a lineup of three models, which is not something we had initially figured on doing." As this illustrates, that there will always be trials and tribulations in developing any new technology. In the absence of a pioneer willing to pursue a breakthrough, however, nothing would ever change. "Once the system gains market penetration, there is no doubt in my mind that it will contribute to society," says Mr. Toyomura. "The going can be tough, but we believe that success will reward our efforts."
"Recently I noticed that one of my children's elementary school social studies textbook contains information on food safety. In other words, even kids in school are familiar with this concept today as a key social imperative. Our new system will contribute to food safety and peace of mind for both consumers and food manufacturers, so it is important that we succeed in bringing it to market."
The persistent efforts of Mr. Toyomura and Mr. Hayase to help create a better society will continue into the future. DIC's near infrared–emitting dye is also being used to develop other new technologies, including one for embedding in copyrights and handling specifications into 3D printed objects, underscoring its considerable potential going forward.