Special Feature DIC: Shaping a New Era
Eyes and Lips: Makeup in Japan in the Modern Age
Throughout history, makeup has mirrored a variety of factors, including socioeconomic conditions. Setsuko Suzuki, a top hair and makeup artist at Shiseido Company, Limited, looks at historical makeup trends in Japan, an area in which she has conducted research for many years, and uses a single model to recreate four quintessential looks.
Makeup in Japan as a Reflection
of the Times
1920s–1950s
Western culture and a fascination with the heroines of the silver screen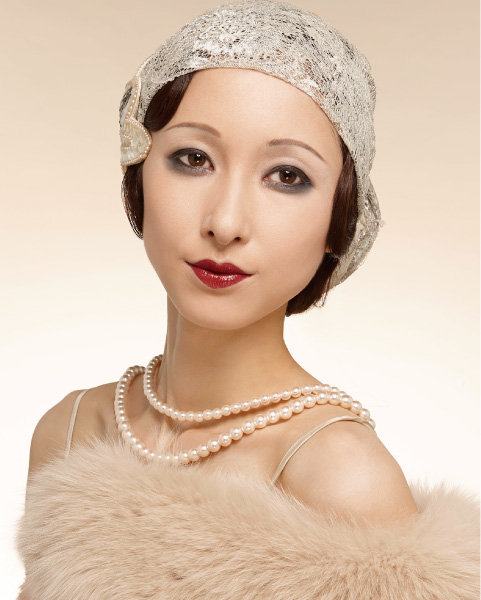 The 1920s marked the start of an era characterized by the gradual spread of Western cultural influences and a fascination with the heroines of the silver screen. The preferred aesthetic in the 1920s included thin, downturned brows, eyes shadowed at the outer corners to look drowsy, and lip color applied to create a small, puckered shape. While Western fashions were becoming increasingly popular, makeup continued to bear a strong resemblance to that traditionally favored in Japan.
The 1930s brought a greater incorporation of Western beauty ideals as admiration for film actresses encouraged a look distinguished by arched brows and full lips with a slight upturn at the outer edge. In the 1950s, the iconic figure of Audrey Hepburn in Roman Holiday inspired women to copy her thick, structured brows and winged eyeliner, a look that many also identified with as evocative of the determination of Japan's people as the country set about rebuilding.
---
1960s–Early 1970s
Admiration and emulation of Western faces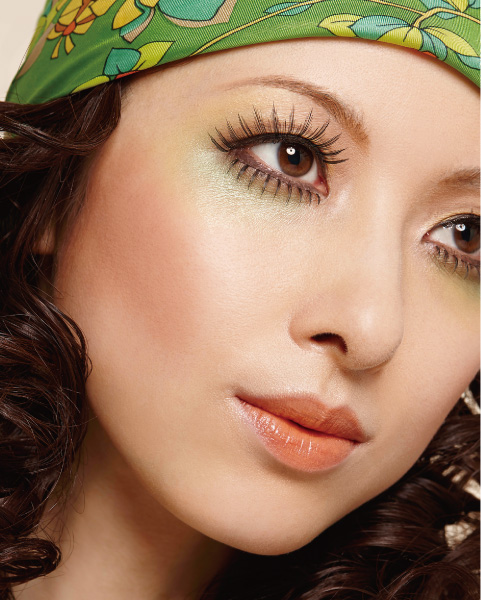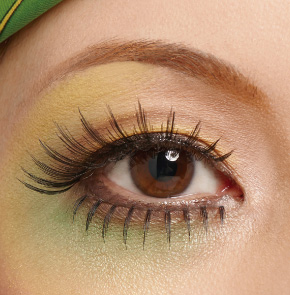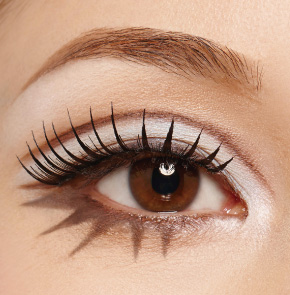 In this era, Japan's economic boom brought a greater global awareness to its citizens. The 1960s saw the debut of pale sherbet-toned lip colors, which spurred a break away from the classical Japanese palette of white, black and red, that is, porcelain skin, darkly lined eyes and crimson lips. As the breadth of makeup options available expanded dramatically, women's style icons shifted from film actresses to fashion models in advertising, such as Twiggy. This touched off a trend toward eye makeup featuring double lines drawn on the upper eyelids to simulate double-fold eyelids and exaggerated false eyelashes, creating a look epitomized by big, three-dimensional eyes and dynamic expressions. The preoccupation with Western ideals extended to skin tone, which was predominantly pinkish and luminous. For the first time ever, golden brown suntanned skin also became a major craze.
With the dawn of the 1970s came the Vietnam War, antiwar protests and the hippie movement. The oil crisis and persistent environmental issues cast a dark shadow over Japan's previously soaring economy. Echoing social unrest and economic malaise, the lively upturned eyes of the 1960s were replaced by a look dominated by languorous eyes with eye shadow smudged faintly beneath the lower lids, ultrathin brows and an overall feeling of ennui.
---
Late 1970s–Early 1990s
Renewed appreciation of Japanese beauty and the social advancement of women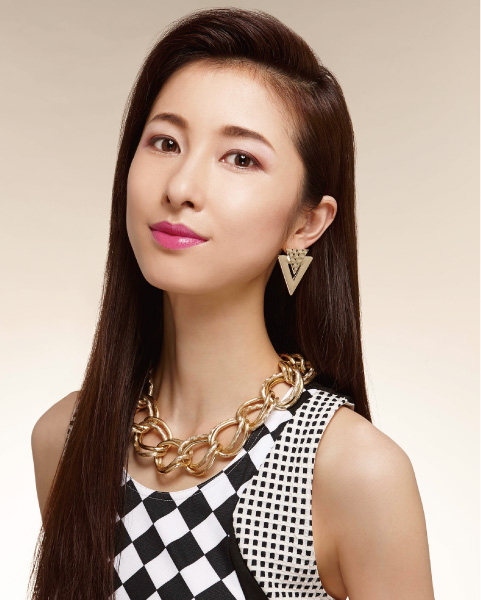 In the second half of the 1970s, Japanese fashion designers leapt onto the global stage. With Japanese designers earning recognition during Paris Fashion Week and Japanese models glorified the world over, beauty swung away from the Western-centric ideals of recent years. Imbued with a renewed appreciation for uniquely Japanese beauty, women began calling attention to their exotic almond-shaped eyes by defining them with eyeliner and using pearlescent eye shadow and contouring cheeks to create dimension.
Robust economic growth in the 1980s—the "Japan as No. 1" decade—sparked a sharp increase in the number of women in the workplace. On the fashion front, the early years of the decade also saw the birth of such diverse new trends as surfer fashion, eclectic DC ("designers' and characters'") brands and the black-clad karasu zoku ("crow tribe"). Makeup of course also changed. Brows, thin for essentially two decades, were suddenly thick and bold again as a boyish countenance, embodied by natural-looking brows, became the most sought-after look.
The advent of the extraordinary economic bubble that enveloped Japan in the mid-1980s fueled a preoccupation with high-end luxury goods, underpinning the emergence of a pampered princess set. In this environment, the prevailing style included one-length hair and body-conscious fashions, evoking an image of women who use both strength and femininity as appropriate for the situation. While vivid lips were preferred, with bright reds and rose pinks particularly popular, eye makeup tended to be natural.
---
Late 1990s–Present day
The arrival of an unprecedented boom in professional beauty care and the development and evolution of uniquely Japanese trends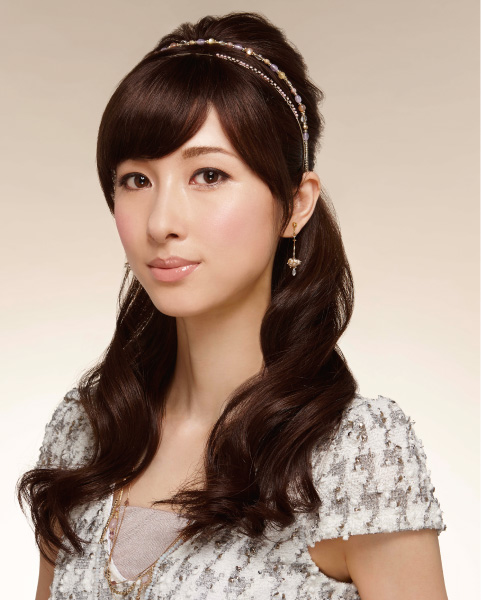 The late 1990s saw the emergence of the gyaru ("gal") culture, which included the "Amuraa" phenomenon inspired by singer Namie Amuro. The popularity of global super models spurred enthusiasm for professional beauty care. Tanned skin, dyed brown hair, thin brows and makeup designed to make the face appear smaller dominated. Highlighter was used to make eyes sparkle, while grayish-beige lip color and gloss were favored for lips. Brows were bleached to match hair color and makeup primer and highlighter were used to achieve luminous, dewy skin.
In the mid to late 2000s, the deepening global financial crisis fed a worsening economic slump and increasing economic disparity. With such conditions fanning concern for stability and an attendant desire to get married in many women, the popularity of dating and matchmaking services soared. This, in turn, drove up interest in makeup designed to make the eyes more attractive, including using full eyeliner, heavy mascara and other techniques that make them appear larger. Eyelash perms and extensions, hair extensions and contact lenses that accentuate the pupils were added to the arsenal of tools employed in the quest for beauty. Heavy makeup became an obsession. The Great East Japan Earthquake in 2011 brought this trend to a sudden end. Values were reexamined and women began to ponder seriously what it is they really need in life. In a single stroke, the penchant for heavy-handed makeup gave way and the preference for an understated, natural look returned. Healing and serenity became bywords as women shifted their focus to using makeup in a manner that is seen widely as attractive. This included applying pearlescent highlights under the eyes and using blush high on the cheek to simulate the natural flush that results from taking a hot bath.
Colors make a comeback: The key words are "smoky" and "glossy"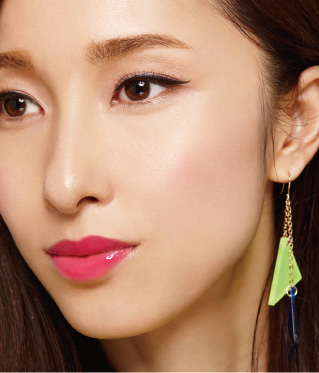 In what may be seen as a break from the sun-kissed, healthy look that dominated after the Great East Japan Earthquake, the end of 2012 saw the reemergence of bright colors, notably vivid red lips. Brows also brightened and a full, short au naturel shape came into favor, as colors began making a comeback, paralleling a gradual recovery in the Japanese economy. Since 2016, one of the biggest beauty trends has been monochromatic makeup, which involves keeping eyes, cheeks and lips in the same color range. Orange-brown hues have attracted particular attention in recent months, while pinks, all the rage in 2017, continue to be extremely popular. Hazy colors, including smoky oranges and lavender-pinks, are expected to jump to the fore, adding a new nuance to the look. A revival of the Amuraa look popular in the 1990s is also anticipated, prompted in part by the upcoming retirement of Namie Amuro, with the glossy pearlescent textures likely to be seen as a breath of fresh air.
Bringing Out Women's Natural Glow:
The Evolving World of Makeup
Makeup's mysterious power can transform negatives into positives
Shiseido, known worldwide as one of Japan's preeminent cosmetics companies, has conducted beauty trends research for three decades. As part of this, the company conducts a street survey twice annually, based on which it analyzes and studies makeup and hair trends among women in their 20s and 30s. Surveys are currently conducted in six major global cities, including Tokyo and New York.
As shown in "Makeup in Japan as a Reflection of the Times" above, makeup trends mirror socioeconomic conditions. Setsuko Suzuki, a top hair and makeup artist at Shiseido, explains this relationship. "Women are particularly sensitive to the vicissitudes of time and may be influenced by social trends without even realizing it. Conversely, makeup can influence manners and customs, as well as the mood of the times. In many ways, makeup and social trends are two sides of the same coin. Each affects the other. In dark times, vivid red lip color and a lively expression can lift your mood and brighten the impression you give. What is really amazing about makeup is its ability to energize people."
Makeup trends: From pyramid to diverse
Makeup trends are also affected by what happens in the world of fashion. Prior to the 1970s, Paris Fashion Week and other major international fashion weeks were the principal source of fashion information. Such information was disseminated to the market via the media, reaching fashion leaders and young people first, after which it spread wider to other groups and age brackets in a sort of pyramid. As a result, everyone essentially followed the same trends and assumed a more or less similar style. This changed in the 1980s with the arrival of original trends such as surfer fashion and the karasu zoku. Suddenly there were as many options as there were people. Makeup preferences diversified accordingly. In the late 1990s, makeup trends further fractionalized, with multiple new styles emerging. "Owing to the diversification of information and taste, the manner in which people incorporate trends has changed," Ms. Suzuki says. "Women today like to tailor their look to different situations—say, feminine for going on a date but casual for going clubbing. We now have more options than we have people!"
The streets are another source of fashion trends. "The Internet has played a huge role in the spread of trends," explains Ms. Suzuki. "Anyone interested can watch the Paris collections broadcast live, enabling them to both receive and transmit cutting-edge information in a timely manner. Sources of information have also diversified and today include influential celebrities and style bloggers. The speed of communication has risen remarkably and this has created an environment highly conducive to the spontaneous appearance of explosive new trends."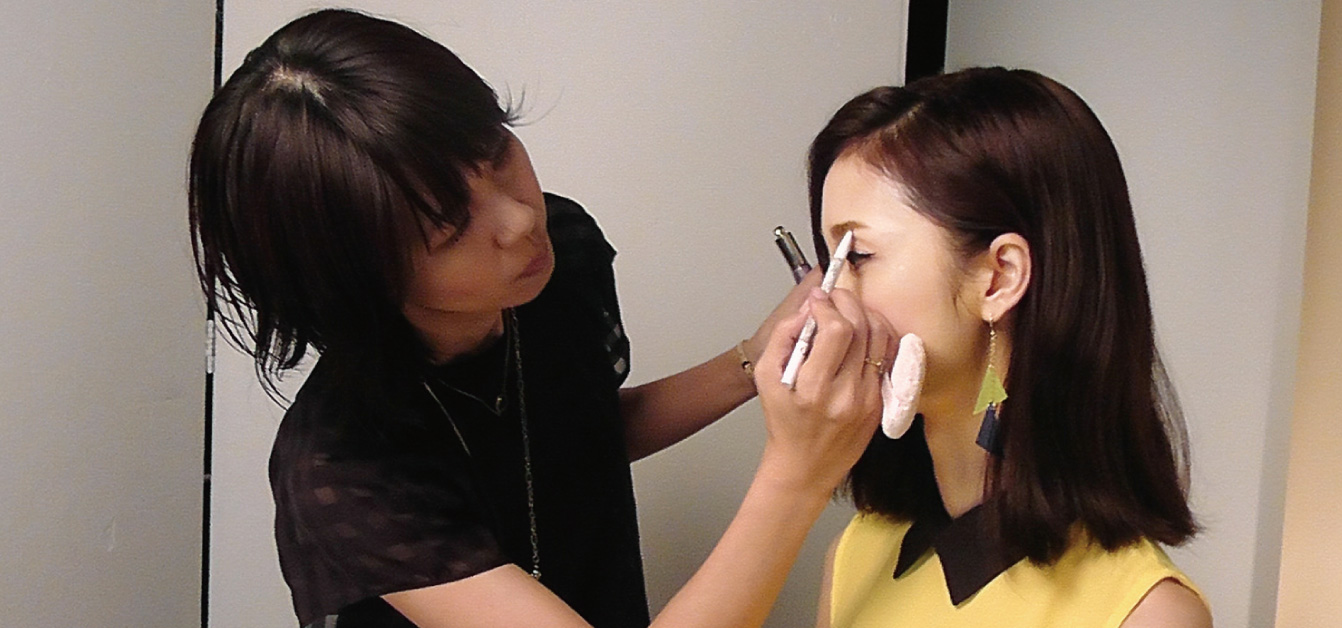 A high-performance cosmetics brand developed by the pros
Recent years have seen the debut of a variety of cosmetics products with flexible functions designed to accommodate the ongoing diversification of makeup trends. Shiseido's new Playlist brand was developed based on the views of Ms. Suzuki and approximately 40 other hair and makeup artists at the company's Beauty Creation Center. A diverse line, Playlist encompasses skin care and makeup products, as well as a variety of tools, and includes such unique offerings as a finishing product that adds luster to the skin when applied over foundation, lip color that makes teeth look more beautiful and mascara that can also be used as eyeliner. Asked to describe the competitive advantages of Playlist, Ms. Suzuki says, "What makes the products special is that they were developed by directly leveraging the techniques and creativity of professional hair and makeup artists on the front lines. Artists who do makeup at fashion shows must have outstanding skill, as well as speed, so they demand simplicity and functionality. Accordingly, Playlist products were devised to enable anyone to easily and quickly achieve professional-grade results."
Playlist offers a fee-based online beauty advisor service called "One-on-One Artist's Kit," whereby a hair and makeup artist selected by the user develops a makeup plan based on a photograph of the user's face, which he or she subsequently sends to the user along with samples of makeup products in the recommended colors. "Artists take into account current trends and make recommendations that reflect their own unique taste," says Ms. Suzuki. "The service has earned rave reviews because it enables customers to discuss wishes and concerns they might otherwise hesitate to bring up in a face-to-face consultation. It's like having your very own professional makeup artist!"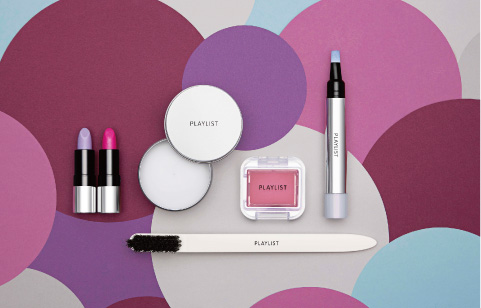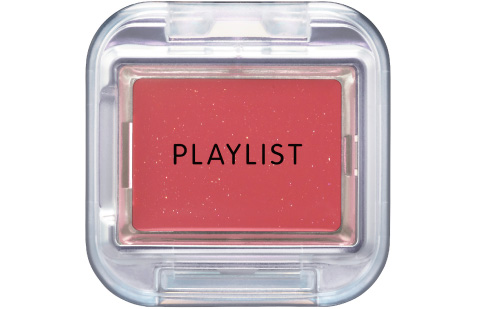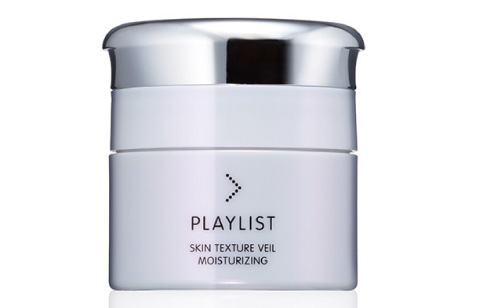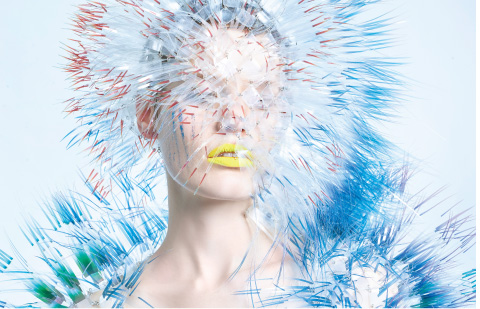 New takes on traditional Asian colors: Inspiring trends with global currency
Shiseido collaborates with DIC Group company DIC Color Design, Inc., in the production of the Asia Color Trend Book, the only design trend book originating in Asia, which focuses on the region's unique creations and artistic sensibilities to forecast future trends. In the most recent edition, published in spring 2017, Ms. Suzuki's team produced a work using the motif of a woman and integrating the themes of technology, craftsmanship and the future. "Recent trends in makeup, among others, have their basis in traditional and other universalities," says Ms. Suzuki, looking back at the production process. "What is needed to impart modern appeal include freshness and impact. For this reason, we sought to create something that would evoke an emotional response globally, rather than simply to emphasize 'Asian-ness.'"
The Asia Color Trend Book has earned high marks as an inspiration and a resource that helps creators across the industrial world better understand Asia. One can certainly see the philosophical parallels with Ms. Suzuki's commitment to realizing uniquely Japanese makeup artistry and uniquely Shiseido products.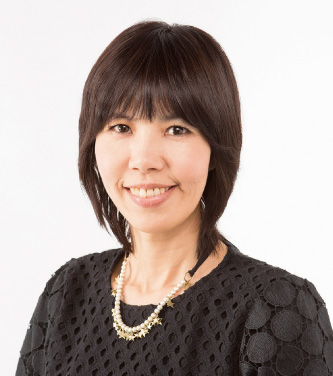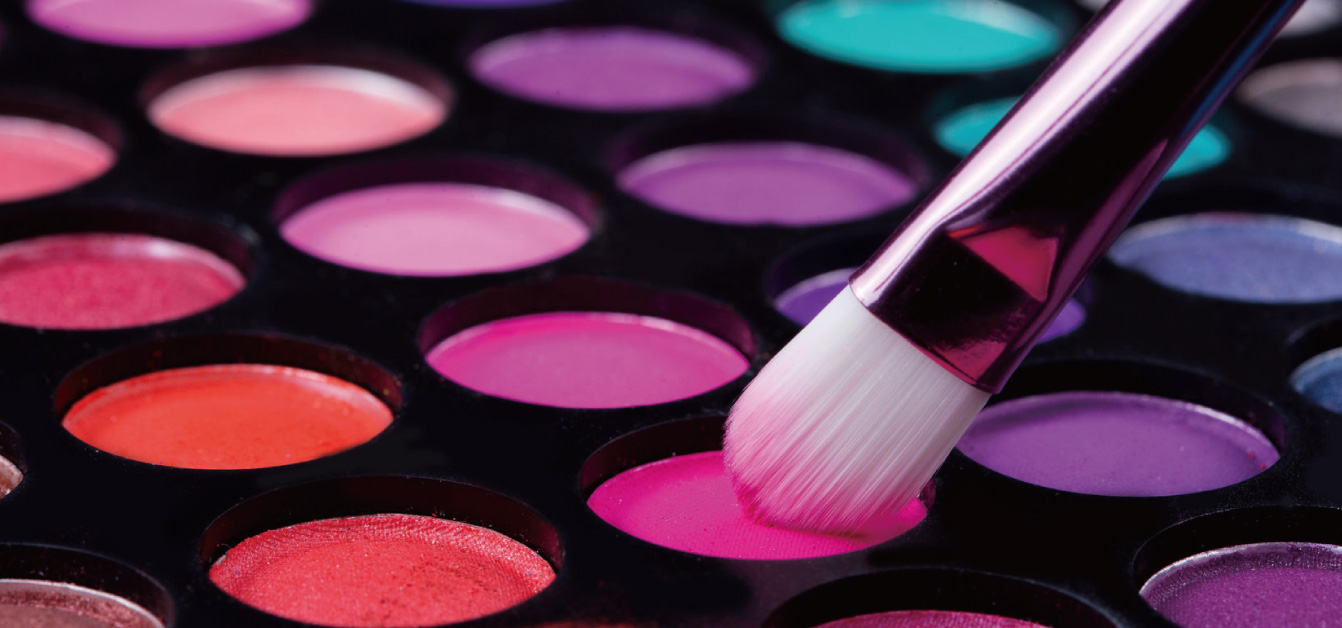 Pigments for Cosmetics: Conquering the Global Market with Rich Colors
and Superior Safety
The Sun Chemical Group is a leading name in the area of pigments for cosmetics. In Japan, sales of the company's pigments are handled by DIC. Against a backdrop of steady market growth, the DIC Group's pigments for cosmetics are attracting considerable attention both in Japan and overseas. This section looks at the appeal of these rapidly evolving color materials.
Sun Chemical's global market–leading pigments for cosmetics
In 1986, DIC acquired the graphic arts materials division of Sun Chemical Corporation. Since resolving in 2014 to market Sun Chemical–brand pigments for cosmetics to customers in the Japanese market, DIC has rapidly stepped up sales efforts. Today, sales of these products across the country are overseen by a very busy team of three: Manabu Ohira, manager of the Pigments Sales Department 1; Mari Samejima, in charge of sales in the Chubu region and western Japan; and Shoichi Mizutani, who was appointed to head up sales in eastern Japan in January 2018.
"Sun Chemical has long been an important partner in such areas as printing inks and industrial pigments, and its presence is a key DIC Group competitive advantage," says Ms. Samejima. "As the world's top supplier of pigments for cosmetics, we strive to offer unique proposals and ensure a swift response. Sales efforts involve frequent consultation with technical and development personnel and require extensive knowledge of color materials, which can be challenging. Going forward, we will continue working to strengthen our relationship with Sun Chemical with the aim of providing customers with a broad selection of reliable products."
Leveraging a diverse range of colors to provide solutions to customer needs
Sun Chemical has conducted R&D in the area of pigments for cosmetics and offers a diverse range of products that expand the color gamut for this application. These pigments, which are the principal material used in color cosmetics, are classified broadly as organic and inorganic. Organic pigments are chemically synthesized color materials that are characterized by vivid color development and outstanding coloring strength. High chromaticity makes organic pigments suitable for use in lip colors and blush. Inorganic pigments, derived from minerals and other natural sources, are obtained through the calcination and oxidation of metals. Thanks to superb lightfastness, together with a wide range of deep blues and browns, in addition to white and black, inorganic pigments are used widely in products such as eyeliner and mascara.
Sun Chemical has developed an extensive portfolio of pigments for cosmetics that meet the diverse needs of customers in the cosmetics industry. Key offerings include the INTENZA® line of hybrid pigments, which combine organic pigments with pearlescent effect pigments; SunCROMA®, a full line of organic and inorganic pigments that is accepted as the color standard for the cosmetics industry; and the SunPURO® line, which boasts an extremely low heavy metal content. "Looking ahead, we also want to develop pigments for use in skincare products," explains Mr. Ohira. "The majority of manufacturers seek to offer products that improve skin and reduce the appearance of wrinkles." In response, Sun Chemical has developed Optical Blur, which diffuses light from the skin instead of reflecting it to conceal wrinkles. If things go well, this product will be ready for launch in fiscal year 2018. With potential applications ranging from point makeup and primer to skin care items,Optical Blur will broaden the variety of products in which our pigments for cosmetics are used. Functionality is something that will attract customers, so we are very excited about these pigments."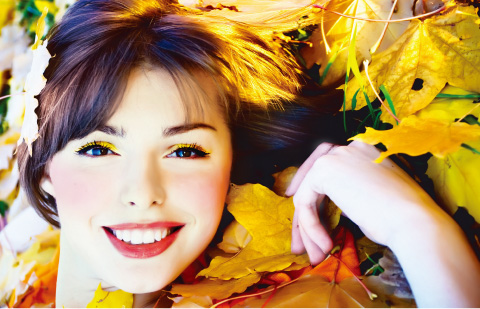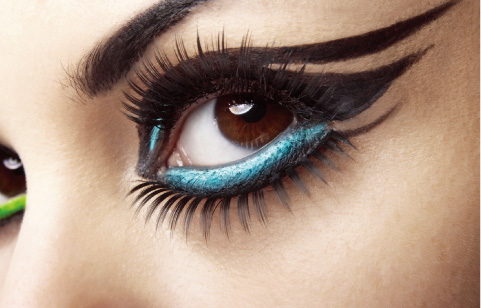 COSMOS approval: Ensuring the safety of cosmetics products
"From color preferences to attitude toward allergy concerns, for example, the needs of our customers have fragmented significantly in recent years," comments Mr. Mizutani. "As a consequence, it is likely that we will see an increase in demand for natural, plant-derived ingredients. Against a backdrop of rising expectations regarding product safety, Sun Chemical maintains a strong commitment to ensuring that its products comply with related regulations around the world. In April 2017, the company's SunPURO® pigments, which are produced with stringent quality control to minimize heavy metals—a cause of skin problems—earned approval under the COSMOS (COSMetic Organic Standard) program. The global standard for organic and natural cosmetics, COSMOS is noted for its rigorous standards. Inspection categories are far-reaching and include use of naturally derived and non-genetically modified raw materials and non-use of radiation for the purpose of sterilization.
"Pigments for cosmetics come into direct contact with the skin, so safety and gentleness to the skin are critical," adds Mr. Ohira. "Identifying the causes of skin irritation and adjusting the levels of potential allergens is a process of trial and error. Needs and expectations are rising. With the tightening of pertinent laws and regulations, added value will come from our ability to satisfy increasingly strict criteria and ensure product safety. Achieving COSMOS approval is an effective way to secure the trust of customers."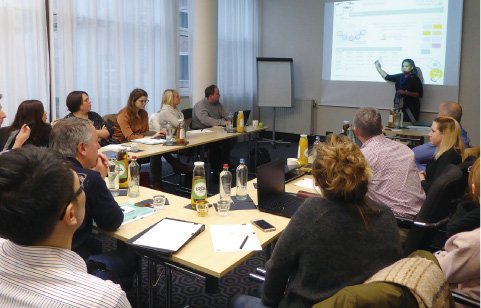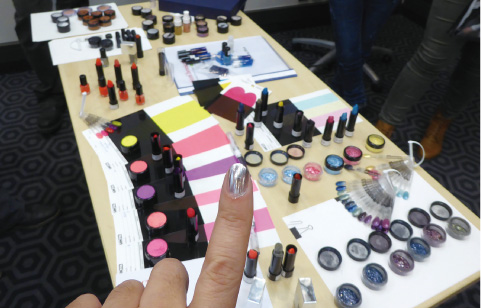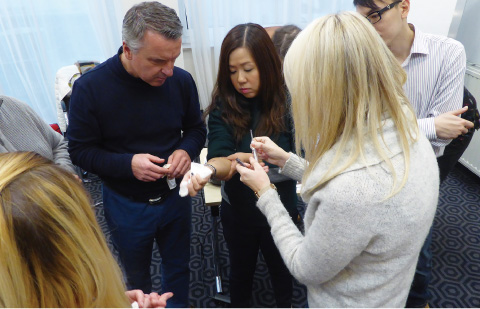 Representatives from DIC and Sun Chemical test new products at the global pigments business conference, which is held twice annually.
The pigments for cosmetics team is part of the Pigments Product Division's Pigments Sales Department 1.