Showcasing the Craftsmanship of the People Underpinning Manufacturing at DIC
Interviews with DIC Group Employees
Masters of Color & Comfort
Section Chief, Solid Compounds Production Section 2,
Compound Production Group, Komaki Plant
Koichi Haruta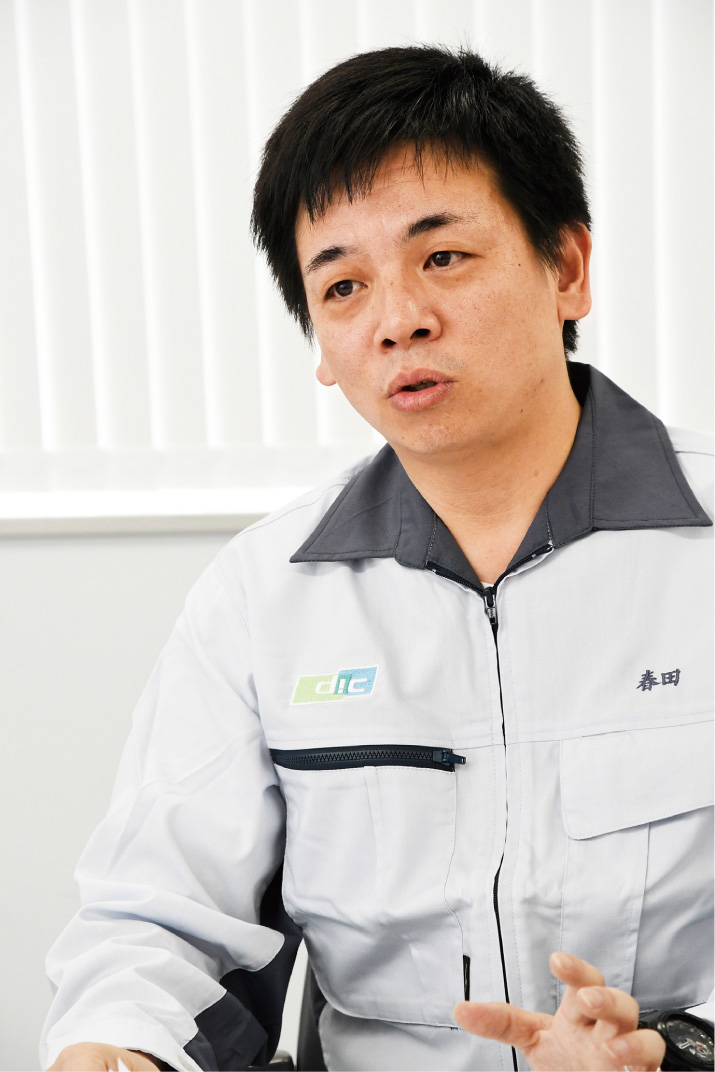 Mr. Haruta joined the Company in 1993. He was initially assigned to Special Compounds & Colorants Production Section 2, where his responsibilities pertained to the production of color compounds, including PEONY HP and Plamaster masterbatches and acrylonitrile butadiene styrene (ABS) compounds. After transferring later that same year to the Special Compounds & Colorants Production Section 3, he was involved in the OEM production of compounds. In 2004, Mr. Haruta was posted to the Engineering Plastics Production Section, the current Solid Compounds Production Section 2, which produces polyphenylene sulfide(PPS)compounds. His current responsibilities include training section staffers and production, quality and facility management.
A technology evangelist bringing DIC's
high-performance PPS compounds to
the world
The key to customer satisfaction: Understanding the essence
of what customers need
Super engineering plastics is the term generally used for high-performance resins that remain durable even at temperatures above 150°C. Applications include machinery and electronic components, automotive components and housing equipment. Markets for these plastics have continued to expand in line with their increasing importance to modern living.
Swift to identify the potential of PPS, DIC began producing PPS polymer in 1976 and has since amassed an array of technologies and expertise in this area. One result of these efforts is PPS compounds, which are renowned worldwide for their exceptional heat and chemical resistance—facilitating continuous use at temperatures exceeding 200°C—and dimensional stability. Today, DIC is the world's leading producer of PPS compounds in terms of market share.
The Komaki Plant, in Aichi Prefecture, is DIC's principal production site for PPS compounds. This facility is currently adding capacity, with new facilities expected to go online in September 2018. The goal is to boost supplies to the Japanese, European, Chinese and other Asian markets and in so doing lift DIC's share of the global PPS compounds market to 35% by fiscal year 2021, from 27% at present. "Even with a high production capacity, we can only meet customer expectations if we are able to ensure consistently high quality," observes Koichi Haruta, who is in charge of production management at the Komaki Plant. "We dominate the world market because we have been able to combine strong capacity with a solid reputation for quality," he elaborates. "The PPS compounds that we manufacture are materials that our customers use in their products. Standards for PPS compounds vary depending on the customer and the application, reflecting specific performance and quality requirements. It is thus important that we not only satisfy numerical specifications but also thoroughly understand the essence of our customers' needs and manage quality accordingly."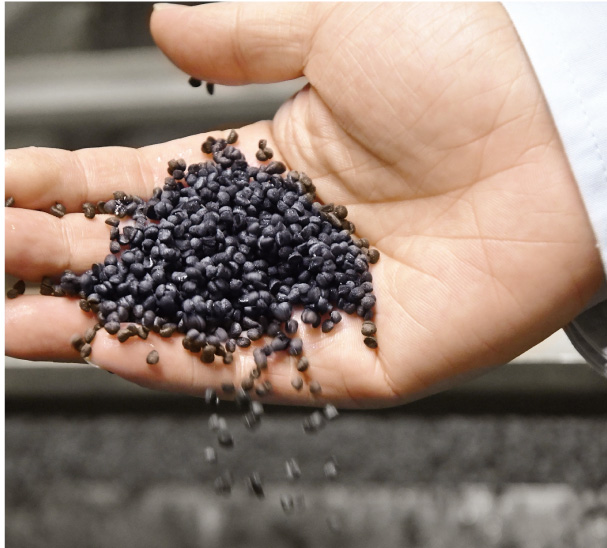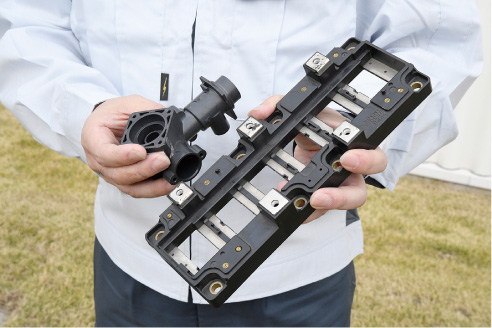 Exports and imports underpinned by efforts to improve
global productivity
The essence of what customers seek is not evident in specifications or other numerical data, but rather comes to light as a result of employing detailed insights into the applications and usage environments of customers' products and drawing on experience cultivated over the years. "Understanding the essence of something enables you to provide the satisfaction that numbers themselves do not deliver," notes Mr. Haruta. "That's always our goal, and it is a constant challenge."
Mr. Haruta helped launch the DIC Group's PPS compounds operations in Penang, Malaysia in 2011; Vienna, Austria in 2012; and Zhangjiagang, in the PRC, in 2016. His appointment to oversee such important tasks is testament to his uncompromising stance on quality. "I look after plant equipment and also share production knowledge with local workers," he says. "I have learned a lot from engaging with people in different cultures. Europeans, for example, focus on enhancing work efficiency. They are very rational and always come up with innovations to help things work better. We have traditionally positioned the Komaki Plant as the mother plant for PPS compounds, taking its production and management techniques abroad. Communicating was thus essentially a one-way street. However, looking ahead we aim to do more about sharing good ideas and information from overseas plants so we can further globalize improvements in productivity." Mr. Haruta was able to gain valuable experience working overseas and has drawn on that experience for self-development. One key lesson was the importance of communication.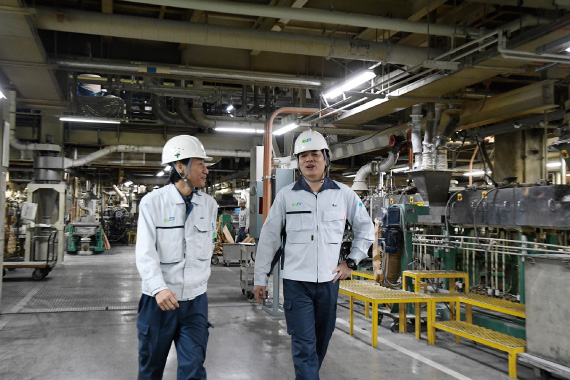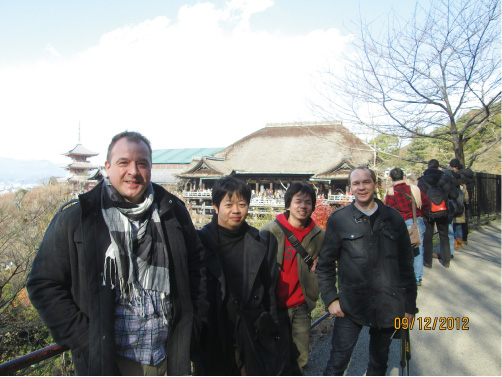 A belief in the power of communication in building
bonds with others
"While I already knew that communication is important, my experience overseas gave me a greater sense of how just vital it is," says Mr. Haruta. "I am not very proficient in any other languages, so at times I've had to resort to communicating via drawings or gestures. Even if I couldn't verbalize my meaning effectively, the people I was speaking with would recognize my enthusiasm and try harder to understand me. Going out with colleagues after work to laugh and have a drink together is also a good way to build bonds and fuel motivation for working together to create quality products. Sophisticated production systems are of course important, but I really believe that at the end of the day the key factor is the bonds between people."
In addition to quality and equipment management, Mr. Haruta is involved in the training of plant employees. He has found the emphasis he placed on communication while overseas useful in training young people. "Rather than talking about my successes, I find it more useful to talk about my failures. Successes may be interesting, but failures are what you learn from because they provide clues on where to go next. I hope that young people listening to my stories become courageous enough to pursue challenges without fear of failing and try to learn something from setbacks." Younger employees will almost certainly continue Mr. Haruta's passion for manufacturing and write a new chapter in DIC's history.