Showcasing the Craftsmanship of the People Underpinning Manufacturing at DIC
Interviews with DIC Group Employees
Masters of Color & Comfort
Manager, Utility Control Group, Kashima Plant
Akio Kojima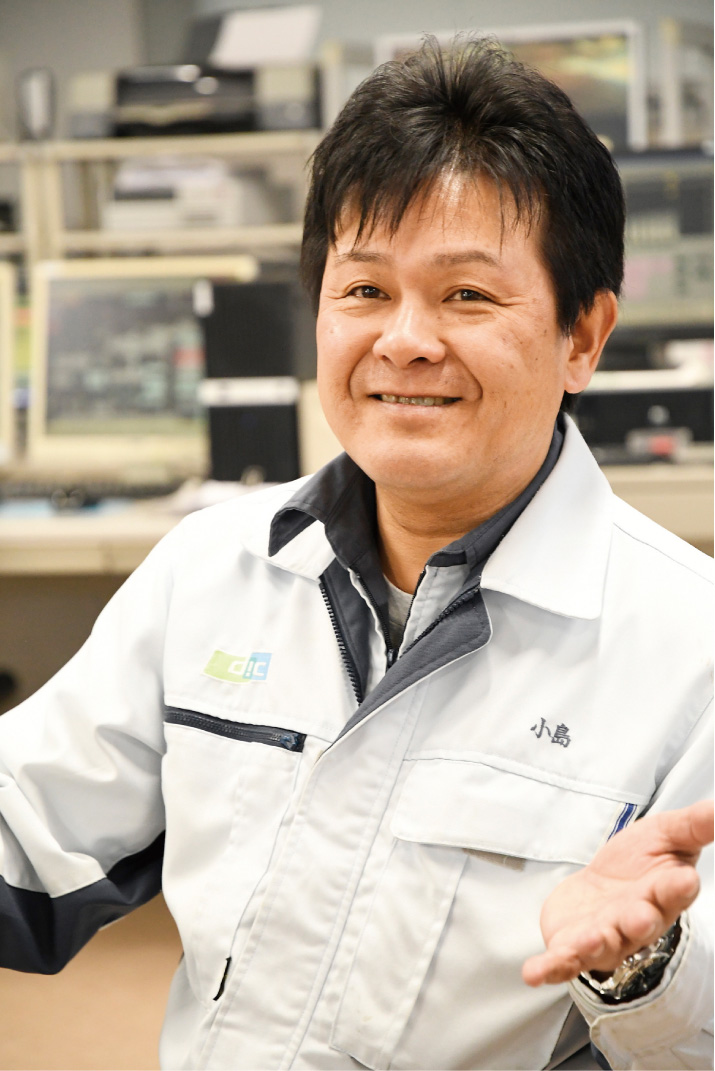 Mr. Kojima joined the Company in 1986. After working in manufacturing units for more than 20 years, he assumed his current position at the Kashima Plant in June 2013. At present, his responsibilities include overseeing energy maintenance at the facility. Mr. Kojima also participates in a business continuity planning (BCP) initiative with other DIC plants, drawing on lessons learned from a disaster at the Kashima Plant to propose appropriate response measures.
An energy management specialist
driving next-generation environment-friendly
manufacturing advances
Reduce energy costs and help address
environmental issues
Located in Kamisu, Ibaraki Prefecture, the Kashima Plant is a core DIC Group production facility, with offerings that include organic pigments and polypheylene sulfide (PPS) compounds. The plant, which sits on a site that covers approximately 600,000 square meters, is the largest single energy user among DIC's domestic production facilities. In fact, the Kashima and Chiba plants together account for around 60% of DIC's total energy consumption in Japan. Accordingly, both plants are pioneering initiatives to tackle environmental issues. The Kashima Plant was swift to employ biomass energy, which it adopted in 1985, after which it introduced wind power facilities and a cogeneration system as part of its efforts to combat global warming. In fiscal year 2018, the plant installed a megasolar system that is expected to lower its annual CO2 emissions by approximately 3.0% from the fiscal year 2016 level.
As well as being a production site for core products, the Kashima Plant leads the DIC Group in tackling environmental issues. The Utility Control Group oversees energy maintenance at the plant, and formulates safety rules that match the technical standards of laws governing electricity, gas, water and other services at the site, based on which it manages maintenance. This entity is vital for overseeing all aspects of energy at the plant, notably by managing the energy usage that greatly influences overall production efficiency and by rolling out new energy systems.
"The whole world faces pressing environmental issues," says Utility Control Group manager Akio Kojima regarding his responsibilities. "Things are changing. There was a time when societies were only concerned about whether energy was cheap enough. Now, they have to take into account the environmental impact of energy. I find my work very rewarding and feel like I'm on a mission."
When people hear the phrase "cutting energy costs," most envision that it means something like household energy conservation measures. The Utility Control Group actually undertakes very broad initiatives. For example, the cost of wastewater treatment is an energy cost. Under a pollution prevention accord for the Kashima petrochemical complex—the site of the plant—water is piped from the plant into a local public sewage treatment facility. The facility's treatment fees are commensurate with the extent of wastewater contamination. In other words, such charges can be lowered by increasing the level of on-site primary treatment. Managing such factors is an important task of the Utility Control Group.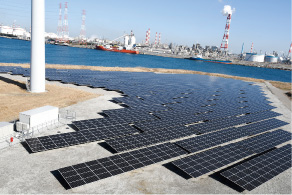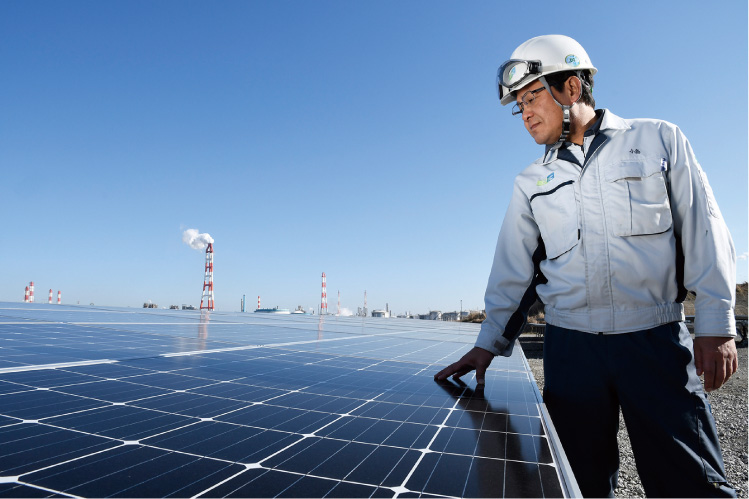 Optimal energy supply plans
"In addition to purchased electric power, the Kashima Plant uses wind and biomass boiler–generated power. Energy costs are affected greatly depending on how power from these sources is combined. Power consumption and peaks vary in the winter and summer, owing to differences in hours of sunlight. Variations in the plant's daily production volume also sway energy usage. As such, a key challenge for us is to optimize energy sourcing plans in view of a range of factors."
Energy from renewable sources like wind power varies according to the strength of wind. Such energy cannot be stored. Formulating realistic power supply plans thus entails factoring in the weather, which is beyond human control.
"We aim to ultimately build an energy management system that leverages the Internet of Things (IoT) to boost efficiency. This will facilitate more meticulous management by bringing together wind condition forecasts and other data." Mr. Kojima is constantly on the lookout for new systems and technologies. He actively seeks hints for moving forward, including by actively visiting environmental technology exhibitions.
"Progress in environmental technologies has accelerated in recent years," Mr. Kojima notes. "I took up my post at the Kashima Plant in 2013. In the short four-and-a-half years since, we have made many changes, including switching from liquefied petroleum gas (LPG) to city gas, adopting cogeneration and, more recently, installing a megasolar system. Information gathering remains essential for us to keep pace with the times."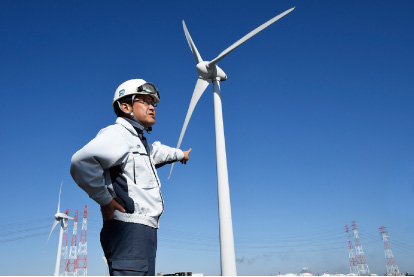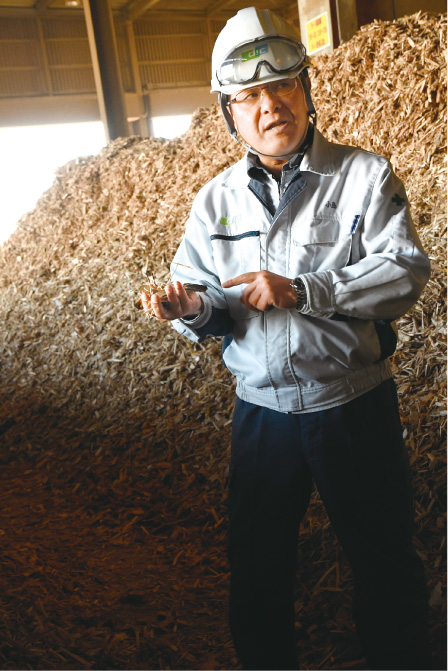 Grassroots initiatives to bolster environmental awareness
among employees
In addition to formulating measures to cut energy costs associated with the plant's facilities and systems, an important responsibility of the Utility Control Group is to enhance employee understanding of the need to conserve energy. Following the Great East Japan Earthquake in 2011, the Kashima Plant set about improving the visibility of energy use. Today, all site employees are able to monitor energy usage on their own computers. "Employees can see daily energy usage and compare consumption over long periods at a glance," says Mr. Kojima. "This makes it easy to see the results of energy conservation efforts. As a grassroots initiative, we have also set up a committee to review energy savings proposals, which we particularly encourage younger workers to join."
Efforts to lower energy costs start by considering not only how to reduce the plant's consumption of electric power but also from where that power is sourced. In the past, DIC's plants and other business sites concluded individual supply agreements with electric power companies. The liberalization of Japan's electric power market has enabled the DIC Group to greatly reduce costs by collectively negotiating contracts for multiple sites. The Utility Control Group has driven this approach.
Swift restoration of operations after
the Great East Japan Earthquake
The Utility Control Group's efforts to cut costs and address environmental issues have long been largely in the background. The group has devoted considerable effort to ensuring that, to all intents and purposes, the Kashima Plant keeps operating as everyone expects without interruptions.
The Utility Control Group was on center stage, however, in the aftermath of the Great East Japan Earthquake. Many of the roads in Kamisu were destroyed. The Kashima Plant itself suffered extensive damage to its roads, piping and equipment, causing a complete operational stoppage. Departments all over the site bombarded the Utility Control Group with inquiries about the state of critical electric power, water and fuel services, relying on it more than any other unit to get the plant up and running again. The Utility Control Group team responded through tireless efforts, working in shifts and on weekends to resume close-to-normal operation. Although it took a whole month to restore the city's water services, the Utility Control Group succeeded in restoring some production capabilities in approximately three weeks.
Satoshi Hirano, the Utility Control Group's chief boiler turbine engineer, recalls this challenging time. "It wasn't good enough to simply hook up all the electrical equipment," he says. "We had to ensure everything was safe by testing insulation, voltages and other elements before power could be provided. Doing things safely naturally took more time, but we were finally able to restore electric power. However, there was no time to celebrate, as there were still so many other things to deal with."
In fiscal year 2016, Eisaku Ishii joined the Utility Control Group as a chief electrical engineer. He is expected to be particularly active in managing the maintenance program for the megasolar system. As part of the Utility Control Group's expert team, Mr. Ishii and Mr. Hirano are responsible for making sure that the entire huge Kashima Plant site gets the electric power needed to keep everything running smoothly.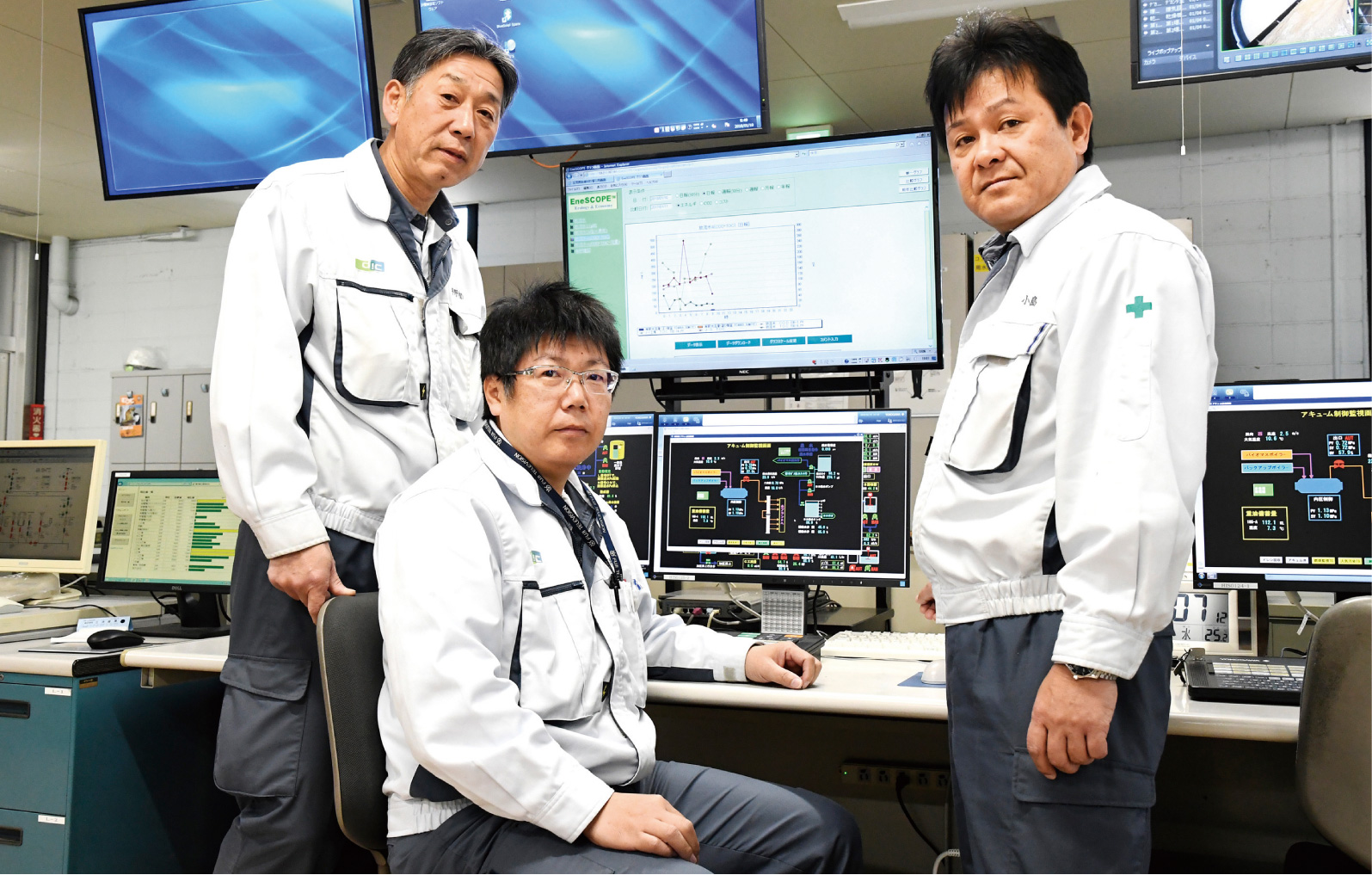 Utility Control Group colleagues: Manager Akio Kojima (right),
chief boiler turbine engineer Satoshi Hirano (left)
and chief electrical engineer Eisaku Ishii