Setting the standard for color sample books
Do you recognize the colorful volume in the photo to the right?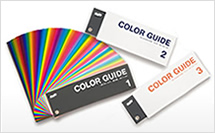 That is the original DIC Color Guide color sample book. Boasting 600 colors, the original DIC Color Guide is an indispensable item for designers, who use it to select and communicate colors. The DIC Color Guide library, which also includes the DIC Color Guide Vol. 2 and the Traditional Colors series—comprising Traditional Colors of Japan, Traditional Colors of France and Traditional Colors of China—contains upwards of 2,000 colors. The DIC Color Guide's broad selection of colors and ease of use for professionals are why it is a tool relied upon by designers of all types.
DIC Color Guide: The first choice of designers in many areas
Design encompasses a broad range of fields. Among these are product design, which is the process of designing Automotive, furniture and other products; fashion and interior textile design, that is, the design of fabrics for apparel and decorative textiles for interior items such as curtains; spatial design for commercial and other premises; and graphic design, which includes print design. How do designers in these different fields use the DIC Color Guide?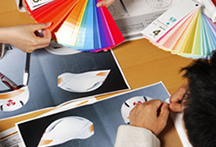 In product and textile design, the designer envisions colors for a new product in a process that also requires consideration for product concept and existing lineup. He or she must then transform the colors he or she envisions into a format that is comprehensible to others. This is where the DIC Color Guide comes in. By selecting the appropriate colors from among the DIC Color Guide's vast compilation designers can transform their vision into a format that is easily communicated and understood. With the release of new colors a popular way to refresh product models today, designers also use the DIC Color Guide in the planning of subsequent color variations.
The DIC Color Guide also plays an essential role in the spatial design field. Spatial designers are inspired by both classic and contemporary color palettes. The DIC Color Guide helps designers translate their personal visions into specific proposals, enabling them to develop color schemes using actual wall, floor and townscape colors.
In the area of graphic design, which includes the design of advertisements and posters, print design in particular demands an exceptionally high level of precision in the selection and use of colors. For example, company logos must not diverge even the slightest from approved colors. The DIC Color Guide functions as a valuable tool for graphic designers to specify colors for printing. Because it is produced by DIC, a leading manufacturer of printing inks, the DIC Color Guide also offers detailed information on color reproduction on various print substrates. As a result, the DIC Color Guide is recognized as the benchmark for color sample books used in the graphic design field.
A superb range of colors that meets the needs of designers
What is it about the DIC Color Guide that makes it so popular among designers? The most important reason is that it offers an extensive, well-thought-out variety of colors that designers favor.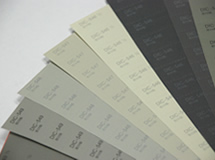 DIC published the first DIC Color Guide in 1968 under the direction of Mitsuo Katsui, Ikko Tanaka and Tadahito Nadamoto—luminaries in the field of graphic design in Japan at the time—who selected colors for inclusion "from a designer's perspective." As a result, the DIC Color Guide boasts a wealth of colors and subtle color variations that meet the needs of designers.
Take gray, for example. The most basic version of the DIC Color Guide contains approximately 60 minutely different grays, ranging from ash gray and isabelline to dark yellowish gray. The DIC Color Guide Vol. 2, which consists of pale and subdued colors, adds an additional 10 grays, including a light grayish mulberry and a dark greenish gray. This rich array of colors is the primary reason designers everywhere praise DIC Color Guide as being easy to use. While there are numerous other color sample books on the market, the mechanical adjustment does not facilitate this subtle a gradation of shades.
Traditional Colors series: Colors with unique cultural roots
Featuring colors with roots in Japanese, French and Chinese culture, the DIC Color Guide's Traditional Colors series also continues to attract considerable positive attention. Traditional Colors of Japan, for example, is a collection of colors historically used in Japanese dyed textiles. Traditional Colors of France contains colors with food-related and botanical derivations, while Traditional Colors of China consists of a wide selection of time-honored colors with origins in Chinese silk and other woven textiles.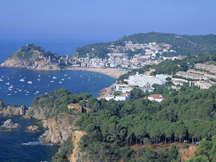 Another reason designers find the Traditional Colors series so useful is that the colors and related commentary also function as an encyclopedia of colors prized by three different cultures. For example, two colors in Traditional Colors of France are "Bleu Adriatique" and "Bleu Mediterranée." Both are deep blues, but the image conjured up by the two color names differs significantly. The impressions conveyed by color names thus also stimulate the imagination, assisting designers in the development of product images.
The common language of color
Once designers have selected colors, those colors must be conveyed precisely to the people involved in subsequent processes. Here, too, the DIC Color Guide fulfills a key role. For textile designers, this means specifying colors for the individuals responsible for dyeing and/or weaving. Graphic designers must specify colors for printing companies. In both cases, all the designer has to do to specify colors is to pass on the appropriate color chip from the DIC Color Guide.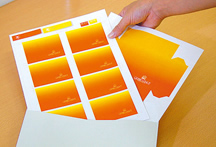 Because DIC color numbers remain unchanged since the first edition of the DIC Color Guide was launched, among professionals simply specifying "DIC #XXXX" is sufficient to communicate a color accurately. Nonetheless, DIC always recommends attaching a color chip as well, simply because some copies of the DIC Color Guide currently in use date back to 1968 and color chips have been known to fade somewhat over time. Accordingly, attaching a color chip prevents misunderstandings. Such a thorough approach is distinctively DIC. Thanks to its unyielding commitment to color, DIC has earned the trust of customers and ensured the DIC Color Guide's role as the common language of color.
The DIC Color Guide supports effective color communication by enabling designers to select the colors they want and to communicate those colors accurately. This is what makes the DIC Color Guide an indispensable item for designers in many different design fields.
DIC Digital Color Guide: A free software application that expands the boundaries of design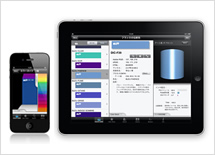 The DIC Digital Color Guide is a free software application that is available for smartphones, as well as for table computers and regular computers running on the Mac OS operating system. The DIC Digital Color Guide enables users to peruse the color name and provenance of every color in the standard and Traditional Colors DIC Color Guide series'. In addition to enabling users to search for colors close to a specified color number or using a key word or phrase, DIC Digital Color Guide makes it possible to instantaneously call up DIC Color Guide numbers for colors at any point on a displayed image.
Since DIC Digital Color Guide's release in 2010, downloads of the application have reached several thousand. Digital communication is crucial in all areas of design today. Given the popularity and increasingly sophisticated performance features of tablet computers and other portable devices, use of DIC Digital Color Guide is expected to expand in the years ahead.
Download the iPhone version
Use the App Store icon on your iPhone (or iPod Touch) to download the appropriate version. The DIC Digital Color Guide app is a free application.

Note: The DIC Digital Color Guide is also available for Mac PC and iPad.