The DIC Group's Initiatives in the Fight Against COVID-19
Jan. 21, 2021
A Message from the President and CEO
We would like to express our sorrow at the loss of lives and to extend our deepest sympathies to everyone who has been affected by the COVID-19 pandemic. At this challenging time, we are especially grateful to the healthcare professionals who are working tirelessly to alleviate the spread of the virus.

The DIC Group works with customers in diverse industries to achieve innovations that bring "Color & Comfort" to society through chemistry. Even given the difficulties of the current pandemic, our products play an important ongoing role in safeguarding stable supplies of daily necessities. Accordingly, the entire Group is committed to working as one to help maintain social infrastructure. We are also striving to contribute to society by continuing to deliver distinctively DIC products and technologies to a wide range of frontline healthcare facilities and local communities.

We will persist in our efforts to protect the health and safety of our employees and their families. We will also collaborate with our customers, business partners and other stakeholders to overcome this crisis together.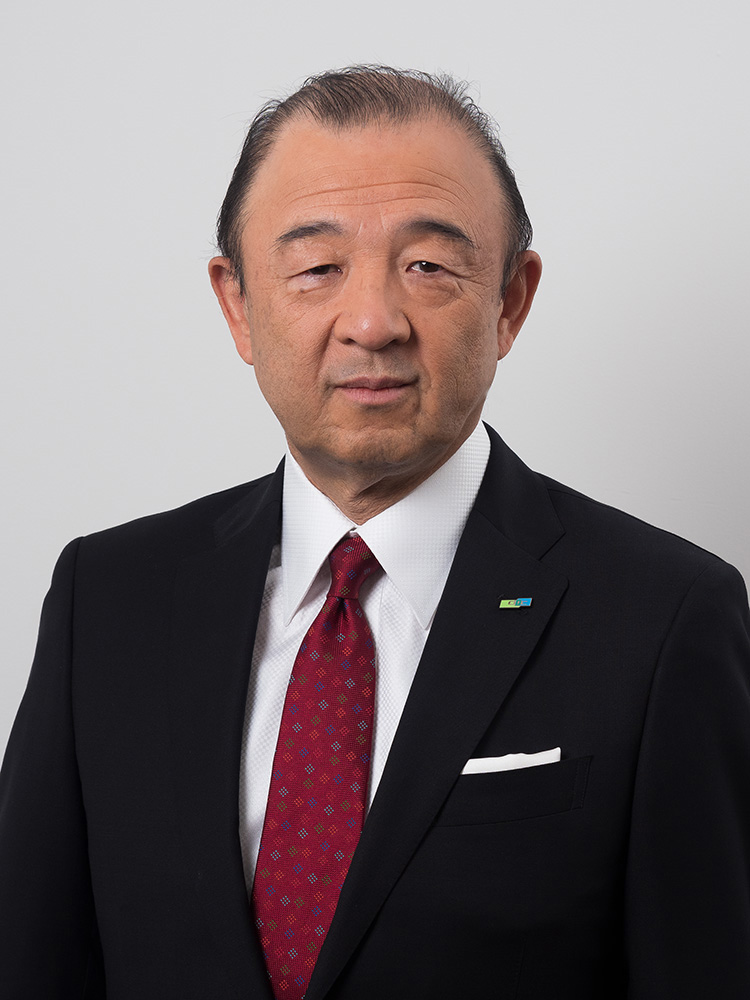 Kaoru Ino
Representative Director,
President & CEO

DIC Group products: Helping to maintain social infrastructure worldwide
In an attempt to curb the rampant spread of COVID-19, major cities in countries and territories around the world have implemented stringent lockdowns. Nonetheless, DIC Group's production facilities have sustained operations without interruption, with the approval of governments and other public bodies, to respond to demand from customers critical to social infrastructure, including food and pharmaceuticals manufacturers and newspaper publishers. The DIC Group's products thus play an important role in preserving stable supplies of these daily necessities and helping to maintain social infrastructure.
Production of droplet infection–preventing face shields and donation to healthcare institutions
To curtail the transmission of COVID-19, DIC leveraged proprietary DIC Group technologies to manufacture face shields, which it has supplied to production sites and other workplaces where masks must be worn. Prioritizing development speed, the Group diverted headbands normally used in DIC helmets to the production of face shields. The Group also donated approximately 1,000 of these face shields to healthcare institutions in Chiba, Saitama, Ibaraki and Osaka prefectures, all of which are home to DIC Group sites.
Launch of special COVID-19 seals indicating that proper cleaning and disinfection has been implemented
In response to COVID-19, DIC Color Design, Inc., has developed special seals to signify that proper disinfection and cleaning has been implemented. These seals can be used as a door seals by hotels, for example, to indicate to guests that their room has not been accessed after cleaning and disinfection. They can also be used in common spaces and other facilities to ease anxiety, so that customers feel safer and more secure.
Provision of hollow-fiber membranes for ECMO
DIC provides hollow-fiber membranes to add oxygen to the blood in extracorporeal membrane oxygenation (ECMO), which is currently being used worldwide to treat critically ill COVID-19 patients. Given the increasing number of patients across the globe with acute respiratory distress syndrome (ARDS) as a result of the COVID-19 pandemic, DIC will continue doing its utmost to ensure steady supplies of indispensable medical equipment by, among others, expanding its output of membranes.
Donation of "DIC Care Packs" to senior care facilities in Southeast Asia
As a component of a corporate social responsibility (CSR) project in Southeast Asia, DIC Group companies in Singapore, Vietnam, Indonesia, the Philippines, Thailand and Malaysia held events for employees to prepare DIC Care Packs, kits containing a variety of COVID-19 protective items, including masks bearing the DIC logo, DIC Spirulina (a health food) and liquid disinfectant. These DIC Care Packs will be donated to senior care facilities across the region.
Provision of approximately 7,000 bottles of Linagreen® 21 Extract K1 to healthcare facilities
DIC Lifetec Co., Ltd., recently provided approximately 7,000 bottles of the Linagreen® 21 Extract K1, a nutritional drink, to support the health of frontline medical professionals working to prevent the spread of COVID-19 and treat patients with the disease. Donations were made to 14 facilities in various prefectures, including Hokkaido, Tokyo, Chiba, Saitama, Ibaraki, Osaka and Kyoto.
Donation of 10 ,000 N95 and other high-performance masks to healthcare facilities
DIC provided 10,000 high-performance masks from its stockpile to healthcare facilities in Japan. This contribution comprised 5,000 N95 masks, which were donated through the Keidanren (Japan Business Federation) to the Ministry of Health, Labour and Welfare for distribution, and 5,000 surgical and ostrich antibody masks, which were donated directly to healthcare facilities suffering particularly desperate shortages.